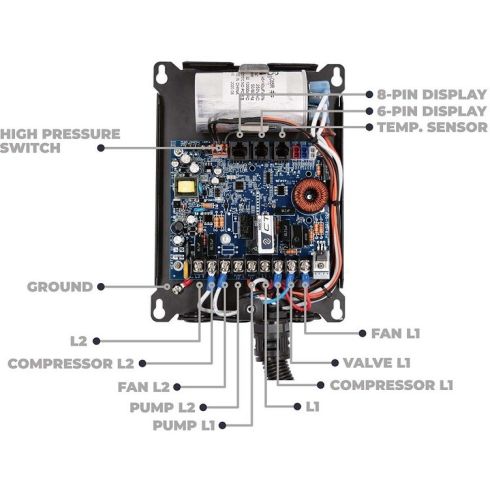 By buying this product you can collect up to 263 Citimarine points. Your cart will total 263 points that will be converted into a voucher of $26.30 towards your next purchase! Must be logged in to collect points.
CTM CX-16 16,000 BTU Condenser - Marine Split A/C Unit - 115V - 50/60HZ - R410A
50/60 Hz

Dual Frequency

Cooling or Heating

Reverse Cycle

Titanium (Ti) Coils

Anti-Corrosive

2-Year

Warranty
Free US Shipping
Free Shipping on Orders over $99
Free Shipping on Orders over $99
*On Orders Over $99; Not including: Hazardous, Oversize, Greater than (+150 lbs.) or Freight Advertised Products. FEDEX Ground Shipping / Continental US Only
CTM CX-16 Condensing Unit - 16,000 BTU Split Marine Air Conditioning Unit - 115V - 50/60HZ
16,000 BTUs of powerful, quiet, and efficient cooling. 115V. Titanium circulating coils, stainless steel bolts, and stainless steel structural pan ensure long-lasting, corrosion-proof compressor / condensing unit performance in even the toughest of marine environments. 2-Year Warranty*. Patent Pending S/N 63/104189.

EPA CERTIFICATE MUST BE PROVIDED PRIOR TO SHIPPING OF ALL SPLIT CONDENSING UNITS. IF YOU DO NOT HAVE IT, PLEASE CONTACT US

The quiet, powerful, and efficient CTM Split Marine Air Conditioning Unit is a great option for new installs but also works as the perfect drop-in replacement for all major marine A/C brands including Dometic, Marine Air, and Cruisair. The CTM split unit is fully compatible with all Dometic, Cruisair, Marine Air, and Micro Air controls/thermostats and cables, making replacement of those systems a breeze.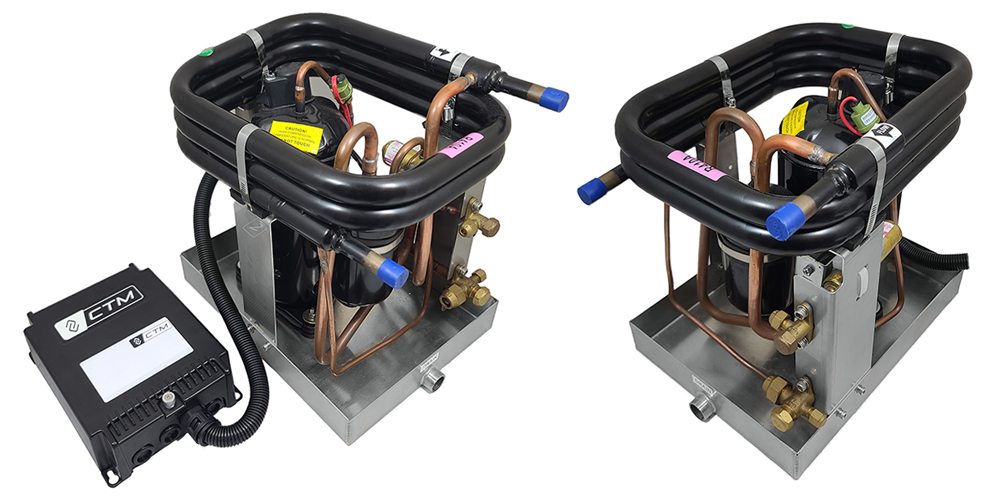 CTM has taken nearly a decade of experience as a top-selling marine A/C retailer in the US, and combining this with an understanding of the wants and needs of marine A/C customers — as well as where other major brands could be improved — CTM has created a split marine condensing unit that raises the bar on quality and performance.
By using R410A refrigerant, CTM engineers guarantee maximum cooling performance while meeting all international standards of clean air.
All CTM Control Boards, Temperature Sensors, and cables are made in the United States under strict quality standards. Every CTM Unit comes with an industry-standard 2-year warranty*, knowledgeable and attentive customer service, and ships ground to you free of charge within the US.
As marine A/C retailers, as well as boaters ourselves, we know what boaters are looking for in a marine A/C system — and this is exactly what the CTM line delivers
Specifications: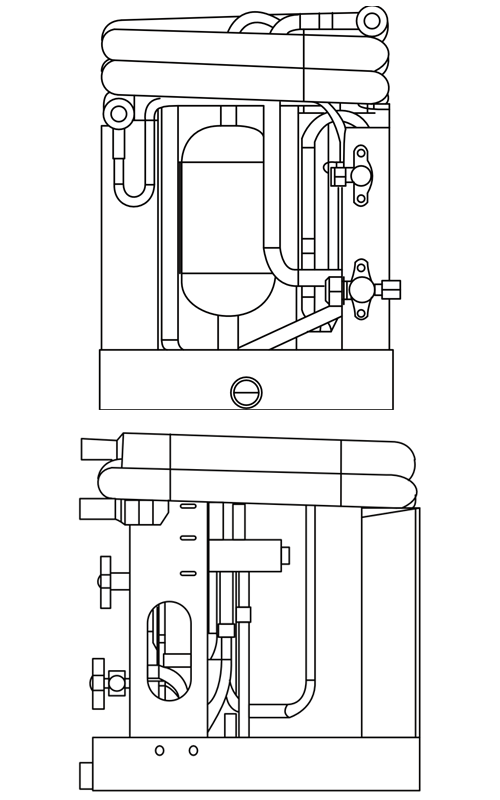 Capacity

16,000 BTU
Voltage

100-120 V
Cycle

50-60 Hz
Refrigerant Type

R410A
Current Consumption Cool / Heat 

10.5 A / 13.5 A
Starting Amps

24 A
Locked Rotor Amps

60 A
Fuse Max. / Min.

40 A / 25 A
Discharge Connection Size

(1/4 in) / (6.35 mm)
Suction Connection Size

(1/2 in) / (12.7 mm)
Seawater Inlet Connection 

5/8" / 16 (in/mm)
Suggested Water Flow

500 GPH
Net Weight 

42 lbs / 19 kg
##paytomorrow_mobile##
Features of the CTM CX-16


   Compact Design

Perfect drop-in replacement for all major marine A/C Brands. It's compact design makes it the perfect unit for small spaces.
   Electrical Box

Rugged electrical box with fire retardant cover.
   Titanium Condenser Coil

The most corrosion-resistant material available for seawater cooling coils. 40% more resistant than copper, titanium coils guarantee top cooling performance and a rust-free environment. 
   Stainless Steel Frame Base

Corrosion-resistant stainless steel frame base will not rust or fall apart. Long-lasting and made to withstand the harsh marine environment. 
   Universal Control Board

Next generation control board is compatible with most controllers in the market, such as OEM Brands like Dometic, Cruisair, and Marine Air. Also supports the TSEP Temperature sensor. Made in USA.
   Reverse Cycle Cooling & Heating

Enjoy powerful cooling from your CT Unit with the option of heating if needed. Thanks to the reverse cycle, you can switch to heating when temperatures get low.
   Quiet

Very quiet yet powerful marine air conditioning unit, making it a great option for powerboats and sailboats. 

 
   Digital Touch Control

The CT is compatible with the CTM Touch display - a 2.5" Color Display with the latest technology in the industry, including numerous programmable parameters, operational features, and much more.
Dimensions: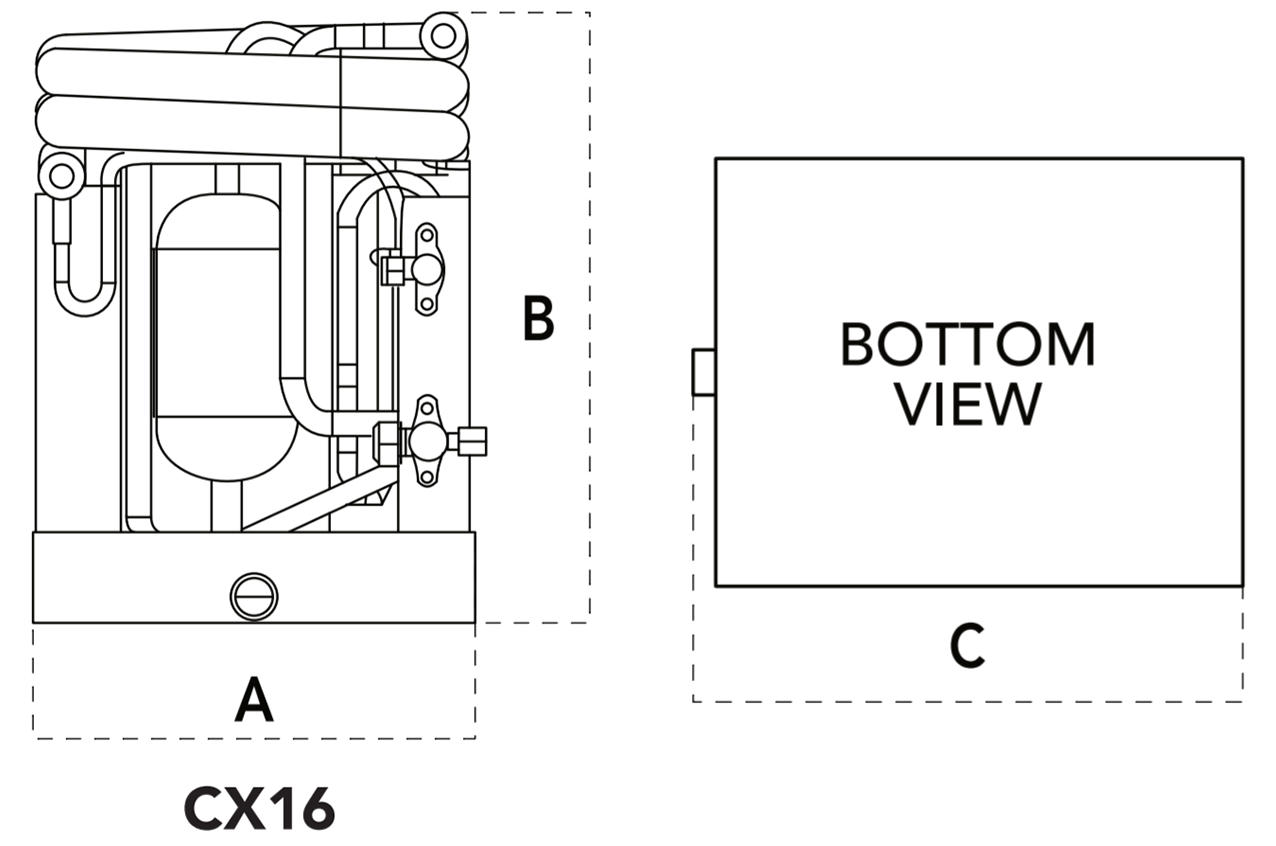 A - Width

9.8 in / 250 mm
B - Height

13.5 in / 344 mm
C - Depth

13.5 in / 344 mm
Universal Control Board Layout


Compatible with Most Thermostats

Because the CTM unit comes with the Universal Control board, it should work with the controller you currently have. Supported controllers include the 
SMXir, Passport I/O, Smart Touch, and Elite II. However, there are some older versions of the SMXir and Passport i/o controllers that don't have the firmware to work with the new universal board. A newer version of the SMXir or the Passport i/o.
More information on CTM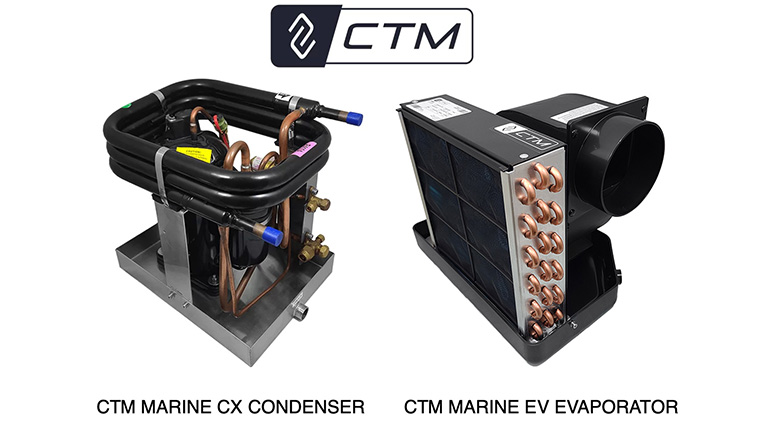 CTM CX & CTM EV – CTM Marine Split Gas Air Conditioning System
CTM Marine has taken 10+ years of experience selling marine air conditioners, combined with feedback received from customers on their units over the years, and has produced the all-new, CTM CX & CTM EV split gas marine air conditioning system, superior to anything available on the market.
Read More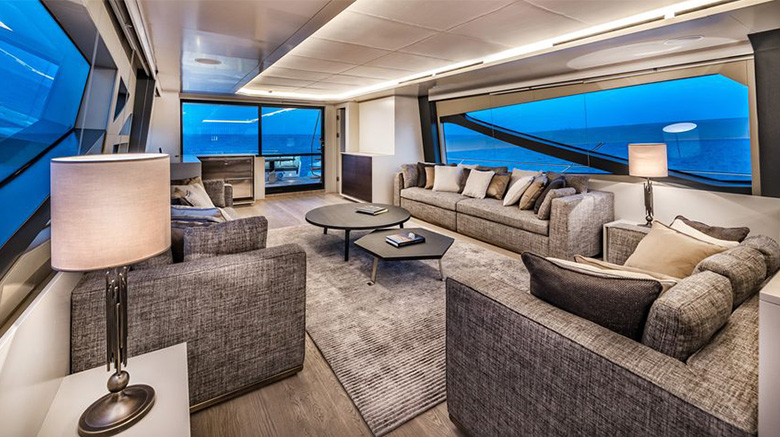 Best Marine Air Conditioners? Best Brand, Support & Warranty?
Boaters often wonder which brand makes the best marine air conditioners when looking to install a new unit. 
To be honest, most marine air conditioners from all the major brands are solid and will do the job, as long as they've been installed correctly. However, the keyword here is most. You want to improve your odds of being satisfied with your A/C purchase by researching which company's units have the least number of complaints… and if there is a problem, how that company handles it.
Read More
Notes if replacing a Dometic DEU16 or DEG16 - 115V
The CTM CX-16 115V Marine Air Conditioning Unit works as an excellent replacement for the Dometic DEU16 - 115V (201150160), ED16U - 115V (712216100), or EQ16U - 115V (712116100). There are some specs that should be taken into consideration when replacing one of the units previously mentioned. It is also a good replacement unit for the Cruisair RX models, but in the case of the RX units, you will need to replace the evaporators (being that they use R22 / R417A gas and the CX unit and evaporators use R410A)

- Because the CX-16 split unit comes with the Universal Control board, it will work with the controller you currently have. Supported controllers include: SMXir, Passport I/O, Smart Touch, Elite II. 

- Waterline connections should be the same as the unit you are replacing, the CX unit has a standard 5/8" water connection.

- Dimensions wise the CTM CX is very similar to the above-listed Dometic and Cruisair split gas units, so there shouldn't be any issues when replacing your current unit with the CX. However, it is recommended that you double-check your current installation space and the CTM CT's specs in order to avoid any issues when installing.
Warranty

*CTM warrants their Air Conditioning Systems against defects in 
material and workmanship for two (2) years effective at the time of installation or vessel registration date for original 
equipment installation (OEM). CTM warrants the compressors and compressor brackets against defects in material and workmanship for one (1) year effective at the time of installation or vessel registration date for original equipment installation (OEM). This warranty period may not exceed eighteen (18) months from the original date of sale by CTM. This warranty period may be superseded by written contractual agreements.

For more detailed information please download the Manual and refer to page 17.


Reviews
No customer reviews for the moment.