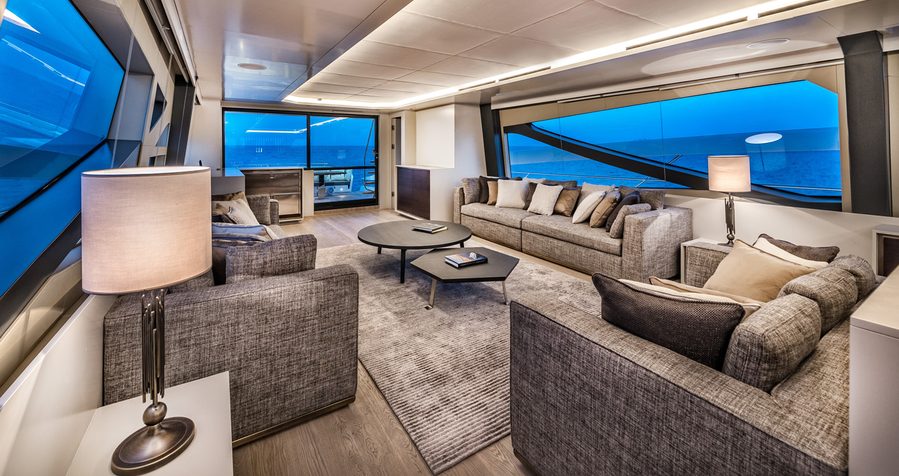 Boaters often wonder which brand makes the best marine air conditioner when looking to install a new A/C unit or replace an old one. 
To be honest, most A/Cs from the major marine air conditioning brands are solid and will do the job, as long as they've been installed correctly. However, the keyword here is most.
You want to improve your odds of being satisfied with your A/C purchase by researching which company's units have the least number of complaints… and if there is a problem, how that company is known to handle it.
We've prepared a comparison of five of the most popular brands of marine air conditioners — Dometic, Flagship Marine, MarinAire, Mermaid and Webasto — using information discovered throughout our years of selling marine A/C systems, as well as an analysis of feedback on each brand from real boaters themselves on popular boating forums (we wanted the most recent information, so went no further back than 2017).
In the end we provide our opinion on which we feel is the best marine air conditioner brand, based on the following criteria – the most positive features and feedback, least number of complaints, and the quality of support a company provides should problems arise with their units.
Note: There are a few other brands that are said to build solid units, such as Frigomar, King Air and Pompanette. However, we do not have much experience with these brands, nor did we come across enough information in our research to include them in our comparison below.
Dometic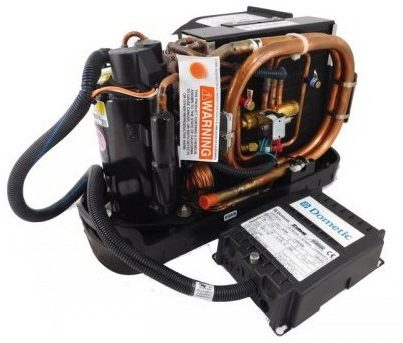 Undoubtedly the largest and most popular name in marine air conditioners is Dometic. With headquarters in Solna, Sweden, Dometic was introduced as a brand to the US in 1968. Dometic purchased Cruisair and Marine Air from Taylor Made in 2003, and sold their units under both brand names until combining both under one Dometic brand name starting in 2016.  
Dometic sells food & beverage, climate, power & control solutions for RVs / mobile homes, trucks and boats. Dometic has sold more marine air conditioning units than any other brand.
Pros of Dometic Marine A/C Units
Most well-known marine A/C brand name, and most units sold

Massive support network

Purchased Cruisair and Marine Air, and offer a wide variety of models and A/C types

Compact, lightweight

2 year warranty, first year labor second year parts 

Composite pan on DTU, light and rust resistant

Sound cover available for compressor
Cons
Significant number of complaints from boaters online as to reduction in quality and shorter life spans of units built in recent years (to be taken with a grain of salt, as more units are sold than other brands)

Control sold separately on DTU

Not painted with marine-grade, rust resistant paint

Coil copper not painted – easier to rust

Mostly manufactured in China (not always a bad thing, but perceived as a con for many), assembled in the US

Condensing coil located where intake comes in – makes filter hard to clean

Heat from coils gets pulled in by blower; doesn't dissipate
Feedback on Dometic from Boaters on Top Boating Forums:
"Since Dometic bought CruiseAir their units are not lasting but about 3-4 years top. My boat neighbors are very unhappy. These units start to leak Freon though water heat exchange bundle. Unrepairable, seems that Dometic is using a much cheaper heat exchanger since they bought."
Username: -KadeyKrogen38, Forum: Cruisers Forum, Posts: 1,467
"No more Dometic for me, had to replace same unit 3 times in 4 years due to condenser failure…"
-R2boat, Cruisers Forum, 107 posts
"Guess my Dometic is a fluke, but I have a Vector Turbo 8k BTU unit and a March pump and never had a problem with either. It is very quiet and the composite pan doesn't rust. Now ten years old…"

"….Might be that Dometic has more complaints due to more units sold. Plus people tend to post about problem with units, and be silent on trouble-free ones. Everyone expects trouble-free to just the the norm"
-sailjumanji, Cruisers Forum, 1,467 posts
"I have two units aboard my 45 foot sailboat. The after unit is a Mermaid, which replaced a Mermaid unit, that failed – compressor locked up after seven years. The forward unit is currently a Webasto, which replaced a Dometic which failed at less than three years – the electronics went bad. The Dometic was professionally installed, and I had to change out the thermostat during that three year period twice. The Webasto has been in for two years and runs like a top.

The Mermaid had to go back to the shop for an electrical problem, which they could not duplicate. Rather than argue with m about the problem, they replaced the unit completely. It is noisier than the Webasto, but that may be because of differences in the installation.

I outdone definitely consider another Webasto, probably consider another Mermaid and never have another Dometic."
-CaptFrankM, Cruisers Forum, 143 posts
"Stay away from Dometic."
-#1Stunner, The Hull Truth Boating Forum, 2,651 posts
"I have installed two a/c on my 36 from scratch, never had a/c before. One was a Flagship Marine 18,000 btu and would not recommend. The 2nd one a 10,000 Btu, Marine Air by Dometic and cannot say enough positive things..

Rotatable discharge, Three different spots to take your condensate line from, the thermostat is a sensor in the return air so no issue with mounting the control panel anywhere you want and the panel to connect your Electric and lines to the water pump are on a cord so you can also mount that in a convenient place.

Only in two years so long term can't say."
-Bill R., Trawler Forum, 67 posts
"I replaced two 16k btu units last fall with Dometic Turbos -. very quiet and not power hogs, as recommended by Larry M."
-Erben Renewal, Trawler Forum, 12 posts
"I may have a Dometic Turbo 16k btu unit new in box for sale, if interested PM me. I currently have four Dometic Turbos on my boat and they work well."
-mystery, Trawler Forum, 762 posts
Flagship Marine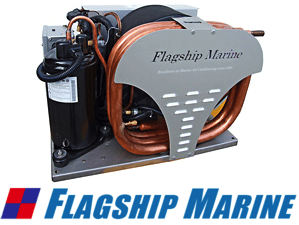 Flagship Marine — founded in 1995 and located in Stuart, FL — is a manufacturer of marine air conditioning systems for the recreational, commercial, and military markets. According to their site, every Flagship Marine unit is made in the US using only domestic metal alloys.
Flagship units are installed on US Coast Guard and US Navy vessels, and are said to be still working after 10-20 years.
While Flagship is known for making dependable, and rugged commercial / military quality units, it is a favorite among many recreational boaters as well.
Pros of Flagship Marine A/C Units
Made in the USA with domestic metal alloys

Known for being rugged, long-lasting 

High quality materials

5 year warranty on parts, 1 year on labor

Knowledgeable and helpful customer service

Little need for replacement of parts

No PCB circuit boards, uses relays

Aluminum drip pan slopes to drain

Very few negative reviews found online
Cons
Some noise complaints

No variable speed

Any issues with unit, if the problem cannot be solved speaking with technical support, the unit must be shipped to factory for repair or replacement

Strict warranty
Feedback from Boaters on Flagship Marine Air Conditioners
"Three boats, three Flagship systems self installed, full time liveaboard over 25 years…..

I simply would not buy anything else. Superb customer service that will spend talk you through any issues on the phone, never had a warranty issue, have replaced two $20 relays in all that time and never seen a single spot of corrosion.

Just read the specs and materials used, look at the build quality or even just look at the photos. Far ahead of all the usual suspects."
-boatpoker, Cruisers Forum, 4,078 posts
"I personally wouldn't stray from a company with stellar customer service, which Flagship has. I bought a USED frankensteined Flagship unit, and they still served me very well. Their commitment to their customers is top notch.

And nothing on a boat is bullet proof."
-TooCoys, Cruisers Forum, 466 Posts
"On mine the squirrel cage bearings were shot within a few months. I too had to take it out, mount it to a pallet and ship it back. There is one fan speed, high and to my thinking loud. Even though the stupid thing still works I plan on replacing it with a quality unit as soon as possible. Rich"
-cabo_sailer, Cruisers Forum, 1,988 posts
"On my previous boat, a Tartan 37, I installed a Flagship 16,500 BTU unit with the heating capability. Never had one problem, cold enough to hang meat in the summertime but was somewhat noisy as the unit was just behind a louvered door in the main saloon. Very happy with the unit overall after about a decade of using it…"

"…I cannot speak to the quality of other manufacturers, I just know the Flagship units are well made and should present few problems if any from my experience with them."
-Tortuga's Life, Cruisers Forum, 450 Posts
"I went with flagship marine, and it runs flawless. They are well built, a bit on the large size, but puts out more air then any I have had before. Also the first I have had that does not freeze up."
-Sailnow 2011, CruisersForum, 421 posts
"I also like Flagship marine for a couple of reasons. I have two of them. They use a household thermostat, controls are standard parts no expensive circuit boards, Heat is add on resistance heat and does not require the compressor to run. Only weak spot is the control relays. Have replaced 2 in ten years."
-obthomas, Trawler Forum, 496 posts
MarinAire
Around since 2007, MarinAire is a US-based marine air conditioning company with headquarters in Medley (Miami-Dade), FL and manufacturing done out of Guangdong, China.
While China sometimes gets a bad rap when it comes to manufacturing, MarinAire has a pretty solid reputation on the boating forums and good reviews on the quality of their marine air conditioners from many boaters. Their manufacturing facility has 150+ employees working in production, R&D, logistics, marketing and IT departments.
Pros of MarinAire
Many positive reviews on the quality of the manufacturing and materials

Excellent customer support

Quiet

Affordable units

Installed by an increasing amount of boaters, good reputation
Cons
Some complaints of a short unit lifespan
Freon leaks

100% made in China

Only a 1 year warranty

Complicated electric box
Feedback from Boaters on MarinAire A/C units
"Have had one in the previous boat and now 3 of them in the Carver. Never an issue and really quiet. The materials and quality is above anything else I have seen. If you call them a real person will answer and knows his stuff which is rather exceptional in todays world. They are called MarinAire not to me confused with Marine Air."
-Midnightsun, Carver Yacht Owners, 1,193 posts
"Bought the Marinaire after seeing the one Hans installed on his other boat. Very quiet, I installed one in my Rinker and it was a heck of a lot better then Dometic."
-Pepmyster, Carver Yacht Owners, 376 posts
"I had 6 Marinaire units that I installed on my previuos Cheoy Lee, no problems for the 5 years I used them. And they got plenty of use every night in the Caribbean. I've just ripped out thecentral chilled awater system in my present Cheoy Lee and am in the throes of installing 5 Mainaire units in that boat. Always found Marinaire pleasant and helpful."
-Martin J, Trawler Forum, 398 posts
"Even though it is Chinese made, they have a comprehensive website and their 16,000 btu 120V unit looks impressive. It has all of the protection features of a Cruiseair, a SS drip pan, amperage draw looks to be the same and interestingly it has high and low side pressure gauges installed.

And it is cheap, $1,642 including Fedex ground shipping. I would take a risk on one if I needed a new A/C."
-DavidM, Trawler Forum, 5,183 posts
"NO!!!! I had one. Brand new. Lasted one year… The evaporator rotted. The aluminium on it dissolved, and it leaked out all the freon. The cost of the replacement part was nearly as much as the entire unit…."

"….The evaporator rotted. The aluminium on it dissolved, and it leaked out all the freon. The cost of the replacement part was nearly as much as the entire unit."
-sailnow2011, CruisersForum, 421 posts
"Hi. My experience with MarinAire has been one of excellent customer service. By that I mean every time the unit malfunctions, they are happy to assist in providing the parts and information needed to fix it. That has occurred approximately 5 times since I got the unit. Now the unit leaks, and leak stop has not helped. I'm now told this is probably because of 'user installation issues' ie no bonding. I have a 15 y.o. Marine Air (different company) unit I personally installed (including bonding) that still works great!"
-CapnJB, CruisersForum, 7 posts
"I have two Marinaire 15,000btu units and they have worked well for 5 years and are running as I write. Never needed maintenance and still with the original fill of gas.

I met the owner of the company and he seemed a very competent honest man."
-s/v Moondancer, CruisersForum, 1,459 posts
"I installed 2 of the 16,000 Marin units to replace older Dometic units that were not worth repairing. They were the same footprint and installation couldn't have been easier, basically "plug and play". The only issue is the control panel was smaller. I used starboard to make a plate to cover the larger hole and mounted the smaller panel in that.

They have worked great for over 4 years and wouldn't hesitate to use them again if my other unit dies. Being full time for over 2 1/2 years the unit in the master SR gets almost 24/7 use."
-Spike, Trawler Forum, 74 posts
Mermaid Manufacturing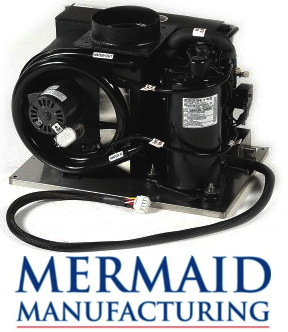 Fort Myers, Florida based Mermaid Manufacturing started out as Mermaid Marine Air in 1983, providing marine A/C units both nationally and internationally.
In 1999, a Marine Officer and Vietnam Veteran by the name of William Banfield purchased the company and renamed it Mermaid Manufacturing. Mermaid Manufacturing now also produces a dehumidifier and a climate controlled drug cabinet for the medical industry.
Mermaid boasts very low turnover rates, with the majority of the staff being part of the company for 10+ years. Mermaid has a very knowledgeable staff and support team, and the company is known to stand behind their products.
PROS
5 year warranty – covers defects in materials and workmanship

Made in the US

Known to be well-constructed, long lasting

When calling technical support, you speak with someone who actually builds the units and knows them well

Easy to repair and install

Fair company, will replace units if needed without hassle

Excellent reviews (could not find one outright negative review)

Low amp draw
CONS
Unit must be shipped back to factory if technical support is not able to walk you through repair

After 6 months, should unit need to go back to the factory, customer covers shipping to factory (but Mermaid covers shipping to return unit)

Some noise complaints
Mermaid Marine Air Conditioner Reviews from Boaters
"I've had 3 units from them. Still using 2 now since I sold the other boat that had one. So. 7 years on one which replaced the OEM dometic unit which went bad shortly after buying my carver. 11 on the other which I had added it for the vberth in my trojan and took it out after buying my carver and installed it in the aft cabin on my 405. And left one in another boat I had. I'm sure you'll here from others on what they like but this my experience. Here's a link to them if you want. .https://www.mmair.com/"
-G36, Carver Yacht Owners, 672 Posts
"I have a Mermaid 16K unit which is 7 years old working fine on my Sigma 41 in Miami. Very quiet unit and cools the boat with low amp draw. The thermostat( not Mermaid) failed and Mermaid told me what to replace it with and easy to contact them in Florida also. I had a 5 year warranty but never needed it.

Call them and discuss your concerns. Nice folks to talk to.

Good Luck!"
-dneve, Cruisers Forum, 66 Posts
"The Mermaid had to go back to the shop for an electrical problem, which they could not duplicate. Rather than argue with me about the problem, they replaced the unit completely. It is noisier than the Webasto, but that may be because of differences in the installation."
-CaptFrankM, Cruisers Forum, 143 posts
"I used to work for a yard that installed dometic and Mermaid. I always found the mermaid easier to deal with. They were kind of no frills units but can't recall ever having issues with one. We did alot of installs of under 12k units (most boats in the yard were 34′ or less) and Mermaids seemed quite a bit better on these smaller units."
-Colin A, Cruisers Forum, 646 posts
"FWIW I have a 1600 btu Mermaid that was installed by the po in 2000, not sure how often he used it but it has worked flawlessly for me for 2 1/2 cooling seasons in SC. I start it up in April and run it through to October pretty much 24/7(dog on board)."
-Spindrift NH, Cruisers Forum, 108 posts
"I have put Mermaid 16K units in 4 boats. Had great success with all of them. Great customer support."
-Comodave, Trawler Forum, 6,956 posts
"I'm with Comodave – Mermaid sells good equipment at reasonable cost and the factory support is great. The factory support comment is not based on equipment malfunction – too long a story to tell here, but really good people.

Based on the experience of a couple of friends, I'd also consider Flagship Marine.

Thoroughly underwhelmed by Dometic – never bought their gear based on the attitude of the sales people I encountered."
-sbu22, Trawler Forum, 1,223 posts
Webasto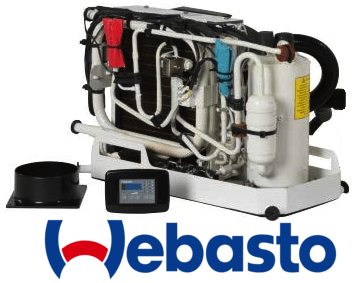 Founded in 1901, Stockdorf, Germany-based Webasto has been manufacturing cooling, heating, ventilation, roof and convertible roof systems for the marine and automotive industries for a long time now.
Webasto is family owned and has 50+ locations around the world (more than 30 of them production sites), as well as a large dealer network to provide products, installation and support services. Research and development is carried out in Stockdorf, Germany.
PROS
Excellent reviews, very few negative reviews found

Inexpensive
Known to be quiet

2 year free replacement warranty if it can't be repaired

A wide network of authorized repair shops

Will come out to boat to do repairs, no need to ship unit unless completely necessary

Painted with marine grade paint – extends unit life
CONS
FCF Platinum and Classic models assembled in China, with a mix of German and Chinese components

20 – 30% heavier than Dometic units of the same capacity

Not a composite pan, stainless steel pan (adds weight)

Fan runs continuously

**

; some boaters don't like
Feedback on Webasto Marine A/C Units
"Just called TS at Webasto. First was very impressed to immediately reach a tech that was able to answer all my questions and then some…"

"….Well if I spent a couple thousand on a piece of equipment and it had a problem while under warranty it seems like a pretty big imposition on me as the customer to have to ship the unit to the factory for repair. Not sure of the policy on this but if I have to pay for that it's a couple hundred round trip shipping, depending on where I'm located. That would put a pretty big premium on a free warranty repair.

Most companies have a dealer/support network and have local reps that will handle repairs. Webasto if the unit can't be repaired on the boat will ship you a new unit at their cost. That sounds like a good way to handle it to me."
-skipmac, CruisersForum, 14,497 posts
"I've had both my Webasto's for three years, and for the first two years they ran 24/7 365 days a year keeping the boat dehumidified and warm in Winter.

They have been brilliant, not a flaw. Of course I have had to clean the strainers, but other than that and cleaning the air filters nothing."
-a64 Pilot, Cruisers Forum, 29,259 posts
"- UPDATE – I ended up going with the Webasto 16000 FCF primarily because of space. It had the smallest footprint and the best price. I ended up getting the unit at West Marine on a price match. With the price match I was able to get a 4 year "on the boat" warranty for less than the normal West Marine cost of the unit alone. So far the unit works well. Currently it is putting out 40-45 degree air at the vents and is extremely quiet. I am happy with my decision at this point and hope to get many years of reliable service out of it. it does have the fan issue others have mentioned (fan runs non-stop) but I actually prefer that."
-SeaBreeze, Cruisers Forum, 169 posts
"I have Webasto 16k units for 6+ years. One quit due to trying to start off an inverter I think but was replaced at extremely low price. Customer service has been good. I run the compressors off 50hz with no problem in Europe but keep the blowers and pumps on 60hz per their recommendation. Controls however are not as sophisticated as more expensive units – e.g. can't blower on and off independent of compressor."
-Ostinato, Cruisers Forum, 497 posts
"Wow, absolutely love my webastos. I put in 2-16000btu on our boat and have installed 8 more on clients boats. We live aboard our trawler in New Orleans and these puppies run 24/7 for the last five years."
-GoneIsland, Cruisers Forum, 59 posts
"Another vote for Webasto. 2 going on 4yrs. Quiet, cheap, no problems"
-Sea Life, Cruisers Forum, 118 posts
"The Webasto units are decent. I put a couple 12k units on my bridgedeck to A/C the enclosure 7 years ago and they've been flawless."
-Buoy Scout, The Hull Truth, 5,957 posts
Best Marine Air Conditioner? In Our Opinion, Webasto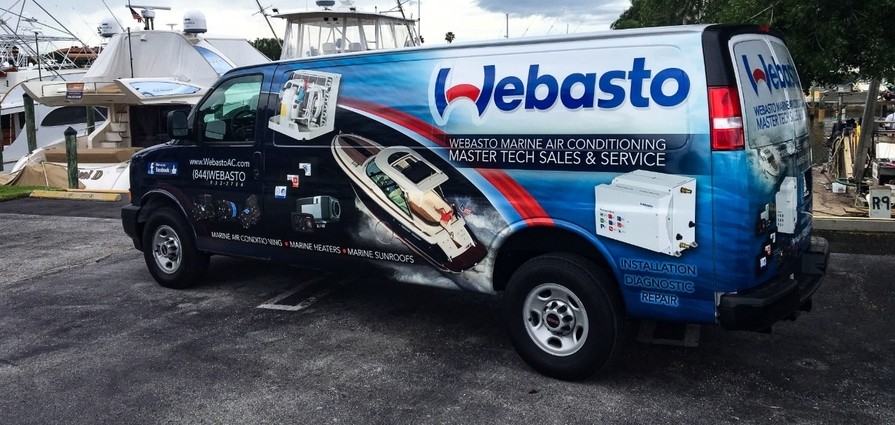 After much research and discussion, we can confidently stand behind a recommendation of Webasto as the best marine air conditioner brand on the market.
Reasons We Decided On Webasto as the Best Marine Air Conditioner
Priced very attractively (lower than most other major brands), without sacrificing quality

Excellent design and engineering

Shown to be long-lasting, and have very few problems, according to the feedback from an overwhelming number of boaters

Considered very quiet when comparing with other brands

The support Webasto provides is unmatched by any of the other brands – Webasto will send a service tech out to your boat to repair your unit, rather than you needing to remove the unit, pack it up, and ship it back to the factory,

They'll ship out a replacement unit at their expense if the unit cannot be repaired.

In the boaters' feedback, Webasto came out winning (or at least in a good position) in most comparisons with other brands
As mentioned, all of these brands can give you many years of solid performance as long as they are installed correctly and you perform the proper maintenance. However, with everything we've learned over the years, combined with the research done preparing this article, we can strongly predict — within the smallest margin of error — that you will have the best experience with a Webasto unit.
Questions, comments on marine a/c, just let us know!
Best, 

Citimarine Store
3300 NW 112th Ave, #4
Doral, FL 33172
1-(800)-766-5256
.
.
**Note: One concern we had during our analysis was the mention of the fan constantly running on the Webasto units. We reached out for more information on this from a contact we have with Webasto who knows the units well. His response:
"The FCF fan runs all the time to return the air over the compressor and evaporator. Also the thermistor is located in the return air grill so air flow is necessary to properly sense when to cycle on and off the compressor.  On the platinum units this running is at a much lower speed then the classic. 
Other brands read the temp at the wall mount control which can be located in a sunny spot or near a register giving a failed temp reading. They also cycle the fan completely off which allows the compressor to heat up excessively in between cycles.  These are a couple reasons the FCF is so much more efficient and cools better by BTU comparison."