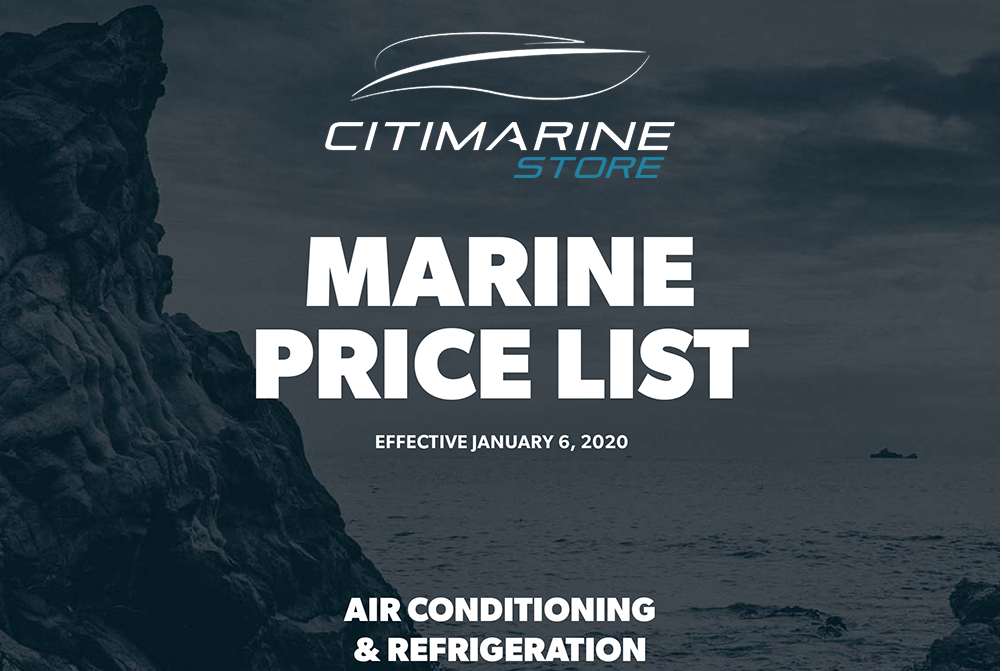 Dometic Marine A/C Price List 2020 – Dometic's Cruisair and Marine Air lines have merged under one Dometic brand of marine air conditioners. Below you will find their most popular models.
These are base model prices. 115V. Prices may increase based on voltage, sound shields, SmartStart, and other accessories.
Unit number = Thousands of BTUs (ex.: DTU6 = 6,000 BTUS).
Citimarine Store is no longer selling Dometic products in our webpage. This price list and blog is just for reference purpose only.
Dometic Self-Contained Unit Prices
Model

Description

Price

Dometic ECD

ECD kits are ideal for replacing an existing air conditioning system or for a new air conditioning installation. High-velocity blowers with internal motors for a more compact installation footprint. Units are built on an easy-to-plumb stainless-steel drain pan, and the pre-installed return-air filter is removable for cleaning. Powerful, quiet, and top-selling self-contained A/C unit by Dometic.

Also, replaces: STX, STQ & VTD units

ECD6K – $2,250

ECD10K – $2,495

ECD16K – $2,570

Dometic DTU / DTG




The Dometic Turbo Global Unit (DTG) series self-contained boat air conditioner is the replacement for the DTU. Rust-free molded composite drain pan has three drains for the rapid removal of condensate water. Small footprint. Vibration-isolation mounting system. Enclosed blower motor eliminates overhang for reduced depth. The Dometic DTU has dual capability of heating and cooling. New Feature enables the DTG to work in either 60 or 50 Hz.

Replaces: STX & STQ, VTD units

DTG6 – $2,510

DTG8 – $2,700

DTG10 – $2,940

DTG12 – $3,015

DTG16 – $3,145

Dometic DCU

Dometic Compact Unit offers direct expansion operation in a compact, low-profile unit, with a seawater-cooled condenser and choice of controls. Dometic Compact units are designed for installation under a settee or berth, in a locker or cabinet, or other convenient location. The DCU provides higher BTU's than Dometic's other self-contained models.

Replaces: Cruisair SQUF, VCD units

DCU18K – $4,540

DCU27K – $5,660

DCU30K – $6,315

Dometic Cuddy II

Ideal for sailboats and powerboats, the Cuddy II is a self-contained 12V marine A/C unit that can be operated directly from batteries or used dockside with a suitable battery charger. It provides 3,500 BTUs of cooling capacity while using very little power – only 30 amps (without circulating pump).

CDB3.5 – $5,325
Dometic Split Gas System Prices
Model

Description

Price

Dometic TV & TVE Evaporators

The Dometic TurboVap series of direct expansion (DX) split-gas evaporators for boats is based on the revolutionary engineering advancements of the award-winning DTU units. Dometic TVE units work with R-410A gas and condensing units such as the DEU, while Dometic TV units work with R-417A & R22 gas and R & RX series condensing units

TVE4 – $1,240

TVE6 – $1,240

TVE8 – $1,250

TVE10 – $1,295

TVE12 – $1,325

TVE16 – $1,420

(TV / R-417A units are approximately $360 more per BTU rating)

Dometic DEU Condensers

Pair this with a Dometic TurboVap R-410A evaporator (TVE). Dometic engineers designed the innovative Emerald Condensing Unit (DEU) series to harness and maximize the impressive performance of R-410A refrigerant while meeting all international clean air standards. Compact design, built-in vibration-isolating mounts, large drain connections and numerous mounting options for installation to a smooth deck, stringer or existing rack.

Replaces: Cruisair EQ, ED units

DEU6 – $2,780

DEU8 – $2,820

DEU10 – $2,960

DEU12 – $3,035

DEU16 – $3,165

Dometic R & RX Series Condensers

Pair this with a Dometic TurboVap R-417A / R22A evaporator (TV). R-type remote condensing units are seawater-cooled, reverse-cycle heat pumps for cooling and heating in marine applications, available in capacities from 10,000 to 48,000 BTU/hr (higher than 16 BTU only available in 230V). Pair with up to two evaporating units. RX has the digital control, R-series is a mechanical control.

RX10 – $3,960

RX12 – $4,070

RX16 – $4,255

RX20 – $6,170

RX24 – $6,200

RX30 – $6,735
Dometic Marine Chilled-Water Systems
*Chiller systems do not come in 115V, but in several voltage / phase combinations: 230V/60/1, 220V/50/1, 208-230V/60/3, 380V/50/3, 400V/50/3, 460V/60/3. Prices below may vary slightly based on voltage needed.
Model

Description

Price*

Dometic MCGX

Dometic MCGX Titan modular chillers use titanium condensers to greatly increase durability and product lifespan. Titanium is unaffected by the punishing combination of saltwater, invasive marine life, and the harsh acids used in routine cleaning. Far superior to cupronickel systems–the industry standard–which inevitably suffer catastrophic failure from corrosion and erosion. Available in capacities ranging from 24,000 (2 ton) to 180,000 (15 ton) BTU/hr, but can be staged to provide larger capacities. Not available in 115V, but available in 220, 230, 460 and other voltage / phase combinations.

Replaces: MCGV units

MCGX36 – $11,800

MCGX48

– $12,550

MCGX60 – $13,700

MCGX72 – $14,750

MCGX90 – $20,100

MCGX120 – $21,950

MCGX150 – $30,750

MCGX180 – $31,950

Dometic TWCX

 

The Dometic TWCX is a fully enclosed, high-performance reverse-cycle chiller that cools and heats, and is available in a wide range of models. Also built with titanium condensers. Two control systems are available. The standard Digital Diagnostic Control (DDC) that provides simple, single-stage operation.  Or Tempered Water Logic Control (TWLC) with LCD screen for multiplexed system.

Replaces: TWCV units

TWCX24 – $7,200

TWCX30

 – $7,550

TWCX36

– $7,750

TWCX48

– $9,750

TWCX60

– $10,650

TWCX72

– $11,650

Dometic CHC Chiller Compact

The Dometic CHC compact chiller is ideal for larger boats in the 45-70 ft/15-20 m range. The innovative, space-saving compact base of the Chiller Compact was designed for individual modules to be joined together / multiplexed into one larger system to provide precise capacity requirements for any need. Comes in 24,000 BTUs and 230V.

CHCG24Z – $5,600
This blog is for reference purposes only. Citimarine Store does not sell any Dometic products at all. You can purchase the Dometic Products from one of Dometic's authorized dealers on their dealer list, available on Dometic's website.
Related

Citimarine Store
3300 NW 112th Ave, #4
Doral, FL 33172
1-(800)-766-5256