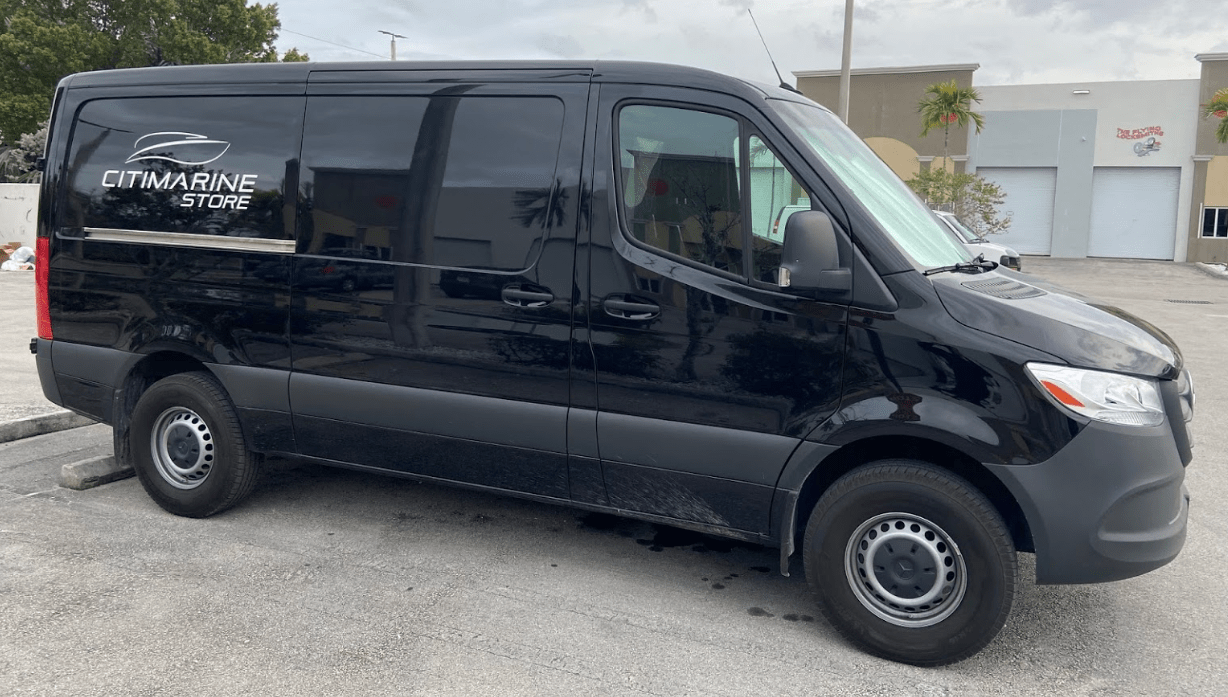 Webasto, global leader in marine air conditioners, heaters and roofing solutions, has named us — Citimarine Store — its top aftermarket sales outlet in North America, per a recent press release. The press release mentions that in less than one year of sales, Citimarine Store's sales volume of Webasto Marine AC Units has surpassed even the large, highly-competitive and well-known national outlets, thanks to our online marketing efforts.
Serving customers around the world, Citimarine Store specializes in recreational and commercial marine equipment and accessories. "We saw a niche opportunity with Webasto and implemented an aggressive approach to our online sales platform that has led to very impressive results," said Javier Ripoll, Jr., Citimarine Store CEO.
"Citimarine Store pushed hard and grew quickly, and we're especially pleased with the relationship we've developed with them," said Randy Carter, Webasto senior national sales manager, marine aftermarket customized solutions. "While they sell an impressive number of our comfort solutions through their website, their sales figures for our FCF Series of self-contained air conditioning units are truly remarkable."
Press Release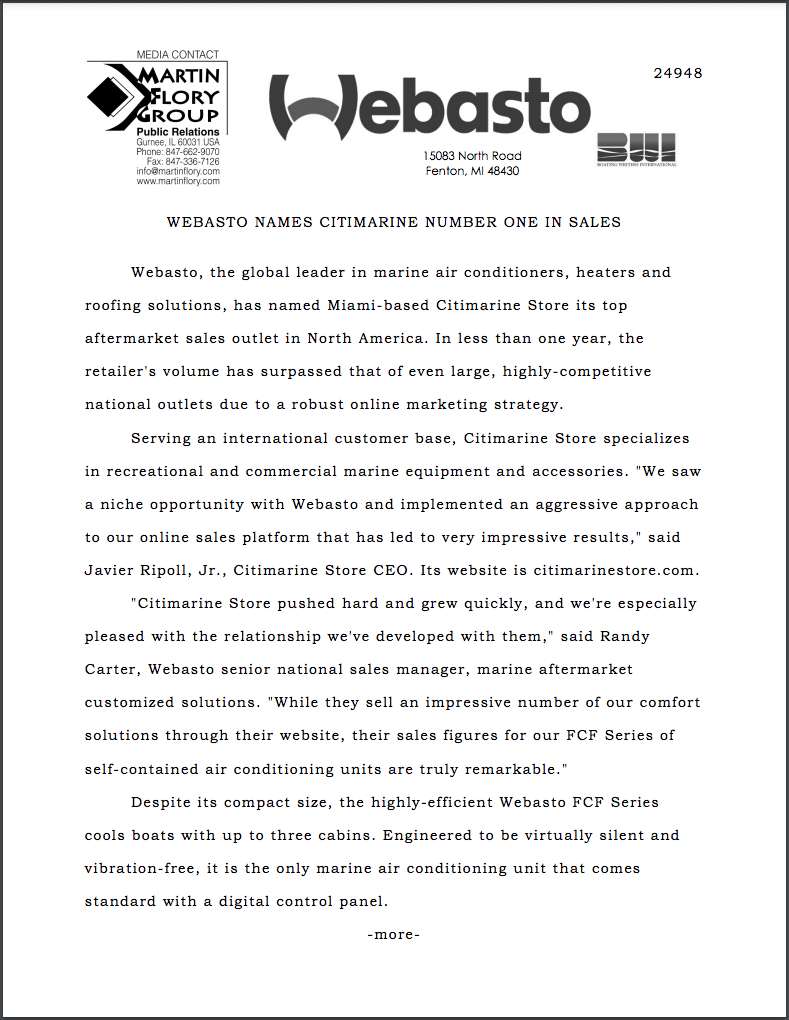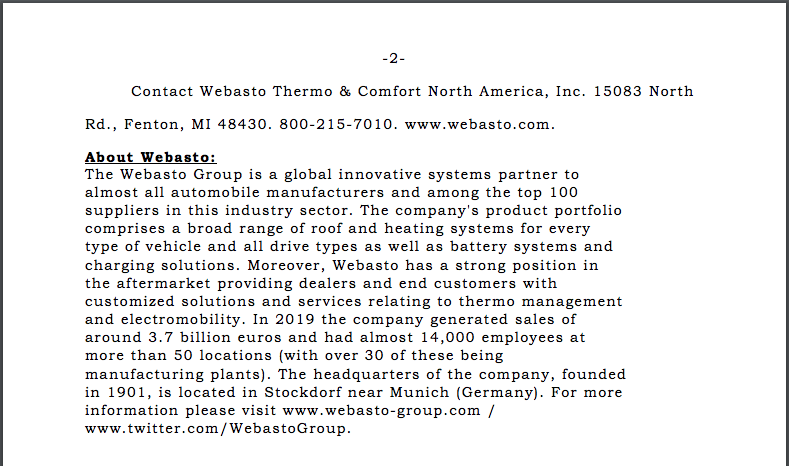 For the original press release, distributed by the Martin Flory Group, see here: Webasto Names Citimarine Number One In Sales
About Webasto Marine AC Units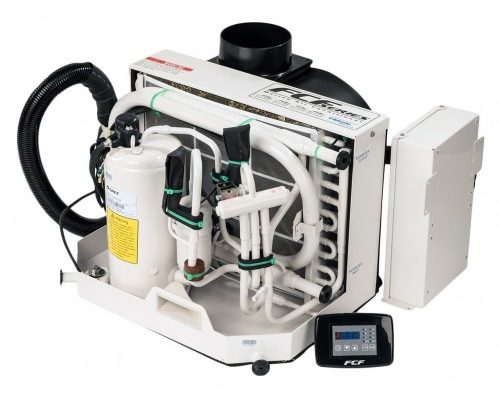 Despite its compact size, the highly-efficient Webasto FCF Classic Series can cool boats with up to three cabins. Engineered to be virtually silent and vibration-free, it is the only marine air conditioning unit that comes standard with a digital control panel.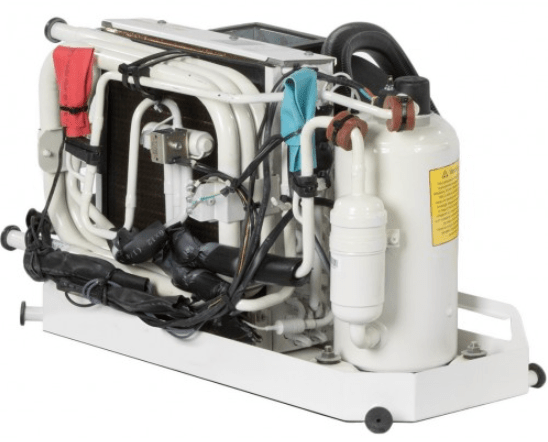 The Webasto FCF Platinum series is the latest development in Webasto's line of marine air conditioners. The FCF Platinum features improved design, offering a higher BTU/h rating across a variety of ambient scenarios, while continuing to provide unmatched product reliability and a two-year warranty.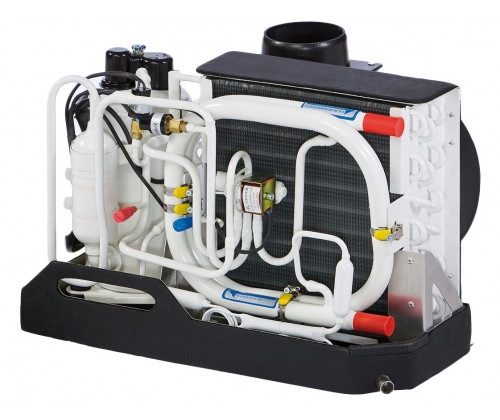 Another popular self-contained marine AC model that Webasto produces is the Webasto BlueCool S series. Quiet, powerful and highly energy-efficient, BlueCool S units come with a 270 degree rotatable blower and are fully 60 Hz compatible – suitable for worldwide usage. Epoxy-painted and with a stainless steel drain pan for durable corrosion protection and reverse cycle heating function. 
See all available marine AC units and systems by Webasto, including larger chillers systems and parts, see here: Webasto Marine Air Conditioners
About Webasto – Marine

Founded in 1901, Webasto is a family-owned business based out of Stockdorf, Germany, near Munich. With 14,000 people employed at more than 50 locations worldwide (including 30 manufacturing plants), Webasto is a global innovative systems partner to leading yacht manufacturers and boat builders for marine A/C and heating solutions. An outstanding network of production facilities and dealers guarantees high quality products, installation standards and services worldwide. Webasto has air conditioning systems suitable for any boat or yacht.
About Citimarine Store

Citimarine Store is a BBB accredited, A+ rated retailer of marine accessories, electronics and parts, located in South Florida with over 10 years in business. Due to strong industry connections, dealer relationships, and in-depth understanding of the boating industry, Citimarine Store is able to provide a wide variety of products from top brands, at low and competitive prices, and with excellent shipping rates.
Related Posts: