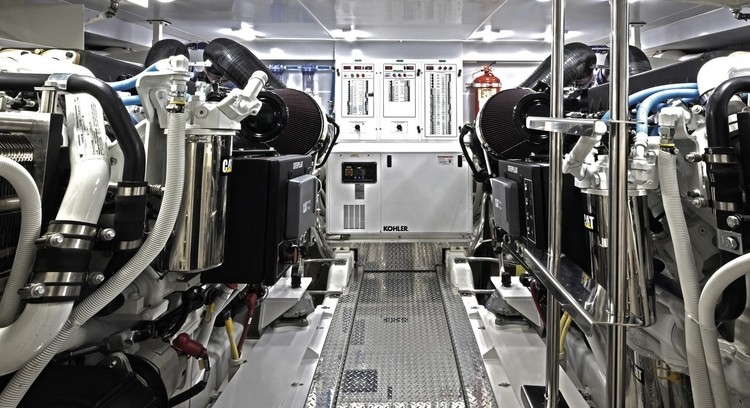 There are many questions when it comes to selecting a marine generator: how many kilowatts would be enough to power all necessary appliances, should you go with a gas or diesel powered gen set, and which brand makes the best marine generators?
With decades of personal boating experience under our belt, and training and experience gleaned from many years of sales and support of marine generators from major brands, we hope to shine some light on these questions.
This guide should help you better understand the similarities, and well as the unique characteristics, advantages, and disadvantages of all the major marine generator brands – Kohler, Northern Lights, Cummins Onan, Westerbeke, Fischer Panda – our personal recommendations, the advantages of diesel over gas (and when gas is important) in gen sets, and how to make the most out of the generator you decide upon.
The Importance Of Having a Marine Generator Onboard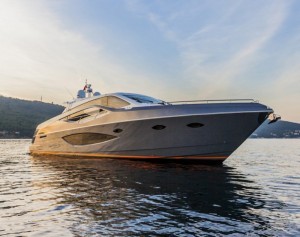 Our boats are filled with all sorts of electricity consuming appliances: A/C systems, refrigerators, water heaters, and navigation devices, just to name a few.
Supplying the necessary power for all these accessories can be a challenge when out at sea or when far from shore power.
One option we have is to keep the main engines running to power all these electronics, but the noise, vibration, fumes and fuel consumption can make this a less than practical option.
A good marine generator will provide the better, quieter and energy-efficient powering solution you need when out at sea.
Most Generators From Major Brands Will Serve You Well, If Properly Taken Care Of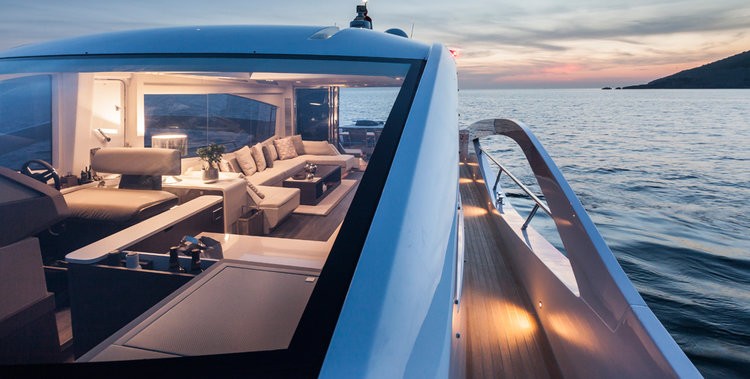 At the end of the day, virtually all marine generator manufacturers outsource their blocks (Kubota, Mitsubishi, Shibaura) and many use the same hot ends too. Main differences from one generator brand to the other are in marinization and control circuitry. 
Most small diesel, 1800 / 1500 rpm gen sets from the major brands are capable of lasting you a good 15,000 – 20,000 hours with clean fuel, proper maintenance and regular use. Following these guidelines, you should be able to get the most out of any gen set from the top brands:
Generators like to be run. The marine environment is harsh on unused engines. You will have fewer problems if you use them regularly than if you let them sit and rust. Start them up no a scheduled basis, even if not using them.
Keep your generator DRY. Sea water dripping from the cockpit deck will wreck havoc on even the best of generators. We've heard reports from boaters with "cheap" models who've gotten 10+ years out of their gen set and no issues ever starting up, due to keeing their bilge dry as a bone the entire time.
Perform regular maintenance per the operators manual… change oil, filters, impellers, per schedule.
Winterize your gen set if living in a cold climate. A generator's engine is no different to winterize than your main engine. Perform your fluid / filter service, and make sure the block is filled with antifreeze.
Size your generator properly. Here's how: add all of the pulling amperage from your main appliances and equipment, for example, 85 amps. Multiply it by voltage, example, 115V. Now we have 9,775 watts. Round it up to the next 1,000, 10,000 watts and add a 20% safety margin. We're at 12,000 watts, or 12 kilowatts. You need a 12 kW generator. Need help with figuring out what size gen set you need? Feel free to

contact us

or chat with us below, we can help.
It's fair to say that Onan, Northern Lights, Kohler, Westerbeke will all give you good service for a long time if you follow these rules. When it comes to gen sets, the conversation then becomes much like the discussion on whether Ford is better than Chevy.
It is, however, recommended in most cases that you go with the lower revving (1800 or 1500 rpm) engines, as they are quieter, more efficient, and last longer than the faster revving 3600 / 3000 rpm engine models some brands carry.
With all this being said, there still are some definite advantages and disadvantage to each brand worth noting.
Cummins Onan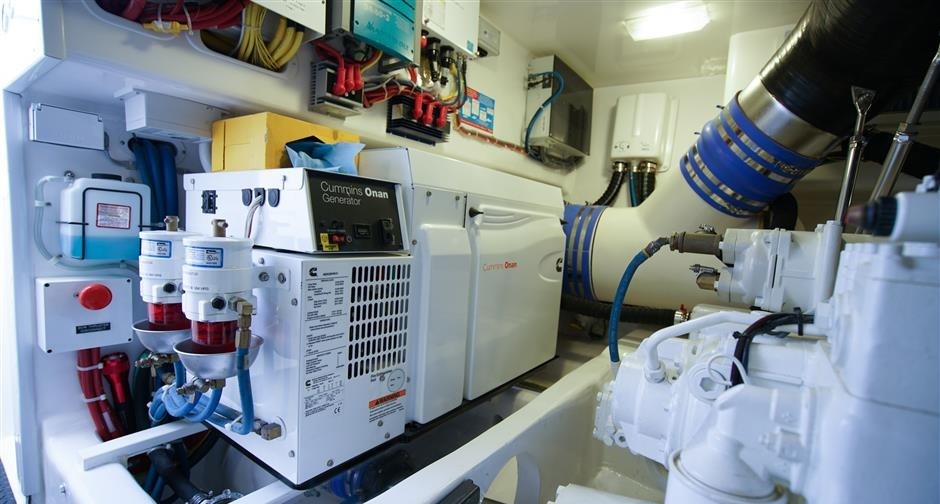 Cummins Onan has been in the diesel engine and power generation industries since 1920. Both Cummins and Onan started out separately around the same time, with Cummins developing and remaining an industry leader in diesel engines ever since. Onan started out making small electric generator sets, but soon went on to develop stronger gas-powered units, and was one of the first US companies to design and build small diesel engines.
Cummins purchased majority ownership of Onan in '86, later assuming total ownership in 1992, bringing together the technology, knowledge and expertise of both companies. Cummins diesel engines come standard as the diesel option in many Ford, Dodge and Nissan pickup trucks.
While they currently outsource the engines for their recreational marine generators, Cummins Onan knows how to put a machine together well. Cummins Onan marine generators come standard in Viking, Hatteras and Sea Ray yachts. They use a 3 cylinder Kubota engine, which is one of the best small diesels available. 
With proper maintenance, an Onan generator is considered to be just about bullet proof. Easy to start up, runs well at high temperatures, and barely make a noise. Excellent generator ends. Easy to troubleshoot should something go wrong, with 24/7 emergency service and a large global support network.
Some complaints as to Onan generators are with the computer control system, similar to the Kohlers. Some feel it is unnecessary, and have experienced an inability to do field repairs on the computer control system itself. Many find the computerized control system to be reliable though.
Replacement parts are generally not cheap.
Kohler Marine Generators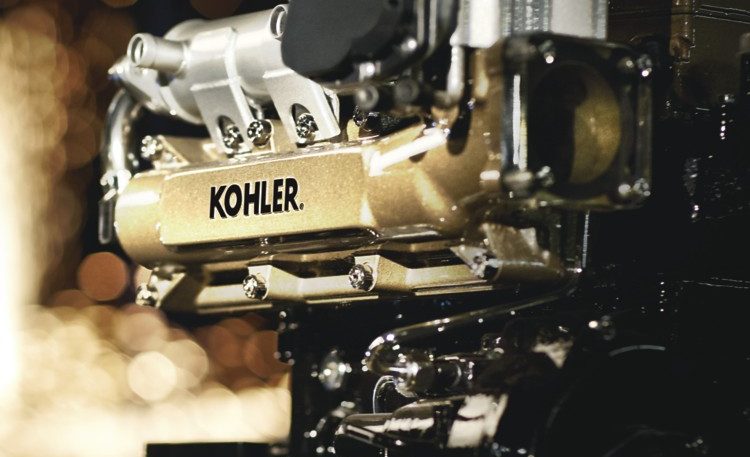 Kohler, a US manufacturing giant that's been around since 1873, is known for making quality products across several product lines. Kohler was the first company to ever offer residential back-up generators in 1920. 
When it comes to their marine generators, Kohler is constantly working to produce a smaller, lighter gen set with a smaller footprint, all the while delivering substantial power. Kohler marine generators come factory in a lot of larger yachts such as Azimut, and have an excellent service history. 
Kohlers use Lombardi (acquired by Kohler) or KDI (built in-house, pictured above) engines, both strong marinized engines.
New models come encased in a combination of sound-deadening foams and rigid barriers which results in a very quiet unit with low vibration.
Kohler is the most affordable of the brands, including low cost replacement parts.
For some boaters, a downside to the Kohler is that it is too "electronic", with many circuit boards, engine control, plenty of diodes in the circuits, and run by computer, rather than just a simple machine. They are also packed in pretty tight, which can make some repairs harder to get to.
Northern Lights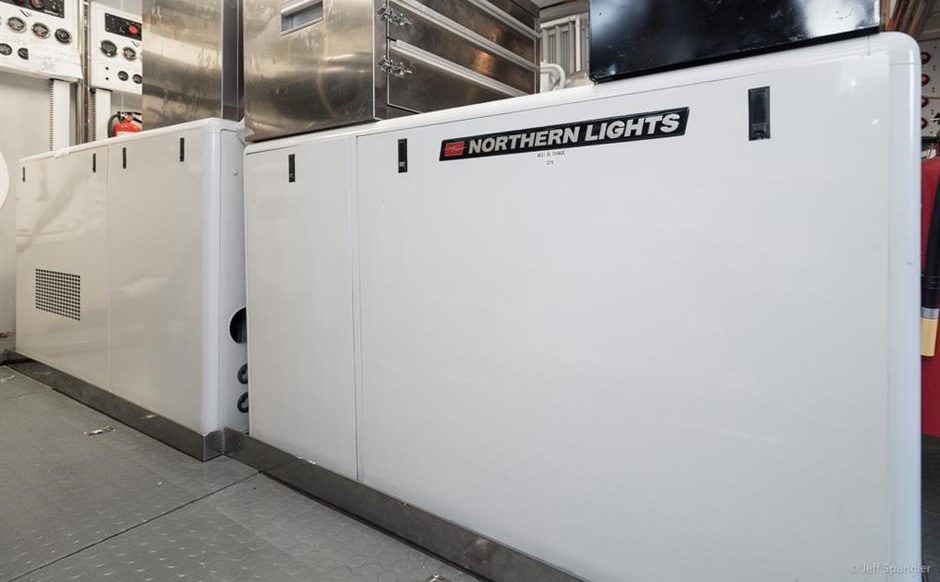 Northern Lights has enjoyed a strong reputation in the marine market for a long time now thanks to building a solid, durable marine generator.
Starting out in Alaska in the the 1960s, Northern Lights had contracts with the State of Alaska for electrification of rural schools and villages and powering of communication centers along the Alaska Pipeline, and entered the marine market in the 80s.
Powered by a Shibaura engine (Japanese mini tractor engine manufacturer), with an in-house lugger marinization process, Northern Lights generators use a simple and logical control system, and are easy to repair and reach parts in the sake of any issues.  With more machinery than electronics, Northern Lights is a favorite among many classic boaters.
While not cheap, you will get what you paid for in terms of durability, ease of maintenance, and good generator ends.
However, along with the high price tag on the unit, replacement parts can be costly. Raw water pumps and issues with a rusting exhaust (not made of stainless steel; can lead to saltwater entering / damaging generator) are some common issues. Stainless steel replacement exhaust manifolds are no longer available either.
Northern Lights are also larger and heavier than most the other brands, so engine room space needs to be really be taken into consideration.
Westerbeke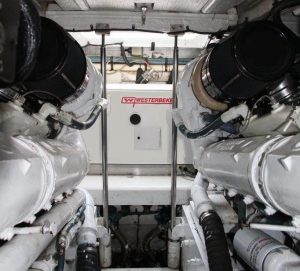 Westerbeke, founded in 1937 in Avon, Massachusetts, was the first company on this list to enter the marine diesel engine industry with the Detroit Diesel 6-71 in 1938.
Westerbeke gen sets have a long and storied history of being used in large maritime companies and governmental agencies such as the US Navy and Department of Homeland Security, as well as currently coming standard in several top boat manufacturers.
Westerbekes are very quiet. Most of Westerbeke's recreational diesel generators are built with solid Mitsubishi engines, and use Tohatsu in their gasoline gen sets. Westerbeke is the only company out of the major brands to currently carry gas generators.
The Westerbeke has a mechanical governor and throttle control, which can make problems easy to diagnose at sea and keep running.
While Westerbeke marine generators are overall well-designed and reliable if maintained and used regularly with a load, some parts are considered second rate engineering, including the generator ends (many reports of issues), belt drive, and issues with salt clogging the cooling system. Maintenance and replacement parts can be costly as well.
Fischer Panda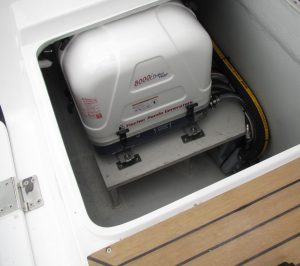 Fischer Panda started out making water-cooled diesel generators in Germany in 1988, initially working with BMW's Marine Division. They entered the US market with their Fort Lauderdale location in 1995. Fischer Pandas come standard in Marlow Hunter and Pursuit Yachts, as well several Boston Whaler models.
Fischer Pandas are the lightest and smallest of the marine generator brands listed here, good for fitting into smaller engine rooms. They produce quite a bit of power though from their Kubota or Farymann diesels. They are freshwater-cooled, and come automatic with a sound shield, due to their compact suitcase design.
Fischer Panda marine generators have the downside of being 3000 / 3600 RPM, which can lead to them wearing out quicker. This also means that there are more maintenance requirements, more oil changes needed, etc. being that it runs at twice the revolutions. However, for a 3000 / 3600 RPM / 2 cylinder unit they are considered quiet, with lower decibels than some of their 1500 / 1800 rpm counterparts.
The FP looks great on paper, but it seems this is achieved by a very complex design that, when it works it's great but when it doesn't, depending on the problem, can be very difficult to diagnose and repair. Since the maintenance requirements can be demanding for some, this can lead to problems if neglected. With that being said, Fischer Panda is said to have some of the best customer support around, really going above and beyond for their customers. 
Some feel that the Fischer Pandas are pricey for what you are getting in return. If looking for a smaller, compact style water-cooled generator, another option is the VTE Paguro brand that we carry, which is available with 1500 / 1800 RPM diesel engines, a simpler design, and at a lower cost.
With all this being said, we've heard of many satisfied Fischer Panda generator reviews from owners, and boat makers and organizations decided on using Fischer Pandas for a reason.
Why We Select Cummins Onan and Kohler As Making The Best Marine Generators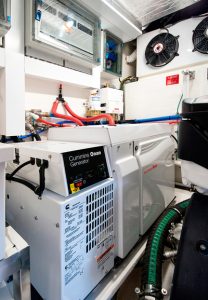 If properly taken care of, following the maintenance schedule and staying on top of any issues, you should be able to get tens of thousands of hours from any one of these brands. Each brand has many reports from satisfied customers experiencing excellent, long-lasting performance.
But in our experience, when it comes to reputation, durability, severity of issues you may face, cost to repair these issues and quality of product support provided by the manufacturer, we feel strongest about Cummins Onan and Kohler as the best marine generators, with Onan having a slight edge due to performance.
If cost is a factor, Kohler is your brand. A powerful, yet quiet machine in an affordable package. Affordable replacement parts and repairs if needed, excellent customer support, and most importantly, a Kohler marine generator will provide you with the reliable power you need onboard.
Cummins Onan has a higher price point, and generally more costly replacement parts, but you'll get what you paid for with a powerful, rock-solid marine generator that runs like a sewing machine, flawless startup, very little maintenance requirements, and stellar product support.
Should You Purchase a Gas or Diesel Marine Generator? Which is Better For Your Boat and Why?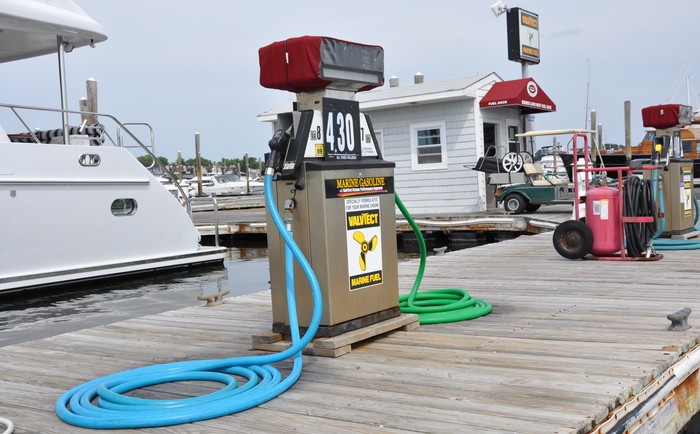 The vast majority of marine generators run on either gasoline or diesel fuel, with diesel quickly becoming the norm for most brands.
In most instances, a diesel-powered boat will carry a marine diesel generator, and a gas powered boat, a gas generator. This is out of convenience, as it will run off of the main fuel line, and won't require separate fuel tanks.
Most boats 26 feet and over come equipped with diesel engines standard, with diesel fuel having several advantages over gas. Diesel is cheaper, safer, environmentally-friendlier, weighs less and lasts longer than gasoline.
Diesel technology in marine generators has come a long way in the last decade or so to take advantage of these benefits. With a lower fuel consumption rate you can keep your appliances powered for longer journeys, as well as take less fuel with you, decreasing the weight of your vessel.
Diesel generators used in marine situations have excellent torque. More torque = more power.
All these points may make choosing diesel sound like a no brainer, but even with all that being said, if your boat comes standard with gasoline engines, and you are not venturing away from shore for too long, gas may be the more convenient choice. Gen set manufacturers have come a long way in stretching out the efficiency of gas for their gas generators. Westerbeke's fuel-injected low-CO gasoline generators have been engineered to significantly reduce carbon monoxide emissions.
However, even on gas boats, you can reap the benefits of a diesel gen set. You will need a separate diesel tank, so take that into account when evaluating space requirements. You will also need to make sure the diesel generator is ignition protected.
Need A Marine Generator? We Can Help
If you need assistance as to which generator to choose, or how to equip your boat with a diesel marine generator, please don't hesitate to chat with us below, contact us here or give us a call at 1 (800) 766-5256.
Have a good one!
CitimarineStore.com
3300 NW 112th Ave,
Doral, FL 33172
(800) 766-5256
[email protected]