Riva 86 Domino Marine Electronics Refit – Marine Electronics Installation

The Marine Electronics Installation Team here at Citimarine Store in Miami recently did a major marine electronics refit on a 2014 Riva 86 Domino – an elegant and stylish, high-performance beauty of a yacht. The Citimarine Team was excited to undertake the project, revitalizing the already sophisticated vessel with a comprehensive refit of its navigation, engine room, internet connectivity, communication, sound and lighting systems. 
The objective was to outfit the vessel with cutting-edge marine electronics from top brands, elevating the performance, navigation and luxury of the Riva. Come take a journey with us as we go through the extraordinary enhancements that elevated this yacht to the next level.
The Engine Room
The engine room upgrade consists of several components, including the Raymarine RVX1000 3D CHIRP Sonar Module, which offers a detailed underwater view using advanced CHIRP technology. The Raymarine B765LH D/T Through Hull CHIRP Low-High Transducer complements the sonar module by providing precise depth and temperature readings, ideal for fishing.
The integration of twin Maretron J2K100 interfaces allow seamless communication between MTU engines and the NMEA 2000 network, enabling real-time monitoring and optimization of engine performance on various displays. Additionally, three Raymarine CAM300 Eyeball IP Cameras placed in the engine room offer live visual monitoring, enhancing safety by providing instantaneous alerts to any potential issues.
Navigation Hub – Main Lower Helm
The next stop in our marine electronics refit was the installation of a trio of Raymarine Axiom XL 19 displays at the main lower helm, presenting an intuitive interface for swift interpretation of navigational data. An added AXIOM+ 9 RV enhances navigation with real-time data, complementing the Axiom XL screens.
The Raymarine P70Rs Color Autopilot Head ensures precise course control, reducing crew workload, while the Maretron DSM570 Instrument Display seamlessly integrates critical vessel data. The RCR-SD USB Card Reader offers convenient chart access, and two Icom VHF Marine Transceivers guarantee reliable communication. A Scanstrut Rokk Active Wireless Charger and RMK-10 MFD Remote with Portrait Keypad further enhance connectivity and control.
Flybridge Helm Enhancements

The Raymarine Cyclone Pro Open Array Radar, equipped with a 4ft array, ensures exceptional radar performance, delivering precise and detailed data even in challenging weather. On the Flybridge Helm, two Axiom XL 16 displays create a powerful navigation hub, providing the captain with a comprehensive overview of navigational information. The Flybridge Helm also features the RMK-10 MFD Remote with a landscape keypad for streamlined control. 
Dual Furuno RD33s provide critical navigation data, while a Quick QNC CHC Color Chain Counter improves anchoring by providing accurate measurement of anchor chain operations.
Marine Internet Connectivity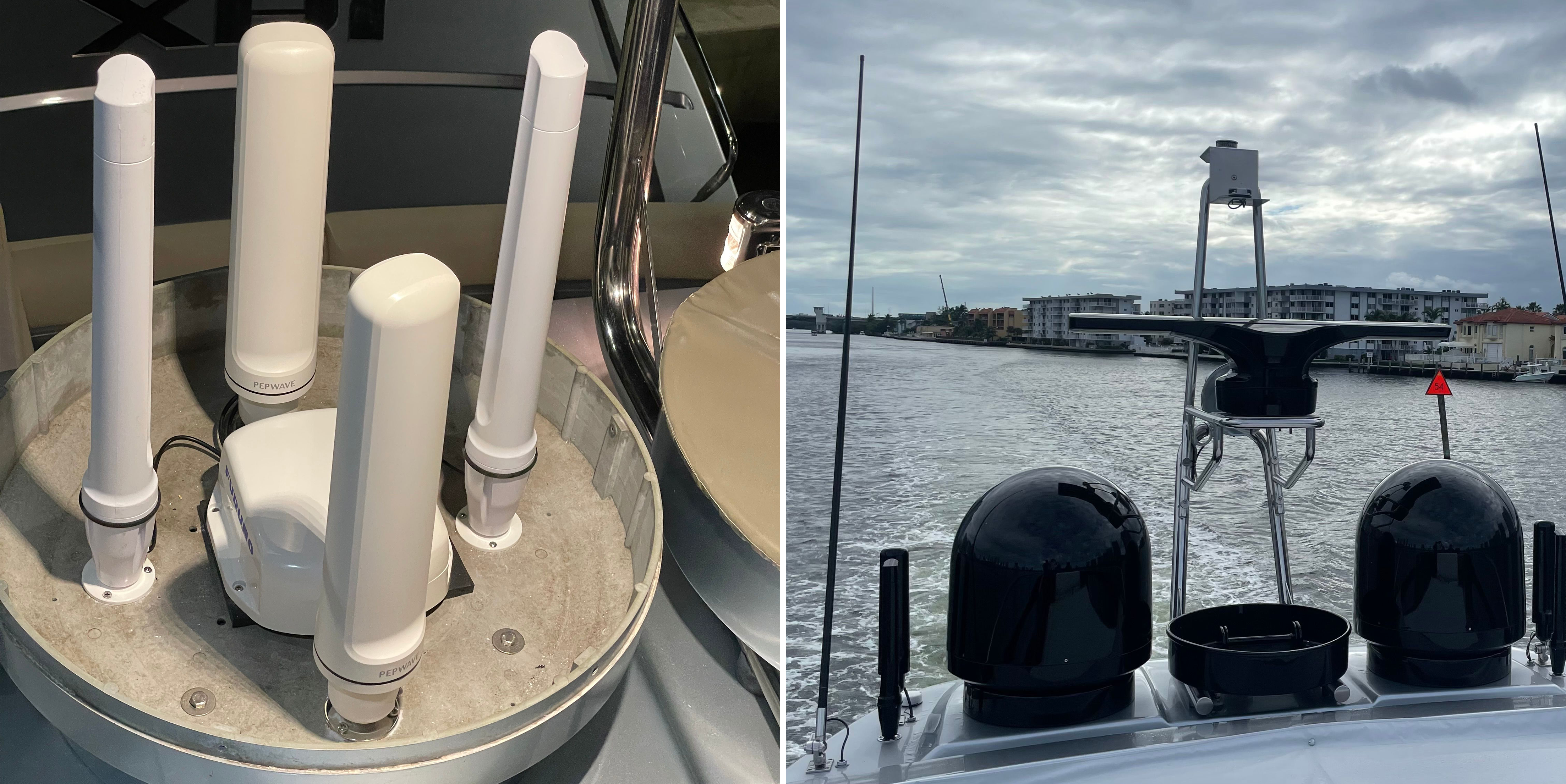 Citimarine's Marine Electronics Installation Team optimized the yacht's connectivity with an innovative system that provides uninterrupted internet access throughout the vessel. A Peplink Max BR2 Pro Cellular Modem and Router ensures robust cellular connectivity by utilizing multiple SIM cards from different carriers for optimal signal reception. With advanced failover capabilities, the router seamlessly switches between cellular networks, ensuring quality internet access even in areas with limited coverage.
Twin Poynting OMNI-414 Antennas further enhance cellular signal reception for the PEPLINK Modem and Router, as well as complement onboard Wi-Fi by capturing shore Wi-Fi access points, expanding internet connection sources for the vessel.
A Starlink HP Maritime Antenna is integrated into the connectivity package, providing high-speed satellite internet access via Starlink's satellite constellation, essential for remote locations where cell signal or wifi internet access is not available.
Twin AP One AX 4×4 MIMO Wi-Fi 6 Access Points ensure vessel-wide Wi-Fi coverage. These advanced access points offer high data transfer speeds and increased capacity throughout the vessel. Meanwhile, Peplink SpeedFusion Connect technology is employed to bond and manage cellular and satellite internet connections, enhancing speed and reliability, and uninterrupted online access.
To maintain a clean look, all antennas and equipment on the flybridge hardtop were painted black to match the yacht's aesthetics without interfering with the functionality of the components. Leveraging advanced technology and Citimarine's know-how, the goal of this part of the Riva 86's marine electronics refit was to ensure uninterrupted and reliable communication and connectivity during all parts of the vessel's coastal and open-sea voyages.
Communication – Marine Electronics Refit
Advanced communication solutions were the next step of the refit. The flybridge helm of the 2014 Riva 86 Domino now features two strategically positioned ICOM HM195GB Command Mic remote VHF microphones with external speakers, providing convenient VHF communication access for the crew. Two additional ICOM HM195GB Mics are strategically placed – one in the port cockpit glovebox and another in the captain's quarters. These microphones are equipped with a user-friendly interface and clear LCD display, facilitating effective communication with other vessels, shore stations, or emergency services. Integrated external speakers ensure audio clarity, enabling clear communication even in noisy conditions.
Lighting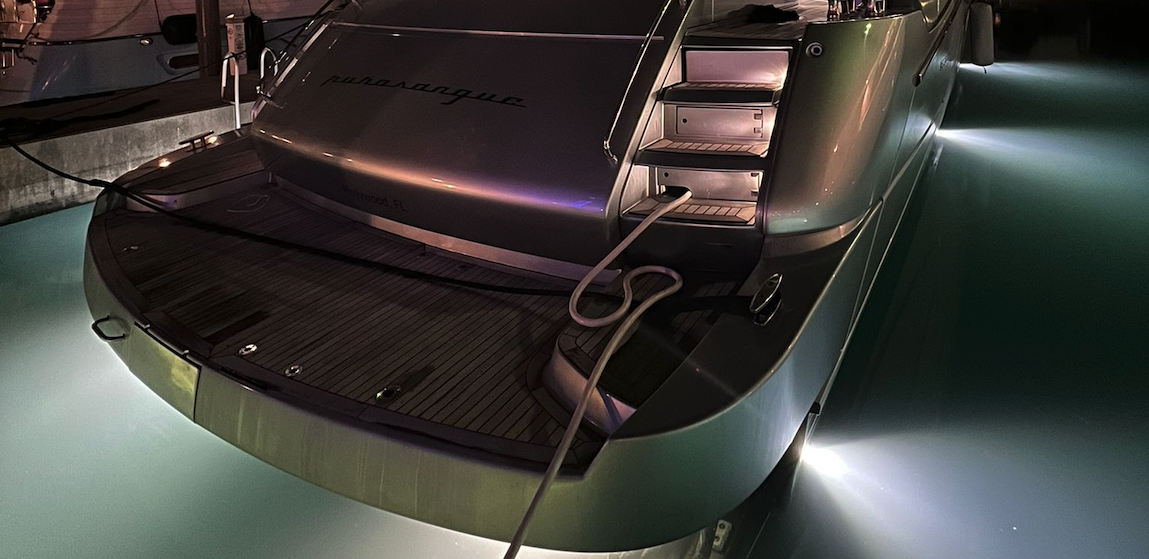 Next on our marine electronics refit job we outfitted the Riva with LED lighting system upgrades from Lumishore and Lumitec, in order to enhance the aesthetics, safety, and functionality of the vessel's lighting during nighttime voyages. 
Ten Lumishore TIX404 LED Underwater lights were expertly integrated into the hull, creating a mesmerizing underwater light display for captivating evening experiences. These lights are well-known for their vibrant colors and can be synchronized to match the yacht's mood or surroundings, with complete control from the Lumishore Lumilink MFD Integration. Two Lumitec Maxillume LED Flood Lights, Lumitec Razor Lightbars and a flybridge floodlight offer a substantial amount of illumination, guaranteeing safety during evening voyages while further adding to the yacht's aesthetics.
The illumination part of the refit even extended to upgrading lighting in the engine room and technical spaces, using advanced Marine Grade IP rated LED fixtures from Lunasea Lighting and DRSA. Renowned marine lighting providers Lopolight and Hella Marine were chosen by the Citimarine Marine Electronics Installation Team to enhance the vessel's navigation lighting to top-tier standards. By integrating cutting edge LED technology, the yacht benefits from significantly reduced power consumption in comparison to traditional lighting systems, while providing some of the most powerful illumination available.
Sound Systems
At the core of the Riva 86's all new sound system is the Fusion Apollo MS-WB675 Marine Hideaway Stereo, delivering powerful and precise audio performance throughout the vessel, while discreetly integrated into the sleek yacht design. The Fusion Apollo's user-friendly interface grants easy access to a variety of audio sources, accommodating both guests and crew preferences. Fusion Apollo MS-ERX400 Color Wired Remotes are installed in the port glovebox, flybridge helm, and bow seating area allowing seamless audio management. Volume and zone control is also easily managed via the Raymarine MFDs or the Fusion Link app.
The sound system's amplification is carried out by Wet Sounds audio amplifiers, while the cockpit area features Wet Sounds Audio Marine Coaxial Speakers with LED Lighting, gray metallic trim ring, and titanium sport grille. These speakers offer both high-quality sound and visual elegance, with customizable LED lighting illuminating the cockpit walls. The cockpit, flybridge, forward bow and sunpad areas have all been outfitted with an arrangement of Wet Sounds coaxial speakers and subwoofers carefully selected to create a rich and vibrant audio experience, enhancing the entertainment and relaxing ambiance of different parts of the Riva yacht.
Thanks to the advanced connectivity on the vessel, seamless, high-quality bluetooth and AirPlay (direct from apple devices) streaming to the stereo system is available. From cockpit to flybridge, the Riva's new sound system provides personalized experiences with controls via mobile devices and yacht-wide Wi-Fi. 
Sights and Sounds – Bringing It All Together
The Citimarine Team really went above and beyond to finish off the amazing marine electronics installation on this Riva 86 by custom painting the grille colors and finishes of all the onboard speakers to match the vessel's metallic gray and black color scheme, maintaining both interior and exterior aesthetics. 
The integration of Lumilink MFD interface and Wet Sounds's speaker lighting creates a captivating sensory experience, allowing control of lighting scenes, moods, and synchronized profiles with the music's BPM, blending audio and lighting innovation harmoniously! Whether it's a relaxing evening, a lively party, or a romantic night cruise, the integrated audio and lighting systems create the ideal atmosphere for every moment.
The seamless integration of audio and lighting systems showcases the Citimarine Team's dedication to crafting an exceptional yachting experience. 
Another Marine Electronics Refit Success for the Citimarine Team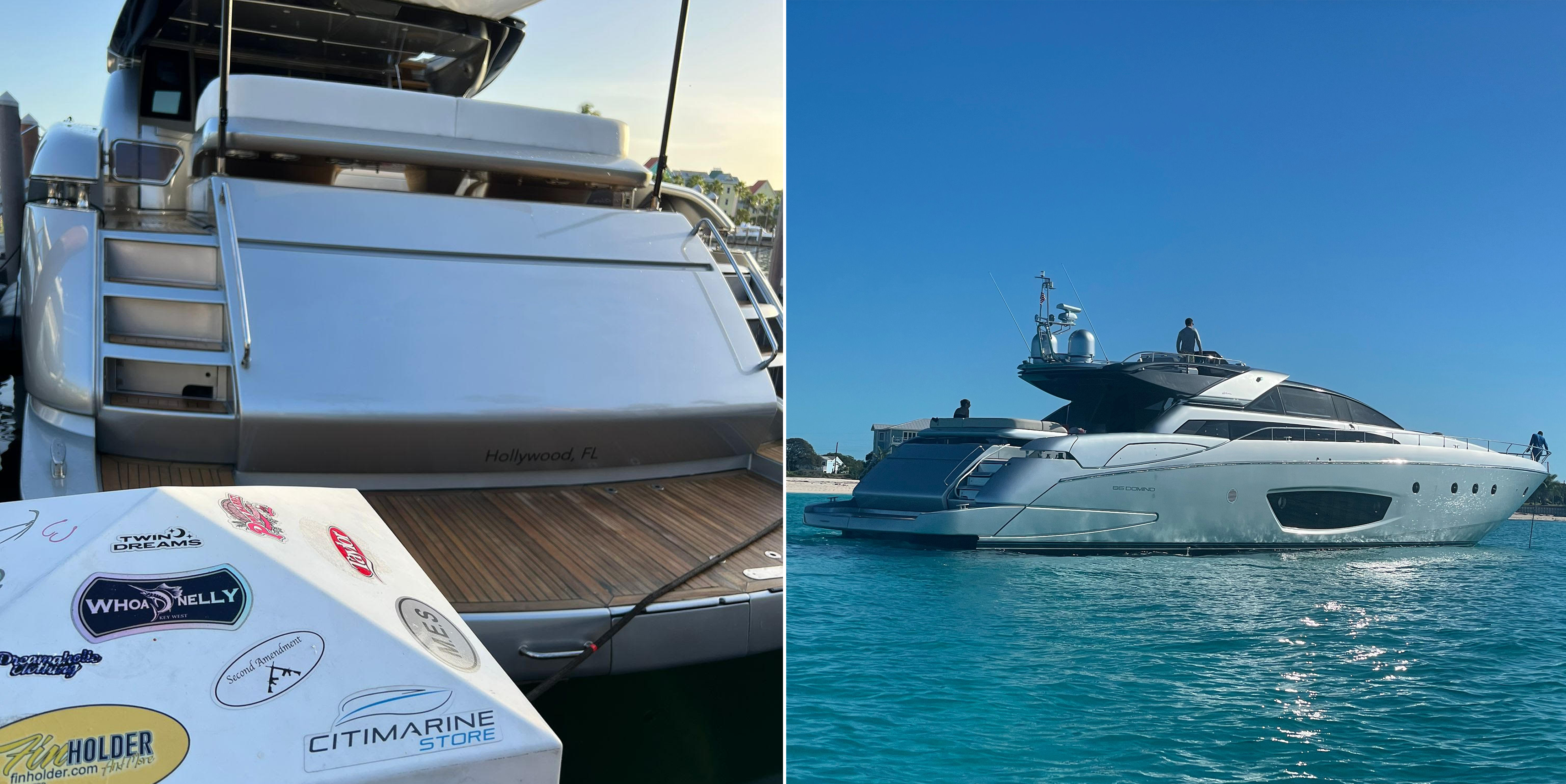 Citimarine's extensive marine electronics refit on the 2014 Riva 86 proved to be an exciting journey for everyone involved. Through the integration of advanced marine electronics, modern navigational tools, and engine room enhancements, our Marine Electronics Installation Team here in Miami was able to get the luxury yacht to peak levels of performance, connectivity, entertainment and luxury. The success of this extensive refit is attributed to esteemed partners and vendors like Raymarine, Furuno, Fusion, Lumitec and others. Their support and commitment have transformed the yacht into an innovative, safe, and luxurious masterpiece.
If looking to refit the marine electronics on your vessel, or for a new marine electronics installation, make sure to contact the Marine Electronics Team here at Citimarine Store in Miami, FL!
For a complete list of marine electronics used in our refit, see below!


Citimarine Store
10801 NW 33rd St.
Miami, FL 33172
1-(800)-766-5256
CitimarineStore.com
–
Marine Electronics Used In Refit
Engine Room
Raymarine RVX1000 3D CHIRP Sonar Module
B765LH D/T Through Hull CHIRP Low-High
Transducer
Twin Maretron J2K100 J1939 to NNMEA 2000 Engine interfaces for MTU Engines
CAM300 Eyeball IP Camera
CAM300 Eyeball IP Camera
CAM300 Eyeball IP Camera
Main Lower Helm
Axiom XL 19 – 18.5″ MFD DISPLAY
Axiom XL 19 – 18.5″ MFD DISPLAY
Axiom XL 19 – 18.5″ MFD DISPLAY
AXIOM+ 9 RV – 9″ MFD REALVISION 3D
P70Rs COLOR A/P HEAD: POWER
MARETRON DSM570 5.7in instrument display
RCR-SD USB CARD READER
Icom M605 VHF Marine Transceiver
Icom M510 VHF Marine Transceiver
Scanstrut rokk active 10W Qi wireless charger
RMK-10 MFD REMOTE W/PORTRAIT KEYPAD
RMK-10 MFD REMOTE W/PORTRAIT KEYPAD
Flybridge Helm
Cyclone Pro Open Array Radar with 4ft Array
Axiom XL 16 – 15.6″ MFD DISPLAY
Axiom XL 16 – 15.6″ MFD DISPLAY
RMK-10 MFD REMOTE W/LANDSCAPE KEYPAD
P70Rs COLOR A/P HEAD: POWER
Dual Furuno RD33 Instuments
DUAL QUICK QNC CHC COLOR CHAIN COUNTERS
Internet Connectivity
PEPLINK MAX BR2 PRO CELLUALR MODEM AND ROUTER
Twin AP One AX 4×4 MIMO Wi-Fi 6 Acess Points for vessel wide WIFI coverage
TWIN Poynting OMNI-414 OMNI-DIRECTIONAL, MARINE, 4X4 MIMO 5G/LTE ANTENNA
TWIN Poynting OMNI-496 Dual band 2.4 GHz and 5 GHz Wi-Fi antenna
Starlink HP Martime Antenna
Sound System
Fusion Apollo MS-WB675 Marine Hideaway Stereo
Fusion Apollo MS-ERX400 Color Wired Remotes in Port Glovebox/Flyrbidge Helm/ and Bow seating area.
Full wiring from Main DC panel and circuit protection for 24V DC JL Auido Marine M-Series Ampliers
Wet Sounds Sinister-SDX4
Sinister-SDX6
REVO CX-10 XW-B S2
REVO 8 SW-B V3
REVO 6-XWB
REVO 8 FA S4-B
REVO CX-10 XW-B S2
REVO CX-10 XW-B S2
REVO 8 SW-B V3
marine electronics installation miami,marine electronics miami,marine electronics refit