SHURFLO Marine Pumps Guide: Freshwater & Washdown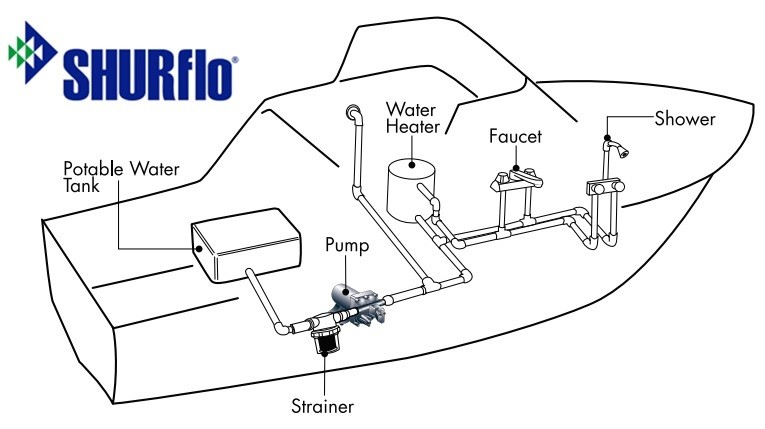 Shurflo Marine Pumps are a fundamental part of any pressurized water system on your boat.
Besides being known for dependability and long life, SHURFLO's freshwater and washdown pumps are known for:
Strong and steady pressure to your fixtures
SHURFLO pumps are known to work so well that 25 year old pumps are still working hard and efficiently every time a faucet is opened.
SHURFLO Marine Pumps – Supplying Your Fixtures With Clean Freshwater You Need and Are Used To
With a large tank of potable water (either supplied via watermaker or dock supply), a Shurflo freshwater pump will drive all of the clean water you need into the faucets or showers on your boat, with the pressure you are accustomed to at home… even if using multiple fixtures at once.
Able to withstand even the harshest marine environments, Shurflo freshwater pumps are designed to withstand corrosion (thanks to e-coating, integral thermal breaker, completely sealed wire entries on the motor shell and pressure switch), draw very low current, and can provide anywhere from 1 to 10 gallons per minute (GPM) of water.
The Aqua King II is the current model of freshwater pump by Shurflo. It has been designed for boats with multi-fixtures, providing nice, strong shower and sink pressure, and can operate at lower flow conditions with low cycling. A built-in mechanical bypass function allows the Aqua King to vary the flow rate for any on demand, without the need for an accumulator.
The Aqua King II is ignition protected and thermally protected, and can run dry without damage.
Here's a more detailed diagram of a typical pressurized freshwater system (shown here with an accumulator), so you get an idea of the layout, and the pump's role: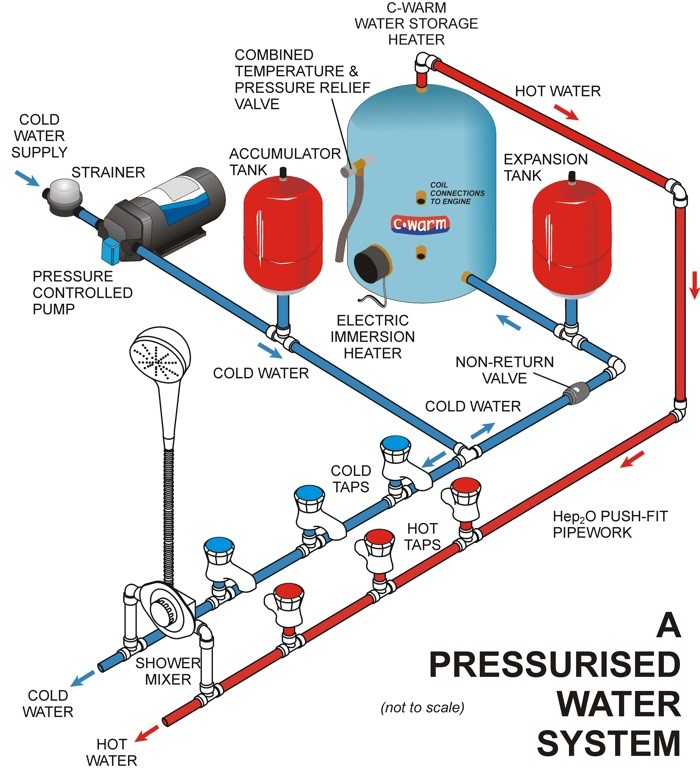 SHURFLO Fresh Water pumps are built tough to provide reliable, smooth and quiet operation for many enjoyable years of boating. You can find the Aqua King II Shurflo Marine Pumps, as well as all the other Shurflo pumps, here: Shurflo Marine Pumps
For more detailed info, you can find the Aqua King II's Installation and Owner's Manual, here…
Shurflo Washdown Pumps – Clean Up Mud, Bait, Fish and Other Grime Off Your Boat, With Strength and Ease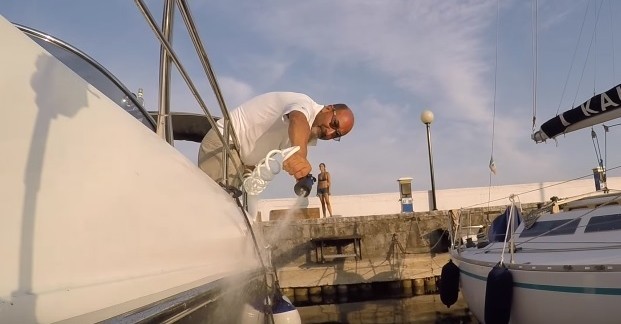 After a long day of boating / fishing, you'll may have accumulated fish residue, bait, muck from pulling up the anchor, and other forms of grime on or around your boat.
Bringing out a bucket and mop is not the cleanest, or most effective, way to restore the clean beauty of a vessel you know you have. Shurflo Washdown Pumps perform this cockpit / deck / hull cleanup with speed and ease, thanks to a powerful water jet with 3.5 – 5 Gallons per minute of water.
With the saltwater fisherman in mind, SHURFLO incorporated seamless shell technology into their washdown pumps, in order to withstand the humidity and environment experienced with years and years of fishing..
While you can connect a garden hose with a trigger nozzle, self-coiling hoses are a popular, lighter and more compact alternative to the heavier garden hoses.
Shurflo Washdown Pump Set Up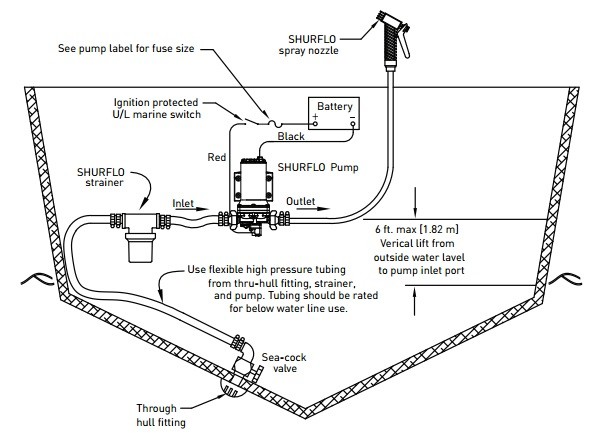 About SHURFLO Pumps / Pentair

SHURFLO, a part of Pentair's Flow Technologies Group, has been manufacturing marine freshwater & wash down pumps since 1968. For nearly 50 years now, the Costa Mesa, California-based SHURFLO has worked hard to maintain their leadership position in the marine pump industry, developing and continuing to improve pumps that are quieter, provide steadier pressure and draw less amps than other brands.
SHURFLO Marine Pumps For Sale And More Info On Shurflo Pumps
SHURFLO Washdown Pumps deliver superior washdown performance over other brands. Great for blasting away the grime on your deck, fish box scaling or anchor chain in a powerful, consistent spray pattern. You can find Shurflo's washdown pumps, including the Bait Master and Blaster, here…
For more info on the washdown pumps, you can find the Shurflo Blaster's Installation and Owner's manual, here...
Hopefully this guide and these resources help you better understand Shurflo's marine pumps (and marine pumps in general)! If you have any questions, just chat with us below, or contact us here.
Have a good one!
CitimarineStore.com
3300 NW 112th Ave,
Doral, FL 33172
(800) 766-5256
info@citimarine.com
Related:
shurflo marine pumps,shurflo pro blaster,shurflo pumps,shurflo smart sensor,shurflo washdown pump