Marine Refrigerator Comparison / Cross Reference Table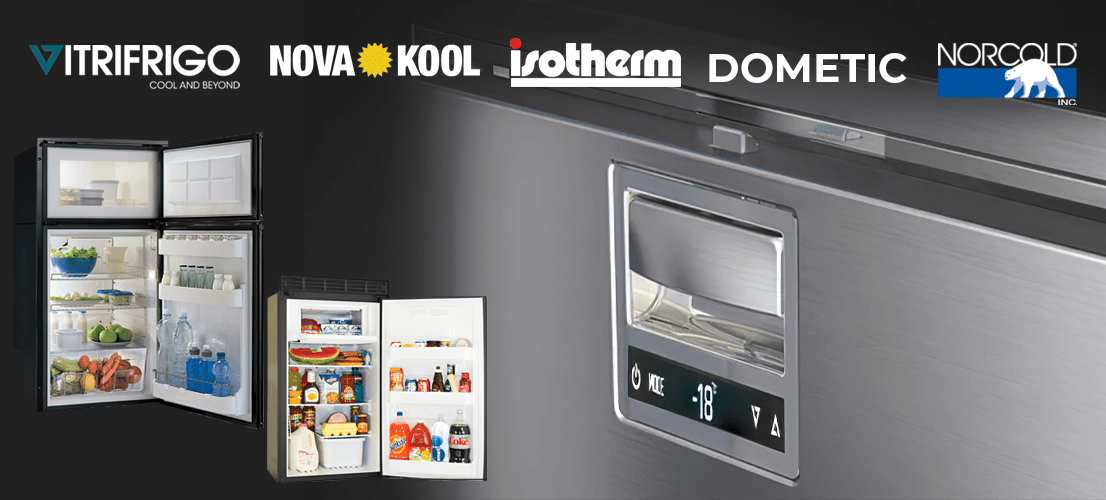 In table below you can cross-reference key information about all the marine refrigerators we have available for sale, including the marine refrigerator prices. Brands we carry include Vitrifrigo, Nova Kool, and Isotherm. Use the table below to search by volume, dimensions or price on any of the marine refrigerators we carry, and feel free to sort by the column of your preference.
We offer

Free US Shipping

on any Marine Refrigerator that is not Oversized. If oversized, we have flat-rate freight shipping
– Residential Address Flat Rate Freight Shipping Cost is $320
– Commercial Address Flat RateFreight Shipping Cost is $250
"Citations to Dometic products are for reference purposes ONLY. Citimarine does NOT sell Dometic products as Citimarine is NOT affiliated with Dometic.
| Brand | Model | Finish | Type | Volume | Height | Widht | Depth |
| --- | --- | --- | --- | --- | --- | --- | --- |
| | R1200 | SS | Single Door | 1.2 cf | 24.75" H | 14" W | 14.5" to 16" D |
| | R1600 | BLK | Single Door | 1.3 cf | 20.63" H | 15.625" W | 13.75" D |
| | R1900 | BLK | Single Door | 1.9 cf | 20.63" H | 15.625" W | 17.75" D |
| | R2600 | BLK | Single Door | 2.4 cf | 20.25" H | 18" W | 19.5" D |
| | R3000 | BLK | Single Door | 2.5 cf | 25.5" H | 19.25" W | 15.5" D |
| | R2300 | BLK | Single Door | 2.1 cf | 28.375" H | 16.75" W | 14" D |
| | R3100 | BLK | Single Door | 3.0 cf | 28.375" H | 16.75" W | 18.5" D |
| | R3800 | BLK | Single Door | 3.5 cf | 28.375" H | 20.25" W | 18" D |
| | R4500 | BLK | Single Door | 4.3 cf | 28.375" H | 20.25" W | 21" D |
| | R5810 | BLK | Single Door | 5.8 cf | 31.875" H | 23.25" W | 22" to 23.5" D |
| | RFU6200 | BLK | Double Door | 6.0 cf | 47.33" H | 20.25" W | 20.5" D |
| | RS4600 | BLK | Side by Side | 4.2 cf | 28.375" H | 34.375" W | 14" D |
| | RS6100 | BLK | Side by Side | 5.6 cf | 28.375" H | 37.875" W | 16.5" D |
| | RS7600 | BLK | Side by Side | 7.0 cf | 28.375" H | 41.25" W | 18.5" D |
| | RFS6100 | BLK | Side by Side | 5.6 cf | 28.375" H | 37.875" W | 16.5" D |
| | RFS6500 | BLK | Side by Side | 6.4cf | 28.375" H | 37.875" W | 19.25" D |
| | RFS7501 | BLK | Side by Side | 7.5 cf | 34" H | 28" W | 22" D |
| | F1200 | SS | Freezer | 1.2 cf | 24.75" H | 14" W | 14.5" to 16" D |
| | F1900 | BLK | Freezer | 1.9 cf | 20.625" H | 15.625" W | 17.75" D |
| | F2300 | BLK | Freezer | 2.1 cf | 28.375" H | 16.75" W | 14" D |
| | F2600 | BLK | Freezer | 2.4 cf | 20.25" H | 18" W | 19.5" D |
| | F3800 | BLK | Freezer | 3.5 cf | 28.375" H | 20.25" W | 18" D |
| | F5810 | BLK | Freezer | 5.8 cf | 31.875" H | 23.25" W | 22" to 23.5" D |
| | C39IBD4-F-1 | BLK | Single Door | 1.3 cf | 21.5625" H | 15.9375" W | 13.75" to 15.5"  D |
| | C42RBD4-F | BLK | Single Door | 1.4 cf | 21" H | 15.6" W | 14.9" D |
| | C51IBD4-F-1 | BLK | Single Door | 1.8 cf | 21" H | 15.5625" W | 18.75" to 20.4375" D |
| | C60IBD4-F | BLK | Single Door | 2.1 cf | 24.5" H | 19.1" W | 17.8" D |
| | C62IBD4-F-1 | BLK | Single Door | 2.2 cf | 21" H | 18.3125" W | 20.1875" to 21.8125" D |
| | C75RBD4-F | BLK | Single Door | 2.6 cf | 24.5" H | 19.1" W | 17.9" D |
| | C90IBD4-F-1 | BLK | Single Door | 3.1 cf | 24.5" H | 19.125" W | 20.0625" to 21.75" D |
| | C85IBD4-F-1 | BLK | Single Door | 3.2 cf | 31.1875" H | 19.6875" W | 16.625" to 18.25" D |
| | C115IBD4-F-1 | BLK | Single Door | 4.2 cf | 30.25" H | 21.25" W | 20.1875 to 21.875" D |
| | C130RBD4-F | BLK | Single Door | 4.7 cf | 30.25" H | 21.25" W | 22.06" D |
| | C115IBP4-F Fridge Only | BLK | Single Door | 4.2 cf | 30.25" H | 21.3" W | 21.9" D |
| | DP150IBD4-F | BLK | Double Door | 5.3 cf | 43.125" H | 21.0625" W | 20.875" D |
| | DP2600IBD4-F | BLK | Double Door | 8.1 cf | 52.9375" H | 23.4375" W | 23.6875" D |
| | C42RXD4-F | SS | Single Door | 1.4 cf | 20.9" H | 15.7" W | 14.8" D |
| | C42RXP4-F Fridge Only | SS | Single Door | 1.4 cf | 20.9" H | 15.7" W | 14.8" D |
| | C51IXD4-F | SS | Single Door | 1.8 cf | 21.4375" H | 15.25" W | 19.6875" D |
| | C60IXD4-F-1 | SS | Single Door | 2.1 cf | 24.4375" H | 19.1875" W | 17.9375" D |
| | C62IXD4-F-1 | SS | Single Door | 2.2 cf | 20.875" H | 18.4375" W | 20-875" D |
| | C75RXD4-F | SS | Single Door | 2.6 cf | 24.4" H | 19.2" W | 17.8" D |
| | C90IXD4-F-1 | SS | Single Door | 3.1 cf | 24.4375" H | 19.1875" W | 21.4375" D |
| | C85IXD4-F-1 | SS | Single Door | 3.2 cf | 31.125" H | 19.8125" W | 18.0625" D |
| | C115IXD4-F-1 | SS | Single Door | 4.2 cf | 30.1875" H | 21.375" W | 21.75" D |
| | C130RXD4-F | SS | Single Door | 4.7 cf | 30.06" H | 21.37" W | 21.87" D |
| | C130RXP4-F Fridge Only | SS | Single Door | 4.7 cf | 30.06" H | 21.37" W | 27.87" D |
| | DP2600IXD4-F-1 | SS | Double Door | 8.1 cf | 52.9375" H | 23.4375" W | 23.6875" D |
| | C180IXP4-DSV | SS | Single Door | 5.5 cf | 33.6875" H | 24.3125" W | 21.625" D |
| | DW70RXP4-ES | SS | Single Drawer * | 2.6 cf | 18.125" H | 26.25" W | 24.625" D |
| | DW70RXN1-ESI | SS | Single Drawer ALL IN ONE | 2.6 cf | 18.125" H | 26.25" W | 24.625" D |
| | DRW70AIXD4-F | SS | Single Drawer ALL IN ONE | 2.8 cf | 17.68" H | 24.31" W | 21.25" to 23.25" D |
| | DW70RXP4 | SS | Single Drawer Fridge | 2.6 cf | 17.68" H | 24.31" W | 21.25" to 23.25" D |
| | DW180IXD4 Flush | SS | Double Drawer | 5.1 cf | 33.6875" H | 24.3125" W | 21.625" D |
| | DW180IXD4 Surface | SS | Double Drawer | 5.1 cf | 33.6875" H | 24.4375" W | 23.25" D |
| | DW180 ALL IN ONE | SS | Double Drawer ALL IN ONE | 5.3 cf | 33.75" H | 24.3125" W | 21.25" to 23.25" D |
| | DRW180AIXD4-DF | SS | Double Drawer ALL IN ONE | 5.1 cf | 33.75" H | 24.31" W | 23.25" D |
| | DW180IXP4 | SS | Double Drawer Fridge | 5.1 cf | 33.75" H | 24.31" W | 21.62" to 23.25" D |
| | DW180IXN1 | SS | Double Drawer Freezer & Ice Maker | 5.1 cf | 33.75" H | 24.31" W | 21.62" to 23.25" D |
| | DW210IXD4 Surface | SS | Double Drawer | 6.3 cf | 34.4375" H | 27.1875" W | 23.0625" D |
| | DW210IXD4 Flush | SS | Double Drawer | 6.3 cf | 34.4375" H | 27.375" W | 24.625" D |
| | DW250IXN4-ESV | SS | Door / Drawer | 8.3 cf | 51.94" to 52.19" H | 24.313" W | 21.625" to 23.167" D |
| | DW360 Flush / Surface | SS | Door / Drawer | 10.6 cf | 66.688" to 66.938" H | 24.3125" W | 21.625" to 23.25" D |
| | IMXTIXN1 Flush | SS | Ice Maker | 0.8 cf | 18.8125" H | 16.25" W | 21.9375" D |
| | IMXTIXN1 Surface | SS | Ice Maker | 0.8 cf | 18.75" H | 14.125" W | 20.5625" D |
| | IMHYDIXN1 Flush | SS | Ice Maker | 0.8 cf | 24.9375" H | 14.4375" W | 16.125" D |
| | IMHYDIXN1 Surface | SS | Ice Maker | 0.8 cf | 24.75" H | 14.125" W | 14.5625" D |
| | CD-030-D65-C | BLK | Single Drawer | 1.03 cf | 9.8" H | 17" W | 28.7" D |
| | CD30-DCW-A | WHT | Single Drawer | 1.03 cf | 9.8" H | 17" W | 28.7" D |
| | CRD-1050-S-B | SS | Single Drawer | 1.7 cf | 21" H | 14.94" W | 19.69" D |
| | CRX-1050U | BLK | Single Door | 1.7 cf | 22.13" H | 17.81" W | 19.69" D |
| | CRX-1065U | BLK | Single Door | 2.3 cf | 21.75" H | 20.50" W | 21.44" D |
| | CRX-1080U | BLK | Single Door | 2.8 cf | 26.26" H | 21.57" W | 20.79" D |
| | CRX-1110U | BLK | Single Door | 3.8 cf | 30.39" H | 23.35" W | 21.97" D |
| | CRX-1050S | SS | Single Door | 1.7 cf | 21" H | 14.94" W | 19.69" D |
| | CRX-1065S | SS | Single Door | 2.3 cf | 20.63" H | 17.63" W | 21.44" D |
| | CRX-1080S | SS | Single Door | 2.8 cf | 25.19" H | 18.70" W | 20.79" D |
| | CRX-1110S | SS | Single Door | 3.8 cf | 29.33" H | 20.47" W | 21.97" D |
| | CRX-1140S | SS | Single Door | 4.2 cf | 31.96" H | 20.67" W | 24.40" D |
| | CR49 EL | Silver | Single Door | 1.75 cf | 20.7" H | 15" W | 17.6" D |
| | CR65 EL | Silver | Single Door | 2.3 cf | 20.9" H | 17.7" W | 19.4" D |
| | CR85 EL | Silver | Single Door | 3.0 cf | 24.7" H | 18.7" W | 19.6" D |
| | CR130 EL | Silver | Single Door | 4.6 cf | 29.6" H | 20.7" W | 19.4" D |
| | CR36 Classic | BLK | Single Drawer | 1.3 cf | 10" H | 17.4" W | 20.3" D |
| | CR40 Classic | WHT | Single Door | 1.4 cf | 17.1" H | 16.9" W | 16.5" D |
| | CR90 Classic | BLK | Double Door | 3.1 cf | 33.5" H | 18.7" W | 16.8" D |
| | CR100 Classic | BLK | Single Door | 3.5 cf | 29.3" H | 19.1" W | 17.9" D |
| | CR130 Classic | BLK | Single Door | 4.6 cf | 29.6" H | 21.4" W | 19.9" D |
| | CR165 Classic | Silver | Double Door | 5.8 cf | 48" H | 19.7" W | 20.3" D |
| | CR195 Classic | BLK | Double Door | 6.9 cf | 52.9" H | 21.4" W | 22.5" D |
| | CR200 Classic | BLK | Side by Side | 7.0 cf | 34.7" H | 28.9" W | 24.3" D |
| | CR219 Classic | Silver | Double Door | 7.8 cf | 57" H | 21.7" W | 21.5" D |
| | CR271 Classic | Silver | Double Door | 9.3 cf | 65" H | 21.7" W | 20.5" D |
| | CR36 INOX | SS | Single Drawer | 1.3 cf | 10" H | 17.9" W | 21.7" D |
| | CR42 INOX | SS | Single Door | 1.5 cf | 20.8" H | 15.7" W | 14.1" D |
| | CR49 INOX | SS | Single Door | 1.75 cf | 20.8" H | 15.7" W | 20.3" D |
| | CR65 INOX | SS | Single Door | 2.3 cf | 20.8" H | 18.5" W | 21.4" D |
| | CR85 INOX | SS | Single Door | 3.0 cf | 24.6" H | 19.5" W | 21.7" D |
| | CR130 INOX | SS | Single Door | 4.6 cf | 29.3" H | 21.4" W | 21.4" D |
| | CR195 INOX | SS | Double Door | 6.9 cf | 52.9" H | 21.4" W | 22.5" D |
| | CR200 INOX | SS | Side by Side | 7.0 cf | 34.7" H | 28.9" W | 24.3" D |
| | CR63 FREEZER | BLK | Freezer | 2.2 cf | 24.6" H | 18.7" W | 20.3" D |
| | CR65 FREEZER | BLK | Freezer | 2.3 cf | 24.4" H | 21.4" W | 20.1" D |
| | CR90 FREEZER | BLK | Freezer | 3.2 cf | 29.3" H | 21.4" W | 21.4" D |
| | CR63 FREEZER INOX | SS | Freezer | 2.2 cf | 24.6" H | 19.5" W | 21.7" D |
| | CR65 FREEZER INOX | SS | Freezer | 2.3 cf | 24.4" H | 21.4" W | 21.7" D |
| | CR49 INOX | SS | Single Drawer | 1.75 cf | 20.9" H | 15.9" W | 20.6" D |
| | CR55 INOX | SS | Single Drawer | 1.9 cf | 20.9" H | 18.5" W | 21" D |
| | CR65 INOX | SS | Single Drawer | 2.3 cf | 20.9" H | 18.5" W | 21" D |
| | CR85 INOX | SS | Single Drawer | 3.0 cf | 24.6" H | 19.5" W | 21.7" D |
| | DR130 INOX | SS | Single Drawer | 4.6 cf | 29.3" H | 21.4" W | 21.4" D |
| | DR160 INOX | SS | Double Drawer | 5.5 cf | 34" H | 24.6" W | 23.4" D |
| | ICE DRINK CLEAR | SS | Ice Maker | 0 N/A | 22.9" H | 13.9" W | 16" D |
| | ICE DRINK WHITE | WHT | Ice Maker | 0 N/A | 24.6" H | 14" W | 15.7" D |
| | ICE DRINK INOX | SS | Ice Maker | 0 N/A | 24.8" H | 14.7" W | 17.2" D |

Citimarine Store
3300 NW 112th Ave, #4
Doral, FL 33172
1-(800)-766-5256
marine refrigerator prices,rv refrigerator prices