FREE U.S. SHIPPING ON ONLINE ORDERS!*
Nova Kool Marine Refrigerators & Freezers There are 24 products.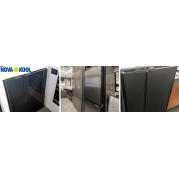 Nova Kool has been manufacturing quality refrigeration products in the Pacific Northwest for well over 30 years. Nova Kool continues to focus our product offering to the mobile and off power grid applications. The current offering includes: single door units from 0.8 cu.ft. to 5.8 cu.ft. and double door units from 4.2 cu.ft. up to 9.1 cu.ft.