FREE U.S. SHIPPING ON ONLINE ORDERS!*
FREE U.S. SHIPPING ON ONLINE ORDERS!*
KEP MARINE MONITORS (AYDIN MARINE) There are 16 products.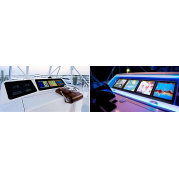 KEP Marine Monitors, now AYDIN MARINE: M Series, Lite, Glass Bridge top of the line, sunlight-viewable marine LCD monitors. 12" - 24" marine displays. Perfect for outdoor viewing, unmatched functionality while on he waters, a lifetime of performance.

*Free US Shipping on all Aydin Marine LCD Monitors!