FREE U.S. SHIPPING ON ONLINE ORDERS!*
FREE U.S. SHIPPING ON ONLINE ORDERS!*
Furuno Marine Electronics There are 9 products.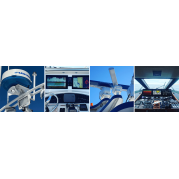 Furuno Marine Electronics and Accessories - Around for more than 80 years, Furuno provides top marine electronics such as Fishfinders, Transducers, GPS Chartplotters, Radars & Autopilots. Free US Shipping on all Furuno Marine Electronics over $99.
Furuno Marine Electronics - FAQs
Frequently asked questions about Furuno products.
HOW DO FURUNO MARINE ELECTRONICS COMPARE TO OTHER BRANDS?
Furuno is known for their reliability, advanced technology, and excellent customer service. With a slight learning curve, Furuno marine electronics are said by many to provide more information - and better information - than fishfinders, GPSs and radars from other brands.
What kind of warranty do Furuno products come with?
Furuno Marine Electronics warranty is valid for a period of 2 years (24 months) from the date of the invoice, or the date of commissioning of the product by the installing certified dealer.
Where are Furuno Electronics manufactured?
Since its inception in 1948, when they created the first fishfinder, Furuno has been doing its R&D and manufacturing in Japan, and has subsidiaries in the US, Europe and China. Furuno's quality of products has made its name legendary in the commercial fishing industry, but is also used by recreational boaters and fishermen as well.
Which Furuno Marine Electronics bring free US shipping?
All Furuno products over $99 dollars ship free within the US.