Mercury Vessel View on Raymarine, Lowrance & Simrad MFDs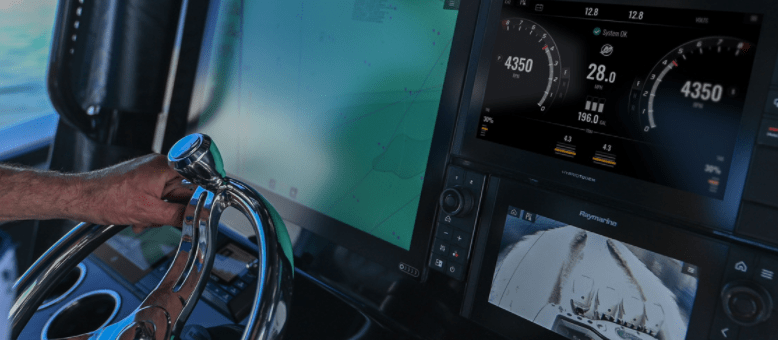 Thanks to Mercury Vessel View, you can now monitor up to four engines from your Raymarine, Lowrance or Simrad MFDs.
Mercury Marine has recently launched SmartCraft Connect with Vessel View, which allows boaters to use their Raymarine, Simrad and Lowrance MFDs to access detailed information about their SmartCraft compatible marine engines.
Mercury Vessel View has allowed boaters to receive advanced engine monitoring and alerts for years now. The system provides up-to-the-second information on dozens of engine diagnostics, including RPM, fuel flow and management, critical temperature readings, speed, and engine trim, on up to four engines at the same time.
"Our VesselView portfolio continues to perform exceptionally well in the market as we continue to strengthen our integration with Lowrance and Simrad displays. With the launch of SmartCraft Connect, we are responding to the needs of our boating community and expanding the Mercury experience to Garmin and Raymarine devices," said Rob Hackbarth, SmartCraft product category director.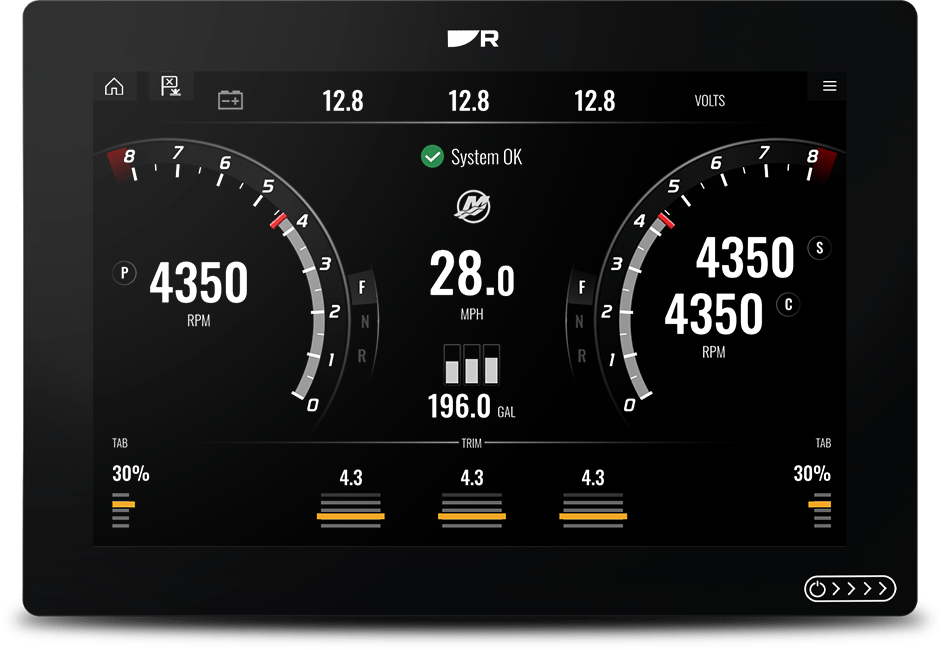 Which Simrad and Lowrance MFDs come with Mercury Vessel View?
Vessel View has been available on Simrad MFDs since the Simrad 3 update, integrating seamlessly into Simrad NSS evo2 and NSO evo2; Simrad NSS evo3 & NSO evo3 and GO series. It also comes included in the following Lowrance MFDs: Lowrance HDS Gen2 Touch, HDS Gen3, HDS Carbon and Elites Ti (7″ or larger).
"We're delighted to be partnering with Mercury to provide seamless access to Mercury's VesselView technology through Raymarine's line of Axiom MFDs", said Gregoire Outters, general manager for the Raymarine brand at FLIR. "This deeper integration lets boaters easily monitor and control key engine functions directly from their Axiom displays and is now available free by downloading our latest LightHouse software."
The SmartCraft Vessel View is not just helpful for boat owners, but for boat builders and installers, who can create a fully integrated navigation and engine helm solution around a single Raymarine Axiom MFD or display network of multiple Axioms.
Mercury SmartCraft Vessel View Integration with Raymarine Axiom MFDs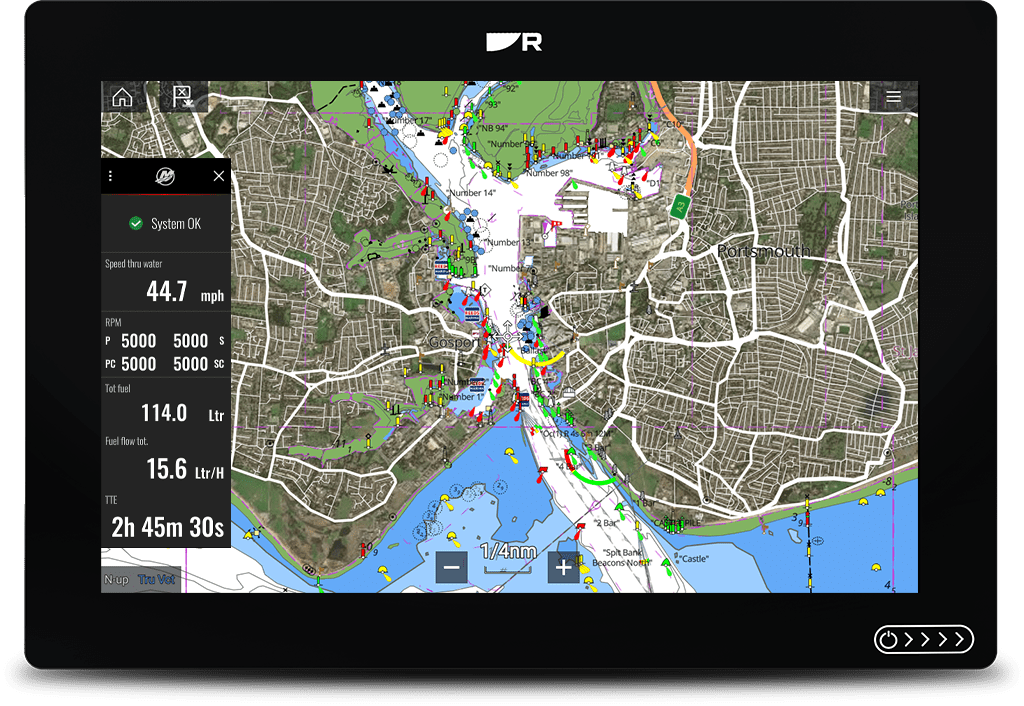 Which Raymarine MFDs come with Vessel View?
The new SmartCraft gateway delivers Mercury Marine's engine information display to any Raymarine Axiom, Axiom Plus, Axiom Pro, and Axiom XL MFDs. Just connect the SmartCraft gateway via NMEA 2000 to access all vital engine performance data and alerts for up to four SmartCraft-compatible gas or diesel Mercury engines.
Mercury Vessel View for Raymarine MFDs is accessible through a new Vessel View app that will be located on your Raymarine Axiom MFD home screen. You can access VesselView data in the chartplotter, sonar, and radar apps through a slide-out sidebar display. VesselView alerts are available system-wide across every Axiom display in a Raymarine network. Just make sure to have your LightHouse 3 OS updated to the latest version (3.14 or higher).
Vessel View keeps track of everything, so you can keep track of more important things – like the fish.
Alerts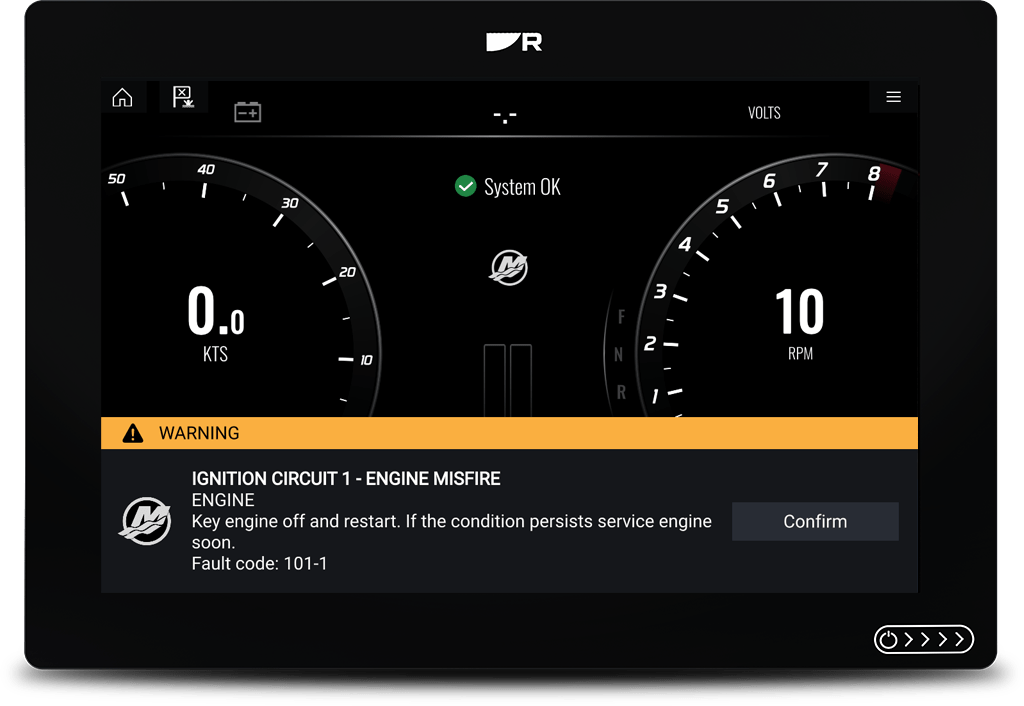 About Mercury Marine

With headquarters in Fond du Lack, Wisconsin, Mercury Marine is the world's leading manufacturer of recreational marine propulsion engines, and also provides engines, boats and parts for commercial and governmental applications. Mercury's full line of products includes outboard engines, sterndrive and inboard packages, propellers, inflatable boats, SmartCraft electronics, parts and oils.
For more on information on marine electronics that will work with Mercury Vessel View, we can help. Just chat with us below or contact us here!
Have a good one!
Citimarine Store
3300 NW 112th Ave, #4
Doral, FL 33172
1-(800)-766-5256
CitimarineStore.com
–
Related:
mercury smartcraft vesselview mfds,Mercury Vessel View,vesselview lowrance,vesselview raymarine,vesselview simrad,which mfds vesselview