How To Anchor a Boat – Master Boat Anchoring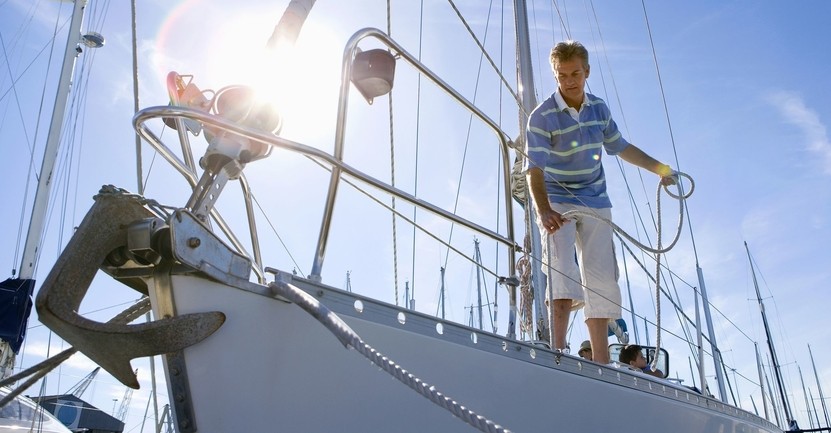 As a boater, whether you're fishing, swimming or socializing, you most likely spend your best hours anchored rather than underway. So you want to make sure you are anchored securely, and able to do so without much hassle.
Besides maintaining a steady position, anchoring serves a safety role by keeping your boat away from the surf, rocks and other boats, while fishing, having lunch or spending the night. Here's a quick rundown on how to anchor a boat:
Find A Good Anchorage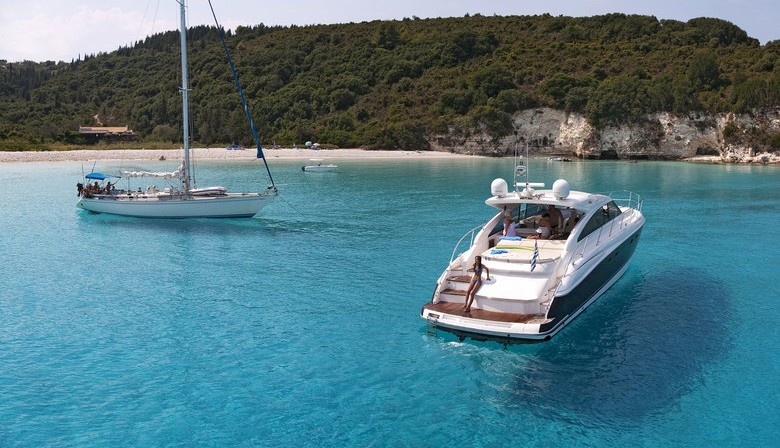 First and foremost, before digging into the technicalities of anchoring your boat, you want to find a good anchorage.
A good anchorage will offer you protection from wind and waves, provide sufficient swinging room, and have a quality bottom for you to anchor into. An anchorage protected from waves is the best way to insure you don't drag your anchor. Consider the radius of your anchor rode, plus boat length, when estimating your swinging circle, allowing a little extra for changes in wind or current direction, and the rising and falling of tides. Keep an eye out and make sure there are no shoals, rocks, or any other objects in your circle.
If you're the first or only boat in the anchorage, you've got priority. Otherwise, if other boats are already present, choose your spot carefully in order to provide enough swinging room to stay clear from others.
For ease of mind while spending the night, turn on the anchor alarm on your GPS, and be sure to turn on your anchor light if it's not a specially designated anchoring area.
Make Sure You Have The Right Type Of Anchor For The Bottom You Will Be Anchoring In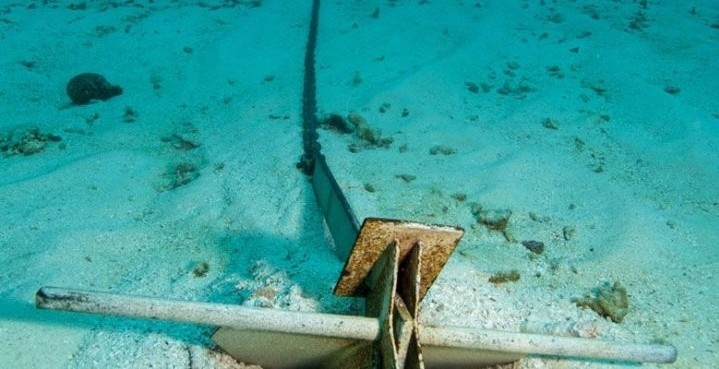 Your GPS / chartplotter will generally show you what to expect as to the type of bottom where you will anchoring. However, there may be pockets of unexpected bottoms just to make life a bit more exciting.
The most common types of bottoms are sand, mud, clay and grass (or weed). Most of the popular anchor styles – Fortress, Lewmar Delta, Ultra Marine, CQR, Spade, Bruce, Rocna – are considered to be workable for all of the conditions, however, some have advantages in certain conditions over others.
| | |
| --- | --- |
| Type of Bottom | Best Type of Anchor |
| Sand – Fine-grained sand is relatively easy for anchors to penetrate, and offers high holding power with repeatable results. Most anchors hold the best in hard sand. | Lightweight Danforth-style anchor like Fortress and West Marine traditional anchors |
| Mud – Mud has low shear strength, where anchors with a boarder shank-fluke angle and greater fluke area. This allows the anchor to penetrate deeply to where the mud has greater shear strength. Mud is frequently only a thin layer over some other material, so anchors can penetrate through the mud to the underlying material that will hold better. | Fortress anchors have superior holding power in mud, because they can be converted to a broad fluke angle. |
| Rock and Coral – In Rock or Coral bottom, holding power is more dependent on where you happen to drop the hook, then the type of anchor you have. However, plow-shaped or grapnel-type anchors, with high structural strength to sustain the high point loads, generally work the best. | Bruce, CQR, or Lewmar Delta, as well as the old-fashioned Fisherman style anchors |
| Shale, Clay and Grassy bottoms – tough bottoms for many anchor designs. The weight of the anchor, more than its design, may be the most important factor in penetration and holding power. These conditions have a high probability of false setting, due to the anchor catching on roots and protrusions, rather than something solid. | Heavyweight CQR and Delta anchors are the best option, and are able to best penetrate vegetation / grass beds |
Your best bet is getting one of each – the smaller, lighter weight Fortress / Danforth type anchor and a heavier Delta / CQR plow type, in order to have an anchor for each condition. Dual anchoring (more on that below) has several advantages as well.
You will also want to make sure you have the correct sized anchor for your boat. It is best to check with the anchor manufacturer in order to select the proper anchor size for your boat's length, displacement and hull type.
Selecting Proper Length Of Scope To Get The Job Done

Scope is defined as the ratio of water depth (plus distance from water to bow) to anchor line used. You'll need to know how much scope to use, because this will affect where your boat can end up once the anchor is dug in.
Experience and knowledge of the bottom are the best teachers, but a 7:1 or 8:1 ratio is the general recommendation, meaning, in 10 feet of water, with a 5 foot height to bow from the water, you should put out 105 feet of rode (15 feet x 7).
The amount of scope can be modified depending on conditions, length of time anchoring, and type of rode used, where generally, the more scope used, the stronger the anchoring.
For instance, with more chain and an oversized boat anchor, you may be able to use a 4:1 scope, however, where there is a poorly holding bottom, or strong wind or current, you may have to use up to a 10:1 scope. Also, at a crowded anchorage, you will not want to use more than a 3:1 or 4:1 scope, due to the fact that there won't be much space for boats to swing. A 3:1 scope is the absolute minimum scope you can use.
Also take note, once an anchor has been set, it will almost always hold the same amount of tension that was used to set it, even if you reduce the scope. So you can always consider setting an anchor, and then shortening the scope. However, if the boat swings and the anchor has to reset itself, it will now have to do so at a reduced scope…
Length of stay should also be considered – a 5:1 to 7:1 scope can be used for a "lunch hook", if you might just go ashore for a bit, but a  8:1 to 10:1 scope should be used for an overnight stop, with the lower scope being used on a particularly calm night.
Selecting The Right Rode – Nylon, Chain or Both?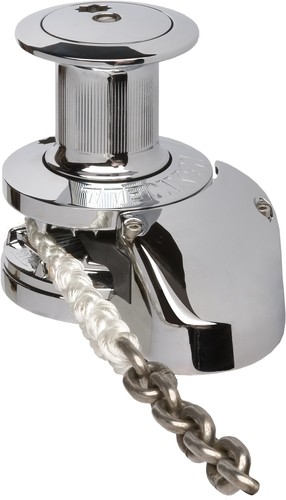 A properly sized all-nylon rode will work fine for light-duty anchoring.
All chain rode is good to anchor a boat quickly and requires less scope. However, an all chain rode is much heavier, and will definitely require a windlass.
Chain spliced to nylon rode is a good combination. This commonly used combination will aid in setting the anchor and keeping it set by lowering the angle of pull. 6 to 8 feet of chain spliced to nylon rode should work well, but for spending the night out on the water or extended anchoring, a one-half boat length's worth of chain is a good rule of thumb to help an anchor's holding power.
(Note: When you calculate scope, don't include the chain at the anchor end of the rode unless there's more than 6 feet or so; the chain's job is simply to weigh down the anchor. Also, if you are using an all-chain rode, you can divide the scope by as much as half).
How To Anchor a Boat – Getting Down to Brass Tacks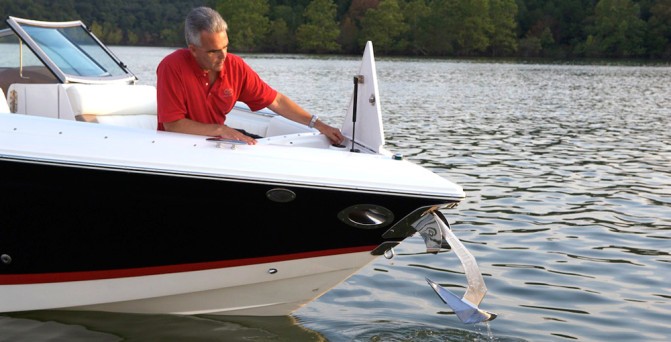 At a dead-slow speed, head your boat up into the wind or current, beyond the spot where you want the boat to be, at a distance equal to your estimated scope, giving a little extra distance in case the anchor drags. Come to a stop.
When you're ready to set, the boat should be motionless over the area that you want to drop anchor, or drifting very slowly astern. As the boat drifts back, lower the anchor slowly to the bottom, then gently pay out the rode. Slowly lowering the anchor will prevent the chain from piling up in a heap.
Take a turn around a cleat and snub it off every now and then to let the rode straighten out.
When you've reached at least 3:1 scope, secure the rode and gently apply power in reverse to ensure that your anchor has set well, watching the rode or chain to see if it pulls tight. Pick a spot on land or a nearby marker as a reference point to make sure you're not moving aft as you back down.
If the rode alternately pulls tight and then loosens, your anchor is skipping, and you need to reset.
When set, let out even more rode until you reach your desired scope. Back down again at this scope, making sure your anchor is well set before turning off your engine and leaving your boat.
Many boaters make only a half-hearted attempt to set the anchor by putting the boat in reverse for just a few seconds. To be sure the anchor is set you must put a reasonable strain on the rode for a reasonable amount of time. If properly anchored, your boat should surge forward when you back off the power.
How To Be Alerted If Your Anchor Becomes Dislodged and Your Boat Swings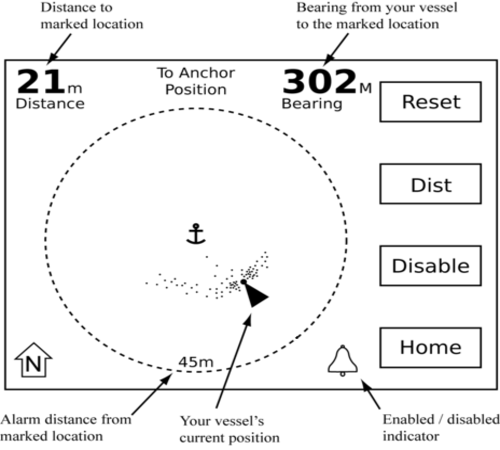 These four methods can alert you when your boat swings
If you have an anchor alarm on your GPS / chartplotter, set it so that it alerts you if the boat swings too far from the position where it was when you set anchor
If you have an electronic compass or autopilot, set the course alarm so it alerts you if the boat's heading changes radically
If you have alarms on your depth sounder set maximum and minimum alarms to alert you if water depth changes significantly, indicating that you are either drifting away from or towards the shore
Stand an anchor watch. It is a good practice to take note of prominent landmarks when you anchor so you can detect any subsequent change in position
Using The Holding Power Of Two Anchors At Once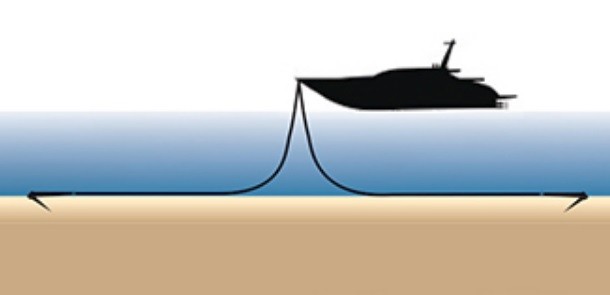 If you find yourself in a tight anchorage or a narrow strip of waterway with a significant current, beware of the path your boat will take when it swings as the tide changes; you may end up dangerously close to shore or up against another boat.
There are a few methods of using both of your anchors to your advantage, but here are two of the most popular:
Anchoring at Bow and Stern
By dropping an anchor close to the beach, and the second offshore, you can hold your boat tightly to the anchorage, regardless of tides or weather conditions. You can also use the tension on one rode to help set both anchors. Keep an eye when anchoring off the stern not to foul your rode in your propeller.
Two Anchors Off The Bow
Another option is two have two anchors off the bow – one anchor into the wind or current, and a second one 180° away. Then take both lines to the bow of the boat. This allows the boat to swing around in a small, tight arc, but will allow the boat to pull against an anchor without causing it to reset when the wind or current changes.
Pulling Your Anchor When It's Time To Embark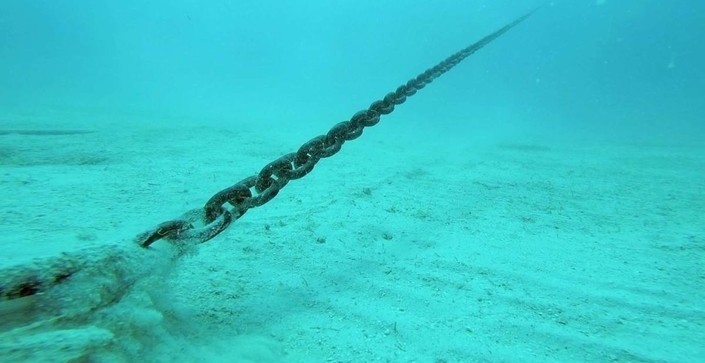 When it's time to go again, slowly motor forward while you raise your anchor. With a little forward motion against the direction the anchor was set, your anchor should dislodge.
If your anchor is stuck, shorten the scope, and position your bow right above it. Slowly move forward and try to raise it. If it doesn't break loose, let out a little scope, and start circling your anchor while keeping the rode tight. Do this until you find the angle that will dislodge it.
If it's still stuck, position your boat in the opposite direction in which you were anchored, let out more scope, and back down. This pulling in the opposite direction should dislodge it.
Once your anchor is free, go back into neutral. Bring the anchor back onboard, and rinse off any mud. Make sure your anchor is properly secured, and then you're good to take off.
Tips For Anchoring When Using A Windlass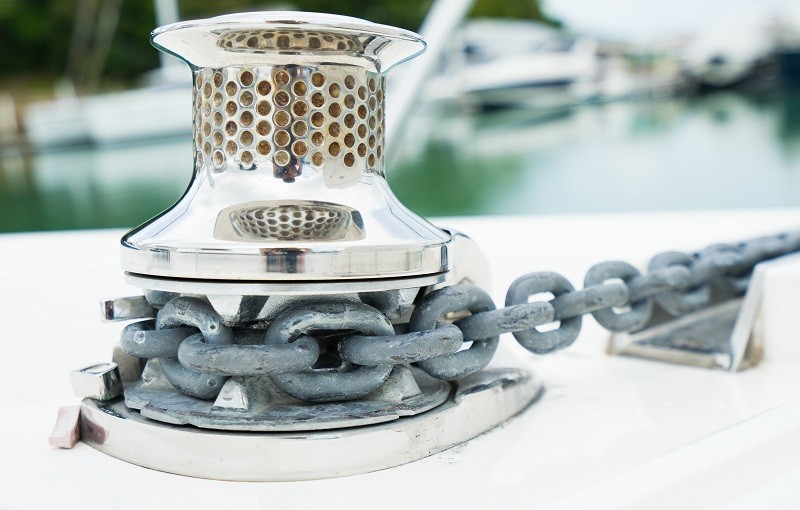 The techniques for anchoring a boat are the same when using a windlass. However, there are a few things you should bear in mind.
The windlass is not a cleat, and shouldn't ever take the load of your boat under anchor. Don't attempt to move your boat forward on the motor of the windlass alone. It is also not the raw muscle to pull the anchor. Instead, take up the slack as you slowly move forward, circle, or back down to break the anchor free.
Extra Tips For Anchoring a Boat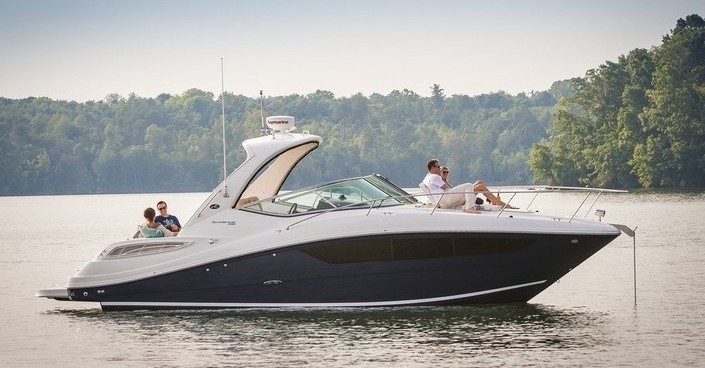 Here are a few more tips to further help you become a master at anchoring your boat:
Besides the fact that having more than one anchor is good for being able to anchor in different conditions, having an extra anchor is important just in case one gets lost. It also allows you to double anchor, as mentioned above.
Store at least one anchor that can be deployed immediately, in case of an emergency. Even the strongest anchor won't do you any good, if it can't be deployed quickly it.  Even a small anchor, that can be dropped in a pinch, can keep you from going further aground, into the rocks, or into another boat.
Regularly inspect your entire anchor system for chafe, loose shackles, and bent flukes. Your anchoring system is only as strong as its weakest component.
In order to help know how much scope you've let out, for nylon rode, insert little plastic numbered strips (available at most marine supply stores) to indicate specific depths, or paint a series of color strips on your chain. 20 or 25 ft. intervals works well.
If using a nylon rode and you can't put out as much scope as you'd like because you're in a tight anchorage, consider adding a "sentinel", or heavy weight, to your anchor line. You can also use a smaller, lightweight anchor for this purpose (25 lbs. or so will work). Attach the weight/anchor to the rode with a shackle, so it can slide down the anchor line towards the bottom. Tie a small line to it, so you can control how far down it goes, and stop it when it's approximately halfway down the rode. This added weight will lower the angle of pull and increase your holding power.
Working with a mate makes anchoring easiest. Prepare hand signals in order to communicate certain things (stop, pull up, slow down), in order to not have to randomly yell out commands to each other from one side of the boat to the other, which may be confusing when in the thick of things.
A washdown system can make anchoring much cleaner. It helps to washdown the anchor while raising it, before you pull it on board.
Each boat and anchoring system has its own characteristics. You'll want to practice anchoring in a nonthreatening environment when you have time and space, until the entire process becomes second nature, before trying to do so in a busy anchorage.
If you have any more questions on anchoring, just let us know!  And if in the market for a new anchor, feel free to pass by our store! We carry Fortress and Delta by Lewmar anchors, here.
Have a good one!
Citimarine Store
3300 NW 112th Ave, #4
Doral, FL 33172
1-(800) 766-5256
www.citimarineStore.com
–
Related:
anchoring a boat,anchoring your boat,how to anchor boat,how to anchor your boat,tips for anchoring boat