FREE U.S. SHIPPING ON ONLINE ORDERS!*
FREE U.S. SHIPPING ON ONLINE ORDERS!*
Fortress Anchors There are 31 products.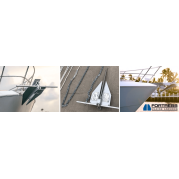 The World's Best Anchor: Fortress Anchors are lighter, stick faster, and hold stronger than heavier anchors, such as Danforth, Poole, and CRQ, as proven by several strength tests by the US Navy and several major boating publications. Approved by American Bureau of Shipping (ABS). For boats 16' - 69'+. We are authorized Fortress Anchor Dealers. *Free US Shipping on Fortress Anchors
Subcategories
Fortress Anchor FAQs
Commonly asked questions about Fortress and Guardian anchors by Fortress Marine
What is the difference between a Fortress Anchor and a Guardian Anchor?
Fortress Anchors are anodized, and have both 32- and 45-degree settings. Guardians are not anodized, and only have a 32-degree setting.
Are there differences in the warranties between the Fortress and the Guardian?
Yes, Fortress Anchors come with a Lifetime Parts Replacement Warranty while Guardians have a One Year Parts Replacement Warranty.
What are Fortress Anchors made from?
Fortress Anchors are made from hardened high-tech aluminum-magnesium alloy. Fortress FX models are anodized for an attractive and durable finish.
What happens if I damage part of my anchor?
Fill out Fortress Marine's Online Replacement Parts Form, or call them to request the new part. The warranty is Hassle Free, only cost being a small S&H charge.
Means the product receives a chemically bonded coating, giving the anchor greater corrosion resistance and a more appealing appearance.
Where are Fortress Anchors manufactured?
Fortress Marine is located and does all of its manufacturing in Fort Lauderdale, FL, USA.