FREE U.S. SHIPPING ON ONLINE ORDERS!*
Fortress Anchors There are 19 products.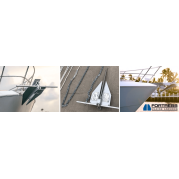 The World's Best Anchor: The Fortress Anchor is lighter, sticks faster, and holds stronger than heavier anchors, such as Danforth, Poole, and CRQ. Several strength tests have proven this. Approved by American Bureau of Shipping (ABS). For boats 16' - 69'+. We are authorized Fortress Dealers.
Subcategories