How Do CTM Marine Chillers Compare to Dometic and Webasto Chiller Systems?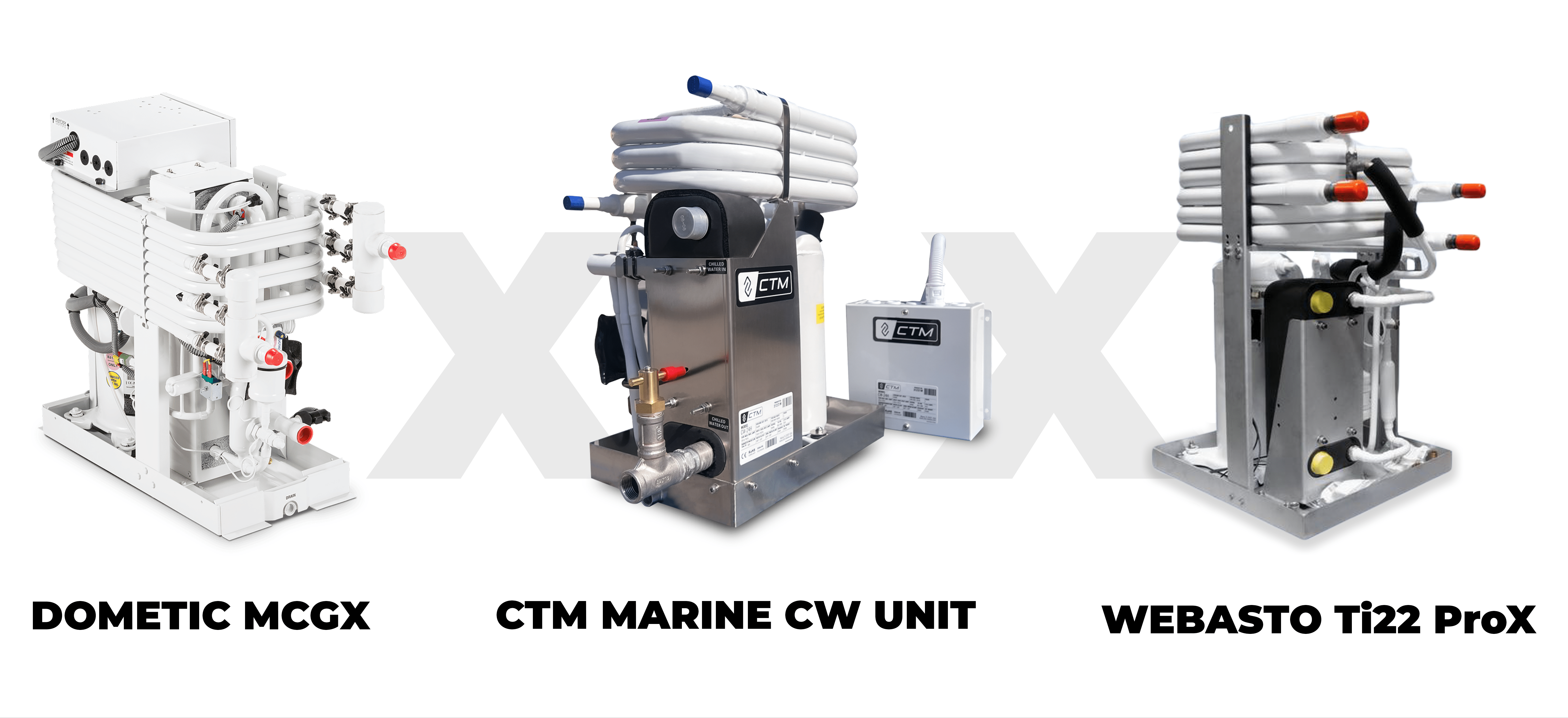 With the success of CTM Marine's self-contained marine air conditioner line – 2,000+ CT units sold since its release in summer 2020 – CTM Marine has expanded its offerings to include split gas and now chilled water marine air conditioning systems, also known as marine chillers.
CTM calls on more than a decade of experience selling marine air conditioning systems – including marine chiller systems from Dometic, Webasto, and Flagship – and has created a chiller system with the aim of improving performance, efficiency and durability, and at a better price point than chillers from other major manufacturers.
Below we compare some of the main features of the top selling titanium chiller systems from these three brands – Dometic's MCGX line, CTM Marine's CW line, and Webasto's Ti22 ProX series. 
Each brand offers several different capacities and electrical configurations for their chiller systems, but in order to best compare apples to apples, we examined the 230V, single-phase 36,000 BTU unit in each line.
Dimensions & Weight Comparison
When it comes to size and weight, the CTM chiller unit was created to be more compact than the Dometic and Webasto chiller units, in order to serve as a drop-in replacement. This is just the measurement of the chiller unit itself; it does not include the size and weight of the air handlers.
Dimensions & Weight Comparison
Dometic MCGX36
CTM CW-36HS
Webasto ProX36

Width (inches)

12.5
9.8
15.4

Depth (inches)

30.78
14.1
21.1
Height (inches)
23.57
20
23

Weight (lbs)

146
100
121
Dometic MCGX36 Layout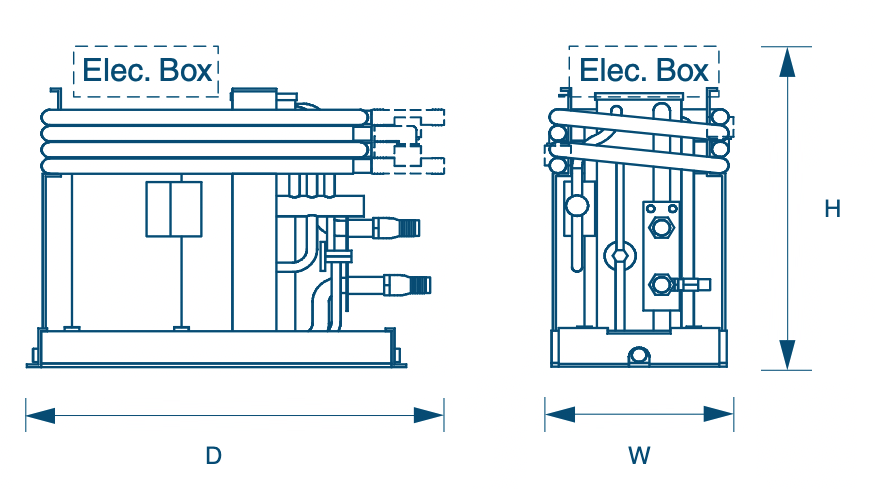 CTM Marine CW-36HS Layout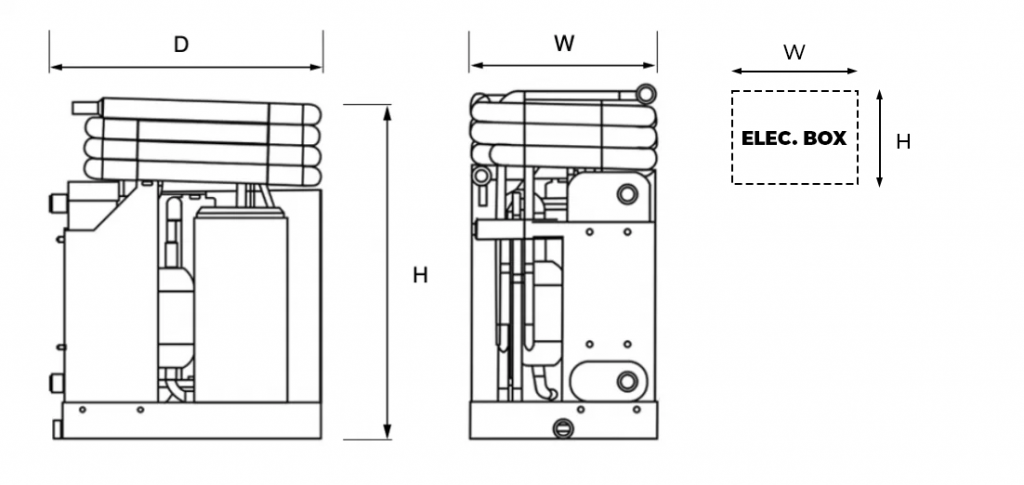 Webasto ProX36 Layout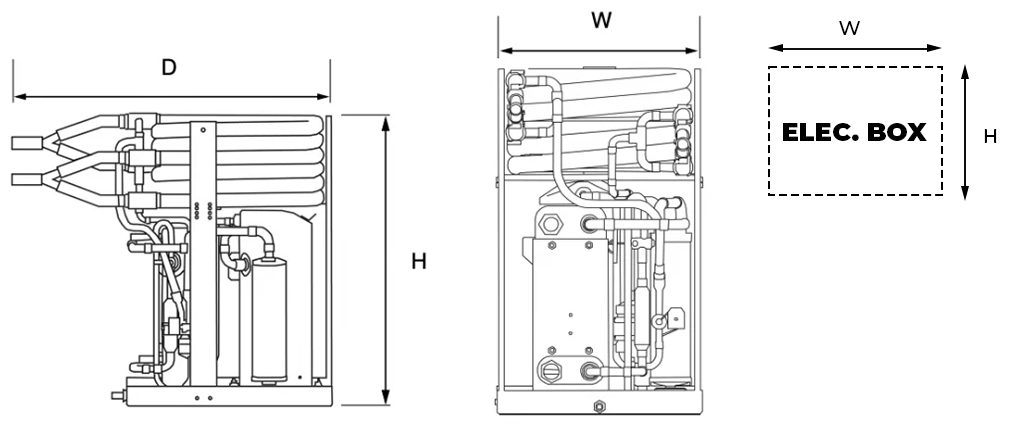 Performance & Efficiency Comparison
All three units used in this comparison produce 36,000 BTUs at 230V and have a reverse cycle heating mode.
The CTM Marine unit brings a soft-starter, which reduces startup power consumption, and improves compressor performance while reducing noise and vibration when the compressor starts up.
Performance & Efficiency Comparison
Dometic MCGX36
CTM CW-36HS
Webasto ProX36

Locked Rotor Amps (LRA)

105
42
72.5

Cooling Amps

11.1
9.5
15.7
Heating Amps
16.2
13
Not Available
Fuse Minimum*
43
40
Not Available

Fuse Maximum*

70
65
25
*Required AC circuit protection min / max
Dometic and CTM Marine chillers use R410 refrigerant, while Webasto uses R407C. Both types of refrigerants are environmentally-friendly and commonly used in recreational and commercial boating applications.
Materials, Compatibility and Guarantee
All three units — Dometic's MCGX line, CTM Marine's CW line, and Webasto's Ti22 ProX series — are well-constructed and made of durable, corrosion-resistant materials ideal for marine use.
The condenser coils on each unit are made of titanium, one of the most durable materials against corrosion available. Titanium chillers are the best option when it comes to marine chillers – with such an investment in a system, you want one that will last you.
All three systems bring an industry-standard two year warranty – first year covering parts and labor, second year for parts. 
Both the Dometic and CTM Marine chiller share the same MCC control board, making them 100% interchangeable and stageable. Both brands can also share the same main staging board, control, connections and air handlers, allowing you to easily replace one for the other, or have both units running side-by-side on the same yacht.
Pricing
The CTM Marine chiller system is priced significantly lower than the Dometic and Webasto models. While construction and performance is comparable among all three models, this is one of the major advantages of the CTM unit over the other systems.
Webasto and Dometic offer a list price to their dealers, at which units are sold at a 20 – 25% discount (on average) to end customers, with the amount of that discount being up to the reseller. This is a common manufacturer / dealer agreement. We have included both the List and Suggested Retail Price in the comparison for a more complete picture.
CTM Marine's List Price is already heavily discounted, so units are offered to dealers at List Price, and dealers are required to follow an MAP (minimum advertised price) policy.
Pricing Comparison
Dometic MCGX36
CTM CW-36HS
Webasto ProX36

List Price

$15,485

$6,599

$12,000

Suggested Retail Price

$11,613

$6,599

$9,000
*25% discount applied to Dometic and Webasto List Price
Where to Buy Titanium Marine Chiller Systems

Dometic MCGX chiller systems can be purchased via Dometic's dealer network, available on their website. Internet retailers are not authorized to sell these units online.*
We carry the CTM Marine CW chiller systems here: CTM Marine Chiller Systems, or you can purchase via CTM Marine's dealer network, here.
We carry Webasto marine chiller systems here: Webasto Marine Chiller Systems, or you can purchase via Webasto's dealer network, here.
Should you have any questions on setting up a marine chiller system on your boat, or need help locating a specific chiller system not listed on our site, just let us know. We're happy to help.
Have a good one!
Citimarine Store
3300 NW 112th Ave, #4
Doral, FL 33172
1-(800)-766-5256
CitimarineStore.com
–
*Citations to Dometic products are for reference purposes ONLY. Citimarine does NOT sell Dometic products as Citimarine is NOT affiliated with Dometic.
best marine chiller system,best titanium marine chiller,ctm marine chiller systems,dometic titanium chiller systems,webasto titanium chiller systems