Marine Chiller System – Ideal A/C System For Yachts
*Note: If looking to purchase a marine chiller system see here, or contact us, here.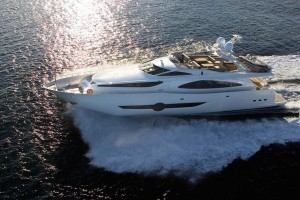 A marine chiller system, also known as a chilled water air conditioning system or marine water chiller, is the optimal a/c system for boats larger than 50′ (although are used often used on vessels 40′ or larger as well). The marine chiller circulates cold freshwater through pipes throughout the vessel, releasing the cold air via blowers, cooling cabins quietly and efficiently.
Vessels that can accommodate a marine chiller greatly benefit from the green, energy-efficient, high-performing system. In this article I will explain how a marine chiller system works, the benefits of a marine chiller over other marine A/C units, and what size chiller system you should use on your vessel.
How A Marine Chiller System Cools Your Yacht By Circulating Cool Freshwater
A marine chiller system consists of:
The chiller
Air handlers installed throughout the vessel
Freshwater piping (or water hoses) connecting the chiller to the airhandlers
The seawater system
The chiller consists of typical AC components: the compressor, condenser, and evaporator. The chiller is charged with R-410A, an environmentally safe refrigerant, that circulates throughout these components.
The airhandlers consist of a blower and a coil. Freshwater circulates back and forth between the chiller and the airhandlers through insulated piping or water hoses.
When cooling, warm cabin air is drawn (or blown) across the airhandler coil by the blower. Heat is removed from the room as it passes through the coil, and then cool air is blown back in. The heat drawn from the room is then transferred to the freshwater, and carried by the piping back to the chiller.
The water then circulates through the chiller, where the heat is transferred to the the refrigerant in the evaporator, cooling the water again. The heated refrigerant is compressed in the compressor, and then circulated through the outer tube in the chiller's condenser coil.
So where does the heat/hot water go? How does the system get rid of it?
This is where the seawater system comes into play…
Seawater circulates through the condenser via the seawater system. The heat transfers from the "heated" refrigerant, to the seawater, and pumped overboard along with all the original hot cabin air!!
A marine chiller system is literally a very cool process!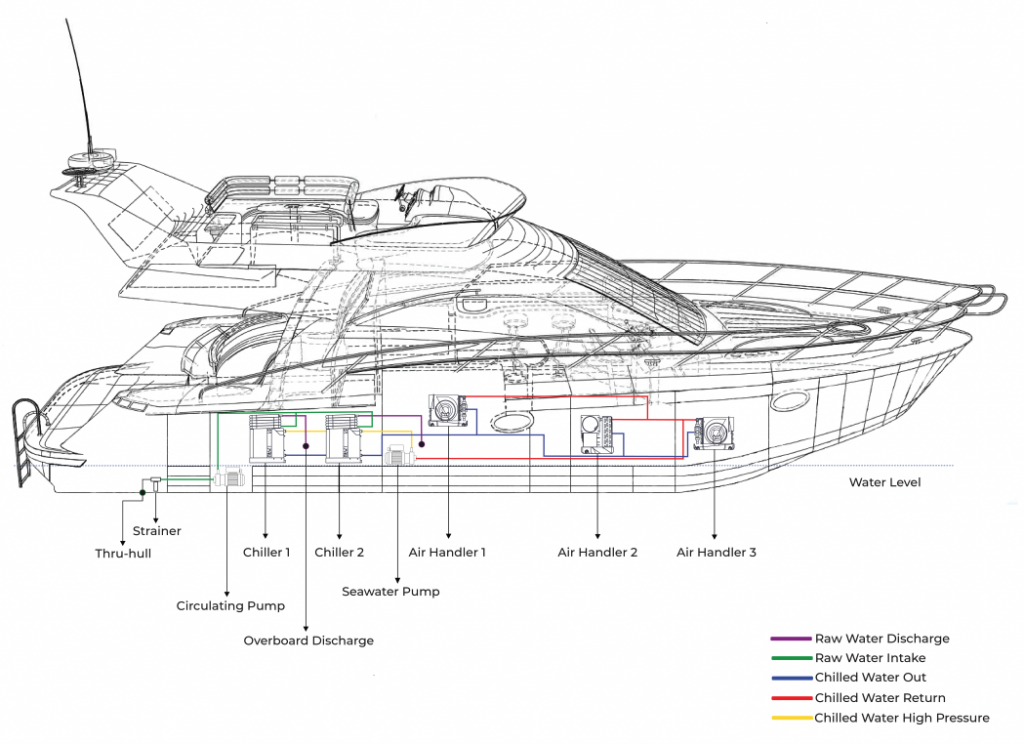 Advantages / Benefits of a Marine Chilled Water Air Conditioning System Over Other Marine AC Systems
A Marine Chiller AC systems is the most efficient marine air conditioner for larger boats and yachts. This is for several reasons:
Maximum performance and durability
Customization of AC system to your vessel's specific cooling needs
Lower electricity consumption and a reduced peak electrical load
Very environmentally friendly
Each air handler can be turned off without turning off the system
No limitation of handlers in a system, or distance to each handler
Also, while an individual marine chiller can go up to 180,000 BTUs, several units can be used together in order to provide even more if needed.
What Size Marine AC System Should You Purchase For Your Yacht or Boat?
This rule of thumb should go for not only marine water chiller AC systems, but all AC systems, including split and self-contained AC units.
You need to make sure you do not underestimate the amount of power of your new marine AC system.  If you underestimate the amount of BTU's needed, you will be very hot, uncomfortable, and unhappy with your new unit!
However, overestimating, or "oversizing" your ac system will lead to "short cycling", where the AC system doesn't have enough time to properly remove the humidity of the vessel.
The general rule of thumb for choosing the proper marine AC system for your vessel is 14 BTU's per cubic foot of air conditioned space.
If it is an area that is used often during mid day, and where lots of sunlight comes in, it may be best to use 16 to 10 BTU's per cubic foot.
For areas below deck, if you only use your vessel in the evening hours, or if your boat is covered / out of the sun before entering, you can usually use 10 – 12 BTUs.
*Note: For more help in sizing your chiller system for your boat, we can help.
Recommended Marine Chiller System – CTM Marine CW Chillers
At Citimarine Store, we have many clients with yachts and superyachts, so have had the opportunity to learn which chiller systems work best on these larger vessels.
We've sold chillers from all of the major brands, including Dometic, Webasto and Flagship, so are familiar with the pros and cons of each. We've begun looking for other options due to long wait times and an inability to continue a good production pace in some of these major companies.
CTM Marine has created a marine chiller system that takes some of the best features of the top systems in the market, and built on these units with improved performance, durability, and efficiency. And at a significantly better price point. We've recently added these to our site.
CTM Marine CW Chiller Systems range from 24,000 BTUs up to 72,000 BTUs, and systems can be staged / combined to reach larger capacities if needed. CTM Marine AH air handlers are available from 6,000 to 24,000 BTUs.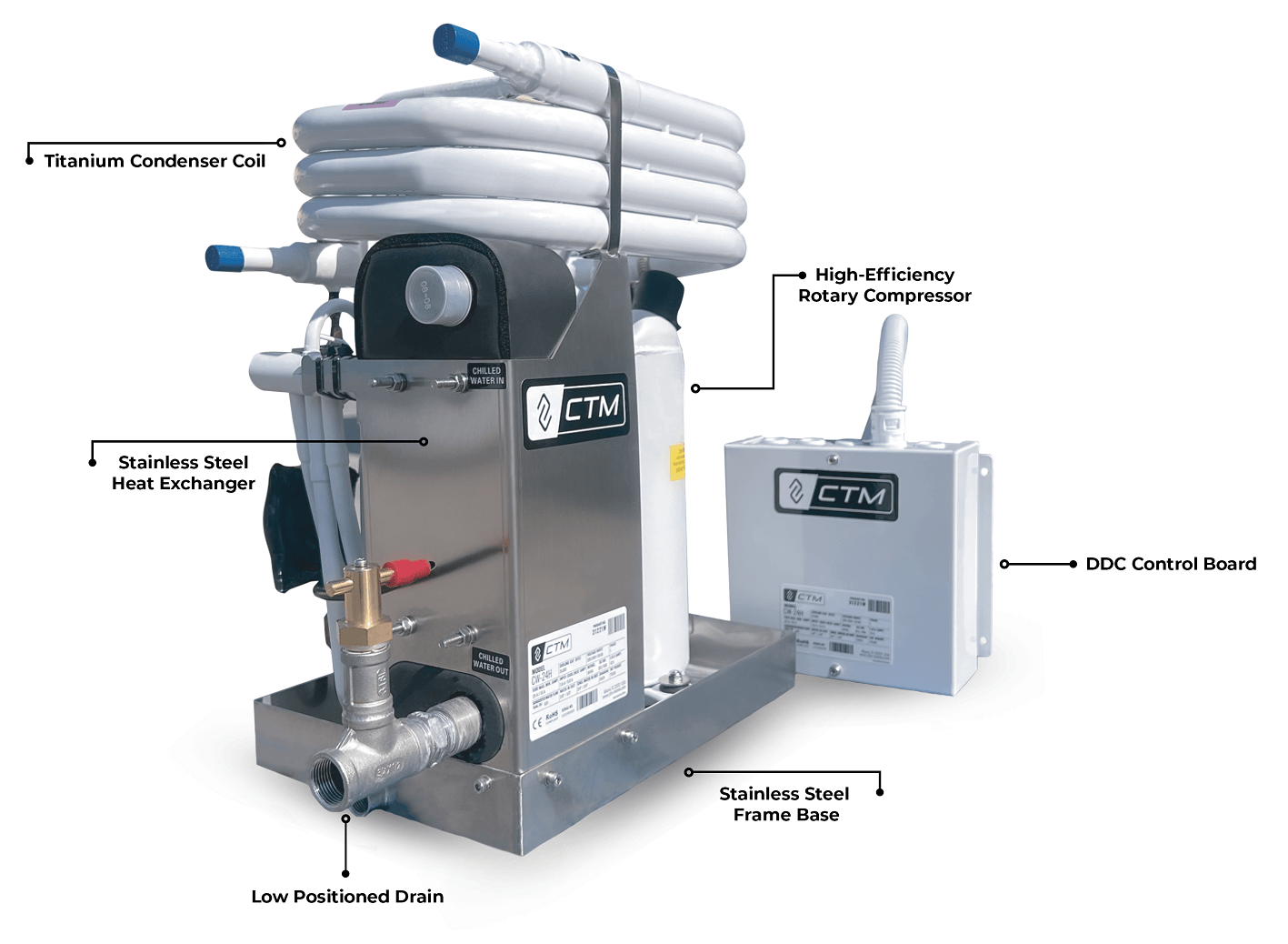 CTM's chillers serve as an excellent drop-in replacement choice for Dometic's MCGX and MTCGX chiller line, carrying the same circuit board. CTM's units are compatible with Dometic's controls and cables as well, with titanium coils and a stainless steel cooling tower providing superior durability in the harsh marine environment. All CTM Units bring a 2-year warranty as of date of purchase.
Features of CTM Marine's CW Units
Compact design
Titanium condenser coils – the most corrosion-resistant material available for seawater cooling coils
Advanced MCC Control Board (Made in USA), fully-compatible replacement for the DDC control board, offered with some Dometic / Marine Air System® chillers
Corrosion-resistant stainless steel frame base
Reverse cycle heating
Green, environmentally-friendly R410A refrigerant
Two-year warranty
You can find CTM Marine Chiller Systems, here!
Another Option – Webasto Chiller Units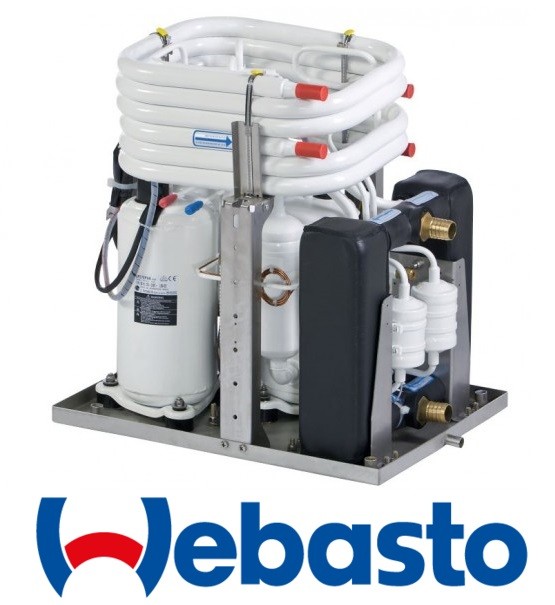 Another great option is Webasto's Blue Cool line of chillers, ranging in capacities from 16,000 to 108,000 BTUs, with other systems capable of larger capacities as well. Webasto's units also bring a 2-year warranty.
You can find Webasto Marine Chillers, here.
–
I hope this article provided you with an in-depth understanding of marine chiller AC systems, and how to pick the right one for your own vessel. Should you have any questions, don't hesitate to contact us here!
Have a good one!
Citimarine Store
3300 NW 112th Ave, #4
Doral, FL 33172
1-(800)-766-5256
CitimarineStore.com
–
Other helpful resources:
Related:
cruisair marine chiller,marine chilled water air conditioning system,marine chiller system,marine chiller unit,marine water chiller