Best Electric Hookah Dive System: Brownie's F285BE & VS265XE

If looking for the best electric hookah dive system, Brownie's has been at the forefront of recreational surface-supplied diving systems since it started in 1969. Brownie's hookah diving systems are a fantastic alternative to scuba, do not require extensive dive classes (however, some training is always recommended!), and do not require the lugging around of heavy dive tanks needed with traditional scuba diving.
Brownie's third lung diving systems come either gas- or electric-powered. While gas engines last a bit longer and are a bit friendlier on the pocket, the electric diving hookahs still have extensive run times (60-90 minutes), are much quieter, and are more environmentally friendly. Each have their pros and cons.
Regardless of the hookah diving system you go with, both can reach depths of 80 – 90 feet, and can supply several divers at once… great for the family, or going out with a group of friends, without the level of commitment required for regular scuba diving.
Here are a couple of the more popular diving hookahs by Brownie's…
Note: If in the market for an Electric or Gas-Powered Diving Hookah, we have them, and for the best prices and shipping available online. See here: Brownies Third Lung Diving Hookahs
The F285BE Economy Floating Hookah, 2 Diver System. Gas-Powered – Only $1,995.00

The most popular Brownie's hookah diving system we carry is the F285BE.
Powered by a Briggs & Stratton 550 engine, the F285BE will run for over 3 hours on just one tank of gas! 100-year old Briggs & Stratton, headquartered in Milwaukee, WI, is known for making powerful, yet energy-efficient gas engines with much lower emissions than other brands.
The F285BE comes with:
Motor/compressor assembly,
Impact resistant HDPE storage case,
dive flag, float tube,
(1) 60 ft down line with QRS fittings,
(1) QRS Y-Divider,
(2) 20ft diver hoses with QRS fittings,
(2) Brownie's™ hookah regulators,
(2) Brownie's basic towbelts
(1) Brownie's economy mesh gear bag.
Brownie's F285BE Economy Floating Hookah gives you everything you need for hours of diving fun, and without a heavy price tag. While three divers can use the F285BE, it is best suited for two divers (as three divers will not be able to explore as deep). For three divers, you should go with the F390X.
Another option, while it doesn't come with the floating tube, is the E150B Economy Electric Hookah goes for only $1,375.00. It can be used wherever 110v AC or 220v AC systems are available. You can see it, here.
Brownie's VS265X and VS265XE Variable Speed Electric Hookah Diving Systems, 2 – Divers. Green, Quiet, Efficient, Convenient – Best Electric Hookah Dive System
With Brownie's new Variable Speed electric diving systems, you now have a cleaner and greener diving hookah if you prefer not to handle and store gasoline.
Quieter than the gas-powered models, a Brownie's VS models are often said to be the best electric hookah dive system money can buy because they are more energy-efficient and longer-lasting than electric dive systems from other brands, supplying air on demand as you breathe. See how the VS models compare against other hookah dive compressors below: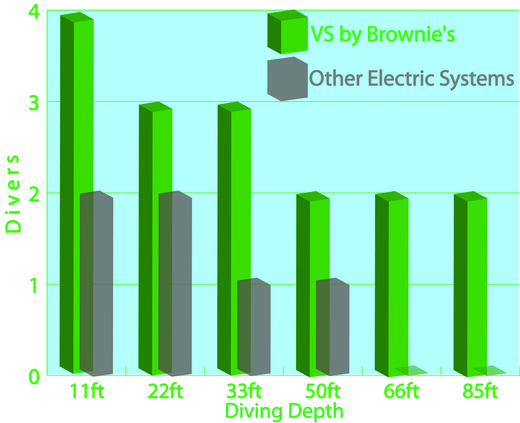 The VS265XE (as well as all other Brownie's "Supreme" diving packages), come with an egressor, a mini-scuba system. These egressors come in a handy sleeve stored around your waist, and are ideal in cases of emergency. They are light and small, and can be donned in seconds. They can also be used in the case something falls overboard, you need to check anchor location, or other times where an instant scuba application can be helpful.
(Note: you should be scuba certified to use the egressor. Besides not being able to refill the tanks without certification, improper use can cause serious injury or even death).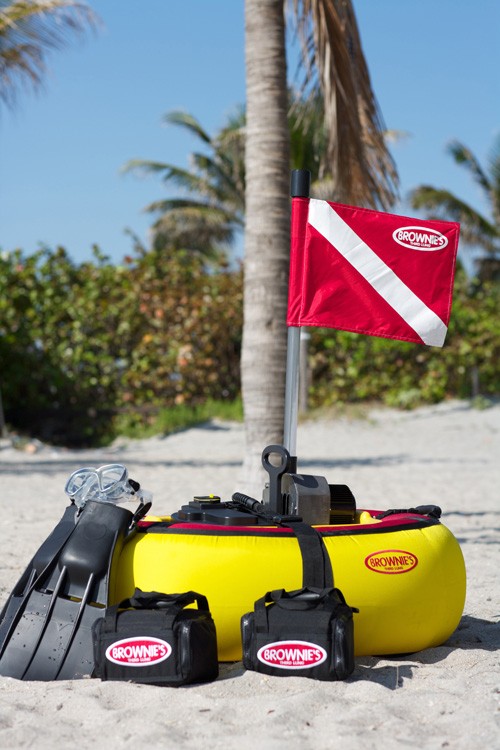 The VS256X and VS256XE models come with:
Motor/compressor assembly,
storage case with impact resistant HDPE cover,
dive flag, float tube,
(2) batteries (PC925),
battery charger (12a),
(1) 60 ft down line with QRS fittings,
(1) QRS Y-Divider,
(2) 20ft diver hoses with QRS fittings,
(2) Brownie's™ patented Drop Weight Cummerbelts™,
(2) Brownie's™ hookah regulators,
(1) deluxe mesh duffle gear bag.
(2) Complete Egressor™ mini-scuba system with 6 cu ft tank.(*SUPREME / XE Models only)
The Odyssey Batteries included in the VS systems have enormous cranking power and deep cycle reserve power (double that of conventional batteries). They have an 8 – 12 year design life, and 3 – 10 year service life, and can be stored as long as 2 years and still be returned to full power (THREE times that of conventional batteries!).
We have both the VS265X and the VS265XE. Click on the links below for more info:
Questions on hookah diving systems? Feel free to reach out to us on the chat below, or contact us here!
Have a good one!
CitimarineStore.com
3300 NW 112th Ave,
Doral, FL 33172
(800) 766-5256
info@citimarine.com
Related info:
brownie hookah,F285BE,hookah dive system,hookah diving,hookah diving system,VS265X