FREE U.S. SHIPPING ON ONLINE ORDERS!*
MER Equipment Marine Generators There are 14 products.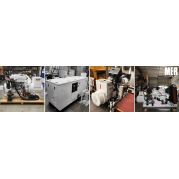 It is MER ongoing mission to support the workboat industry. MER strives to build the best engines and marine generators they can, to make them more efficient, easier to maintain and to assist in their application so they are less likely to fail. MER brands its power products with the name BOLLARD — derived from a nautical term hinting at the equipment's rugged, solid design.