FREE U.S. SHIPPING ON ONLINE ORDERS!*
MER Equipment Commercial Marine Generators There are 14 products.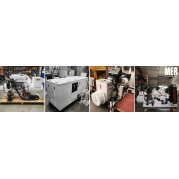 It is MER's ongoing mission to support the workboat industry. MER strives to build the most efficient, easy-to-maintain and durable commercial marine generators. MER brands its power products with the name BOLLARD — derived from the nautical term conveying the equipment's rugged, solid design. Generators ranging in power output from 8kW all the way to 395 kW.