Vitrifrigo Refrigerators For Boats – Made For Life On The Water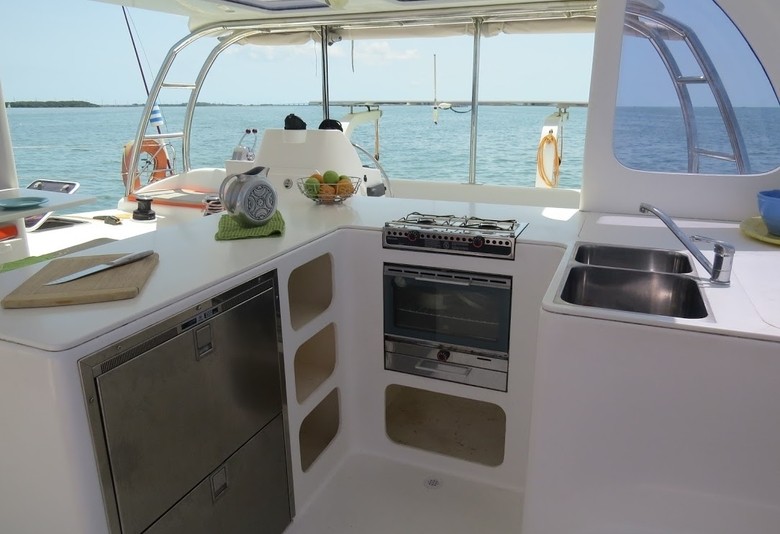 (Note: If looking to purchase, we carry the complete line of Vitrifrigo Marine Refrigerators, here – Free US Shipping!)
If in the market for a marine refrigerator, look no further than Vitrifrigo.
With decades of marine refrigeration expertise under their belt, Italian-made Vitrifrigo knows what it takes to keep food fresh, drinks cold, and ice frozen throughout your voyage.
On boats, refrigeration is one of the largest power consumers, along with A/C, water heater, and watermaker. So optimizing power consumption, and managing power when used, is of the utmost importance. This is one big benefit of choosing a Vitrifrigo refrigerator.
Along with energy-efficiency, Vitrifrigo has the following benefits built into their refrigerators:
Superior insulation
Durability and reliability
Sleek and stylish designs made to compliment a boat's interior
Ease of access in order to service
Vitrifrigo's confidence in their marine refrigerators is backed up by a 3-year warranty.
Why Choose A Vitrifrigo Refrigerator Instead of A Regular Refrigerator For Your Boat?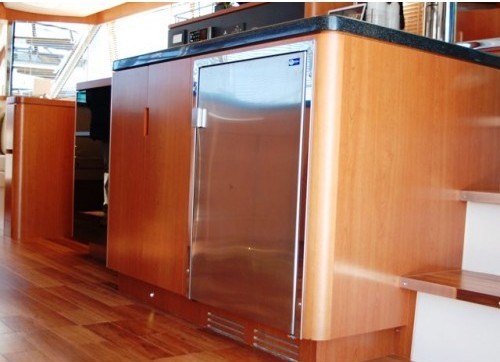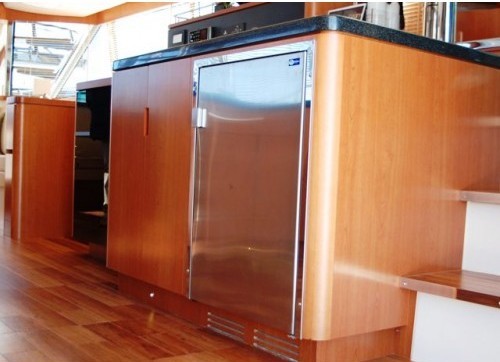 When out in the middle of the ocean, any failure of your refrigerator to do its job, and unfortunately you can't just stop off at the store and buy more… you'll have pounds of rapidly spoiling food.
Refrigerators not made for boats are built with maximizing interior space in mind, and use very thin insulation to achieve this result. A refrigerator built like this will not be able to handle time cruising the seas, especially in warmer climates.
Vitrifrigo refrigerators are built with a rigid external chassis and extra thick, highly efficient poly-urethane foam insulation throughout, ensuring your refrigerator and freezer are keeping your food cool / frozen in the marine environment, and simultaneously will save you on energy costs due to the fridge not having to work double time.
Reliability is also of the utmost importance. Vitrifrigo refrigerators operate on the ultra-reliable and quiet Danfoss / Secop 12/24 volt compressor. The Danfoss/Secop compressor is tried and true, with Danfoss having more than 60 years experience manufacturing compressors, and is used by marine refrigerator manufacturers because of its durability, dependability, and long life.
Refrigerators not meant for boats are usually NOT built into a closed area and will require extra fans to remove the heat of operation. Fan cooled air condensing units in the Vitrifrigo provide better heat transfer, higher efficiencies, increased interior volumes and longer life.
Functionality aside, Vitrifrigo refrigerators are gorgeous and fit in wonderfully with the design of your galley. Sleek black or stainless steel designs were made with boat interiors in mind, and fit in perfectly into carpentry and other closed-in spaces.
Vitrifrigo Refrigerator Reviews by Real Boaters
Perusing boating forums, you'll find many happy boat owners discussing their Vitrifrigo refrigerators: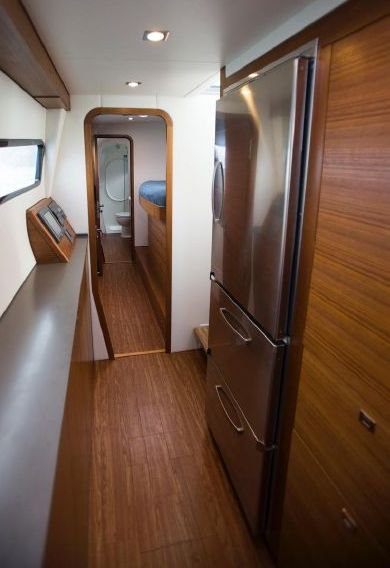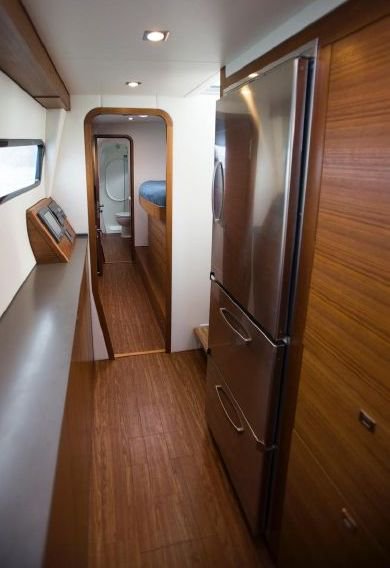 "Our Vitrifigo has operated flawlessly in south Florida and the Bahamas for about three years now. We really like it and it freezes our ice cream. Something the Adler Barber never could do. Chuck"
   -AnchorageGuy, 4,618 posts on CruisersForum.com, Boat: Marine Trader 34DC
"I have a keel cooled BD35 Vitrifrigo with an evaporator.
Love it."
    -senormechanico, 5,659 posts on CruisersForum.com, Boat: Dragonfly 1000 Trimaran 
"Our Lipari came with the Vitriofrigo 2 drawer fridge, same as in the photos above. I have been monitoring the power usage and was surprised. Here is the graph and stats.
We have it turned up to max (I like cold beer) and we don't take particular care on how long or often we open the drawers.
Nice unit"
    -Dod42, Brisbane, Australia, 353 posts on CruisersForum.com, Boat: Fountaine Lipari 41 Evolution
"I fitted a Vitrifrigo compressor / evaporator unit to our top-loading fridge. It is based on the universal Danfoss compressor but has a very efficient fan-cooled heat exchanger. You can also vary the compressor speed to optimise power consumption. It takes about 2.5A but only runs about 50% of the time even when it's hot. 
No complaints."
   -Hoolie, Hants / Lozère, 3,194 posts on YBW.com
"We just decided on a Vitrifrigo for our new American Tug. I hated the look of the standard NovaKool and it uses a single Danfoss BD 35 compressor for both the fridge and freezer. There are lots of reports of the NovaKool not keeping temperature in warm climates…
It then came down to a Vitrifrigo or a Webasto unit with 2 of the Danfoss BD compressors, one each for fridge and freezer. Then we went to the Newport Boat Show. We saw the Webasto unit in person and we where less than impressed.
We then found the Vitrifrigo model we had considered and that was that. Vitrifrigo it is! Bruce"
  -Bruce B, Rhode Island, US, 1,262 posts on TrawlerForum.com, Boat: American Tug 395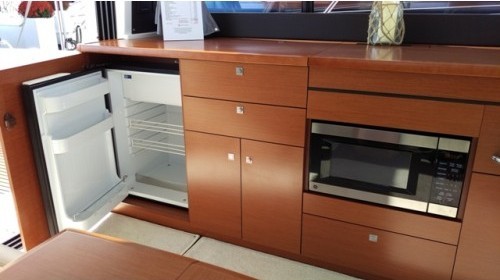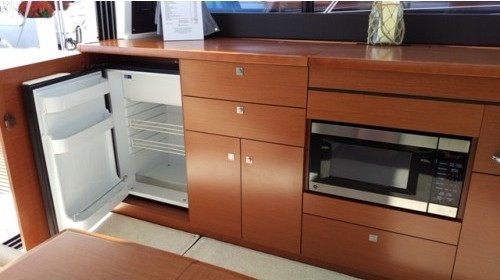 "We are in the process of pulling out SubZeros and putting in two Vitrifrigo 210s, one all fridge one all freezer. We got tired of sitting on the floor to get in the boxes, so drawers were too good to pass up. I researched all the dual voltage options. Hopefully made the right decision. Time will tell.
Anyone in my area want two almost new SubZeros?"
  -Drake, Seabrook, TX, US, 427 posts on TrawlerForum.com, Boat: DeFever 50
"Love our two drawer Vitrifrigo. It's been running 24/7 for 5 months/yr for a couple of years now (solar panels). Fit in the same space (with minor modifications) as our old Nevercold."
  -dwhatty, Buck's Harbor, MN, US, 2,700 posts on TrawlerForum.com, Boat: 2001 Island Gypsy 32
"My old Norcold DE-561 was on the way out so I decided to replace it with an Italian made Vitrifrigo DP-2600. Here is the finished product:"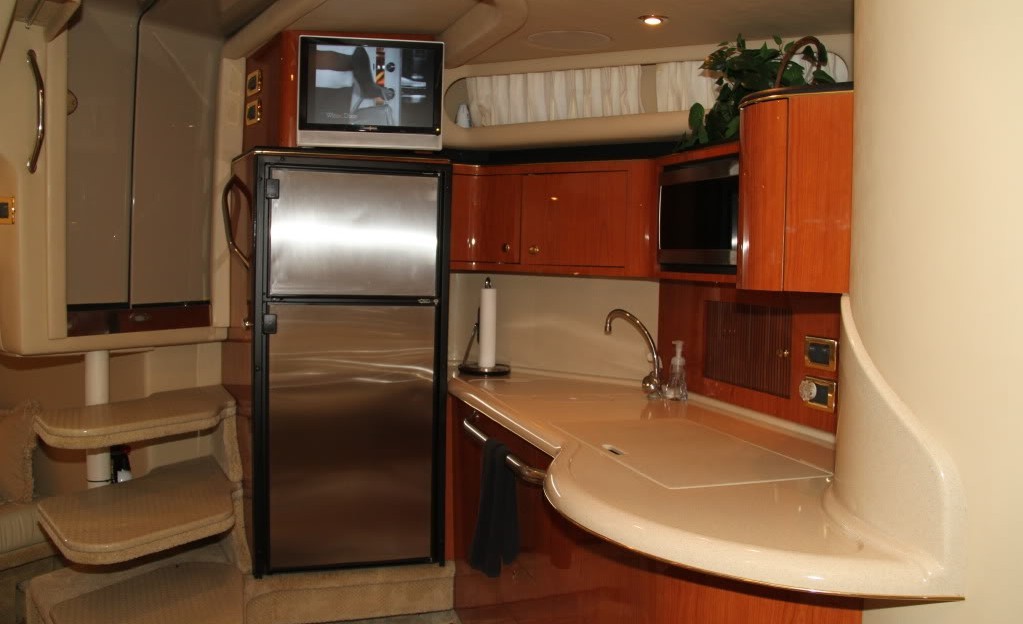 The new Vitrifrigo is real nice- Danfoss compressor, LED interior light, and lots more room than the Norcold. I swapped out the black panels for some 22ga stainless that I had custom cut (from an online site) for less than $100. I considered Tundra, but they recently had a fire in their plant, and I also considered Isotherm, but the Vitrofrigo won out. Brian
  -Mystic Dreamer, St. Petersburg, FL, 368 posts on ClubSeaRay.com, Boat: 2006 Sea Ray 44 Sundancer
As you can, Vitrifrigo is considered to be the best marine refrigerator by many.
Where to Buy Vitrifrigo Refrigerators? Vitrifrigo Refrigerators for Sale

Here at Citimarine Store, we carry the complete line of Vitrifrigo marine refrigerators in black and stainless steel designs of all sizes… We have them for the lowest prices possible, and provide free US Shipping on all units.
You'll find refrigerators, freezers, icemakers, and combination units. We carry other top marine refrigerator & brands here, as well: Marine Refrigerators
About Vitrifrigo Refrigerators
Since 1978, Vitrifrigo, an Italian company, has been one of the leading manufacturers of refrigerators, freezers & ice makers to marine markets worldwide. In 2005, Vitrifrigo opened its own distribution facility in the United States under the name Vitrifrigo America LLC. Vitrfrigo America LLC, based in Pompano Beach, Florida, is a fully stocked & staffed distribution facility which provides services to it's customers throughout the U.S., Canada, the Caribbean and Central & South America.
Any questions you may have, just let us know!
Have a good one!
Popular models:

Citimarine Store
3300 NW 112th Ave, #4
Doral, FL 33172
1-(800)-766-5256
best marine refrigerator,best refrigerator for a boat,refrigerators for boats,vitrifrigo boat refrigerators,vitrifrigo marine refrigerator,vitrifrigo refrigerator reviews,vitrifrigo refrigerators