Veratron Marine Instruments formerly VDO Marine Instruments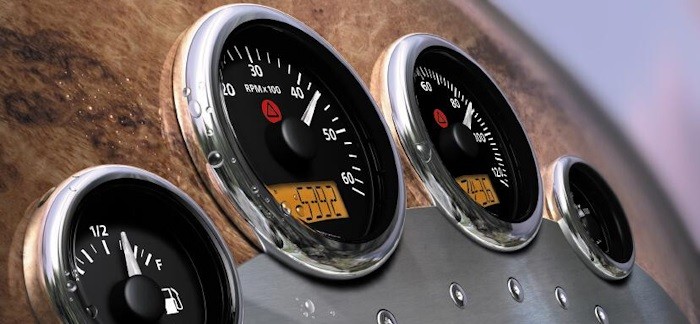 Veratron Marine originates from VDO Marine Instruments, a top name in marine instruments like marine gauges, tachometers, fuel gauges, temperature gauges, oil pressure gauges and more. VDO Marine Instruments –  based out of Switzerland – has been manufacturing world-class marine instruments for powerboats, sailboats and yachts since 1958.
In 2018, the VDO management team who has been on board for 45+ years bought the marine business from VDO and founded the new company Veratron. The DNA stays the same, while the team continues to develop top quality marine instrumentation under the name Veratron Marine.
Veratron's knowhow – alongside a passionate and experienced team – ensures outstanding quality in all areas. Veratron marine instruments are tested under the toughest conditions in order to ensure total reliability while boating.
Veratron Marine – Top Marine Instruments and Gauges
Veratron Marine Instruments carries on VDO's tradition of using the highest precision and the use of pioneering technologies in their manufacturing, in order to create attractive designs that are intuitive and highly accurate. 
"Best quality…VDO and S&S. Good value with good warranty…Faria. Best to avoid Tempo/Teleflex."
-ABoater, Senior Member, TheHullTruth.com, 8,781 Posts, Thread: Best Marine Gauges
Veratron / VDO has a wide variety of marine instruments that serve many purposes, including the following gauges types:

Battery voltage

Coolant temperature

Depth

Engine oil pressure

Engine trim

Fresh water

Fuel level

Rudder angle

Pyrometer

Speedometer

Tachometer

Transmission oil pressure

Voltmeter

Waste water

Wind sensor (wind speed & angle)
Below we will outline some of Veratron's more popular products.
VDO Marine Instruments / Veratron Acqualink Line

Veratron AcquaLink state-of-the-art marine instruments provide boaters with instantaneous and accurate nautical information. Premium materials – such as mineral glass and  – guarantee the highest level of reliability and readability, as well as low energy consumption.
Benefits of Veratron AcquaLink Marine Instruments:
Pioneering technology mixed with stylish design. High quality materials.

Manufactured in an ISO 9001 certified environment. Designed for extreme conditions at sea.

Plug and play solution design concept offers a high level of installation flexibility.

A cross-platform standard offers maximum freedom in respect of cockpit customization.

We ensure seamless integration and optimum utilization of AcquaLink® devices for extreme conditions at sea.
Related Products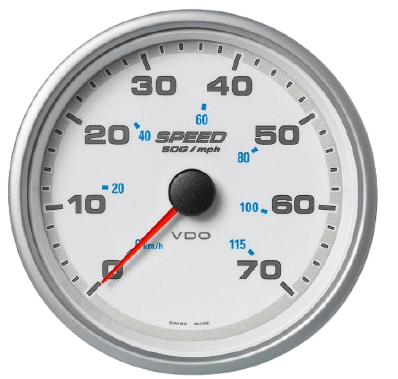 Veratron AcquaLink 110mm Gauges
Veratron AcquaLink 110 mm Gauges feature anti-fog coated mineral glass lenses and LED backlight technology. This allows excellent readability in every situation. 
The gauges can be daisy-chained, using the unique VDO Bus connection or connected to the NMEA 2000 network (optional adapter cable required). The available information provided by the AcquaLink NavBox or the NMEA 2000® network is indicated by the pointer movement.
Top Sellers:
Veratron AquaLink Speedometer – Speed Over Ground – 70 MPH/155 KMH – 12/24V – White Dial & Bezel (See here)
Veratron AquaLink Speedometer – Speed Over Ground – 70 MPH/155 KMH – 12/24V – Black Dial & Bezel (See here)
Veratron AquaLink Speedometer – Speed Over Ground – 35 MPH/60 KMH – 12/24V (See here)
VDO Marine / Veratron Oceanlink Line

Veratron / VDO Marine Instrument's OceanLink series provides marine instruments for electronic navigation and engine monitoring with NMEA 2000, J1939 and analog connectivity. The new product line offers a wide range of functions as well as great flexibility in installation and design, focusing mainly on the needs of the modern sports and leisure boat market.
The benefits of Veratron OceanLink Marine Instruments:
Easy and effective use

Easy engine monitoring thanks to increased intuitive presentation

Solid housing design completely sealed against dust and highly water resistant (IPX7).

EasyLink data connection and plug & play solution allow for a flexible installation of panel and flush mounting instruments

Decades of experience guarantee a fully reliable, modern navigation and engine monitoring system with NMEA 2000®.
Related Products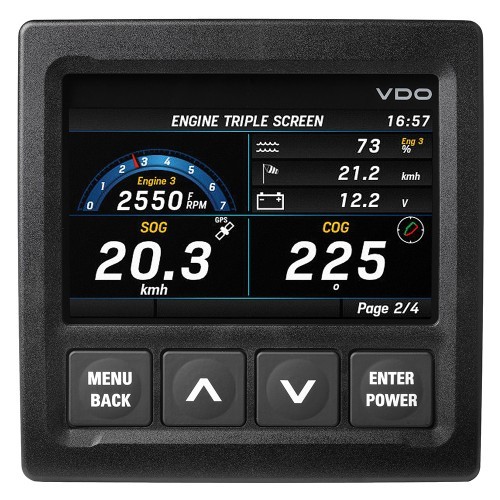 Veratron OceanLink TFT Display
The new Veratron OceanLink 4.3″ multifunction TFT display features a full 24 bit/16 mio. colors optically bonded display with transmissive layer technology for perfect readability even in direct sunlight. The TFT displays and distributes a wide array of data received from NMEA 2000 and J1939 CAN Bus systems and analogue sensors directly connected to the display. Users can customize up to 40 different data pages with single, double, treble or quad grid layouts.
The OceanLink 4.3″ TFT sends the received data to up to 20 satellite 52mm OceanLink gauges. It also converts and sends J1939 and analogue data to the NMEA 2000® network and can be used as CAN Bus gateway.
Veratron Oceanlink 4.3″ Nmea 2000 Certified TFT Gateway – Black (See here)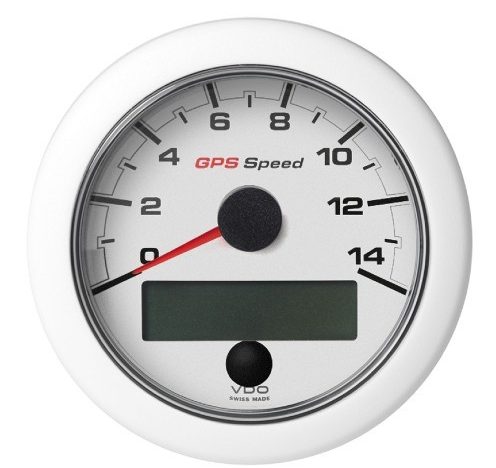 OceanLink 85mm – Master Gauges – Speedometer
The Veratron OceanLink 85mm GPS Speedometer features an embedded GPS antenna, inverted dot matrix LCD and NMEA 2000 connectivity. The LCD displays info like position, date and time and – if connected to a NMEA 2000 network – sea water temperature, depth and speed through water info. An IP65 waterproof design allows the installation on open or enclosed boats. Up to 20 satellite gauges of 52mm each, can be connected with the integrated EasyLink connectivity.
Top Sellers:
V

e

r

a

t

r

o

n

 

3

–

3

/

8

″ (

85MM

) O

c

e

a

n

l

i

n

k

 

GPS

 S

p

e

e

d

o

m

e

t

e

r

 (

0

–

14

 K

n

/M

p

h

/K

m

h

) – W

h

i

t

e

 D

i

a

l

 & B

e

z

e

l (See here)
Veratron 3-3/8″ (85MM) Oceanlink GPS Speedometer (0–70 K/Mph/Kmh) – Black Dial & Bezel (See here)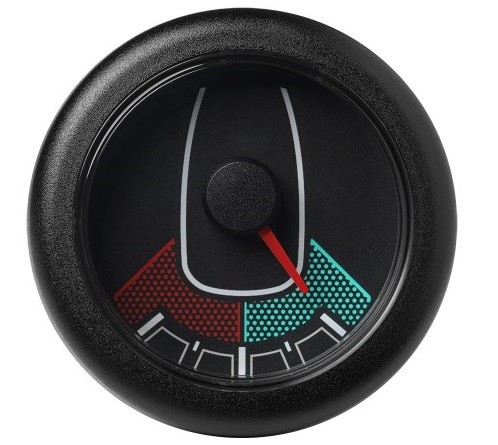 OceanLink 52mm Gauges
OceanLink 52 mm Gauges are connected directly to any OceanLink Master unit using the patented EasyLink serial bus connection. Up to 16 EasyLink gauges for each  tachometer can be daisy-chained together. OceanLink Gauges have white and black dial version, which is always completed with bezel in identical color. Optional Chrome Bezel is available as decorative accessory.
Top Sellers:
V

e

r

a

t

r

o

n

 

52MM

 (

2

–

1

/

16

″) O

c

e

a

n

l

i

n

k

 R

u

d

d

e

r

 A

n

g

l

e

 G

a

u

g

e

 – L

e

f

t

/R

i

g

h

t

 – B

l

a

c

k

 D

i

a

l

 & B

e

z

e

l (See here)
V

e

r

a

t

r

o

n

 

52MM

 (

2

–

1

/

16

″) O

c

e

a

n

l

i

n

k

 B

a

t

t

e

r

y

 V

o

l

t

a

g

e

 G

a

u

g

e

 – 

16

 

t

o

 

32V

 – W

h

i

t

e

 D

i

a

l

 & B

e

z

e

l (See here)
See the complete line of Veratron Marine Gauges & Instruments, here!
Any questions, we're happy to help!
Citimarine Store
3300 NW 112th Ave, #4
Doral, FL 33172
1-(800)-766-5256
CitimarineStore.com
–
Related:
vdo marine gauges,vdo marine instruments,veratron marine gauges,veratron marine instruments,veratron marine reviews