Shadow Caster Underwater Lights Impress at Miami Boat Show!

I had the pleasure of visiting the 75th annual Miami Boat Show, held this year behind the historic Miami Marine Stadium, at the new Stadium Park & Basin.
While Garmin had their amazing, new Panoptix Transducers, and EchoMAP and Striker Fishfinders attracting visitors like moths to fire (I was one of those moths), and Raymarine was wowing folks with their soon-to-be-released Quantum CHIRP Radars on the docks, there were a few other interesting highlights that really stuck with me, in different product areas.
Shadow Caster Underwater Lights / Shadowcaster LEDs – Up to 10,000 Lumens on the SCY series!!
Shadow Caster has always impressed me with the intensity of color in their underwater lights.
At this year's MIBS they showcased their Shadow Caster SCR-24 LED series. These will be circular underwater lights, with 7,500 lumens and built into a 4″ bronze body. We're excited to see and hear about the SCR series, and will definitely have them up on our site as soon as they're available. (Note, since writing this article, we now have the Shadow Caster SCR's available for sale, here).
Here's a demonstration they had of the SCR (an illuminating experience!):
However, if price is not the most important factor, and you want some of the most radiant underwater marine LEDs on the market, Shadow Caster has several options that are currently available, and in the following colors:
Great White,
Cool Red,
Ultra Blue,
Aqua Green,
Bimini Blue (not pictured below)

Several Shadow Caster's favorite lights and products were on display at the Miami Boat Show:
SCM-CC, SCM-4, SCM-6 and SCM-10 – Stainless Marine LEDs
The SCM LEDs come in stainless steel housing, have a low profile surface mount, UV resistant lens, and do not require any external electronics. 2500 lumens if you get them in white. The CC models come with Shadow-Caster's Color-Caster (color changing) technology.
The SCM-4, SCM-6, and SCM-10 come in Bimini Blue, Ultra Blue, Great White, Cool Red, and Aqua Green. They cost less than the color-changing lights, and range from 1,000 to 2,500 lumens.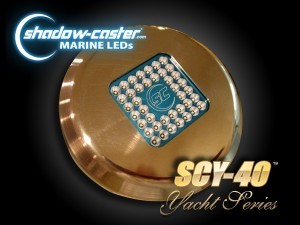 SCY-40 and SCY-10 – Intense Underwater Lighting
The Shadow Caster's Yacht Series of lights come in a smooth bronze housing with glass window, and have all of the features of the SCM series. Shadowcaster's SCY lights also come with Color-Casting, or in any of their highly-popular colors.
The SCY-40 series comes with 40 LEDS and Up to 10,000 Lumens!!
The SCY-10/CC provides the same features as the SCM-10, but thanks to the smooth bronze exterior, provides easier cleaning for "Live-in water" boats.
SCM-ZC and ALC Lighting Controllers
Shadow Caster's Multi-Zone Lighting Controller allows you to control the lighting in up to four different areas of your boat. You have control over:
And can even synchronize lights to music! The Accent Lighting Controller assists in lighting all the indirect areas of your boat's interior.
SCM-PD Power Distribution
The SCM-PD distributes power to Shadow-Caster's Single Color Lights. The SCM-PD-Combo comes with a wireless controller.This allows you to control:
SCM-CL and AL – Accent Lights
These courtesy lights are low profile edge emitting LED lights, perfect for accenting a boat's steps, coves, baitwells and deck areas. They come in cool red, great white, bimini blue, or color changing.
SCM-AL accent lighting flex strips are RGB available, and come in 8 or 16 foot strips. They can be easily installed in the gunwale space and coves of your deck, and can change from blue, red, green and white.
SCM-TT
Shadow-Caster's Trim Tab Kit is an alternative solution to placing the lights on a boat when there is no room on the transom. Will work with SCM-4, SCM-6, and SCM-10.
All of Shadow Caster's lights come with a 1-year warranty. A favorite of ours when it comes to underwater lighting, we carry Shadow Caster underwater lights, here… If we don't have what you are looking for on our site, we can get it for you.
Must Have Yacht Toys – Seabob F5, DeepTrekker DTG2, and Yacht Water Slides
Perhaps the most enjoyable part of the Miami Boat Show (appealing to the kid in me) was all of the yacht toys on display.
Seabob F5 and F5 S SeaScooters
Several sea scooters, (underwater scooters), including the the SeaBob F5 and F5S S, could be found at the show. The F5 is the brand new, high performance sea scooter from Seabob.
Also known as a water sled, the SeaBob F5 is a low-weight, underwater pleasure craft capable of reaching 8 mph in the F5 scooter and 11 mph in the F5 S model. Might not sound like a lot compared to the speedometer in your car, but when traveling underwater, it feels extremely fast (for instance, dolphins typically swim somewhere between 3 and 7 mph). Most other underwater scooters reach speeds of only 3 – 5 mph on average.
The SeaBob F5 S does not require any sort of license and is completely ecologically friendly (zero emissions). It can run for up to an hour, and with SeaBob's Quick Charger, you can recharge it in an hour-and-a-half.
You can find the Seabob, here.
DeepTrekker DTG2 – An Underwater Remotely Operated Vehicle (ROV) With Camera and Excellent Maneuverability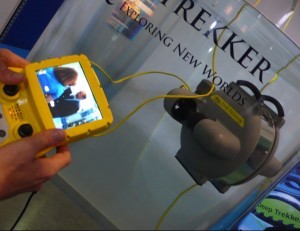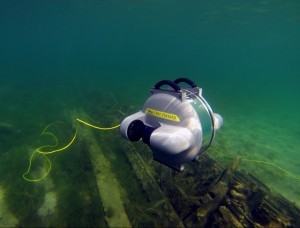 One of the coolest yacht toys on display was the DeepTrekker DTG2.
The DTG2 is a commercial grade ROV with unmatched maneuverability. Main thrusters can rotate a complete 180 degrees, allowing the DTG2 to drive straight up and down, side to side, forward and backwards.
An internal HD camera, with a 330 degree field of view, lets you visually explore above, below, in front of or behind you, and see the live feed right into your hand-held controller. The DTG2 will run 5 to 8 hrs on one charge (of 1.5 hours), and can reach depths of 400 feet!
Inflatable Water Slides for Yachts
Cruiser water slides for your yacht come in two versions now, the traditional leg supported (LS) model (for heights greater than 16 feet), and the new, non-leg supported (NLS) model (for heights lower than 16 feet).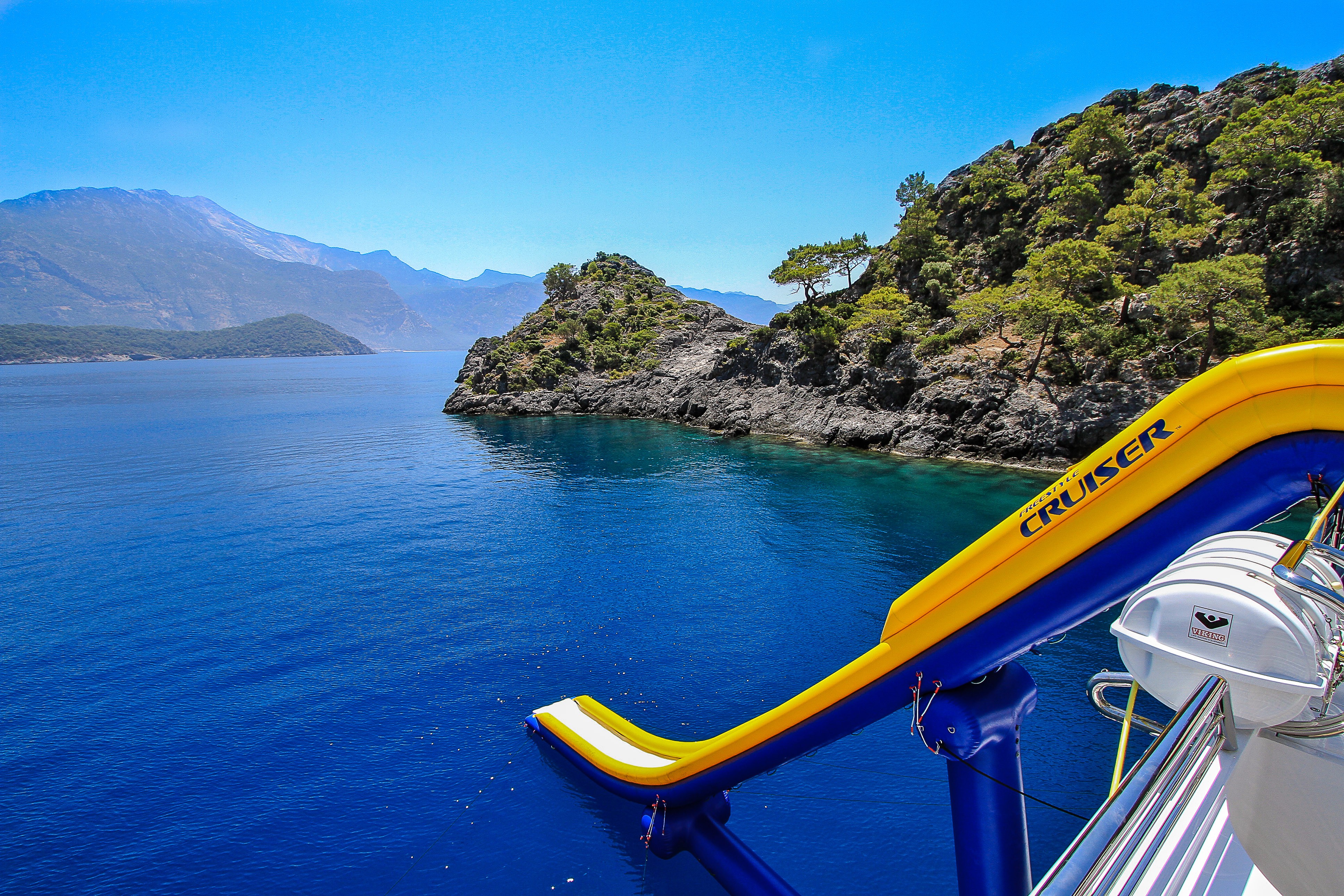 The new, legless slides weigh about 20% less and take up less space. All of the Cruiser yachts slides and yacht toys are custom built for your yacht, come with a 3 year warranty, and come completely equipped and ready to go!
=========================
Overall, the 2016 Miami Boat Show was highly enjoyable, and the new venue provided a great backdrop to all of the exciting developments going on in the boating world.
If you have questions on any of these products, or are interested in purchasing anything mentioned here today, give us a shout!
We have excellent relationships with major marine accessory vendors, and are dealers for several lines as well, getting you the best pricing possible. Our highly-skilled staff has detailed knowledge on the ins-and-outs of marine products, accessories, and electronic, and are here to help.
Have a good one!
CitimarineStore.com
info@citimarine.com
1 (800) 766-5256
shadow caster SCR,shadow caster underwater lights,shadowcaster led,yacht toys