Reverso Oil Change System – Reviews, Installation & More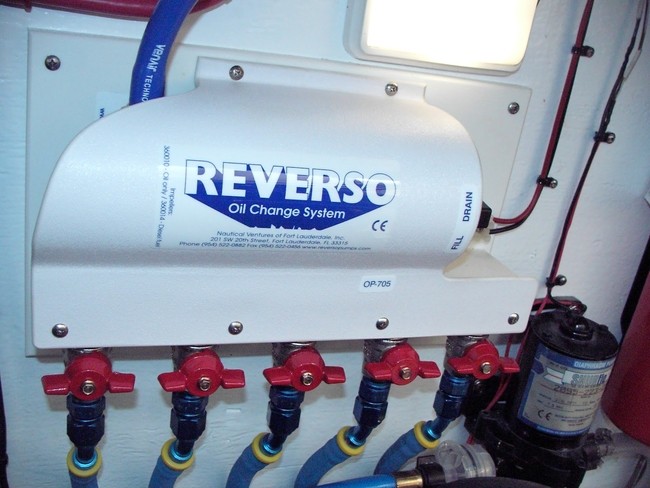 A Reverso oil change system is a key component for preventive maintenance of your boat's engine, transmission and generator.
Self-priming, reversible and compact, a Reverso oil change system will completely drain or fill your engines in a matter of seconds. It simplifies oil changes and eliminates oil spills.
Reverso's simple design and rugged motors make it a trouble-free accessory, controlled from one easy-to-use central service point. The powerful pump transfers used oil quickly and cleanly from your engine to a waste container, or new oil back to the engine, all with the flick of a switch.
The Ft. Lauderdale, FL headquartered Reverso has been the premier manufacturer of oil change systems for more than 20 years. They also manufacturer fuel polishing systems, fuel primers and outboard flushing systems.
What Boat and Yacht Owners Have to Say About Reverso Oil Change Systems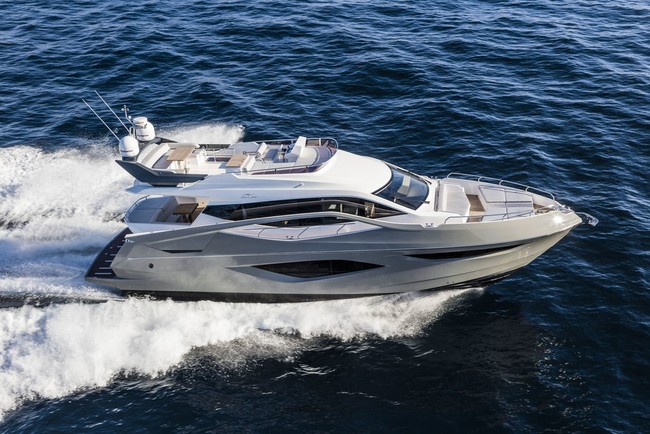 The best way to find out about a marine product is to check on boating forum's… folks who actually use the product. Regarding Reverso's oil changing systems, boater's on The Hull Truth have this to say:
"The Reverso system I installed has worked great. I went w/ the larger pump, hoses and fittings. It sucks 8 qts dry in less than 10 seconds."
-wingless, Rhode Island (2,615 posts)
"I had a Reverso system and it always worked perfect. It also pumped the oil quickly. I am not any help with the other system you mentioned."
-Life is Good, Tampa, FL (169 posts)
"I have had that [Reverso Oil Change System] on my boat for 4 yrs and love it. No way could I reach a ball valve on my engines pan drains but the manifold is right up high & handy just under a hatch by the helm, so easy to use, with a coiled hydraulic hose from the manifold outlet stored on a SS hanger and another brass on/off valve with hose barbs on the end of that outlet hose to control drips when not in use."
-TTaxi, Martha's Vineyard, MA (10,068 posts)
"I like the Reverso pump. I have the 3 manifold version, it's 8 years old and still pumping."
-HDRyder999, Marco Island, FL (2,764 posts)
On Bayliner Owner's Club:
"I have one [Reverso Oil Change System] mounted under the port cockpit hatch and find this a great place as all I have to do is lift the hatch cover and put a 5 gallon bucket next to the pump, select the engine I want to drain, put the hose in the bucket and flip the switch and within a few minutes the oil is extracted … no mess and no hauling an oil filled 5 gallon bucket through the interior of the saloon."
-completelymobile (407 posts)
On Trawler Forum:
"I have a fixed mount Reverso impeller pump with quick connect hoses that will reach all four engines and or anything else I want to pump in the engine room ie: transmissions, coolant, bilge water, etc. Works great for me, I've even used it to bleed one of the Lehmans that the mechanical pump wasn't working on. I've used it to transfer diesel from one tank to another."
-Daddyo, East Coast US (2,397 posts)
"My Mainship has an OEM Oil X-changer system on it that required a new impeller and seals last year. Unfortunately, the company is not responsive to emails or phone calls anymore. I read where others have experienced the same problem.
So, I guess my point is, do not include Oil X-changer in your search for a oil change system, in my opinion. Although I was able to find the parts from Reverso, who use the same pump on their impeller style changers."
-David O, Louisville, KY (101 posts)
On Meridian Yacht Owners
"You should get another quote. I change the oil and filters in both engines and the generator in about an hour. I do have a Reverso pump so that saves some time."
-John V,  Palmetto, FL (901 posts)
"Bottom line, install a Reverso and do it yourself. It will pay for itself and you'll know it was done right."
-shelbri, Mystic, CT (1,895 posts)
How To Install Your Reverso Oil Change System

1. Your Reverso unit can be mounted in any of the directions shown in Figure A. Do not mount unit with the pump head above the pump motor, like in Figure B.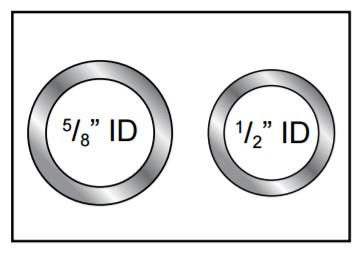 2. Connect hoses to the valves and the fill discharge fitting. A minimum 1/2" ID Type B fuel hose is recommended, however 5/8" ID hose is preferred.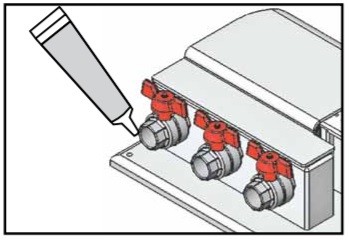 3. Use a back up wrench to hold the valves from rotating when installing the hose fittings. Apply a compatible pipe sealant to all connections. (Loctite 565 or equivalent)
4. Most new engines come with oil pan adapters. If not, install oil pan fittings to the engines that will be serviced by the system. Ensure that the fitting has a minimum internal diameter of 1/4".
5. Install the proper hose connection to the pan fitting. Avoid the use of elbows or any other tight bends in the hose runs. Install a clamp or strap every 18" to adequately support the hose.
NOTE: The valves have 1/2" female NPT (National Pipe Thread). The fill/discharge fitting is 1/2" SAE male flare.
Electrical Connection: The electrical installation of this product must be executed by a qualified marine electrician and following the ABYC requirements.
Operating Your Reverso Oil Changing Pump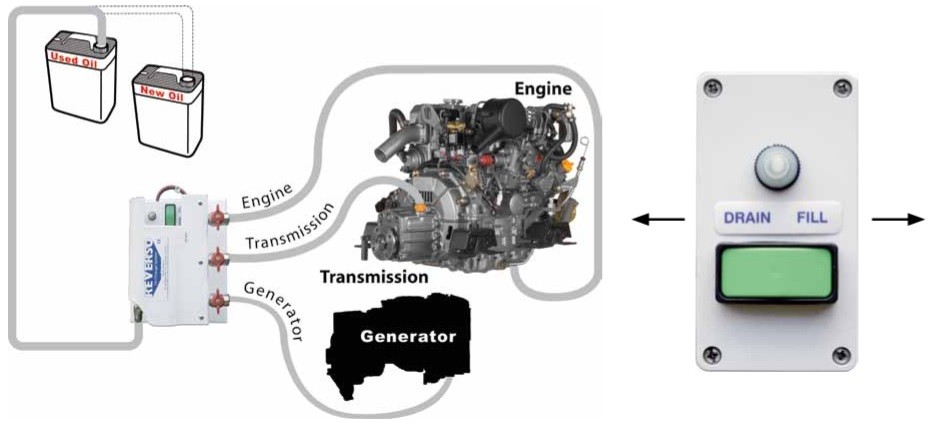 Priming the Pump
To initiate suction and avoid unnecessary wear on the pump by running dry, it is necessary to prime the pump before initial use. Once the system is primed, this procedure does not have to be repeated again:
1. Pour a small amount of liquid to be pumped (about 3 oz.) into the fill/discharge hose.
2. Open one valve on the manifold.
3. Place the fill / discharge hose in a container of new oil.
4. Operate the pump for a few seconds to draw this liquid into this line (pump toward the engine).
5. Repeat steps #2 – #4 for each valve on the manifold.
Using your Reverso Oil Change System
Operation of your Reverso system makes changing the oil a breeze.
1. Place the drain hose from the marine oil change system into a waste bucket.
2. Open one manifold drain valve – you'll have the choice to draw from the engine, transmission, or generator (unit comes with labels to indicate source). Only open one valve; the unit is designed to only pull from one valve at a time.
3. Press the switch to Drain position to move oil from source to the waste bucket. Once flow has stopped, turn the unit off.
4. Remove the hose from the waste bucket; place it in the new oil bucket.
5. Press the switch to Fill position to refill the system with appropriate fluid. Close valve once finished.
6. Repeat process with other valves for additional equipment.
Where to Buy Reverso Oil Change Systems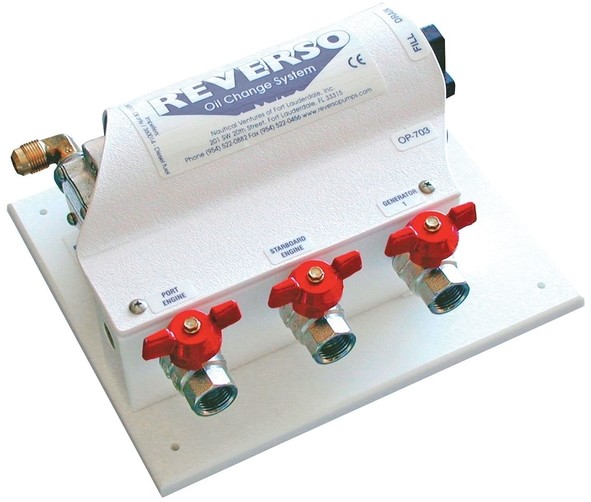 We carry several Reverso Oil Change pumps on our site, from smaller 2-valve systems up to 7-valve units. Feel free to take a look here: Reverso Oil Change Systems
We will be updating it with more information soon. Should you have any specific questions, such as what size system you need, or are looking for spare / extra parts, we can help!
More Tips and Information On Your Reverso System and Marine Oil Change Systems in General
Ensure all connections have been properly tightened.
Confirm correct wiring and voltage
If your transmission uses the same oil as your engine or generator, you can use the same unit. Some newer vessels require a finer oil, so in order to avoid cross-contamination, you will want to purchase a 2-valve for the engine and generator, and then use a reversible pump, solely for the transmission.
Only use Reverso-brand impellers when making a replacement. Non-Reverso brand impellers may fit, but without the same duometer (hardness) they'll have a greater chance of causing the vanes to collapse when trying to pump cold oil into the engine.
It is recommended to use a minimum of 1/2″ ID (inner diameter) hose or piping for all runs under 10 feet, and 5/8″ ID or larger for longer runs. Use only high quality Type-A petroleum resistant hose
Open only ONE valve when draining or filling engines with oil.
If the system runs one way and not the other, check connections to see if any are loose or if there is an air leak on the suction side of system that is not working.
As mentioned, need help with your Reverso oil change pump, or anything else boating-related, don't hesitate to contact us!
Have a good one!
CitimarineStore.com
3300 NW 112th Ave,
Doral, FL 33172
(800) 766-5256
info@citimarine.com
–
marine oil change system,reverso oil change pump,reverso oil change system,reverso oil changing system,system to change oil on yachts,yacht oil change system