Revere Lift Raft Reviews – Feedback from Boaters & Advice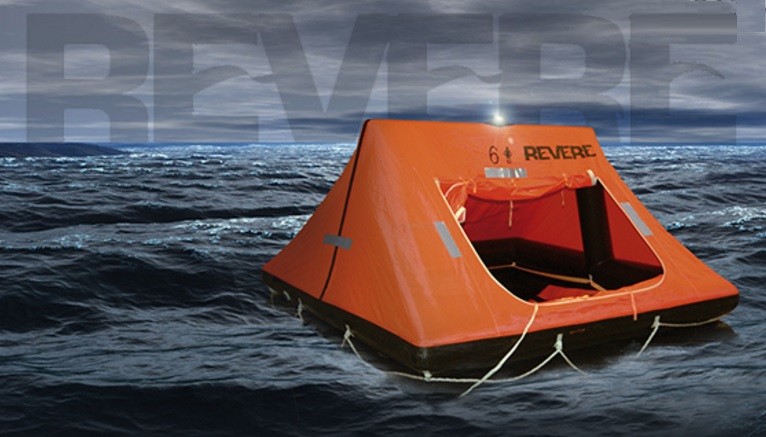 Fortunately (and unfortunately if you're in the market to buy one), life rafts don't have many reviews of actual use.
A real review will have meant someone was put in a life threatening scenario… and thankfully, it doesn't happen often.
But if it were to happen, you'd want the peace of mind knowing that you have a liferaft… and a good one!
Good thing is, most major life raft brands, including:
Viking
Revere
Winslow
Zodiac
Switlik
…are manufacturers of excellent, top-quality life rafts that will function when needed and meet SOLAS requirements.
However, in this article, I will be writing about Revere Life Rafts, and not only several boaters' experience as to the quality of its material and manufacturing, but a first hand account of someone who is still alive today thanks to a Revere Life Raft.
The Importance Of A Life Raft – Don't Go Boating Without One!
A life raft is essential for trips several miles out, without a doubt – but having a life raft is worth the peace of mind, no matter how far you go out.
Terrible stories of families who've sunken along with their boats before rescue crews arrive, or who have lost loved ones to sharks after a capsized boat on a fishing trip, make the selection of a good life raft essential.
A good offshore type 1 PFD or live vest will keep you afloat and might save your life should the need arise, but it will NOT keep you from being part of the food chain.
A good life raft will.
Another thing to consider is hypothermia. Even in warmer waters like down here in Florida, the temperature of the water is lower than 75 degrees for much of the year. You'll quickly begin losing body heat, and this can end fatally if not rescued in time.
Lastly, a large, orange or yellow life raft will be much easier to spot than heads bobbing up and down in life jackets.
First-Hand Account of Man Who Survived Deadly Offshore Boat Fire, Along With His Crew, Thanks to His Revere Life Raft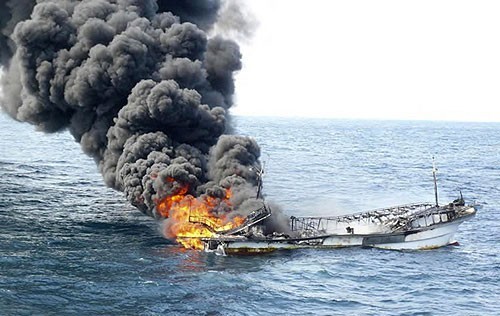 From the user: JAGSARE1, Jacksonville, FL (9,306 posts on TheHullTruth.com forum):
"For me to have the safety equipment I have, there was no epiphany or anything, I just decided that if I were to continue fishing well offshore, I needed to get right. Getting right meant an appropriate raft, a well equipped ditch bag and top of the line life vests with lights attached.
Every morning before we leave, we have a brief safety "meeting" where the location of raft, ditch bag, life vests, fire extinguishers and other misc information is discussed. I show how to use the EPIRB and how to deploy the raft. We knew we would never need it but it was and is the right thing to do.
As luck would have it, we did need it. February morning, approx 30 miles offshore, 63 degree water and an engine room fire. That fire was extinguished but shorting melted wires eventually caused a secondary fire. When the wires began smoldering, we deployed the raft (self inflating Revere Coastal Commander that opened and inflated perfectly) and began to get into it. 4 of the 6 were in it when the boat re-erupted in flames. The final 2 of us boarded the raft and pushed away and watched the boat burn and sink.
Eventually, we ended up in a USCG 47′ lifeboat being transported back to shore. The captain of the vessel took me outside alone and told me that the message they got was "vessel on fire, 6 people in the water." He said they expected to find 6 floating in the water, maybe 2 or 3 with cheap life jackets on…if we were lucky, and the others hanging onto them and he hoped they weren't coming to collect bodies although that is what they expected. When he got to us, we were dry and safe.(We had been picked up earlier by another vessel). The USCG captain said he had seen very few recreational vessels with the safety equipment I had and was impressed at the quality of the life vests and the contents in the ditch bag.
Bottom line for us, 6 of us safely exited a burning vessel. We didn't get wet, never went into the water. Had a large amount of signaling devices among other items in the bag. Top of the line vests with lights on them. We didn't get so much as a hang nail. That is the strongest statement I can make on why you need appropriate equipment.
Sure, it is a pain in the rear to have a large heavy life raft on board but as one of my crewmen said, no one ever complains about taking an extra cooler full of beer. In my mind, both before and after my experience, there is just no excuse. Because when the worst case happens, are you going to tell your passengers(your friends), jump in the 63 degree water guys, sorry I couldn't find the room for a life raft…or, sorry for the $5 Wal-Mart life vests that are only going to remain buoyant for about 30 minutes…I couldn't afford the good ones. Any excuse as to why the proper gear isn't on board is just that…an excuse and borders on negligence. Sorry for the strong language.
If you cannot find the room or money to get the right safety equipment, do one of two things. Stay inshore or buddy up and go on a friends boat that does have the right equipment. Stay safe."
Other Reviews and Feedback on Revere Liferafts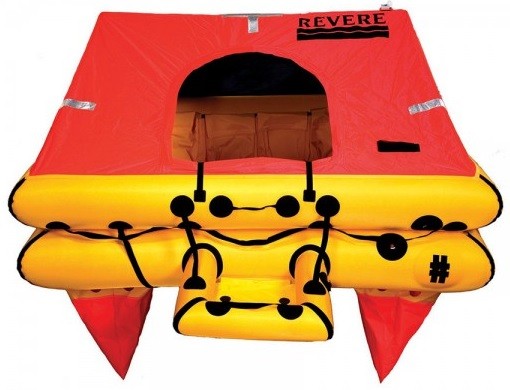 Browsing through boating forums, I've seen plenty of positive feedback on Revere rafts:
Buoy Scout, Kilmarnock, VA (5,199 posts on TheHullTruth):
"I have the Revere coastal commander 6 valise… I did watch them open my raft for its first repack and I saw another identical raft inflated on the bench. I was impressed with how rugged it seemed to be. Repack for me was $626 in Norfolk, VA at Vane Brothers. Subsequent (3 yr intervals) repacks can be higher due to need to test the CO2 bottle every 5 years."
JillyBird, Mamaroneck, New York (681 posts on TheHullTruth):
"Guys, you should consider the Revere Offshore Elite. I have the four person model and it weighs only 45 pounds and is pretty compact. I originally bought the 8 person model but it was was too big and bulky for my vessel and I didn't think anyone could move it around easily. The Offshore Elite is a double-tubed offshore model and looks very durable. It was rated pretty well by Cruising World in its tests. It is vacuum packed and needs to be serviced only once every three years…"
Also from JAGSARE1 (user with personal account above).
"Unfortunately, I do have first hand knowledge how a Revere Coastal Commander works in a true life or death emergency situation. It worked perfectly. I was 100% satisfied that it saved my life and the lives of my 5 crew members… I stuck with what saved my life. I simply cannot give it any better endorsement than that." 
LI32, Long Island, NY (7,925 posts on TheHullTruth):
"I have looked at them all, and while some may be marketed as the best (Switlik) with a price to match, they all meet SOLAS requirements and testing. I bought the Revere Offshore Commander for $2,700 (6 person cannister with cradle and Hydro-release)… If you boat in warm water, and don't need the added features of an offshore raft the Revere Coastal Commander for $1,500 would fit the bill."
Fishing FINattic, SE Connecticut (1,561 posts on TheHullTruth):
"I have the revere offshore 6 man –
It is heavy – about 100 lbs –
But worth it when you think about what could happen – I venture a little further but it is my belief that a raft is a must have – when chumming for sharks some personal images are conjured up in my imagination -"
Cliftonk, Seattle WA (195 posts on BDOutdoors.com forum):
"From the Seattle Boat Show, I investigated all of the life Rafts. I also spoke with Karen from Viking, who was very knowledgeable. In the end I ordered a 4 Man Revere Offshore Elite. Before the order was placed, I changed my mind and ordered the 6 person Offshore Elite. I picked it up a week and a half ago… (It's inflatable bottom was better than the Viking's in my opinion.)"
Fishinnut, Monroe WA (1,789 posts on BDOutdoors forum):
"My Revere is sweet. It fits in the package well and attaches to the front in the walkaround of the boat fine. In the winter season is is a pretty yellow package that sits in the corner of the garage. So far so good!
I am totally happy with its performance in big water holding down the front of the boat, as my boat is ass heavy and needs more weight in the front.
Just kidding. I hope I never have to use it."
Reel Freedom, Cape May, NJ (161 posts on TheBassBarn.com forum)
"I have the Revere 6-man coastal commander. It is 70 lbs in the valise and either gets stored on the bench in my cabin or behind my passenger seat in the cockpit if we are far offshore. I just took it in for 3-yr inspection and repack. The marine safety company guys told me that this is one of the best made rafts on the market from a material perspective. No matter what canyon you are fishing, you are generally no longer than 2 hrs from rescue unless it is really bad weather."
Cobia256, Bowie, MD (52 posts on TheBassBarn.com forum)
"Thanks to all that have replied to this post. After a lot of research and opinions on many sites I am going to go with the Revere Offshore Commander. Money is not an option with this type of equipment, but from what Revere said and many others this raft fits more than my needs."
More Life Raft Advice And Tips
When it comes to selecting a life raft, you do not want to purchase a larger life raft than is necessary.
When a life raft is appropriately-sized, it may seem a bit of a tight fit, but:
The closeness serves the purpose of preserving body heat
There will be less room to be tossed about should you hit inclement conditions
Make sure to service your life raft every 3 years, or however often is required by the manufacturer. Once a year service is required for life rafts on most commercial vessels.
Make sure you have an EPIRB (preferably with GPS) and a ditch bag with:
waters,
power bars,
first aid kit,
fishing kit,
hand held VHF,
extra flares
wind-up flashlight
flashing light beacon
If you are boating further north, you will want a liferaft with an insulated floor (like the Revere Offshore models). In warmer waters, this isn't as necessary.
The Revere Offshore models, as opposed to the Coastal Rafts, also come with a more complete equipment pack, helpful if you fear you may be spending a few days in the raft. They also have a more puncture-resistant material.
If you will be closer to shore, however, and not in cold waters, the Coastal models should do.
About The Revere Company, and Revere Life Rafts For Sale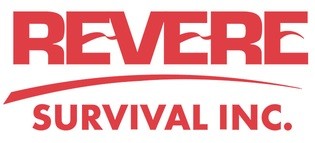 Since 1936, Revere Survival has been manufacturing the finest marine survival equipment available on the market. By maintaining the highest product quality standards and customer service, Revere's award-winning survival rafts have been saving lives for more than 80 years.
You can find the entire Offshore and Coastal line of Revere Life Rafts, here…
Should you have any questions, please don't hesitate to contact us!
Have a good one!
CitimarineStore.com
3300 NW 112th Ave,
Doral, FL 33172
(800) 766-5256
info@citimarine.com
best life raft brand,life raft reviews,people who survived with revere life rafts,revere life raft reviews,revere liferaft reviews,reviews revere life rafts