FREE U.S. SHIPPING ON ONLINE ORDERS!*
FREE U.S. SHIPPING ON ONLINE ORDERS!*
Revere Life Rafts There are 46 products.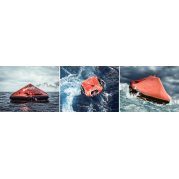 Revere life rafts, Inflatable PFD's, and beacons save lives, which is why after 80 years they have never lost sight of their commitment to quality. The Revere life raft enjoys one of the best reputations in the industry, and Revere's product knowledge and expertise puts them at the forefront of marine safety, continuing to offer their users the best chance for survival in any situation.
Revere Life Raft FAQs
Commonly asked questions about Revere Life Rafts and the brand.
Based out of Jacksonville, FL, Revere has been making survival products since 1936. Revere Life Rafts are known for uncompromising quality and design sophistication. In addition to meeting the requirements of the International Convention of the Safety of Life at Sea (SOLAS), Revere Life Rafts hold US Coast Guard Approval.
What are some features of Revere Life Rafts?
Revere's rafts bring at least two separate flotation chambers. Insulated floors. An inflatable canopy covering entire raft. Large ballast bags suspended below the raft to keep it stabilized in bad weather. Boarding platform to help entering into the raft from water. Substantial survival kit, and automatically deployed drogue or sea anchor.
Should I get a Coastal or Offshore raft?
If you are traveling further than 25 - 50 miles offshore, then you'll want to go with an offshore Revere life raft, designed to survive 24+ hours. On the other hand, if only cruising along the coast, and sailing in warmer waters, a coastal life raft by Revere should be sufficient.
What are the benefits of an insulated floor?
Hypothermia is a concern even when inside of your life raft. Sitting in a life raft with an uninsulated single-layer floor can easily lower your body temperature, even if you're not wet. The insulated floor feature on Revere Life Rafts significantly reduces the chances of hypothermia.
Should I choose a Valise or Canister?
This mainly comes down to where you would be mounting the raft. If you need to mount a liferaft on your cabintop or foredeck, for instance, then a canister is your best bet, and is better protected from the elements. It is also quicker to deploy. If you can find an out of the way place in your cockpit or transom where the valise can be lashed down, then a valise would work well. Just make sure you have the ability to get larger valises out quickly.