Raymarine Axiom Software Update (Download) – Lighthouse Update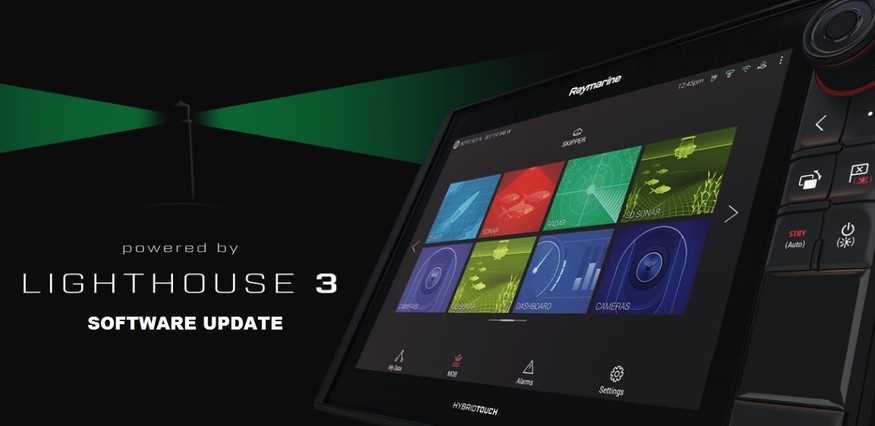 Raymarine always aims to stay on the cutting edge in the world of marine electronics. Their latest introduction of the Raymarine Axiom MFD with it's all-new, powerful and intuitive Lighthouse 3 operating system has really shaken things up in the boating and sport fishing world. I will work to add information and links to all the newest updates to the Lighthouse 3 operating system below, as well as their benefits.
March 29, 2018 – Lighthouse 3.4 Brings Entertainment, New Features and Connectivity
LightHouse Apps are an exciting new way to expand the power and capabilities of LightHouse OS. Axiom users can now stream entertainment from Netflix and Spotify, as well as access their GRIBview precision global weather service app.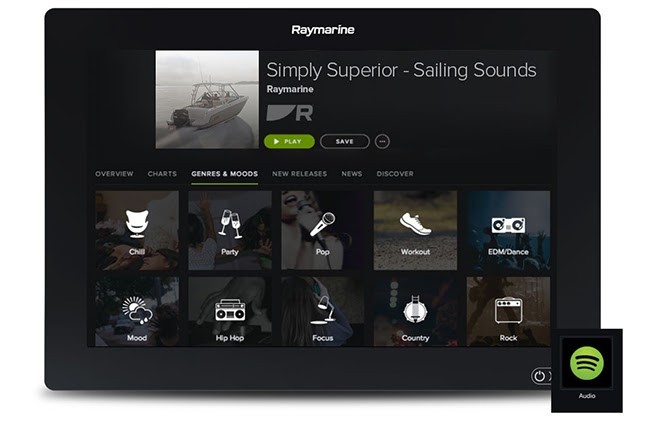 With LightHouse Apps, Raymarine is making it easy for marine technology partners and app developers to integrate with Axiom and LightHouse 3 OS. And Raymarine will continue to expand LightHouse Apps with future support for Seakeeper gyro stabilizer control, Mazu satellite communications and more! LightHouse Apps are only available on Axiom and Axiom Pro.
Bluetooth Audio Output
LightHouse 3.4 also adds Bluetooth audio output from Axiom and Axiom Pro MFD's. Connect Axiom's Bluetooth to your marine stereo system or Bluetooth enabled speakers and enjoy digital audio from your streamed movies and music. Bluetooth audio is only available on Axiom and Axiom Pro.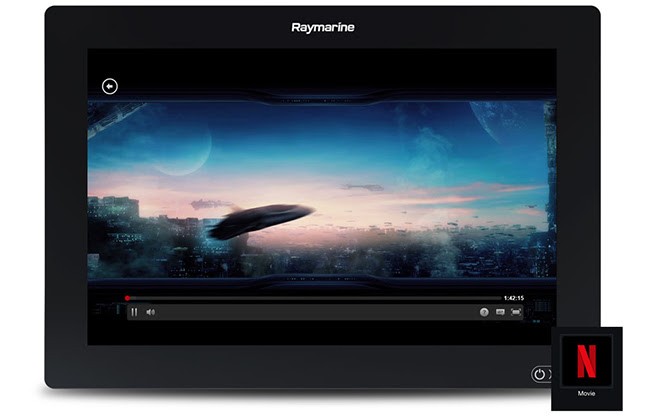 Other LightHouse 3.4 features:
Vessel Alarm History and Management. LightHouse 3.4 now offers easy access to alarm settings and history right from the home screen.
Chartplotter "Find Nearest" Hot-Spotting. Use a simple long-press anywhere on the chart and trigger the "Find Nearest" menu to instantly see a listing of common chart-related Point-Of-Interest data points including wrecks, marinas, fueling stations and many more.
Chart Tide Mode for Tides and Currents. Enable tide mode on your chart display and instantly see all the nearby tidal height and tidal current stations.
Fuel Management Tools. Fuel management interacts with your NMEA2000 engine data and tank level senders. See real-time fuel burn, range and economy, and receive low fuel alerts.
Network Dimming for MFDs and Instruments. LightHouse 3.4 is now compatible with Raymarine's network dimming system, also employed by our i50, i60 and i70 instruments and autopilot controllers. Dim or brighten your entire helm with a single command.
Custom Splash Screens. Add a personal touch to your Axiom by selecting a favorite photo or graphic to display onscreen at startup. Remember a favorite moment, celebrate your boat or team, or just change it up for fun and variety.
The latest Raymarine Lighthouse 3.4 can be downloaded here…
September 18, 2017 – All New Raymarine Lighthouse 3.2 Brings Even More to Your Axiom
The all-new LightHouse 3.2 operating software update provides numerous enhancements and an even more intuitive, seamless, and fluid user experience for your Axiom.
You can update via a wireless network by simply connecting your Axiom to your home Wi-Fi or your phone's mobile hotspot. You can also download Lighthouse 3.2 through Raymarine's website here: Raymarine Lighthouse 3.2 Update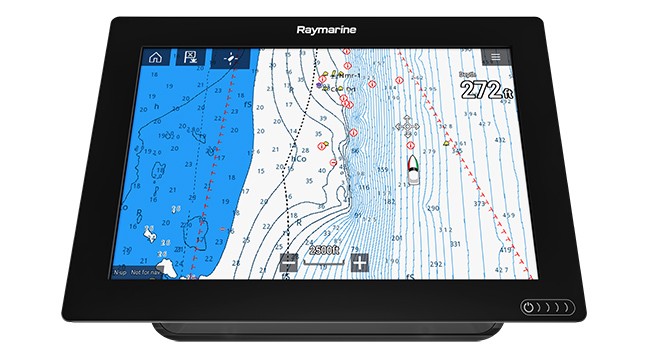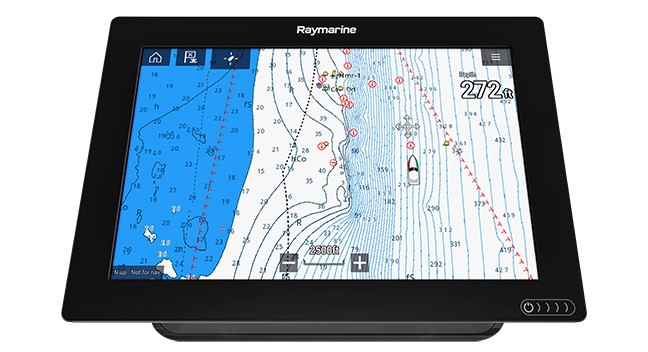 The Raymarine Lighthouse 3.2 Update Brings the Following Features:
Navionics Dock-to-Dock Autorouting, SonarChart Live, and more advanced charting options
C-MAP Chart support including Easy Routing, Active Captain, high-resolution bathymetry and sport fishing data
1-touch "Autoroute to Here" navigation with both C-MAP and Navionics charts
Wireless HD Display streaming to external monitors and HDTVs using Miracast HDMI over Wi-Fi
Remote control of both Fusion and Rockford Fosgate sound systems using NMEA2000
Expanded waypoint viewing options, color palettes, and transducer calibration options in RealVision 3D sonar
Expanded support for upgrades of attached network devices and accessories
It also includes all features that were added in version update 3.196:
3D Sonar GPS Track Mode: This is the new default operating mode for RealVision 3D sonar. The 3D image responds in real-time to inputs from its internal gyro-stabilization, plus the GPS system. When you turn, you'll see the 3D image turn as well. When you speed up, it will match your speed. When you stop, it stops. As you make multiple passes around the same area the 3D image continuously updates and gets larger! Adjacent passes are stitched together into a comprehensive view of the bottom, structure and water column. Fish and bait that were in one location on pass one and shown in their new location in pass two, three, four, etc.  Depending on the depth where you are fishing, the system can display 10 minutes (or more) of prior history. Deeper water gives you more time. Amazing.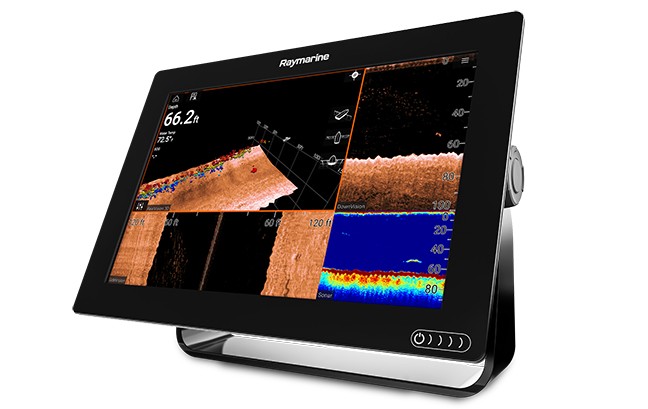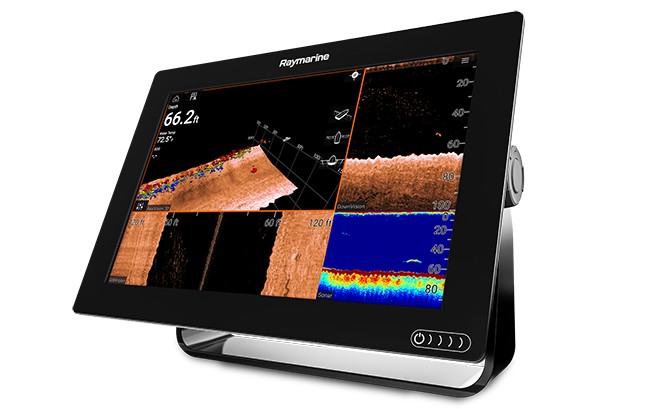 Sonar Scroll Back: You can now pause and rewind any sonar channel on the system. If you're looking at more than one sonar channel simultaneously, pausing one pauses them all and when rewound, they all rewind together. This lets you go back and take a second look, add waypoints, etc.
Historical Sonar Sensitivity: If you adjust any of the sonar sensitivity settings (gain, filtering, etc.), it not only applies to new data coming in, but also to all of that prior scroll-back history, too. For example, you might increase or decrease the surface filter or gain and suddenly see fish in your past history that were previously concealed.
3D Waypoint Placement: You can now touch anywhere on the 3D display and drop a waypoint. There is a mechanism there, too, that allows you to fine-tune that waypoint to get it right on the desired spot.
Wi-Fi connectivity to RayRemote and RayControl Apps for Apple and Android Devices
New SideVision and DownVision Default Settings: Raymarine sonar engineers have re-adjusted the default levels for target intensity and gain on SideVision and DownVision channels. These new settings offer increased clarity and definition without additional user adjustment.
Evolution Autopilot Control Interface
Expanded Support for RMK-10 Wired Keypad
July 26, 2017 – Raymarine Axiom's Intuitive & Powerful Lighthouse 3 OS Releases Latest 3.1 Software Update, Allowing New, Advanced Features
The Raymarine Lighthouse 3 operating system, found in the new Axiom MFDs, is fast, fluid, and easy to learn. The clean, intelligently laid out interface is easily personalized for your style of navigating, and will put you in complete control with ease.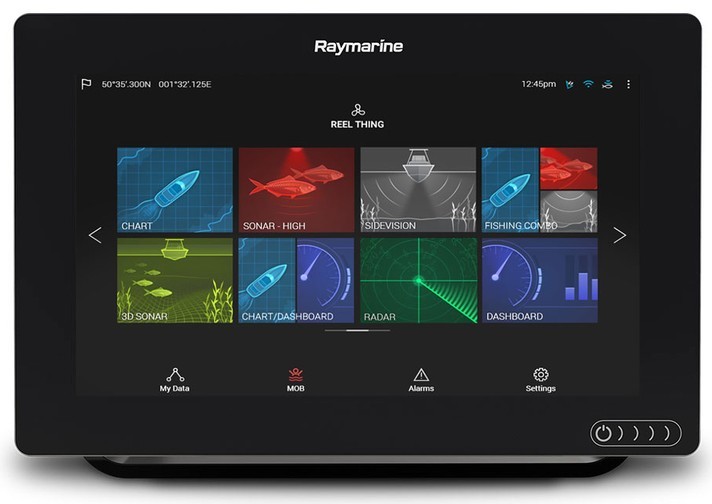 The latest update will allow you to add even more advanced functionality to your Raymarine AXIOM, including the following new features:
Full Evolution Autopilot Control from the Axiom Multifunction Display
Advanced Sonar Functionality
Sonar, DownVision, SideVision and RealVision 3D Synchronized Scrollback
RealVision 3D Sonar Waypoint Placement
RealVision 3D GPS Tracks for enhanced 3D imaging
Historical Sonar Sensitivity Adjustments
Raymarine Mobile App Integration for iOS and Android Devices
Watch your mobile device for updated versions of our RayControl and RayRemote Apps
RMK-10 Multifunction Remote Keypad Support
Software Update Support for Networked Axioms
More Language Options
Small Bugs Fixed
You can enhance your Raymarine AXIOM MFD with the latest software update, here…
New RAYMARINE Evolution EV-150 Hydraulic Core Pack – The New Ordering Solution for Small to Medium-Sized Hydraulically Steered Vessels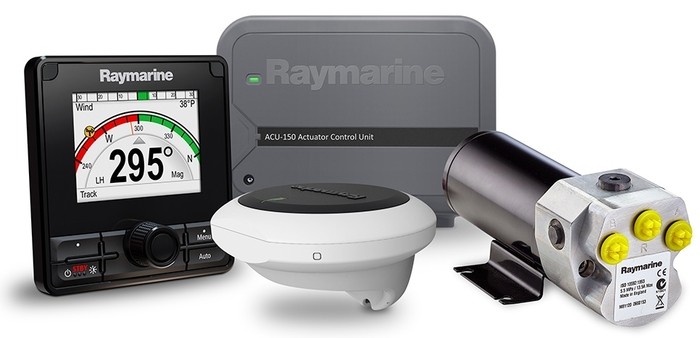 The EV-150 Hydraulic core pack is ideal for Raymarine autopilot users wishing to upgrade their existing Type 1 hydraulic system to Evolution technology.
Users can use their existing pump and order the new Raymarine EV-150 core pack which includes the ACU150, EV-1 Sensor, p70Rs Control Unit and Evolution Cabling Kit. This pack is engineered specifically to meet the needs of vessels with a steering ram capacity between 4.9 cu. in. (80cc) and 14.0 cu in. (230cc). For 12-volt DC electrical systems only.
RAYMARINE South America, Central America, Caribbean Charts by NAVIONICS+ Becoming Preloaded as Automatic Chart Options in All New Chartplotters / MFDs

Due to Raymarine's Popularity in Latin America, they are are now including, preloaded in all new Raymarine MFDs / GPS chartplotters, the NAVIONICS+ Central, South America, Caribbean charts (CSA).
This chart option will be found included in all of the AXIOM modes, the Dragonfly Pro, and the eS-Series. This means you will no longer have to unlock any charts before starting to use these Raymarine products.
Navionics provides the most accurate and thorough set of information, based on Hydrographic Office data, Notices to Mariners, new publications, our own surveys, and reports from users. Nautical Chart provides port plans, safety depth shading, marine services info, tides & currents, navigation aids and more. Extraordinary bottom contour detail up to one foot and all kinds of valuable local information, added by millions of Navionics app users.
The map covers from Southern California and the Channel Islands, Baja, Mexico, entire Caribbean, Venezuela, Cuba, entire Bahamas, southern Florida to Fort Pierce, Fort Myers and Bermuda, Entire South America and Central America, as well as all Caribbean islands.
Advanced Cool Thermal Technology and Superior Imaging & Long Range Target Identification Found in New FLIR Thermal Cameras

FLIR Systems, parent company to Raymarine, just announced the addition of a cooled thermal camera to its award-winning M-Series multi-sensor maritime camera (in the m500 model). This will enable superyachts, first responders, and commercial vessels to see long-range targets with incredible clarity, providing professional captains with enhanced situational awareness to detect targets more than 15 kilometers, navigate tight waterways, and avoid collisions day and night.
The cooled midwave thermal camera's ability to detect very small temperature variations translates into greater detail and enhanced image clarity, allowing professional captains to positively identify targets and avoid hazards with much greater confidence while underway. An extremely powerful 14X optical zoom lens also provides superior early detection of vessels, key landmarks, and navigation aids. The integrated HD visible camera improves navigational awareness, allowing easy identification of vessels and landmarks in both day and nighttime conditions. Raymarine / FLIR's gyro-stabilization allows for steady imagery even in the roughest of seas, while video tracking can monitor a selected moving or stationary target.
=================================
Raymarine MFDs, Chartplotters, and FLIR Thermal Cameras For Sale
All the products mentioned here in this blog, we currently carry, or will carry as soon as possible.
We carry all the newest Raymarine MFDs, including the Axiom, here…
You can find FLIR's Thermal Cameras, here…
Have a good one!
CitimarineStore.com
3300 NW 112th Ave,
Doral, FL 33172
(800) 766-5256
sales@citimarine.com
–
Related:
Raymarine Axiom Software Update,raymarine axiom software update download link,raymarine axiom update download,raymarine lighthouse 3 software update,raymarine lighthouse 3.4,raymarine operating system update link