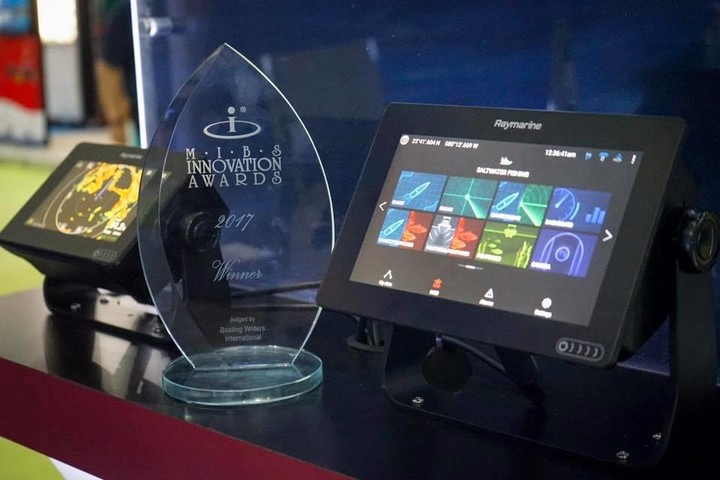 Note: You can now find the Raymarine Axiom 7, Axiom 9 and Axiom 12, with several fishfinder, transducer and chart options, for sale here!!: Raymarine MFDs. For the latest FLIR Marine Cameras, see here.
This year's Miami Boat Show was a big one for Raymarine & FLIR.
Raymarine debuted their brand new Axiom MFDs (which won a MIBS 2017 Innovation Award), and Micro-Talk™ Wireless Performance Sailing Gateway technology, while FLIR (parent company of Raymarine) launched their M100 and M200 thermal cameras.
Luckily, the Citimarine Store reconnaissance team were out at the show in full force, and we were able to gather intel on each of these amazing new devices.
Raymarine AXIOM MFD – The missing link between sonar, chartplotting, and fishfinders, provides users with a comprehensive and true representation of what's below.
The Raymarine AXIOM multifunction display is the next level of navigational and fish-finding performance, with the brand-new RealVision 3D sonar, LightHouse 3 operating system, and lightning quick quad-core performance.
When seeing the AXIOM in person, you'll be blown away by the lifelike imagery and extraordinary underwater fish and structure identification now possible with Raymarine's RealVision 3D sonar.
This is the technology fishermen have been looking for ever since MFD's and fishfinders have hit the market. See what's below (up to 300 ft.), behind and off to the sides of your boat (up to 300 ft.), all at the same time, in crisp 3D visuals.
Survey the underwater world, including structure, cover, fish, forage… in stunningly real detail. Pan, tilt, zoom… move around freely and examine your underwater surroundings with complete control. The Axiom even offers unique points of view, such as standing at the lake bottom and looking up at the bottom of the boat.
Those fish don't stand a chance!
See a large group of bottom-hugging fish, or a roaming school of pelagics? Tap on the point of interest anywhere in your 3D field of vision, and easily and immediately waypoint in chart view. And Raymarine's gyro-stabilized sonar technology compensates for boat movement, keeping lock on your target and view, regardless of water conditions.
The all-inclusive transducer combines the powers of:
CHIRP DownVision,
CHIRP SideVision,
High Frequency CHIRP,
RealVision 3D
…into a single transducer housing, no black box required.
Second only to draining a lake, RealVision 3D finally gives boaters, anglers, divers, search and rescue teams a true, comprehensive, and easy-to-understand view of bottom topography, debris, and fish.
Raymarine's Lighthouse 3 Operating System
Raymarine engineers listened when customers asked for a more powerful and intuitive user experience. The LightHouse 3 is a fast, fluid, and easy-to-use interface that puts you in complete command of the Axiom with just a few touches.
With the LightHouse LiveView Menu Controls you can easily customize the chart and see the navigation display change in real time. Uncluttered menus provide quick access to simple, detailed, and fishing chart modes.
At the heart of the Raymarine Axiom MFD, you have a quad-core CPU. This allows you to boot up in seconds, as well as run several screen views simultaneously with multiple windows, databoxes, real-time adjustments, all while Axiom is running numerous background tasks, and all without missing a beat.
The Raymarine Axiom MFD has a rugged, all-glass touch screen design that comes in 7″, 9″ and 12″ display sizes, and will range from $649.99 to $2,499.99.
You can now find the Raymarine Axiom 7, Axiom 9 and Axiom 12, along with all other new Raymarine Axiom MFDs and fishfinder combos, here!: Raymarine Chartplotters
FLIR M100 & M200 Thermal Cameras Deliver a New Level of Awareness When Navigating At Night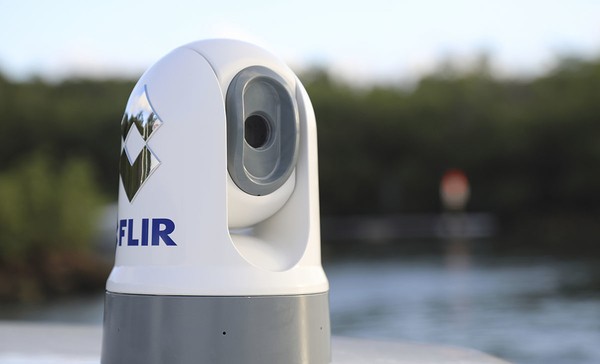 The brand-new FLIR M100 and M200 Marine Thermal Cameras provide enhanced awareness while fishing, sailing, or cruising at night.
FLIR manufacturers thermal vision technology for industrial, commercial, governmental and military uses, often in the price-range of hundreds of thousands per camera. And thanks to the large scale manufacturing of FLIR cameras lowering the cost of their thermal camera cores, now the every day recreational boater can benefit from the advantages of FLIR's thermal camera technology, without costing an arm and a leg.
The M100 and M200 are FLIR's most compact pan-and-til thermal cameras to date. Using FLIR's Boson™ high performance thermal camera core, the M100/200s provide superior image quality and artificial intelligence features.
When combined with the Raymarine AXIOM, you can now take advantage of FLIR's new ClearCruise™ intelligent thermal analytics that visually and audibly alert you of any non-water objects in your course such as boats, obstacles, or navigation markers.
The M100 offers an adjustable tilt to compensate for when the boat is running the bow high, and will retail for $2,495, FLIR's most affordable marine thermal camera to date. The ground-breaking FLIR M200 will offer a full pan and tilt for viewing 360 degrees in both the vertical and horizontal planes, and will be priced at $3,495.
Raymarine  Micro-Talk™ Wireless Performance Sailing Gateway – Seamlessly Connect Wired and Wireless Electronic Devices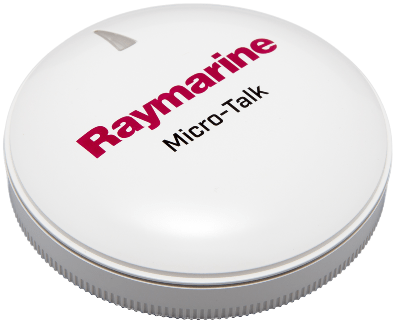 Raymarine's new MicroTalk Wireless Performance Sailing Gateway joins together wired and wireless instrument systems enabling performance-minded sailors to achieve a new level of wind monitoring. The compact and waterproof Micro-Talk Gateway can be mounted anywhere on-board and plugs into your boat's SeaTalk NG network.
MicroTalk allows high speed transmission of data between Raymarine wireless Micronet compatible devices and wired Raymarine SeaTalkng compatible devices and autopilots, sharing data such as:
wind angle
wind speed
depth
boat speed
temperature
heading
GPS data
time
date
navigation information
The Micro-Talk Gateway allows you the flexibility and customization to mix-and-match any combination of wired or wireless Raymarine instruments, transducers, MFDs and autopilots, whether building a new system from scratch, or expanding an existing system.
Wireless Wind Options for Raymarine Instrument Systems
The Micro-Talk Gateway allows you to take advantage of the enhanced accuracy and installation convenience offered by Raymarine's wireless, solar-powered wind transmitter options.
You can use these ultra-lightweight and highly accurate sensors with Raymarine i60, i70 and i70s Instrument systems. When used with the optional Raymarine Wireless Mast Rotation Sensor, the system can also provide ultra-precise wind information onboard sailing craft such as winged sailboats, with the mast rotation angle being transmitted to Raymarine MFDs.
Hard-core racers can add an optional Raymarine Wireless Maxi display to the system and experience the benefits of automatic airflow correction. Raymarine's patented algorithms will automatically compensate wind speed and direction values to eliminate inaccuracy from sail updraft and mast heel angle.
Raymarine Axiom MFD, Micro-Talk Gateway and FLIR M100, M200 Thermal Cameras For Sale – Where To Buy

While Raymarine and FLIR are busy outfitting all US Coast Guard vessels thanks to their new $50 Million Dollar contract, you can bet we're already at work over here, adding all of these new Raymarine and FLIR products to our site, so as soon as they're ready, you can order.
We also provide free US shipping on orders over $99, so give us a shout via email, phone, or the chat below, once you're ready!
Have a good one!
CitimarineStore.com
3300 NW 112th Ave,
Doral, FL 33172
(800) 766-5256
info@citimarine.com
–
Related
Lowrance Marine Electronics recently added to our site!
Lowrance is very popular with the fishing community for their fishfinders, chartplotters and transducers. They also have top notch radar and autopilot products released to compliment the systems. You can find them here!: Lowrance Marine Electronics