New Dometic Marine Displays and Controls for A/C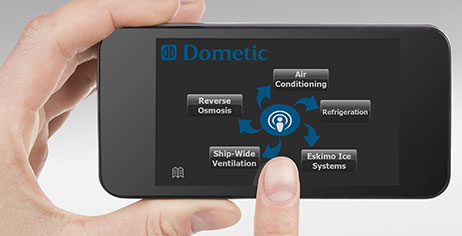 As we mentioned a couple of weeks back, starting as of this year, Dometic will be merging both their Cruisair and Marine Air lines under one, single Dometic Marine Air Conditioner brand.
All of your favorite Cruisair and Marine Air units, as well as replacement parts for your current AC systems, will still be available, just under a different product number in most cases.
For instance, the crowd-favorite, Crusair Stowaway Turbo self-contained AC units (STX16, STX8, etc.), will still be available, and will be the exact same unit, just branded with the Dometic logo and the new product numbers starting with DTU (Dometic Turbo Unit), like the DTU12 for instance, with 12,000 BTUs.
We've added a new Dometic section to our website, including all of the new product numbers and names, as well as corresponding units that were replaced.
Dometic does, however, have several displays and controls that are unique to the Dometic Brand (not previously released as Cruisair or Marine Air). Here they are.
Dometic Displays and Controls for Your Marine Air Conditioner
Always staying on the cutting-edge of new technology, Dometic doesn't fail to deliver with their marine air conditioning displays and controls.
Not only are they smart, user-friendly, and work to make your AC systems as energy-efficient as possible, but they have attractive and modern designs, as well.
PLDPro Small PLC Display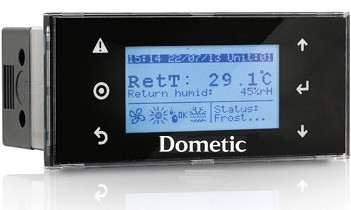 This sleek, Programmable Logic Control (PLC) uses advanced microprocessor technology in order to maximize a system's performance, protect your AC system with fault protection monitoring and shut-down routines, and has an intelligent and intuitive menu-driven operation, supplying the user with vital information of all of a system's key components.
The simple, 6-button keypad allows you to change operation modes, as well as change system parameters and more.
PGD1 Remote PLC Display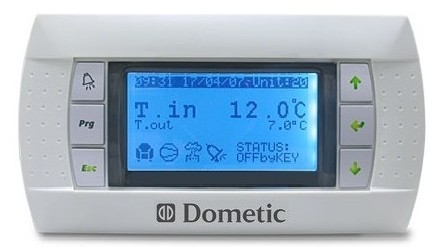 The PGD1 is a microprocessor-based display designed to control multiple marine chiller units from one point. The PGD1 was designed to allow user flexibility, improved controls and protection of your chiller's components.
The PGD1 has the following functions:
CHILLER ENABLE Enter setpoints for both heating and cooling and monitor chill water temperatures and pump current information.
CHILLER SUMMARY See the state of your HP, LP and FS and view your state water temperature out for all stages that are available. Selecting a stage on the screen will take you to that marine chiller stage for additional info.
CHILLER STAGE Go to the first stage, where you can monitor the system refrigerant circuit and chilled water circuit. All stage parameters can be viewed from here.
TRENDS View graphically how your system has been performing. Download information to a USB. Water temperatures and pressures as well as compressor current graphing is available.
ALARMS Alarms can be reviewed and cleared. Alarm history can also be viewed from here by using the navigation buttons on the top that take you to the alarm history. View back from minutes to months in the fault history. Link to a help screen displaying possible causes of your alarm to aid in the troubleshooting of your system.
TOUCHSCREEN NAVIGATION L-3388 ENGLISH 3 REMOTE SUPPORT Enable a third party to view your system over an Internet connection via a VNC (Virtual Network Computing) server.
The PGD1 allows selection and sequencing of up to 6 chillers, selection and sequencing of 2 chill water pumps and 2 sea water pumps, selection and sequencing of up to 6 EH heaters, as well as sequencing of devices for run-time equalization.
Dometic PGD Touch Screen Flush (For Chiller, VARC48, or STIIC)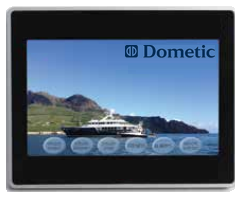 Controlling marine water chiller systems has never been so easy.
The Dometic PGD Touch Screen / Smart Touch Chiller Control's intuitive interface provides current status, operational trends, real-time monitoring (animated) of the refrigeration circuit and more.
The high-definition display can be mounted in your marine chiller's electrical box or in a convenient remote location. It comes in 7″, 10″ or 13″.
Features of Dometic's Smart Touch Chilled Water Control
Monitor water loop glycol level and other important conditions
Dynamic superheat control
Monitor differential pressure to protect from system failure. Adjust speed of seawater pup to maintain contact pressure.
Receive immediate text or email message if a fault occurs
Works with your generator to keep your marine chiller unit running at a healthy 70 – 80% operational load by turning on additional stages if required. Eliminates need for separate load bank.
Download alarm faults and historical trend data onto a USB for analysis.
Smart Touch Integrated Intelligence Control (STIIC)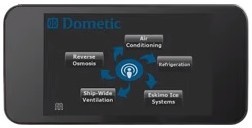 Recognized in 2015 as one of the Top Products of the Year in Boating Industry Magazine, the Dometic STIIC's revolutionary and user-friendly software connects all of the Dometic systems on your yacht or boat, such as your air conditioning system, watermakers, ice makers and more to the STIIC network, and interactively communicates with you via the STIIC app.
Accessible via any smart phone, tablet or computer with the STIIC app; monitor all of your systems from a remote location, such as your car, office or beach house.
Start up your marine air conditioner prior to a voyage, ensuring your boat is cool and comfortable when you arrive on board. Activate your Dometic watermaker to ensure that you have plenty of fresh, clean water before setting out.
Key Benefits of Dometic's Smart Touch Integrated Intelligence Control
Manage all Dometic systems from a remote location
Securely communicate with Dometic's Global Tech Support
Plug-n-play networking software provides interactive solutions
Software automatically expands as Dometic products are installed
Interface is easy to use and configure
Questions, comments, issues with your Dometic, Cruisair or Marine Air unit? That's our specialty! Chat with us below or contact us here!
"Citations to Dometic products are for reference purposes ONLY. Citimarine does NOT sell Dometic products as Citimarine is NOT affiliated with Dometic."
Have a good one!
Related Products:

Citimarine Store
3300 NW 112th Ave, #4
Doral, FL 33172
1-(800)-766-5256
dometic controls,dometic displays,dometic marine AC,dometic marine air conditioner,marine ac systems south florida