The Lewmar Windlass – Anchoring Made Easy, Solid & Affordable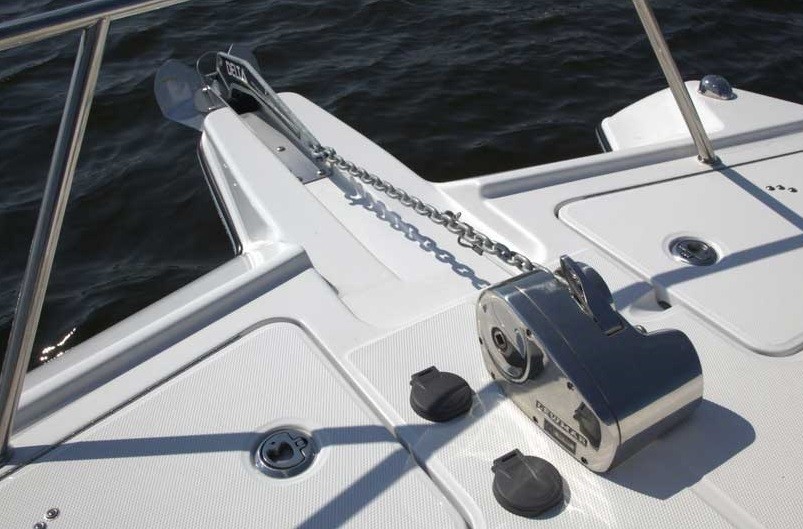 Lewmar has been a leading manufacturer of marine equipment for over 70 years now, including their famous Lewmar Windlass.
One of Lewmar's strongest product lines, their windlasses, take the hard work out of anchoring. Years of hauling an anchor up by hand can take a toll on your back. And it's not just a matter of convenience, but a matter of function: if out boating or fishing alone, or with an admiral who is unable to handle anchoring duties, you need a windlass.
And while a good, quality windlass is not cheap, it's worth its weight in gold.
A lewmar windlass also make anchoring inshore much easier, quicker, cleaner. The freefall feature found in some of the models is great for this. Push a button and the anchor drops, press a button and the anchor goes back up. Use electricity, not the sweat off your brow, to do the job.
Having a windlass can also be a safety item for when the weather gets rough and you have to go to the bow to retrieve the anchor; you can't use the engine to stay pointed into the wind if alone or no one else aboard can drive the boat.
And with the Lewmar wireless remote control, you can walk up to the foredeck to check and make sure that your anchor is down far enough or has come up all the way, or you can control everything from the helm.
Advantages Of A Lewmar Windlass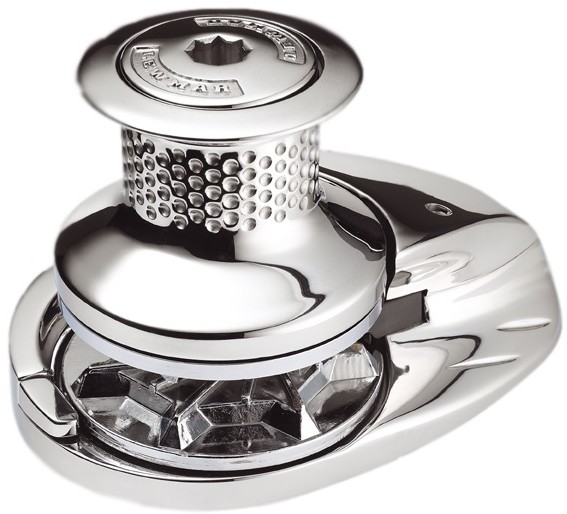 Lewmar takes great pride in the innovation, quality, service and reliability of their products.
Lewmar Windlasses are affordable, but don't confuse affordability with cheap. Lewmar's excellence in manufacturing is backed by a 3-year warranty in most models, with some models even bringing a 5-year warranty. And Lewmar is known for doing a great job backing their products and providing excellent customer service.
The sleek, solid, stainless steel Lewmar windlass designs– created by a team of 12 in-house designers, and manufactured with the best quality materials and machinery/processes — will complement your boat like no other accessory can.
With an extremely strong pull at the touch of a button, solid construction, reliable performance, easy installation and great functionality, you can't go wrong with a Lewmar windlass.
Real boaters' feedback on Lewmar Windlasses from Cruiser's Forum:
"I've had one since 2004 and must have anchored at least four or five hundred times with it and it's served me well. The only problem I've had is with a loose contact in the hand control and that was probably my fault. This is with a 45 pound anchor and 3/8 chain. I would not hesitate in recommending it. I am happy with Lewmar's customer service on this item too. When the hand control was giving me problems Lewmar walked me through all the troubleshooting (I didn't know it was the hand control and thought it was the windlass) and told me how to work around it. They don't look as if they belong on a sailboat but don't let that fool you. They're good windlasses."
–Vasco, Toronto, Canada (6,961 posts)
"I have a Lewmar windlass and have had no difficulty with it for the three years I have been using it. As far as parts and service is concerned, I wanted to add a winch to the opposite side (it came as a windlass only) and had the parts in my hand in a couple of day. While I had it apart, I inspected the gears, bearings, and other internal parts for wear and found none. Even though it was three years old and subjected to frequent use, there were no visible signs of wear. I would order another tomorrow if a situation arose where I needed a new windlass. 
Excellent quality and fit."
-Jentine, Ft. Pierce, FL (744 posts)
From Yachting and Boating World Forums:
"We have a Lewmar on our 12.45m boat. It has operated without fault through 6 seasons. Built to mount on deck, it still looks new. Rope drum as well as chain/rope gypsy, with manual override, and free fall if you want to do that. Use it with 75m of 10mm chain and a 25kg Rocna (which incidentally always digs the dirt up)…"
-Syfuga, Back in UK Waters (261 posts)
What Size Windlass Would Be Best For Your Boat?
To figure out which would be the right Lewmar Windlass for your boat, refer to the Windlass Selection Guide below: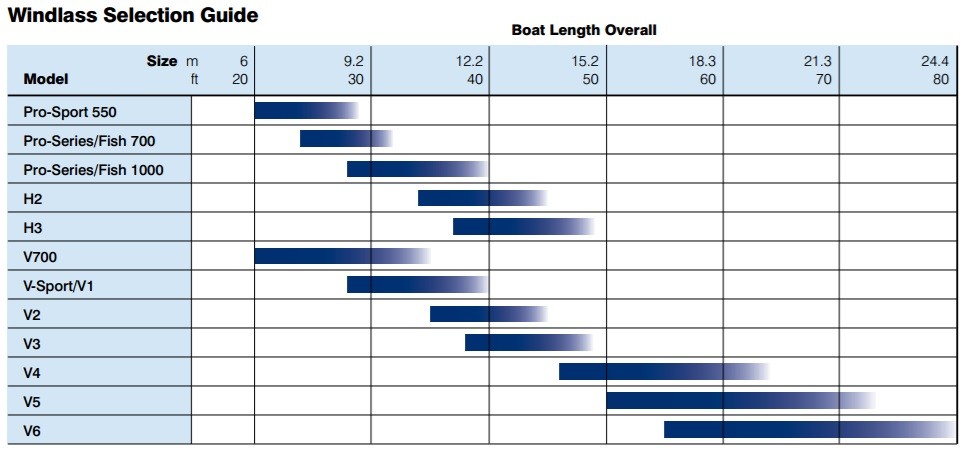 The rule to crosscheck your windlass selection is to add the total weight of the chain and the weight of the anchor together. Rope is very light and does not affect the actual lifting performance of the windlass, but can be factored in. For safe cruising in all types of conditions and sea areas, Lewmar recommends that you multiply the total weight of your anchor and chain x4 (x2 for V6 to V12).
This number should be less than the maximum pull of the windlass you have selected. Should your findings be at or more than the maximum pull, select the next largest windlass.
Should You Go With A Horizontal Or Vertical Windlass?
Begin by examining the depth of the anchor locker to determine the fall that is available. The fall is the vertical distance between the top of the anchor locker and the top of the anchor rode when the entire rode is completely stored inside.
This measurement is important in determining whether your boat will be best suited for a horizontal or vertical windlass.
Key Features of a Horizontal Windlass
Most of the windlass unit will be on the deck
Good if your boat has a smaller-sized anchor locker
Anchor rode enters the gypsy, makes a 90° turn, and then feeds into the anchor locker
A minimum fall of 12″ is recommended, in order to have enough gravity to pull the rode down into the locker
Key Features of a Vertical Windlass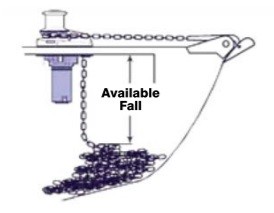 Most of the unit is hidden below deck
Suitable for large anchor lockers
Anchor rode makes a 180° wrap around the gypsy
A minimum fall of 18″ is recommended, in order to have enough gravity to pull the rode down into the locker
Where To Buy a Lewmar Windlass / Lewmar Windlasses For Sale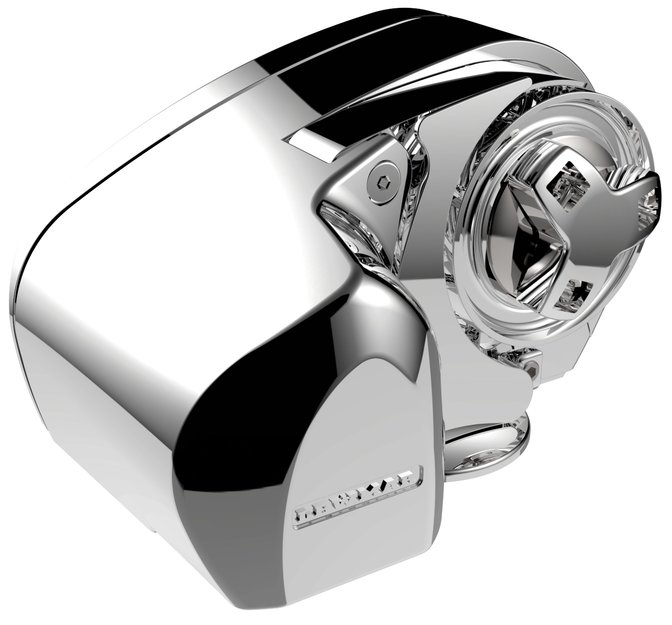 You can find all Lewmar windlasses with a pull of 550 lbs (for boats up to 28 ft.) all the way up to 1962 lbs (boats up to 50 ft.) on our online marine store: Lewmar Windlasses For Sale. We carry both vertical and horizontal windlasses.
Should you need a larger or smaller model, or have further questions as to what windlass would work for you, please don't hesitate to contact us here or chat with us below.
Tips For Using Your Windlass Properly – Maintenance, Use and Safety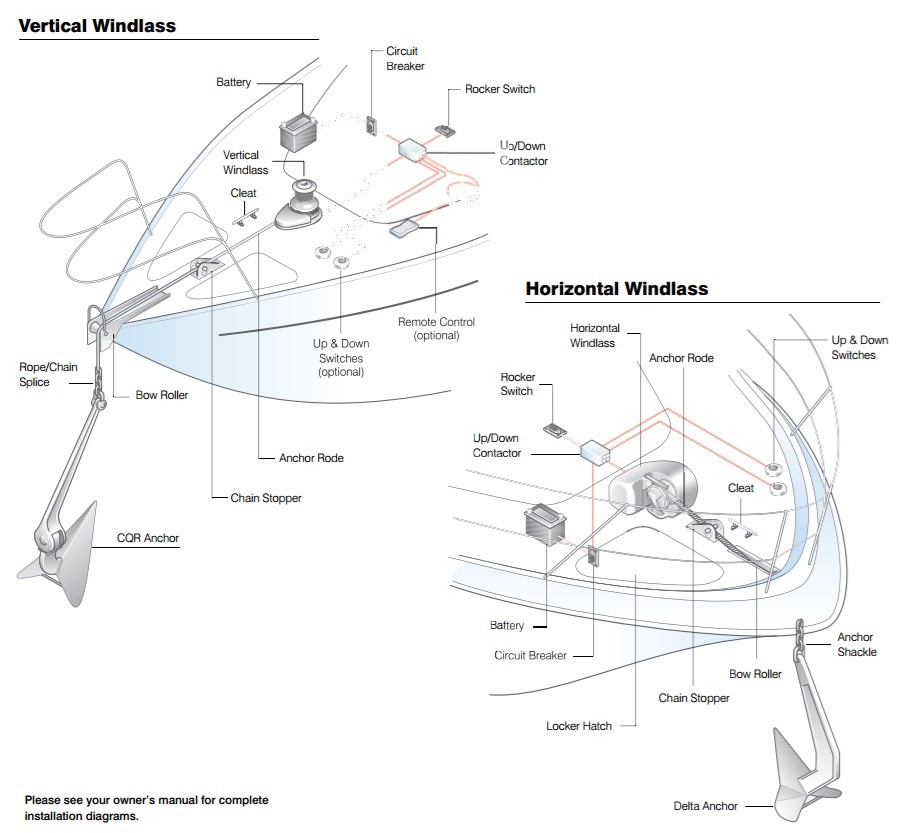 When it comes to using your Lewmar Windlass, there are certain things you should know to be on the safe side, keep your windlass working properly, and make the most out of it's use.
Always shut off circuit breaker when working on windlass
Be careful with fingers, hair and clothing around windlass when operating
If connecting rode to chain, cut off the worn section and re-splice the rode to chain at least once a year
Grease the cap at least once a year
If your windlass jams, immediately stop. Otherwise chewed line or a stripped cap will result
Soak a new rode for a few days before using it
Always use the exact rode and/or chain recommended by Lewmar
Always tie off anchor rode to a strong point while at anchor, never allow your windlass to hold the boat
Never use the windlass to pull or tow your boat
Always look before deploying your anchor
Always motor up to the anchor when retrieving
Keep these things in mind, and you'll get years of solid performance out of your windlass, without issues.
About Lewmar

The UK-based Lewmar started in 1946 by Len Lewery, first manufacturing dinghy fittings.
Acquired in 1967 by John Burton, Lewmar rose to become a leading manufacturer for modern yacht equipment over the next 20 years. Through a series of acquisitions and mergers, Lewmar evolved to include rigging, windlass, steering, hatch and portlight. By this time, Lewmar's distribution extended around the globe.
Over the years, Lewmar has seen several accomplishments and has received several accolades, including:
Supplying the first AC winch package to Korura V in 1966/68 Americas Cup racing
Lewmar winches were on the boat when Francis Chichester undertook his classic solo circumnavigation in 1967. Lewmar winch systems and windlasses were also used in the restoration of the Gypsy Moth IV, the vessel used by Francis Chichester on his trip
In the 1983 America's Cup, an Australian syndicate representing the Royal Perth Yacht Club fielded the Australia II, against defender New York Yacht Club's Liberty (which had successfully defended the cup over a period of 132 years), and won the match races to win the America's Cup. Both boats had Lewmar winch systems and windlasses
In 2006, Lewmar won the prestigious DAME Award for the second time with the OneTouch winch handle
in 2013, Lewmar was nominated for the DAME Award for their Captive Reel Windlass CRW400
Lewmar has transformed beyond recognition from the small company established by Len Lewery and Leslie Marsh in 1950. Today, Lewmar is a premier marine equipment supplier, designing, manufacturing, and distributing innovative, high-quality control solutions worldwide. See more about their manufacturing processes below.
If you have any more questions regarding Lewmar's products, including their windlasses and anchors, just let us know!
Have a good one!
CitimarineStore.com
3300 NW 112th Ave,
Doral, FL 33172
(800) 766-5256
info@citimarine.com
Related:
advantages of lewmar windlass,are lewmar windlasses good?,lewmar windlass,lewmar windlass reviews,lewmar windlass selection guide,windlass reviews