Furuno, the Japanese fishfinder and marine electronics powerhouse, unveiled its NavNet TZtouch3 MFDs at last years Miami Boat Show. With a powerful quad-core processor for lightning fast response and dual-channel 1 kW chirp fishfinder (along with traditional continuous wave 50- and 200-kilohertz fishfinders), the Furuno NavNet TZtouch3 has set the new standard for what people should expect out of an MFD / fishfinder combo.
The adoption of the new, more powerful processor for Furuno's Navnet series enables optimum performance and high speed delivery of functions, even in split screen mode. 
The Furuno NavNet TZtouch3 comes in 4 sizes. Originally released in 12", 16" and 19" inch IPS displays (with 12" being hybrid touch, both touchscreen and manual controls), Furuno has recently released a 9" hybrid touch IPS display model for tighter helms and second stations, which has been making waves and winning awards in the industry as well.
The larger 16 inch and 19 inch models are sleek, all-glass, multi-touch IPS displays that deliver clear and precise visuals from virtually any angle.
This Furuno MFD's functionality is intuitive, a breeze to use, and offers many powerful, helpful features. Swipe from the left of the screen to view or hide navigation data, swipe from the right to see all your shortcuts, from the bottom to view layer options, or from the top to access quick pages. A single tap selects options.
Furuno NavNet TZtouch3 Fishfinding Abilities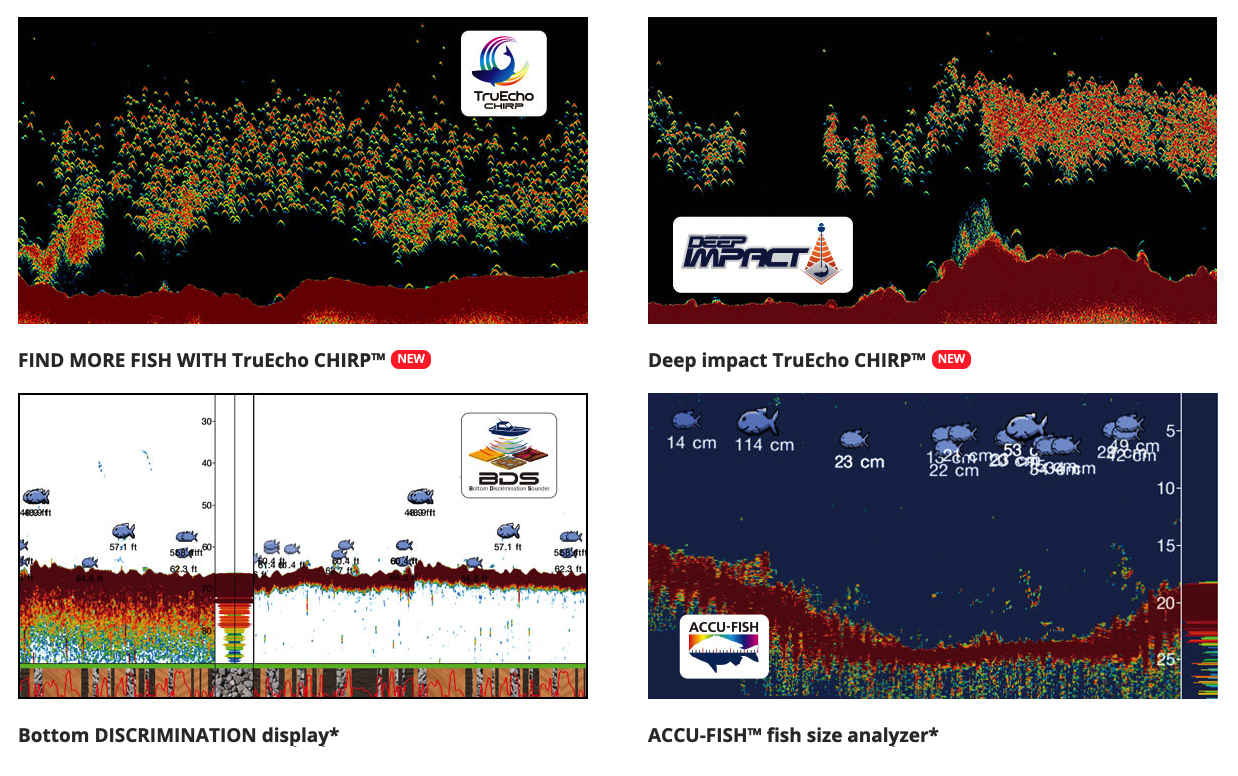 The TZtouch3 MFD brings a 1kW, dual-channel TruEcho CHIRP fishfinder. TruEcho CHRIP is designed to operate across a wide range of frequencies using a broadband transducer, delivering major advantages in signal clarity and target definition. 
Due to constant sweeping of frequencing, TruEcho CHIRP gathers more and higher-quality data than traditional fishfinders.
As mentioned, the Furuno NavNet TZtouch3 is also capable of outputting a traditional continuous wave signal for those who prefer the industry-standard 50/200 KHz scan of what's between your boat and the bottom.
TZtouch3's Connectivity and Cartography 
One of the strong suits of the NavNet series has always been it's connectivity. The Navnet TZtouch3 is no different, quickly and easily connecting to radars, black box fish finders, AIS, VHF, autopilots, compasses and more marine electronics onboard. 
Installing new charts (Navionics and CMOR bathymetric) is a breeze as well – just purchase a license and enter the unlock code. Furuno includes high-resolution satellite photography for most chart areas. With TimeZero PhotoFusion, you'll be able to overlay all of your high-resolution photography while still being able to clearly see all chart details.
The Furuno NavNet TZtouch3 includes an impressive library of MapMedia Raster and Vector charts for the US coastline, with even more options available for purchase, including C-MAP, Datacore by Cloud ecosystem. The Furuno TZ Cloud service allows you to save and back up all of your waypoints, routes and event marks to the TimeZero cloud server, as well as synchronize and edit them on your MFDs, TimeZero PC software and the TZ iBoat app for iPad! 
Use the new TZ First Mate app to drop an event mark with each big catch and include the species, length and weight and even take a picture with your phone, then access this information from anywhere!
How to Enhance the Fishfinding Abilities on Your Furuno Navnet TZtouch3 – Deep Impact Amplifiers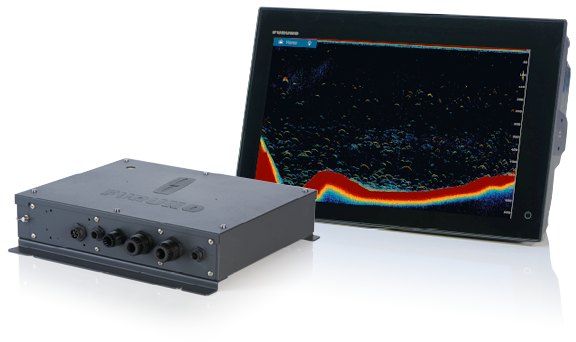 TZtouch3 incorporates a powerful internal 1kW TruEcho Chirp fishfinder. For many, this is perfect, but for some, they need even more! 
Furuno has made it possible to pump up the power of Chirp sonar on the TZtouch3 with the Furuno Deep Impact DI-FFAMP. The Furuno DI-FFAMP boosts the power of the TZtouch3's Chirp sonar up to 2kW – 3 kW! This will ensure that fish and bottom echos come back sharp and clear even at greater depths — 10,000+ feet!  
The Furuno Deep Impact DI-FFAMP is a black-box power amplifier with seven ports: a ground-wire connector, power port, two MFD connections, two transducer ports (high-frequency and low-frequency connection for each continuous-wave transducer; Chirp transducer can be connect to lower-frequency port), and a keying pulse connection that allows the sounder modules to transmit simultaneously.
Once connected to the Furuno Navnet TZtouch3, the DI-FFAMP acts much like an amplifier for a stereo, dramatically increasing the amount of power a connected transducer can transmit.
This extra power helps anglers and big game commercial fishermen serious about deep-drop fishing, with swordfish and snowy grouper examples of species that are easier to target and identify with a TZtouch3 that's amplified by a DI-FFAMP.
As mentioned, the TZtouch3 MFD can either transmit fixed, continuous-wave frequencies (50/200 kHz) or Chirp its transmissions, sending a swap of frequencies over a longer time period than a fixed-transducer and putting more power into the water, yielding higher-resolution sonar images.
At a certain depth, somewhere around 2,000 feet below, the TZtouch3 will automatically switch from Chirp to a continuous-wave signal. If you want to Chirp in deep water, the DI-FFAMP will allow you to do that.
The Ultimate Ticket for Serious Anglers – Owners can also add a Furuno DFF3D Multibeam Sonar to a TZtouch3 and Deep Impact installation. This allows owners to spec a single combination transducer that can simultaneously handle all transmissions and returns, without any frequency crossover. So they can all work without interference, and the transducer can be installed on the best location on the boat.
Furuno's Award Winning Chartplotter & Fishfinder – Furuno NavNet TZtouch3 Available Here at Citimarine Store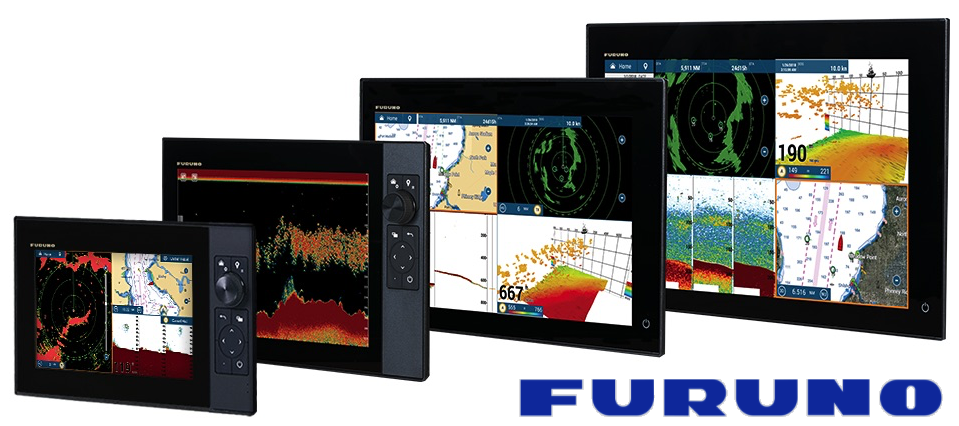 The Furuno NavNet TZtouch3 has definitely raised the bar for next-gen MFDs with its features, processing power, speed, connectability and fishfinding ability.
And if looking to take the fishfinding to the next level, Furuno's DI-FFAMP can do that for you. 
See our available Furuno NavNet TZtouch3 models here:!
Furuno DI-FFAMP TruEcho CHIRP Fish Finder Amplifier, here:
Furuno DFF3D Multibeam Sonar
Have a good one!
Citimarine Store
3300 NW 112th Ave, #4
Doral, FL 33172
1-(800)-766-5256
CitimarineStore.com
–