FLIR Ocean Scout TK Review, 240 & 320 – 100% Night Awareness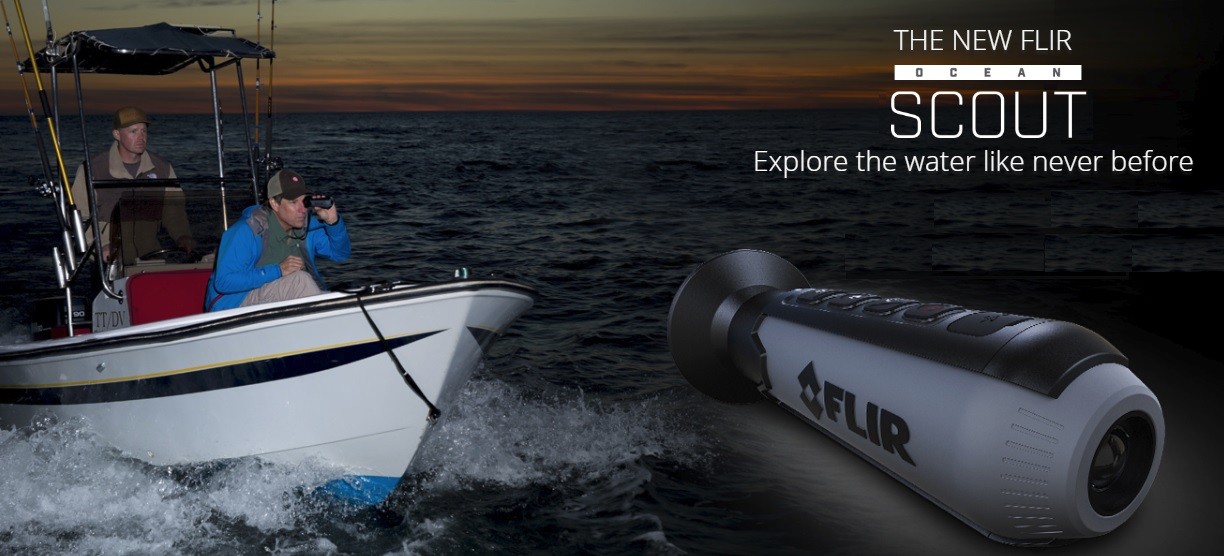 Night boating – navigating and maneuvering your boat at night – can be quite scary without the proper marine navigational equipment. We hope that this FLIR Ocean Scout TK review will help better guide you.
A good radar is an excellent help, but being able to actually see out onto the waters, with your own vision… and make out whether what you're approaching is a buoy, rock, vessel, island or just your imagination, is a much needed help.
FLIR, who also owns the marine electronics giant Raymarine, has been making high-performance, low-cost infrared (thermal) cameras for nearly 40 years now.
Thanks to mass producing high-powered cameras for several different commercial & military applications, FLIR is able to produce thermal imaging technology at a fraction of the cost as other manufacturers (other handheld thermal imaging cameras can cost as much as $7,500), and provide products such as their FLIR Ocean Scout TK line of handheld infrared cameras for the everyday people like you and I.
With the FLIR Ocean Scout TK, 240 & 320, you can now have greater awareness and safety while boating at night, without the need to break the bank. More importantly, you will have no greater tool in finding an overboard person with no time wasted.
Hunters are also taking advantage of the thermal imaging of the Ocean Scout, picking up the heat signatures of deer and other onshore wildlife.
How the FLIR Ocean Scout Works – Infrared / Thermal Technology – FLIR Ocean Scout TK Review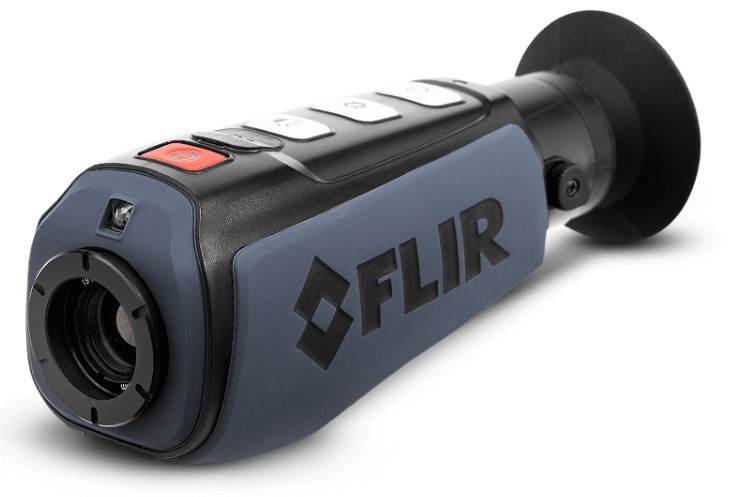 Thanks to a thermal imager known as a microbolometer, the Ocean Scout line of cameras creates images based on heat, not visible light.
All vessels, watercraft, buoys, and other obstacles give off heat and appear clearly through the LCD display of the Ocean Scout. Above you'll see a buoy with seals on it, viewed at night from an Ocean Scout TK.
The infrared technology not only improves awareness of surroundings in pitch darkness, but can also make out objects in blinding sun glare.
The Ocean Scout TK, 240 & 320 offer the tools you need to see clearly, steer confidently, and respond quickly in an emergency. The Ocean Scout can detect the body heat of anyone in the water, allowing you to quickly identify and rescue people or pets.
The IP-67 submersible, pocket-sized design fits right in the palm of your hand, and the intuitive 3-button design makes it a breeze to control.
Differences Between The FLIR Ocean Scout TK, 240 & 320 models
The first difference you may find between the FLIR Ocean Scout models is the price.
With the amazingly affordable FLIR Ocean Scout TK, you can now get handheld infrared vision technology for under $600. The 240 goes for just under $2 thousand, and the 320 is in the $2,500 range.
The TK packs a punch, though, with a 160 × 120 VOx Microbolometer and 640 X 480 LCD display that can reach a range of 390 feet. Weighing just under 6 oz and measuring 4.0" x 1.5" x 1.5", carrying it along with you will require zero effort.
The TK also has the exclusive features of multiple, selectable color palettes, including:
Black Hot,
White Hot,
InstAlert™ Rainbow,
Iron,
Lava,
Arctic Graded Fire
As well as the ability to record video, and store up to 1000 thermal snapshots.
The Ocean Scout 240 and 320 have higher-powered thermal imaging performance and longer range, with the 320 including a 2x zoom capability.
The Ocean Scout 240 has a 240 × 180 VOx Microbolometer with a 2,940 ft. range and the 320 has a 336 × 256 VOx Microbolometer with a 5,085 ft. range.
Not mentioned yet, there is an even higher-powered Ocean Scout 640 model, with a 640 x 512 VOx Microbolometer and a 9,842 ft. range, and up to 4x zoom capability.
The Ocean Scout 240, 320 and 640 weigh 12 oz and measure 6.70″ x 2.31″ x 2.44″. The 320 and 640 have a composite video output option.
Screen Captures From The FLIR Ocean Scouts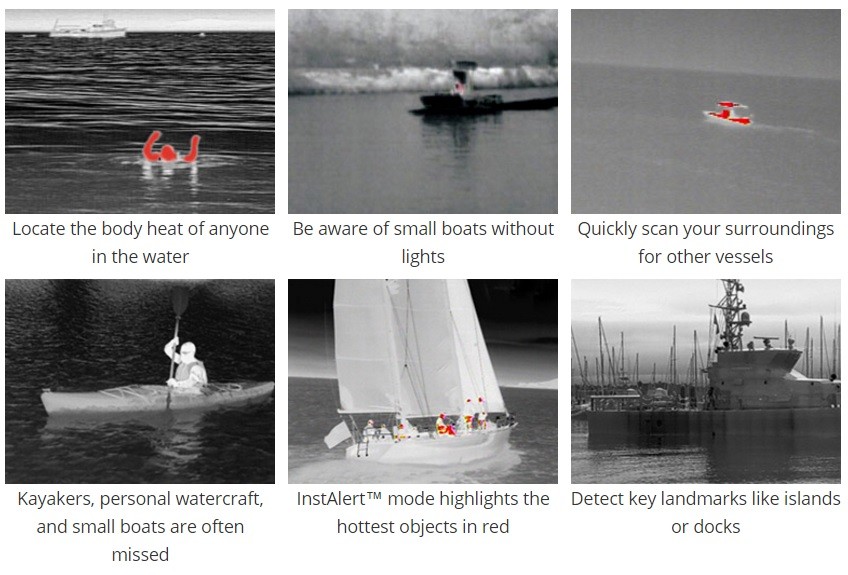 –
FLIR Ocean Scouts For Sale
If looking for a FLIR Ocean Scout, we have the FLIR Ocean Scout TK, as well as the other Ocean Scout models and FLIR marine cameras, here…
Free shipping on all orders over $99!
Questions? We're here!
Have a good one!
CitimarineStore.com
3300 NW 112th Ave,
Doral, FL 33172
(800) 766-5256
info@citimarine.com
–
flir ocean scout 640,flir ocean scout tk,FLIR Ocean Scout TK Review,handheld marine infrared cameras,handheld marine thermal cameras,ocean scout 240,ocean scout 320