Fiberglass Marine Deck Boxes, Salty Dog Boxes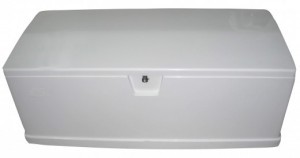 Note: If Looking For Marine Refrigerators, You Can Find Vitrifrigo Refrigerators Here: Vitrifrigo Marine Refrigerators
Need some extra storage space on your boat for life jackets, fishing gear, boat cleaning supplies, rope or other boating gear and equipment?
Look no further than Frigibar's all-fiberglass, marine deck boxes.
Built tough to endure even the roughest weather conditions season after season, these marine deck boxes fit nicely (and compliment) any vessel, and more importantly, offer the safest and most durable storage for your boating accessories and equipment.
Features of Frigibar's Marine Deck Boxes:
• All fiberglass construction
• Rust-proof body
• Waterproof lid with security hasp
• Available in different sizes
Optional Deck Box Features:
• Cushion (will become the most popular seat on the boat!)
• Installation fasteners for deck mounting
• Faux Teak Finish (on select models)
SALTY DOG Deck Boxes for Your Yacht or Boat
Frigibar's Salty Dog deck boxes have flush fitting sides and a domed top (to prevent sitting water), full length piano hinges for strength and an automatic lid support cord for convenience. Thanks to the recessed hasp, the Salty Dog allows a padlock to hang flush while forming a handle to open.
Drain holes make these boxes self-draining when storing wet items, and louvered vents prevent mildew formation.
The E-Series Salty Dog Economy Marine Deck Box provides the same quality strength and durability, at a more economic price. The unique design approach reduces manufacturing costs, allowing the lower price. Also rust-proof, all fiberglass construction.
Marine deck boxes can also be used on your dock, or wherever you would anticipate storage of your boating items.
We here at Citimarine Store only work with the top of the line brands in any category. For a full line of Frigibar fiberglass marine deck boxes, including Salty Dog deck boxes, at the best prices around, visit us at Citimarinestore.com!
fiberglass deck boxes,Frigibar deck boxes,marine deck boxes