Being Dometic dealers, we know both Dometic's DTU and ECD – the company's two most popular self-contained marine a/c units – quite well. They both come in cooling capacities from 6,000 to 16,000 BTUs, but there are a few key differences.
We're highlighting the pros and cons of both units below:
Dometic Turbo Unit – DTU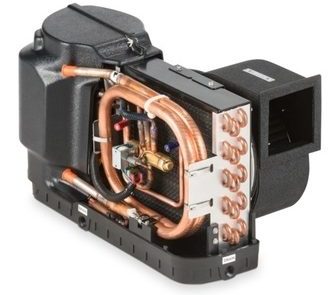 Powerful, Quiet & Compact With No Drain Pan Worries
The Dometic Turbo series completely revolutionized self-contained boat air conditioning with patented innovations in marine air conditioning system design, winning the IBEX Innovation Award. The rust-free molded composite drain pan has three drains for the rapid removal of condensate water. The drain pan has a small footprint for installation flexibility. A vibration-isolation mounting system results in significantly quieter, virtually vibration-free performance. The enclosed blower motor eliminates overhang for reduced depth.
Available in 6,000, 8,000, 10,000, 12,000 and 16,000 BTU/hr..
These new and updated versions of the self contained unit also have the dual capability of heating and cooling. Through its reversing valve, the unit can be used as a heater and air conditioner.
DTU PROS
Turbo blower has 30% more capacity
Compact, lightweight
Composite drain pan will not rust
Optional sound cover further reduces compressor noise by up to 50%
More modern design
Reverse cycle = cooling and heating
Slightly further rotation allowed on blower
New "U-Board" Universal control Board
DTU CONS
Higher price point
Doesn't come with control / display or cable because it's intended to be replacement for previous Dometic models (Stowaway Turbo STX, Vector Turbo Unit VTD)
*Dometic Turbo Units (DTU) are direct replacements for all VT and ST units. All units include temperature sensor. Display cable not included.
Dometic EnviroComfort – ECD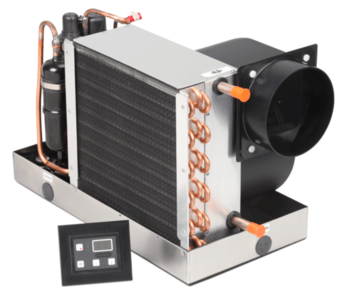 Enjoy Year-Round Comfort with EnviroComfort
Dometic's EnviroComfort Units (ECDs) are available in 6,000, 10,000, and 16,000 BTU/hr cooling and reverse-cycle heating capacities, so you can size the system to suit your boat for ultimate comfort in a range of climates.
All units have blowers with internal motors for a more compact installation footprint. The blower can be rotated to a horizontal or vertical position for greater installation flexibility. ECD units are built on an easy-to-plumb stainless-steel drain pan, and the pre-installed return-air filter is removable for cleaning.
ECD units are operated by a compact digital control/display (included) that features a bright green LED and large buttons. For added installation convenience, the plastic electrical box can be mounted remotely.
ECD kits are ideal for replacing an existing air conditioning system or for a new air conditioning installation. The Retrofit Kit includes the ECD self-contained air conditioning unit and digital control with bezel and is intended to replace an older self-contained air conditioner of comparable capacity. The ECD6K will replace a 5,000 to 7,000 BTU/hr unit; the ECD10K will replace an 8,000 to 11,000 BTU/hr unit, and the ECD16K will replace a 12,000 to 16,000 BTU/hr unit.
ECD PROS
More economic price point
High-velocity blower provides powerful cooling
Compact, lightweight design
Control / display and cables included
New "U-Board" Universal control Board
ECD CONS
Pans are stainless but not stainfree – therefore some rusting may occur over time
No sound cover option
*To purchase the Dometic ECD, see here!
New "U Control Board" Included with These Units:
How to Install Unit Video (DTU and ECD  units)
Summary
Key Benefits of DTU's Compared to ECD's units:
Up to 27% more energy efficient

Up to 21% increased capacity

Compact design uses less space

Rust-free composite drain pan

Up to 85% less standing water in the drain pan

Vibration-isolation mounts reduce noise and vibration

Designed from the inside out with multiple patented innovations

Optional sound cover further reduces compressor noise by up to 50%
Technical Specifications of DTU16:
Capacity (BTU/h): 16,000
Voltage (V): 115
Cycle (Hz): 60
Phase (Ph): 1
Full Load Amps (FLA) Cool (A): 10.4
Full Load Amps (FLA) Heat (A): 13.6
Full Load Amps (FLA) Blower (A): 1.61
Locked Rotor Amps (LRA) (A): 62
Refrigerant Type: 410A
Height (in): 13.4
Height (mm): 341
Width (in): 21.4
Width (mm): 544
Depth (in): 13.3
Depth (mm): 338
Sound Level: N/A
Dimensions DTU:
Dometic Turbo Unit Replacement Chart
The Dometic Turbo Unit is a replacement for previous turbo units from Cruisair (Stowaway Turbo Units STX and STQ) and Marine Air (Vector Turbo Unit VTD), two Dometic subsidiaries merging as one Dometic brand. You can find which Dometic Turbo units replace your Cruisair or Marine Air units using the chart below:
115V 60HZ Turbo Units

NEW Dometic P/N
New Description
Replaces Cruisair & Marine Air P/N
Old Description
205160060
DTU6 115V 60HZ 410A
205561250
205561255
205561200
STQ6-410A 115V 60HZ ONLY
STX6-410A 115V 60HZ ONLY
VTD6K-410A 115V 60HZ ONLY
205160080
DTU8 115V 60HZ 410A
205561350
205561355
205561300
STQ8-410A 115V 60HZ ONLY
STX8-410A 115V 60HZ ONLY
VTD8K-410A 115V 60HZ ONLY
205160100
DTU10 115V 60HZ 410A
205561450
205561455
205561400
STQ10-410A 115V 60HZ ONLY
STX10-410A 115V 60HZ ONLY
VTD10K-410A 115V 60HZ ONLY
205160120
DTU12 115V 60HZ 410A
205561550
205561555
205561500
STQ12-410A 115V 60HZ ONLY
STX12-410A 115V 60HZ ONLY
VTD12K-410A 115V 60HZ ONLY
205160160
DTU16 115V 60HZ 410A
205561750
205561755
205561700
STQ16-410A 115V 60HZ ONLY
STX16-410A 115V 60HZ ONLY
VTD16K-410A 115V 60HZ ONLY

115V 60HZ Turbo Units with Smart Start

205160063
DTU6 115V 60HZ 410A SMRTSTRT
205561203
VTD6K-410A 115V SMARTSTART
205160083
DTU8 115V 60HZ 410A SMRTSTRT
205561352
205561303
STQ8-410A 115V 60HZ SMARTSTART
VTD8K-410A 115V 60HZ W/SMRTST
205160103
DTU10 115V 60HZ 410A SMRTSTRT
205561452
205561403
STQ10-410A 115V SMARTSTART-ONBX
VTD10K-410A 115V SMRTSTART
205160123
DTU12 115V 60HZ 410A SMRTSTRT
205561552
205561556
205561503
STQ12-410A 115V SMARTSTART-ONBX
STX12-410A 115V 60HZ SMARTSTART
VTD12K-410A 115V SMARTSTART
205160163
DTU16 115V 60HZ 410A
SMRTSTRT
205561753
205561756
205561705
STQ16-410A 115V SMARTSTART-ONBX
STX16-410A 115V 60HZ SMARTSTART
VTD16K-410A 115V 60HZ SMARTSTAR

220V 50HZ Turbo Units with Hose Adapter

205161061
DTU6 220V 50HZ 410A 4MR
205562201
205562251
VTD6KZ50-410A 7'AS 4″MR 220V/5
STQ6CK-410A 4″MR 220V/50HZ
205161081
DTU8 220V 50HZ 410A 5MR
205562301
205562351
VTD8KZ50-410A 7'AS 5MR 220/50
STQ8CK-410A 5MR 220V 50HZ
205161101
DTU10 220V 50HZ 410A
6MR
205562401
205562451
205562402
VTD10KZ50-410A 7'AS 6MR 220/5
STQ10CK-410A 6″MR 220V 50HZ
VTD10KZ50-410A 6″MR 220V 50HZ
205161121
DTU12 220V 50HZ 410A 6MR
205562551
205562501
STQ12CK-410A 6MR 220V 50HZ
VTD12KZ50-410A 7'AS 6MR 220/5
205161161
DTU16 220V 50HZ 410A 7MR
205562701
205562751
205562756
VTD16KZ50-410A 7'AS 7″MR 220V
STQ16CK-410A 7″MR 220V 50HZ
STX16CK-410A 7″MR 220V 50HZ

230V 60HZ Turbo Units

New Dometic P/N
New Description
Replaces Cruisair & Marine Air P/N
Old Description
205162060
DTU6 230V 60HZ 410A
205563250
205563255
205563200
STQ6C-410A 230V 60HZ
STX6C-410A 230V 60HZ
VTD6KZ-410A 230V 60HZ
205162080
DTU8 230V 60HZ 410A
205563350
205563355
205563300
STQ8C-410A 230V 60HZ
STX8C-410A 230V 60HZ
VTD8KZ-410A 230V 60HZ
205162100
DTU10 230V 60HZ 410A
205563550
205563555
205563500
STQ12C-410A 230V 60HZ
STX12C-410A 230V 60HZ
VTD12KZ-410A 230V 60HZ
205162120
DTU12 230V 60HZ 410A
205563550
205563555
205563500
STQ12C-410A 230V 60HZ
STX12C-410A 230V 60HZ
VTD12KZ-410A 230V 60HZ
205162160
DTU16 230V 60HZ 410A
205563750
205563755
205563700
STQ16C-410A 230V 60HZ
STX16C-410A 230V 60HZ
VTD16KZ-410A 230V 60HZ

230/220V Turbo Units with Smart Start

205162123
DTU12 230V 60HZ 410A
SMRTSTRT
205563503
VTD12KZ-410A 230V SMARTSTART
205162163
DTU16 230V 60HZ 410A
SMRTSTRT
205563760
205563703
STQ16C-410A 230V SMARTSTRT-ONBX
VTD16KZ-410A 230V 60HZ SMRTST
205161123
DTU12 220V 50HZ 410A
SMRTSTRT
205562503
VTD12KZ50-410A SMARTSTAR
205161163
DTU16 220V 50HZ 410A
SMRTSTRT
205562703
VTD16KZ50-410A SMARTSTART
Have a good one!

Citimarine Store
3300 NW 112th Ave, #4
Doral, FL 33172
1-(800)-766-5256