Dometic DTG vs Webasto FCF Platinum vs CTM CT Unit – Comparison

CTM has introduced their all new CT Self-Contained Marine Air Conditioners to the market, and a question we often get here is how do the CTM CT Units compare to Dometic's DTG (previously known as Dometic DTU) Units and Webasto's FCF Platinum series, two of the most popular self-contained marine air conditioners available.
We've put together an analysis comparing different aspects of all three units – the Dometic DTG, CTM CT Unit and Webasto FCF Platinum units.
Size Comparison between Dometic DTG, CTM CT and Webasto FCF Platinum Marine Air Conditioning Units
Taking Dometic's DTG16 (16,000 BTUs), Webasto's FCF16 Platinum Series (16,000 BTUs) and comparing it to CTM's CT-16 (16,000 BTUs) to compare sizes, all three units have a similar footprint, with the Webasto FCF16 a decent bit larger in each dimension than the other two units, and the CTM significantly smaller in width than the rest. The CTM and Dometic weigh approximately the same, and the Webasto FCF Platinum is a good bit heavier. Here are the dimensions and weights of each:
Dometic DTG16 vs Webasto FCF16 vs CTM CT16 Unit Size Comparison

Dometic DTG16

Webasto FCF16

CTM CT16

Width (inches)

21.4
24.4
20

Depth (inches)

13
13.5
13.5
Height (inches)
13.5
13.1
14

Weight (lbs)

57
77.5
57
Dometic DTG Unit Layout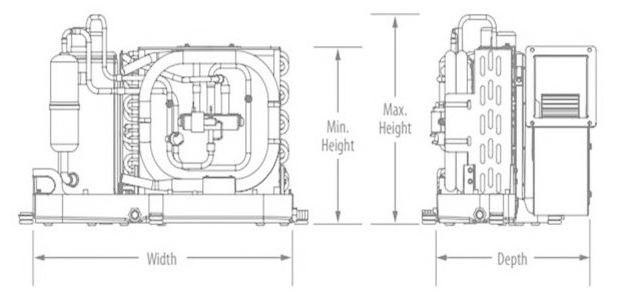 Webasto FCF Platinum Series Unit Layout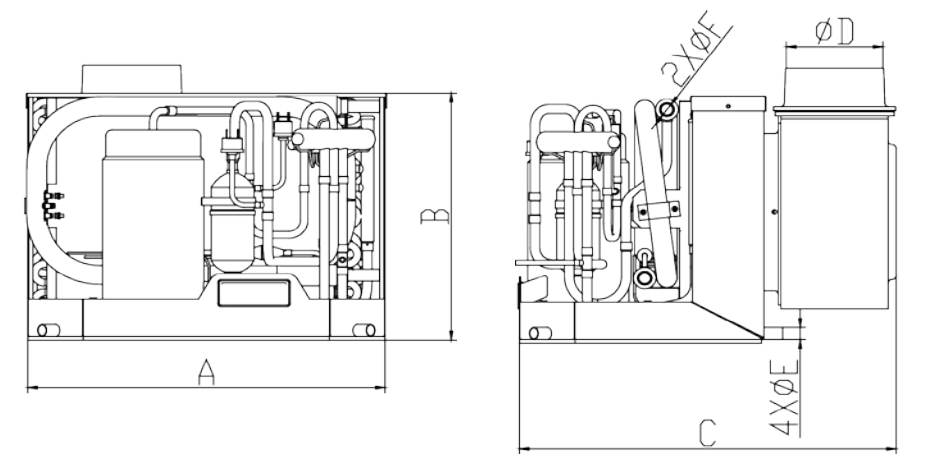 CTM CT Unit Layout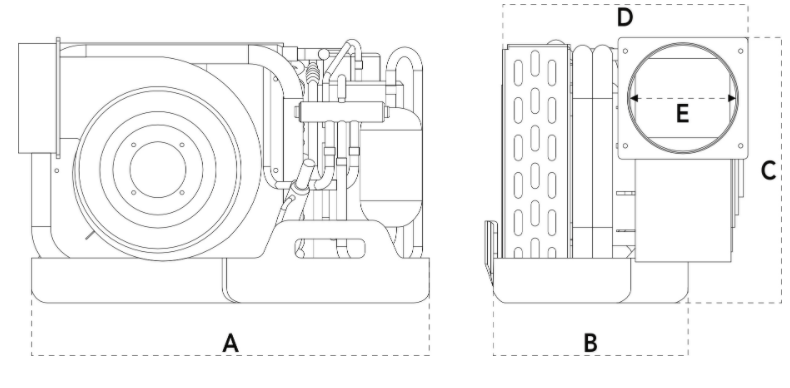 All three units run off of environmentally-friendly, energy-efficient R410A refrigerant.
Comparison of Materials and Design Features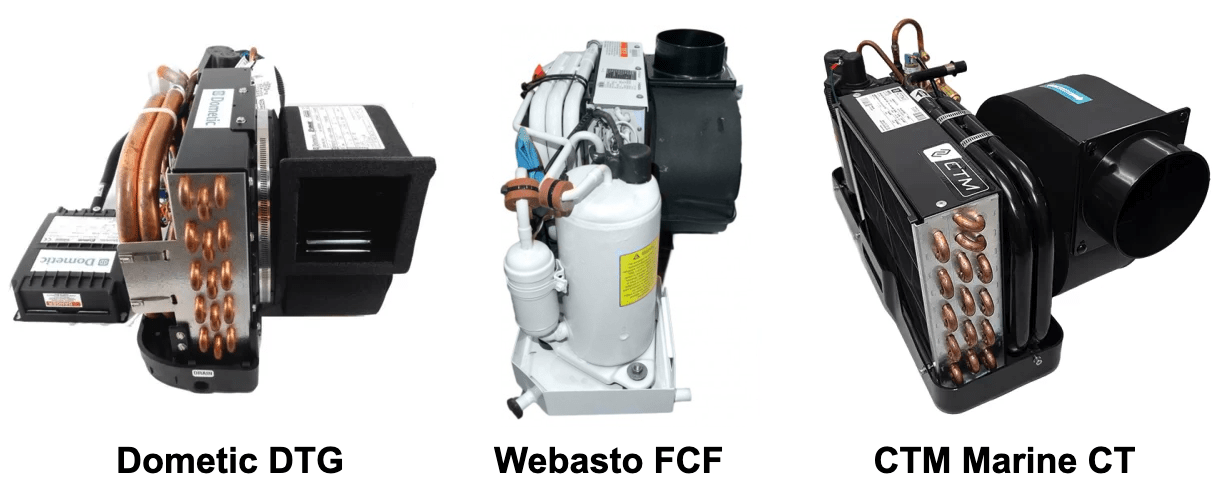 All three units — the Dometic DTG, Webasto FCF Platinum Series and the CTM CT — have durable construction, and are ready for marine-use. The DTG brings a rust-free composite drain pan, while the CTM and Webasto units bring stainless steel structural pans (CTM with ABS tray; used in heavy industrial applications, ABS is extremely resistant to corrosion, weathering and erosion, as well as aqueous acids, alkalis, alcohols and oils).
Webasto FCF Platinum units are epoxy-painted for corrosion protection, while the CTM CT Unit uses corrosion-resistant titanium coils. DTG units use copper coils which are prone to corrosion. As to the benefits of using titanium coils:
"Titanium resists corrosion by seawater to temperatures as high as 500°F (260°C). Titanium tubing, exposed for 16 years to polluted seawater in a surface condenser, was slightly discolored but showed no evidence of corrosion.(8) Titanium has provided over thirty years of trouble-free seawater service for the chemical, oil refining and desalination industries. Exposure of titanium for many years to depths of over a mile below the ocean surface has not produced any measurable corrosion(9)"

Source: https://www.timet.com/assets/local/documents/technicalmanuals/corrosion.pdf
Differences in Design and Cooling Efficiency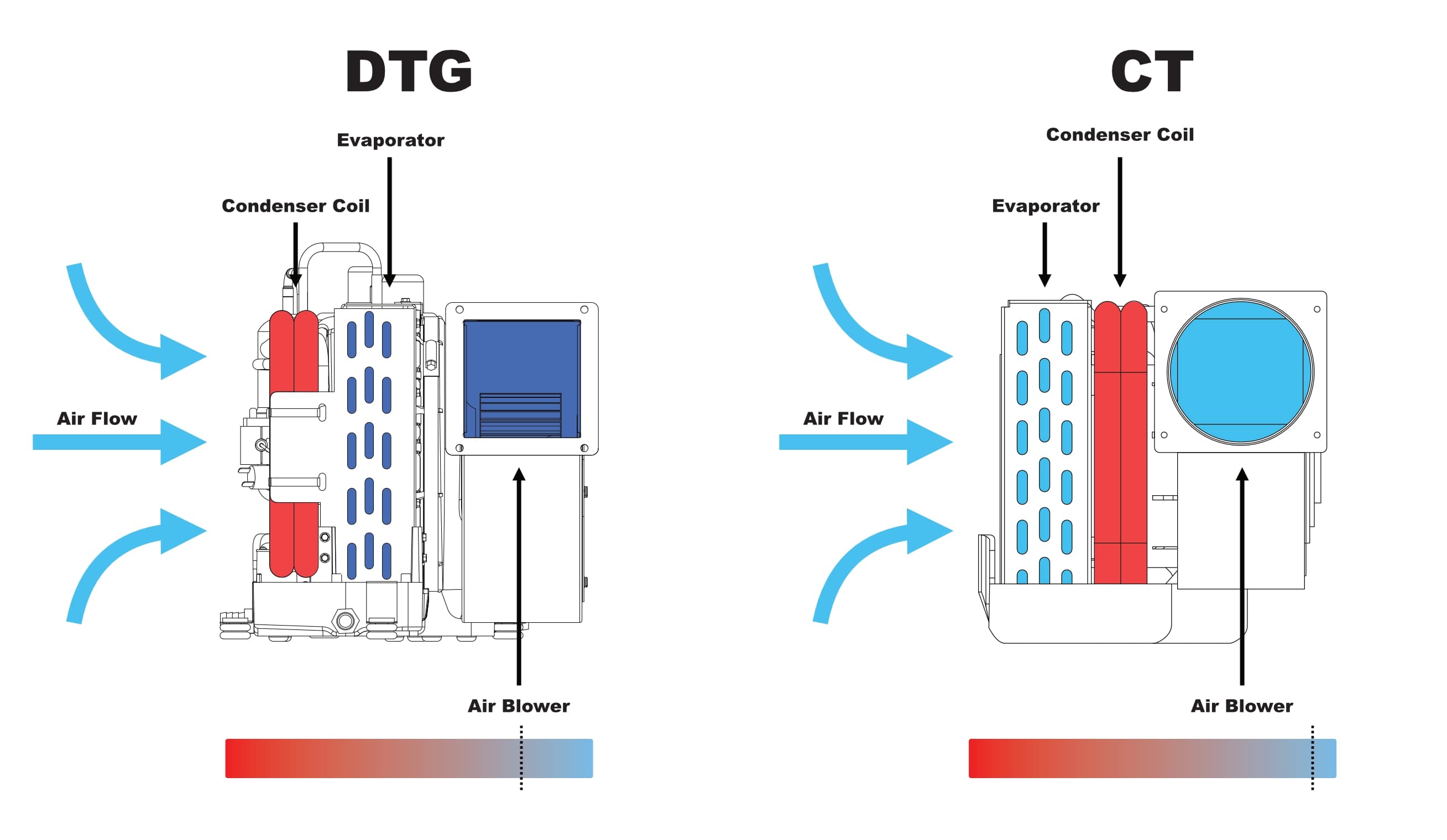 The CTM unit has an advantage over the other units in design and cooling-efficiency. On Dometic DTG and Webasto FCF Platinum units, air flows through the hot condensing coils before being cooled down by the evaporator, and it is then blown out through the fan — which can cost efficiency. On the CTM CT Unit, room temperature is cooled by the condensing unit and the cool air is pushed through the blower's tunnel without being affected by the heat of the coils, where it is then blown out by the fan, making the CTM unit more efficient on BTUs.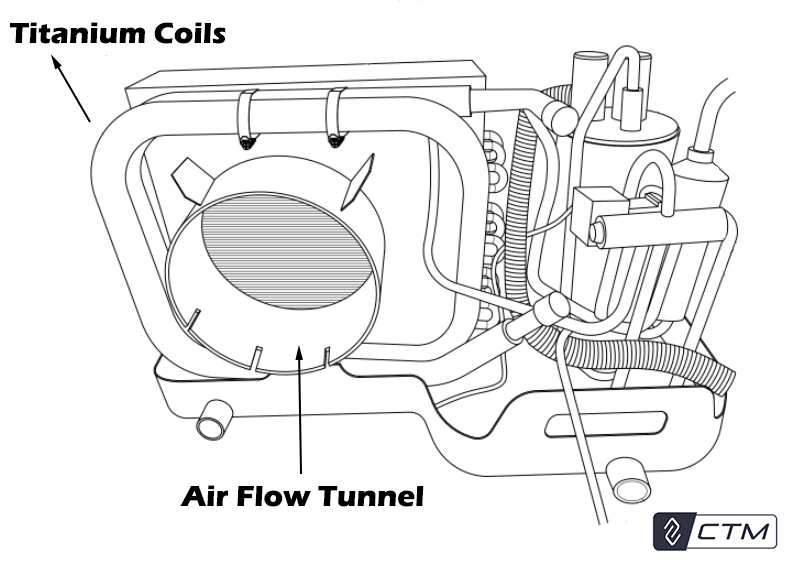 Energy Consumption Comparison Between the Dometic DTG, Webasto FCF Platinum and CTM CT Units
Both the DTG and CTM CT Units consume approximately the same amperage during startup and use, with the Webasto FCF Platinum Series consuming more upon startup, and a slightly wider range of current consumption cooling reported. All three are available in 115V and 230V voltages and 50/60 Hz frequencies. See comparisons of available energy-use info on the three 115V 16,000 BTU models below.
Dometic DTG16 vs Webasto FCF16 vs CTM CT16 – Energy-Use Comparison

Dometic DTG

Webasto FCF Platinum

CTM CT

Input Voltage
115V
230V
115V
230V
115V
230V

Frequency

50/60 Hz
50/60 Hz
50/60 Hz

Starting Amps (max)

34.6 A
16 A
37.5 A
35 A
29.25 A
16 A

Current Consumption Cooling (max)

10.40 – 10.70 A
5.1 A
10.3 – 11.2 A
5.6 – 5.7 A
9.78 – 10.31 A
5.3 A

Current Consumption Heating (max)

13.6 A
6.6 A
No info
No info
13.5 A
6.8 A

Fuse Min.

25 A
No info
25 A

Fuse Max.

40 A
No info
40 A
Video – Comparison of Performance of Each Unit – Electrical, Temperature, Fan Test & Sound Test
In the video below, you'll see we tested out each of the units, comparing the performance of each in these different areas.
Price Comparison Between Dometic DTG, Webasto FCF Platinum Series and CTM CT Units
CTM currently offers CT units in 10,000 (CT-10) and 16,000 (CT-16) BTU capacities. We will compare CTM's CT unit prices for these two models to the same capacity Dometic DTG and Webasto FCF Platinum series models (manufacturer's price). CTM CT units are significantly lower in price than comparable Dometic DTG and Webasto FCF Platinum Series models of the same capacity.
Dometic DTG vs CTM CT Unit Price Comparisons

Model

Dometic DTG
Webasto FCF Platinum
CTM CT

10,000 BTU, 115V

$2,940
$

2,210

$1,869

10,000 BTU, 230V

$2,990
$

2,210

$1,929

16,000 BTU, 115V

$3,145
$2,662
$2,089

16,000 BTU, 230V

$3,400
$2,662
$2,149
Where to Buy CTM CT Marine Air Conditioners
The Dometic DTG can be purchased from one of Dometic's authorized dealers on their dealer list, available on Dometic's website. Internet retailers are not authorized to sell the DTG online.*
We carry CTM CT-10 and CT-16 Units, here: CTM CT Marine Air Conditioners. Compatible with Dometic and Cruisair's controls and cables. Free US Shipping.
Have a good one!
Citimarine Store
3300 NW 112th Ave, #4
Doral, FL 33172
1-(800)-766-5256
CitimarineStore.com
–
Related:
Self-Contained Marine AC Installation Guide
*Citations to Dometic products are for reference purposes ONLY. Citimarine does NOT sell Dometic products as Citimarine is NOT affiliated with Dometic.
ctm ct,dometic dtg,dometic dtu comparison,dometic dtu vs webasto fcf,dometic vs webasto