Dometic Cruisair Stowaway Turbo – Quiet Cooling, Low Price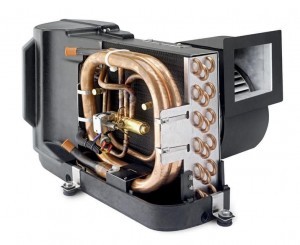 A big favorite among those looking for marine AC systems on vessels smaller than 40 feet are self-contained units. Dometic manufacturers some of the best self-contained marine AC units around, including the Cruisair Stowaway Compact & Stowaway Turbo models.
Cruisair Stowaway Turbo marine AC units have all of the major components mounted on a single chassis, and can be easily installed and set up in many convenient areas of your boat, wherever AC is required. Because the majority of the components are enclosed, it's easy to "stowaway" the unit wherever you'd like.
Compact, Easy To Install, Quiet, Powerful, and Energy Efficient!
The Cruisair Stowaway Turbo series is an IBEX Innovation award-winning marine AC system, with patented innovations in air conditioning system design.
The composite drain is rust free and has multiple drains for quick removal of condensate water, without having to worry about the drain pan.
Thanks to it's vibration-isolating mounting system, the Cruisair Stowaway Turbo is quiet as can be, and without vibration, as many AC systems have. And with an optional sound cover, you can reduce the sound even further, up to 50% more!
Key Benefits Of The Cruisair Stowaway Turbo Over Other Marine AC Systems
-27% more energy efficient
-Takes up very little space
-Rust-free, hassle free drain pan with 85% less standing water
-Quieter and without vibration
-Runs on R-410A, an environment-friendly/safe refrigerant
On top of all of this, the Cruisair Stowaway Turbo units start at only $2,166.00 (*price increases happen per year).
Update: All Marine Air Vector and Cruisair Stowaway Turbo Units are Now Dometic Turbo Units (DTU)
Since Marine Air and Cruisair have merged under one Dometic line. All Turbo units are being sold as Dometic Turbo Units (DTU). Same units, just with the Dometic brand name only. You can find the DTU12, one of the more popular models, with 12,000 BTUs, here: https://citimarinestore.com/en/184-marine-air-conditioning-boat-ac
We have also recently added CTM, Webasto, Mermaid Air, and several other brands of self-contained units to our main marine A/C page, here!
"Citations to Dometic products are for reference purposes ONLY. Citimarine does NOT sell Dometic products as Citimarine is NOT affiliated with Dometic."
Any questions, let us know!

Citimarine Store
3300 NW 112th Ave, #4
Doral, FL 33172
1-(800)-766-5256
cruisair ac,cruisair dealers,cruisair marine air conditioner,cruisair stowaway turbo,dometic cruisair