Best Marine Stereos – Fusion MS-RA770, MS-RA70 & JL Audio MM100s

Note: The Fusion MS-RA70 has been recently replaced by the MS-RA70i, which has improved Bluetooth capabilities and options. The new Fusion MS-RA70i stereo is available here. We have also just updated this blog with info on the new Fusion MS-RA770 Apollo Series. Link to the Fusion MS-RA770 Apollo for sale is below. For the complete line of Fusion Marine Stereos, see here: Fusion Marine Stereos
When it comes to best marine stereos, there are two main brands that make waves: Fusion & JL Audio. In all honesty, you can't go wrong with either one, both brands are seasoned vets when it comes to making stereos, and more specifically, the particular requirements of a marine stereo.
Here are a few recommended units from each.
Fusion MS-RA770 Apollo Series – First Touchscreen Marine Stereo Unit w/ Built-In Wifi, Ever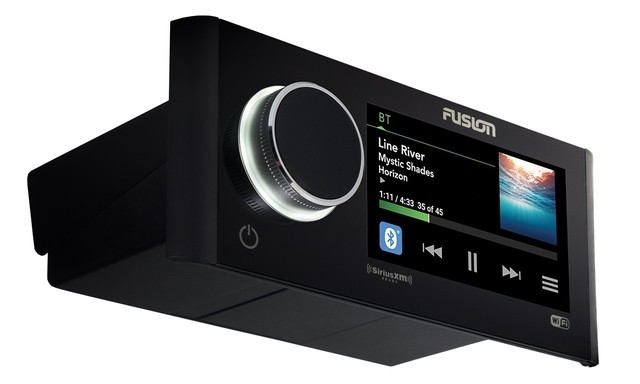 The cutting-edge Fusion MS-RA770 Apollo Series Marine Stereo is the first of its kind… first ever marine stereo to come with touchscreen capabilities and built-in WiFi. The built-in WiFi provides cleaner sound and quicker data transfer than bluetooth.
Digital Signal Processing (DSP) produce precisely calculated loudness curves optimized for the human ear to ensure quality, full range audio at every volume level, while the feed-forward limiter anticipates a peak in the audio and adjusts the gain to eliminate distortion at any volume level.
The Fusion RA770 Apollo features more source options than ever before, with Bluetooth, UPnP, Optical Audio, advanced SiriusXM features and DAB+ radio available, AM/FM radio, AUX and USB connections ready at your fingertips, has a gorgeous one-piece glass design, and has an impressive IPX7 rated water resistant front panel, tested to a high level for protection against salt fog, temperature, vibration and UV protection.
You can find the Fusion MS-RA770 for sale, here: Fusion MS-RA770 Apollo Marine Stereo
Fusion MS-RA70 / RA70N – Excellent Marine Stereo For Your Buck, Excellent Sounds, Powerful Performance on The Waters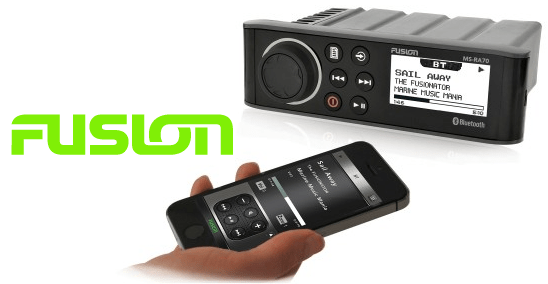 Fusion Entertainment started out as a home grown, car stereo manufacturer in the New Zealand back in 1998. Experiencing much success, Fusion Marine Sound Systems now has dealers in over 30 countries, and has expanded to into the area of marine stereos for over a decade now.
Their latest release, the MS-RA70 (and MS-RA70N – NMEA ready) is a high-performing marine stereo, designed to be viewed in direct sunlight, and to handle even the roughest marine conditions.
Here are some strong points of the MS-RA70 Marine Stereo
Designed for life on the waters, with an IPX7 waterproof rating
Optically bonded LCD for crystal clear display on the high seas
Built-in amplifier (Class-AB 4 x 50W (@ 4 Ohm)
Designed to replace any standard DIN sized non-marinised stereo without the need to reconfigure dash space
Compatible with several iPods, iPhones and Smart phones
Modern, attractive design
While a lower price point than the JL Audio unit, this doesn't mean the Fusion radio lacks in sound. The MS-RA70, when connected with the proper subs, mids and highs, will play your favorite songs with powerful, well-balanced, full-range sounds.
JL Audio Media Master MM100s – Slightly Higher Price Point, More Compatibility, JL's Long History of Excellence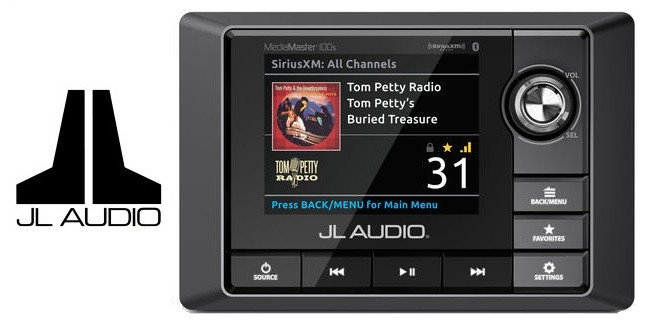 JL Audio is synonymous with sound.
Starting out in the late 70's in a South Florida garage, JL Audio rose to to become a sound system powerhouse in the 80's, and has remained in that position ever since. They are known for their meticulous attention to detail, and extensive R&D before releasing products (often pushing back release dates until they've reached perfection – not a bad thing!).
While best known for amplifiers, sub woofers, and other speakers, after years of R&D, the JL Audio Media Master MM100s has finally been perfected and was released earlier this year.
Some strong points of the JL Audio Media Master MM100s
Excellent match if you already have your boat outfitted with JL Audio amps and speakers
8-Channel preamp outputs
2 year parts and labor warranty
SiriusXM Satellite Radio ready
Compatible with a wide range of iPods, iPhones and Smart phones
4 independent audio zones
Sleek/elegant and easy to use design
In order to achieve a higher level of marine audio performance, JL Audio deleted the typical chip amplifiers found in most marine stereos. Instead, the MM100s is equipped with high quality, preamp-level audio circuits, set up in 8-channels and with 4V RMS outputs.
This allows superior system control flexibility in a wide range of system configurations.
Note: we now added JBL Audio: https://citimarinestore.com/en/495-jbl-marine-audio-sound-systems. Durable marine and powersport audio solutions made to withstand the elements. For more on JBL Marine Sound Systems, see here.
Comparison of the JL Audio MM100s and the Fusion MS-RA70 – Pros and Cons of Each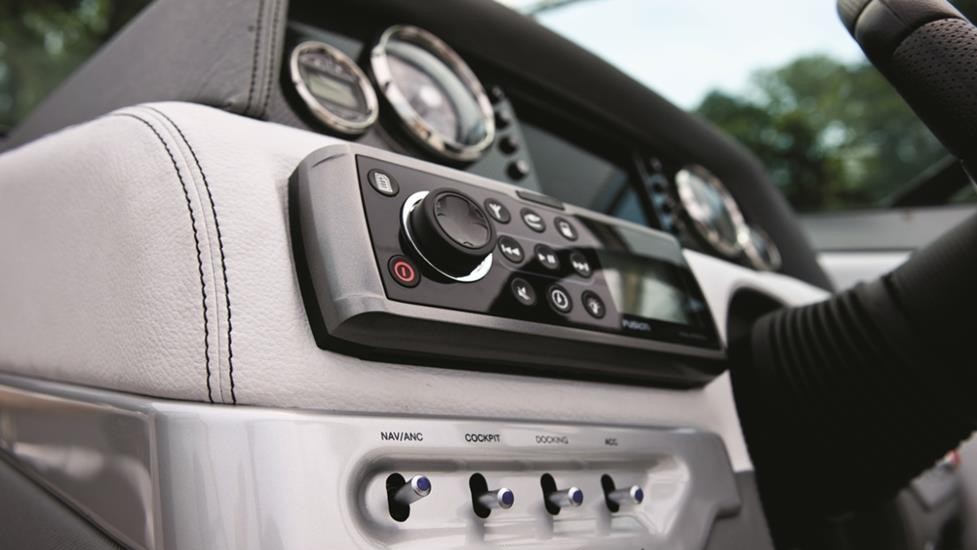 There are a number of things you may want to take into consideration if you are looking to purchase either of these units.
The JL Audio's design is a bit larger than the dash space for most other marine stereos. The Fusion will fit right in. With that being said, if you currently have all other JL Audio components, due to its excellent compatibility, you may want to consider the customization of the dash. This radio will be with you for a long time, so the work won't be for naught.
The Fusion has a much lower price point ($247) compared to the JL Audio MM100s ($497), so if price is a factor, you can confidently go with the MS-RA70 without sacrificing quality.
The JL Audio has 4 sound zones compared to 2 zones in the Fusion, and The JL Audio is compatible with a higher range of iPods and iPhones:
JL Audio MM100s iPod / iPhone compatibility
iPod Nano versions: 7 / 6 / 5
iPod Touch versions: 6 / 5 / 4 / 3
iPhone versions: 6S+ / 6S / 6+ / 6 / 5S / 5C / 5 / 4S / 4 / 3GS
Fusion MS-RA70 iPod / iPhone compatibility
iPod Nano versions: 7
iPod Touch versions: 6 / 5
iPhone versions: 6S+ / 6S / 6+ / 6 / 5S / 5C  /5
The Fusion has slightly better waterproofing (IPx7 compared to JL's IP66 weatherproofing), and has European tuning, while the JL Audio does not.
On the other hand, JL Audio has a longer warranty (2 years on parts and labor vs. Fusion's 1 year for each).
So when it comes down to it, is there a definite winner? Can one be declared the best marine stereo? In my opinion, no…
There are a number of other things to take into account, including what amps / speakers you currently have set up in your boat, the compatibility with your smart phone /device you will need the stereo to have, your location (if in Europe, and you want to hear local tuning), the amount of work/customization you are willing to do, and the price you'd like to pay.
Best Marine Stereo – We Have Them For You!
If you need any extra help, just contact us here. We are experts in outfitting boats with sound systems and other accessories, and may have some recommendations for you!
We have several of each in stock. *For discounted shipping on these items, chat with us below, and ask for the "Best Marine Stereo" discount.
Have a good one!
CitimarineStore.com
3300 NW 112th Ave,
Doral, FL 33172
(800) 766-5256
info@citimarine.com
Related information:
Fusion MS-RA70 / RA70N Presentation
**For more marine sound systems, stereos, speakers, amplifiers and more, see here!
best boat sound systems,best marine radios,best marine stereos,Fusion MS-RA70,Fusion MS-RA770 For Sale