FREE U.S. SHIPPING ON ONLINE ORDERS!*
FREE U.S. SHIPPING ON ONLINE ORDERS!*
More info
Webasto Evo M Controller - MC04 -

1322720A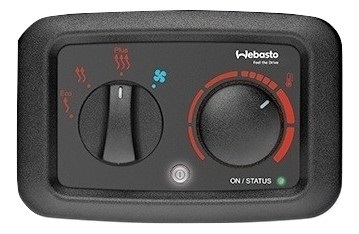 Features
ECO mode for reduced electrical power consumption

.

Power mode PLUS for +10% increased heating power output




(from 3,500 W – 3,900 W and from 5,000 W to 5,500 W)

.

Ventilation mode to provide fresh and cool air to cabins on a hot day

.
Using the control panel AirTop Evo MC04/05, you can select the functions of the Webasto air heaters AirTop Evo.
Eco: Economy mode
​Normal: Comfort heating
​Plus: Fast heating
​Fan: Ventilation
Altitude: Altitude correction (not available for MC04 M and MC04 SPM)
The control panel is to switch on/off, as well as to preselect the operation modes and the interior temperature. For technical data as well as references to the installation, see the installation instructions of the specific heater.
Installation Instructions for Control Panel MC04/05:
The Control Panel should be installed in a suitable location (on a flat surface if possible) in the area visible to the driver.
Use Drilling Template for Control Panel MC04/05 for cut-out and holes (see"Drilling templates")
Connect Control Panel to existing connectors on heater-unit wiring harness (see "Connection diagram/Circuit diagram")
Pre-mount control unit in cut-out
Lightly press fastening screws into holes and screw in
Carefully clip on trim frame
NOTES:
Control Panel is only intended for installation in passenger compartment
Ensure good readability when selecting installation location
Observe information on adhesive labels and colored markings when connecting Control Panel to vehicle wiring harness.
Operation:
Main Switch ON / OFF
Switching on the heater
By pressing the main switch ON / OFF the heater is activated. After switching on, the main switch illuminates and the indicator "ON / Status" lights to confirm the heater operation.
Switching off the heater
By pressing the main switch ON / OFF again the heater operation is stopped. After switching off, the lighting of the main switch is also off. The indicator "ON / Status" goes off after approx. 3 minutes (cooling down of the heater).
Mode selector knob
With the mode selector knob you can select the desired functions of your heater by placing the index on the desired symbol.
Temperature selector
You can adjust the desired interior temperature with the temperature selector.Preferably the temperature selector should be in the marked range of the scale (comfort range).