Ultra Anchor Review by Real Boaters & Ultra Swivel Reviews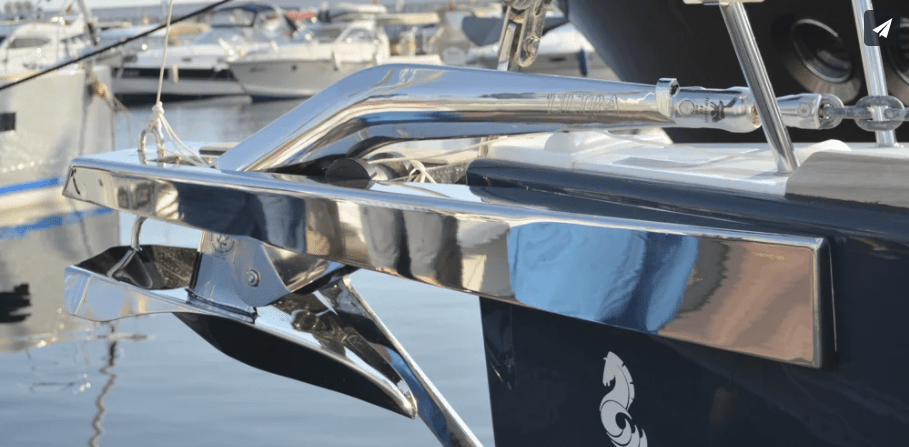 Headquartered in Fort Lauderdale, Florida, Ultra Marine Anchors are held by many to be among the elite of the elite when it comes to anchors. Ultra Marine has sold more than 15,000 anchors since the company was formed in 2004. For an Ultra Anchor Review, see below the product detail and company background.
Ultra's anchors are engineered and manufactured in Turkey – hand made from 316 stainless steel, hand polished, and designed for intelligent weight distribution in order to optimize setting, holding and recovery. This guide will help you better understand Ultra Anchors, including the Ultra Anchor review by real boaters themselves.
Note: For more info and feedback on Ultra Marine's swivels, please see lower on the page.
Several Unique Design Features Lead to Ultra Marine Anchors' High Level Performance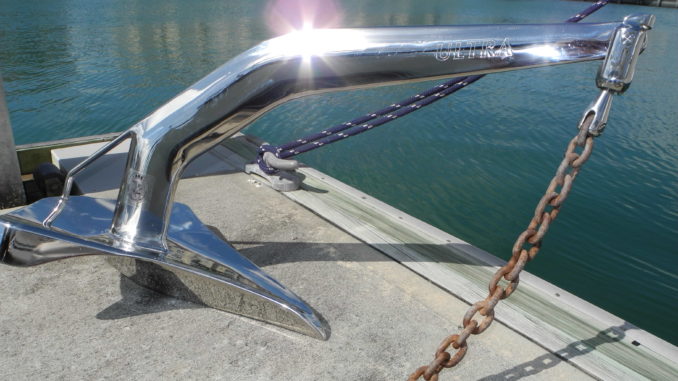 According to Ultra, their philosophy is to create the best anchor possible, without concern over how difficult the manufacturing processes might be. Ultra has created a self-righting anchor that easily sets, holds tight, and is easy to recover, thanks to the following design features:
Hollow Shank – Enables weight to be concentrated on anchor tip

Lead-Filled Tip – Lead is inserted into the anchor tip, allowing for optimal weight distribution and ensuring the anchor will penetrate even difficult bottom conditions

Tubular Construction – Anchor will not lie on its spine; it recovers instantly to the setting position

Curved Tip – The anchor tip is shaped downward, ensuring a continuous setting under unfavorable weather conditions

Max Holding Power Base –

The concave base/fluke has the appearance of a shovel and has extreme holding power with a greater surface area than conventional style anchors, resulting in more secure, higher holding power that will not release

Large Side Wing Plates – Avoid release during changing wind or tide conditions
Flat Underside –

Once you begin to recover the anchor from the sea floor, it pivots itself on the flat underside and begins to release

Non Chain-Foul Bar –

Often chain can foul around the shank of the anchor, resulting in the anchor not being able to set. This clever design feature ensures chain simply cannot wrap around the shank and provides the ability to attach a trip line. It also provides a continuous anchor geometry on bow rollers.
If in the market for an economic or cheap anchor, Ultra may not be the right brand for you. However, if looking for quality, you get your money's worth in terms with Ultra anchors. Each one comes with a lifetime guarantee against manufacturer's defects, and is stamped with a unique serial number, ensuring your anchor is always identifiable.
From BoatTEST.com
"Anchors have been around for thousands of years and the quest for the perfect anchor is one of every boater's life-long quests. Popular anchors come and go, but the ULTRA anchor is one that we think is going to stay around for a long while."
Ultra Anchor Reviews from Real Boaters Themselves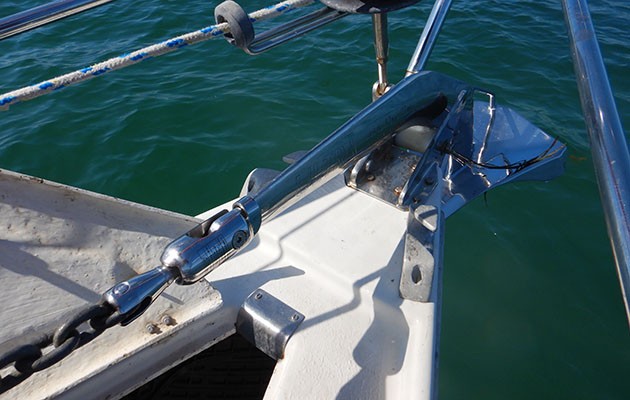 We've searched top boating forums to create this Ultra Anchor Review Guide, and found quite a bit of helpful info from Ultra Marine Anchor owners themselves (includes some mentions of Ultra swivels. The Ultra swivel reviews below contain some mentions of Ultra anchors as well):
From CruisersForum.com
"I am an older experienced boater sail and power. I have used many anchors including the old standards and new age. I found the manson (ronca almost the same) and spade anchors to be a cut above all the older types including the fortress. This last year on a 34,000 lb 50 ft motor boat I used a SS ultra 60lb unit with their ball swivel and found it to equal or exceed the spade which I rated very highly. The special swivel unit turns the anchor into the proper position to come over the bow roller on retrieval a point where some of the greatest stress occurs on the windless and anchor chain and rode fittings. This swivel unit was designed to address the problems associated with previous designs which tended to fail. I think they have got a winner here of course as with all boating things only time will tell."
-eyschulman, Registered User, Location: Seattle, Boats: Devlin 48 Moon River & Marshal Catboat, Posts: 639
"I've been using a 100lb Ultra for 10 years on a 55ft ketch. It has never dragged.

I consider it comparable to the Spade (which I owned on a previous boat). I have several knowledgeable friends who consider the Spade the best anchor ever made. The Ultra certainly belongs in the group of Mantus, Manson Supreme, and Rocna.

My favorite feature is that it resets faster after a wind/current change than any anchor I've ever owned. If seems to sort of turn in the mud rather than breaking out. The sharp weighted tip is especially good setting in grassy and hard bottoms.

I chose it because a roll bar would have interfered with the my short bowsprit and I don't particularly like rollbar anchors because they bring up so much bottom.

10 years on the Ultra looks new where all my past anchors would have shown serious wear spots and rust in the galvanizing. Is it worth the extra money? I can argue either way – but as a percentage of my boating cost it's rounding error."
-CarlF, Registered User, Posts: 2,623
"The Ultra anchor is a very promising design. It has a lot of the design elements of a good anchor. The steel Spade has proven to be an excellent anchor and the Ultra has managed to incorporate many of its principals as well as some tweaks such as the turned down toe with a slightly less bulky profile. User reports rate it very highly, including some experienced members that have used other new generation anchors. It is guaranteed against bending for life…"
-Noelex 77, Moderator, Location: No Mention, Boat: Bestevaer, Posts: 12,196
"The Ultra anchor is far superior in performance over the Rocna in its ability to dig deeper and reset. We've used a Rocna and switched eight years ago to using an oversized Ultra 45kg on our 53Ft 25 ton boat and upgraded the existing anchor to an Ultra 60kg on our 44 ton 625. Both have Ultra swivels. When my husband Ken wanted to use an Ultra 45kg on the 625, I insisted we upgrade to the Ultra 65kg for added security. Regarding the cost, it's well worth paying the extra $5,000 so we can sleep well at night. We've been using Ultra anchors for eight years…"

"…We've owned and used both the Rocna and the Ultra anchors. Unlike the Rocna which routinely brought up big clumps of mud and weed which my husband and I got tired of cleaning off every time we brought up the anchor, the Ultra comes up clean every time. The Rocna also dragged on one occasion in a muddy bottom when it became clogged up with a mud ball and once it dragged with a weed ball, the Ultra anchors have never done this."
-OrinocoFlo, Registered User, Posts: 67
Yacht & Boat World (YBW) Forum

"We have been using our 35kg ultra on our 12.4m 18tonne home for the last 3 years.

Used it most nights march to november from the north west of Scotland to the aegean,( we do not like marinas or town walls!), never failed us once, and we have had it draughty a few times!

I now do not even think about it once we have set it, and I must stress we do set it properly with 2500 revs or more in reverse for 30 seconds once it has eased into the bottom with the wind. The problem with most anchors is not the hardware but the owner not using it properly. I cannot believe some of the drops we have witnessed over the years from other boats, but as long as they stay downwind of us they can drag all they like!

It sets usually in its own length and digs deep.

Like other anchors it will not tolerate thin layer of sand over rock!

Expensive, yes but i took the view that it would be just about the most important piece of equipment on our boat, so why skimp on a cheap anchor that will be forever dragging? So far so good!

Ps we have a long bowsprit, so rocna, mantus etc would not fit, anyway i chose the ultra on design for holding not design to fit the boat."
-sulaire, member, Location: On board/Europe, Posts: 74
"I was alongside a Turkish boat of a size similar to myself in Mandraki, Kos. He was using a 10kg Ultra. Despite a 42′ Janneau leaning heavily on him when the Janneau dragged its anchor during the meltemi crosswind, the Ultra didn't budge (I was relieved because my 6kg aft Delta wouldn't have stood the strain).

A smart (stainless) anchor, there have been problems as with all the other concave anchors, with the stock bending – hence the latest ones have a two-part hollow one and all are guaranteed for life against bending/breaking. Prettier than the other new-generation anchors, it seems to stow better in a normal anchor roller, than the others."
-charles_reed, Member, Location: Home Shropshire 6/12; boat Greece 6/12, Posts: 10,415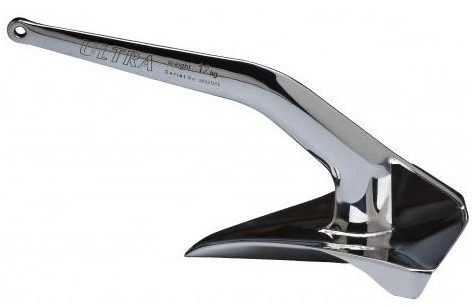 *We carry Ultra Marine Anchors on our site, here!
Ultra Marine Anchor Swivel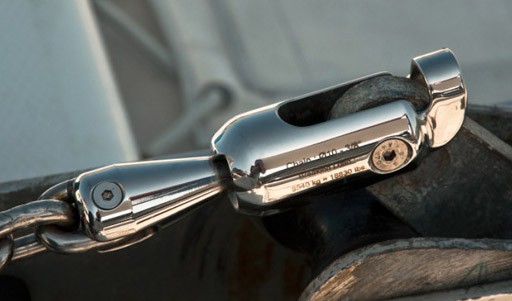 Ultra Marine swivels connect your chain and anchor without the need for additional shackles. Fabricated from 316 stainless steel and hand polished for an attractive presentation on the bow, Ultra Marine's flip swivels are strong, streamlined, and don't require any locking pins or safety wires. 
The breaking strength of a swivel is typically higher than the connected chain and allows for 30° rotation with complete 360° swivel. The Ultra Marine Flip Swivel is fabricated with a unique flipping nub that assists the anchor in getting itself right-way up onto the bow roller. Combined with the rotation and 360° ability, setting and recovering your anchor is now easier and safer.
Features of Ultra Marine Flip Swivels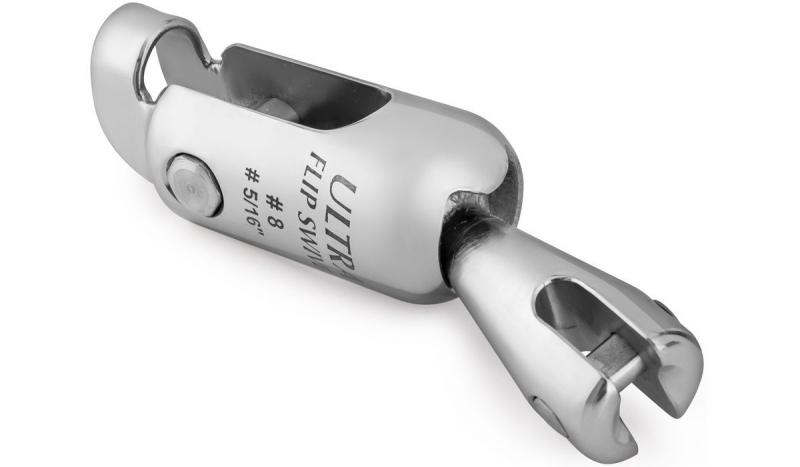 One Piece Body –

Fabricated (not cast) one-piece body ensures maximum strength. Suitable to be used with most anchor types.

One Piece Head

: Fabricated (not cast) one-piece swivel head (which includes the semi spherical ball) ensures maximum strength.

Teflon O-Ring

: Internal TEFLON O-Ring stops metal friction occurring when under load providing low resistance and smooth operation.

Flip Nub

: If the anchor is recovered up-side down the flip nub will assist the anchor to correctly right itself onto the roller.

Rounded Corners

: Avoid potential damage to contacted surfaces.

Specifications

: The swivel chain size and breaking strength is recorded on the rear side of the swivel.
Supplied with a standard 5-year warranty, the Ultra Marine swivel incorporates unique design features and advantages, making it one of the most advanced anchor swivels available.
What Boaters Have to Say About Ultra Marine Swivels
Along with our Ultra Anchor Review, we've put together feedback from boaters on their Ultra Swivels:
From CruisersForum.com
"I've used one with several different anchors on two different boats. It has always worked as advertised. I put a little grease in the swivel every year when I clean and grease my windlass. There were a few older models of the swivel that were recalled several years ago. The new ones have a different design."
-BlueYonder, Senior Member, Location: Maryland, USA, Vessel Name: Blue Yonder, Posts: 346
"Yes, we've been using an Ultra swivel for three years on our Ultra 45kg anchor without any problems, in fact… it solves problems. It works great. We live on the hook six months per year in the Med. We never pay to go into a marina."
-Kenomac, Cruiser, Location: Pangaea, Posts: 10,856
"We have two attached to the two Ultra anchors we have. Very happy with them so far."
-Capt.Bill11, Guru, Location: Sarasota/Ft. Lauderdale, USA, Posts: 5,438, Re: Ultra Swivel – opinions?
From TrawlerForum.com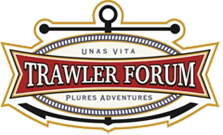 "Very few Anchor swivels are strong enough to make me happy, however there is one & it is what I personally use.

Anchor Swivel — best way to go is "ULTRA Flip Swivel".

it is the only one I trust!…

…Best Swivel I have ever used in 50 years of boating all around the world."
-alfamike, Senior Member, Location: Camarillo, CA, USA Posts: 355
"I have used no swivel and many swivel options over 35 years of boating and in my opinion the ultra works perfectly and is able to eliminate my fears of side loading failure. The anchor pops into the roller every time perfectly. I have installed on my trawler and 30 Pursuit and both require 0 management on deck which is great single handling your boat in tight anchorages…"
-kwestby, Veteran Member, Location: Seattle, USA, Vessel Name: Nostra Casa, Vessel Model: C&L Puget Trawler 44, Posts: 77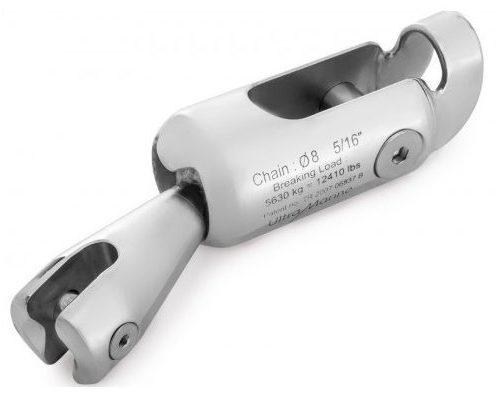 *We carry Ultra Marine Anchor Swivels on our site, here!
Ultra Marine Anchors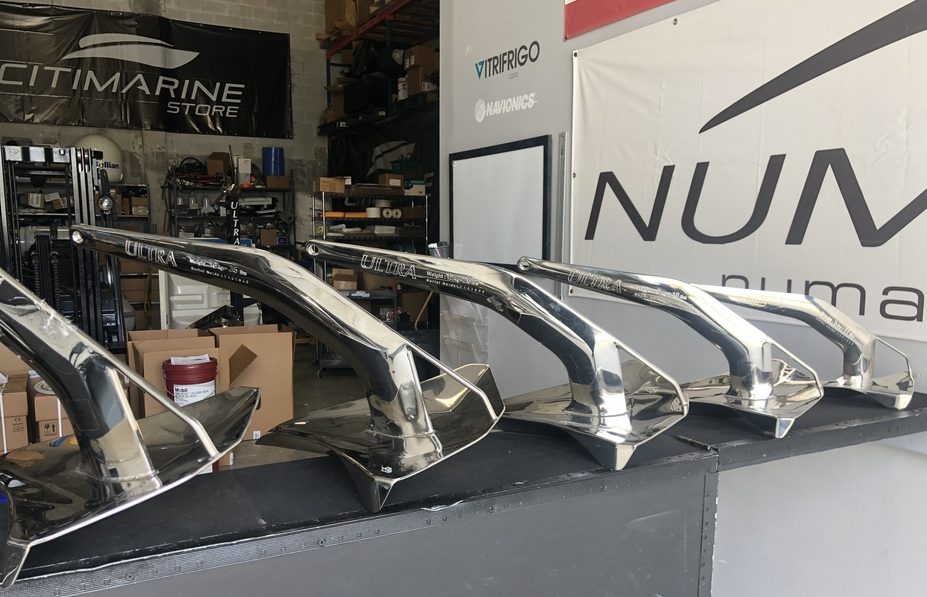 Hope our Ultra Anchor Review and Guide helps you better understand Ultra Marine as a company, as well as the quality of their anchors and swivels. You can find the complete line of Ultra Marine Anchors section, here!
Ultra Marine Anchors Selection Table
The following table will help you know what size Ultra Anchor would work for your boat: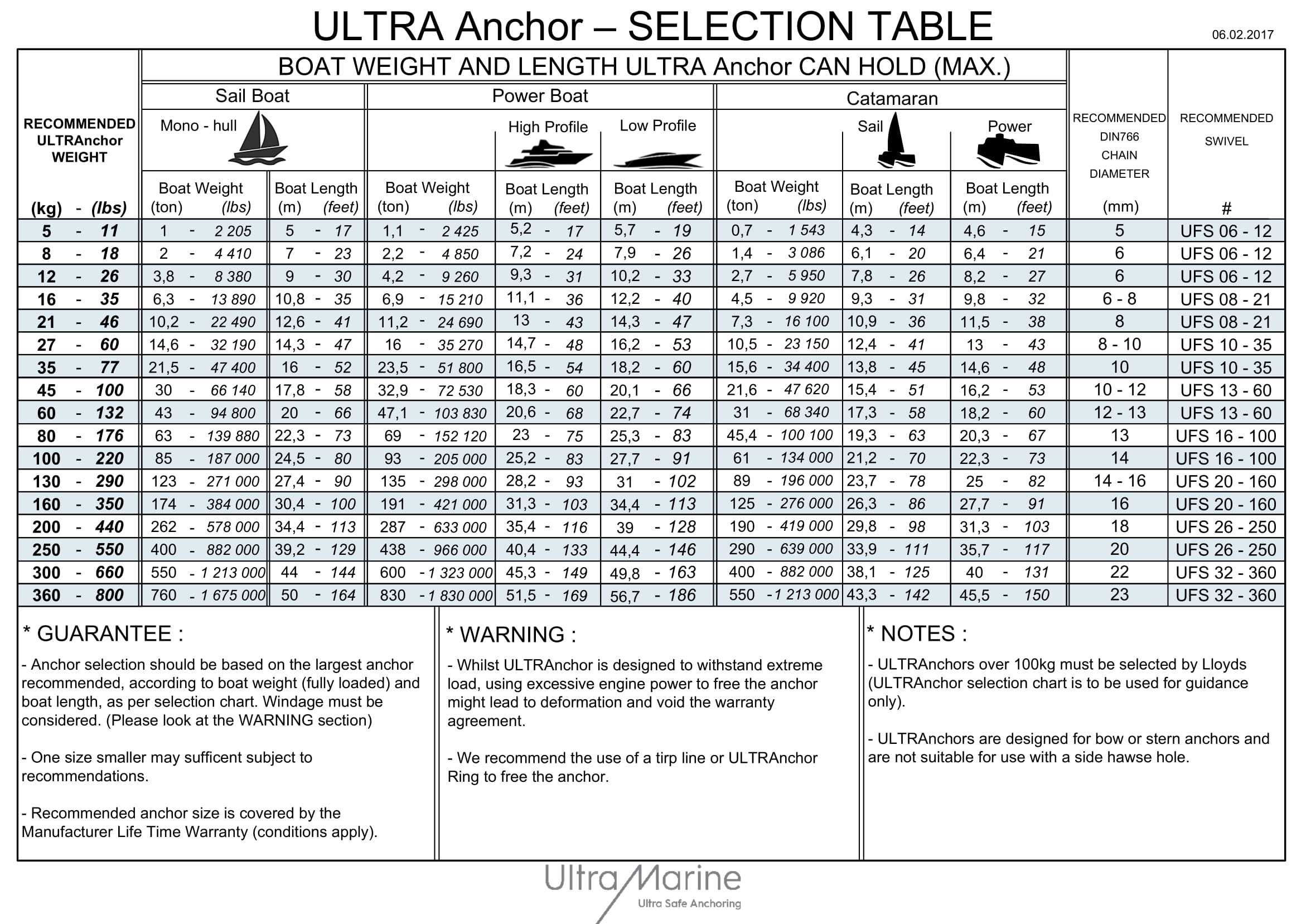 Ultra Anchor Pricing 2021
Ultra Anchor / 316 L Price List
ABS Type Approved
Model Number
Weight
Price
UA5/11
11 lbs. (5 kg)
$749
UA8/18
18 lbs. (8 kg)
$949
UA12/26
26 lbs. (12 kg)
$1,299
UA16/35
35 lbs. (16 kg)
$1,649
UA21/46
46 lbs. (21 kg)
$1,999
UA27/60
60 lbs. (27 kg)
$2,399
UA35/77
77 lbs. (35 kg)
$3,049
UA45/100
100 lbs. (45 kg)
$3,799
UA60/132
132 lbs. (60 kg)
$5,399
UA80/176
176 lbs. (80 kg)
$7,049
UA100/220
220 lbs. (100 kg)
$9,049
UA130/290
290 lbs. (130 kg)
$11,649
UA160/350
350 lbs. (160 kg)
$14,199
UA200/440
440 lbs. (200 kg)
$18,399
Ultra Swivel Pricing 2021
Ultra Flip Swivel / 316 L Price List

Model Number

For Chain Size

Price

UFS6-12
3/16″
$329
UFS8-21
3/16″ – 5/16″
$379
UFS10-35
5/16″ – 3/8″
$429
UFS13-60
3/8″ – 1/2″
$599
UFS16-100
1/2″ – 5/8″
$949
UFS20-160
5/8″ – 3/4″
$1,429
UFS26-250
3/4″ – 1″
$2,789
Any question on Ultra anchors or anchoring in general, just let us know!

Citimarine Store
3300 NW 112th Ave, #4
Doral, FL 33172
1-(800)-766-5256
–
Related: Yachting Monthly – "Tested: the new style Ultra Anchor"
are ultra anchors good,ultra anchor prices,ultra anchor pricing,ultra anchor review,ultra anchor reviews,ultra anchor swivel reviews,ultra marine anchor reviews