Raymarine Dragonfly 5M Chartplotter – Compact, Powerful
*Note: The Raymarine Dragonfly has been discontinued. For all the newest Raymarine MFDs and chartplotter / fishfinder combo units, see here: Raymarine MFDs
Raymarine's Dragonfly line of GPS / Charplotters / Sonars are affordable, yet powerful, navigational and fishing electronics.
If you are looking for a top quality marine GPS that won't cost you an arm and a leg, the Dragonfly 5M Chartplotter is the way to go.
Dragonfly 5M Chartplotter, your Navigational Sidekick on the Waters
The dragonfly 5M chartplotter brings maps to life with crystal clear, easy-to-view, non-fogging visibility, thanks to it's optically-bonded, LED-backlit display.
With a simple yet logical interface, you will become an expert in it's use in just a matter of minutes. The Dragonfly 5M's lighting-fast processor, and 72-Channel fast acquisition GPS sensor makes zooming, panning and exploring maps easy and enjoyable… no waiting, no lags in loading.
A tilt and swivel mount allows easy mounting, removal and positioning of the GPS.
Two Dragonfly 5M Models, based on Mapping System: Navionics+ or C-Map Essentials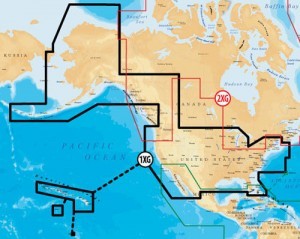 Raymarine's Dragonfly 5M comes in two models, one equipped with Navionics+ Gold North America Charts, and the other with C-Map US Essentials Charts. (*other mapping packages can be purchased separately, with different areas and more in depth coverage).
North America Navionics+ Gold
The Navionics+ Gold chat bundle comes with detailed US coastal information, as well as Hawaii, Alaska, Bahamas, and Canada. More than 18,000 inland lakes, including Canadian lakes, are covered as well.
Features include clear, detailed info available from the best nautical charts, as well as info on tides, currents, port plans, marine services, depth contour, marsh areas, and more.
C-MAP Essentials – US Lakes & Coast
The US Lakes & Coast C-map chart bundle covers over 12,900 lakes, and includes coastal navigation, with important points such as chart objects, marinas with contact info, as well as soundings and contours out to 60 feet. Tide icons show tides with full predictability. Perfect for lake boaters. Upgrade options available for more coastal data.
======
Thanks to our excellent relationship with Raymarine, we can get you both Dragonfly 5M models at lowest prices possible.
If you'd like some assistance as to which mapping system to select, don't hesitate to call us at 1-800-766-5256 or shoot us an email to sales@citimarine.com. We're happy to help
Other Dragonfly Models, The 5DVS and the 5PRO
Raymarine also has two other Dragonfly 5 models, the 5DVS and the 5PRO.
The Dragonfly 5DVS does not have GPS / chartplotter capabilities, but is a powerful sonar / fishfinder which utilizes CHIRP sonar and DownVision™ to help you in your underwater hunting.
The Dragonfly 5PRO combines both… it has all of the GPS / chartplotter capabilities of the 5M, along with the fishfinder functions and technology of the 5DVS. It is just over $100 more than the 5M model, and comes in both C-map and Navionics versions as well.
We have the 5DVS and 5PRO models as well. Just click on their links above.
Any questions on Raymarine's navigational and fishing electronics, including the Dragonfly line, feel free to contact us here at Citimarine Store!
Have a good one!
Citimarinestore.com
sales@citimarine.com
1 (800) 766-5256
–
Related:
dragonfly 5M,dragonfly 5m chartplotter,dragonfly 5m review,raymarine chartplotters,raymarine dragonfly 5M,raymarine mfd