ICOM Marine Radios: Top 5 Handheld VHF Radios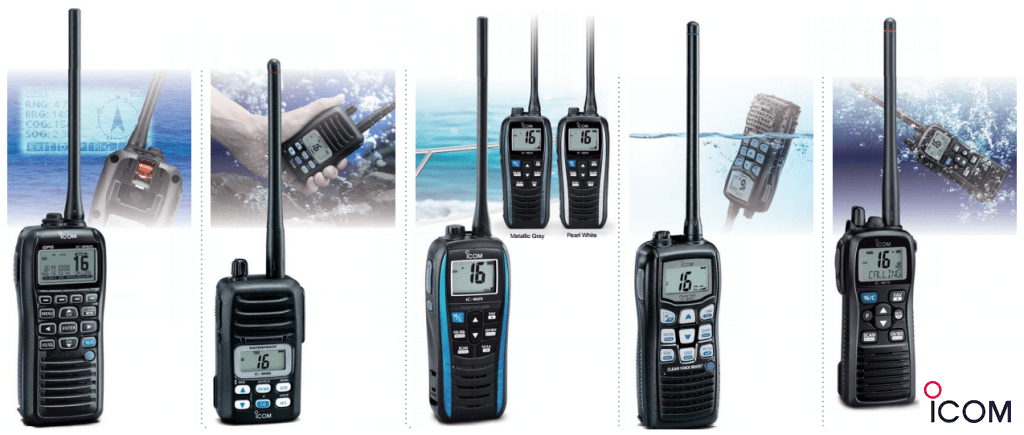 For well over half a century, ICOM is a name that has been associated with high-quality, advanced, compact solid-state radio equipment for use in the amateur, commercial, and marine radio industry. For more top marine electronics, see here!
ICOM Marine Radios are the number one choice for HAM radio operators, and there is a reason why people choose ICOM throughout their lifetime when it comes to their communication needs. Superior Japanese manufacturing creates durability, cutting-edge technology and ease-of-use. ICOM's marine radios have been known to operate for decades at a time, even with heavy use.
Some of the most popular ICOM products are their handheld VHF Radios. These 5 handheld VHF radios top the list of not only the best ICOM handheld marine radios, but the best handheld VHF marine radios available of all brands:
ICOM M36 Floating Handheld VHF Radio (IC M36) – Affordable, And All Around Reliable Handheld Marine Radio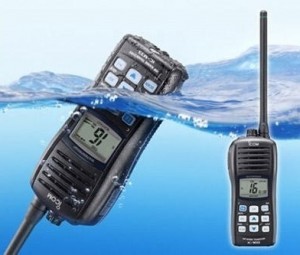 The ICOM M36 is a SMART, submersible, waterproof, compact handheld VHF radio.
It automatically adjusts the outgoing and incoming audio to compensate for surrounding noise levels, and allows you an instant boost in loudness by pressing the LOUD button… providing excellent sound (700mW audio output), even at full throttle, in rough weather, high winds or with luffing sails. Noise canceling microphone helps reduce any noise interference on your end as well.
The 6W RF ICOM M36 provides great reception/range and transmission, providing an exceptionally strong signal strength for a handheld marine radio.
Battery life is said to be 8 hours, but we've heard feedback from customers who've left it on for 40+ hours monitoring channel 16, without even losing a single bar of power. And the good news is, the ICOM M36 retains all of it's settings, even after powering off and back on.
And you don't have to worry about it falling in the water, because it floats, and is waterproof (IPX7) in up to 3 feet of water for up to 30 minutes. Washing off the handheld VHF will not cause any issues, not even cosmetic.
Large, backlit display and easy-to-use keypad make the ICOM M36 ideal for use, even in the roughest conditions.
ICOM M73 Submersible Handheld VHF Radio (IC M73) – Next Step In Marine Radios… Even More Waterproof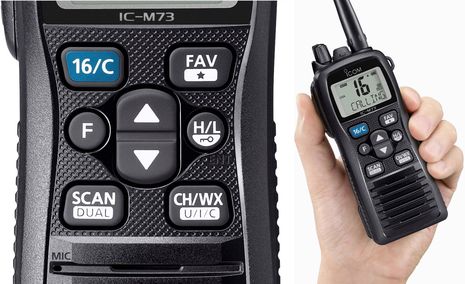 The next level of ICOM VHF Handheld Marine Radios is the ICOM M73. The M73 is not only used for commercial purposes such as tugboats and push boats, but is a favorite among windsurfers, canoers, kayakers and other water sports enthusiasts.
The ICOM M73 has a stylish, ergonomic, but rugged design, and can survive after being submersed in 4.9 ft. of water for up to 30 minutes or more (IPX8). It uses a bridge-tied load amplifier to double the audio output, delivering 700 mW of clear sound.
Bass-boost option delivers a richer, deeper sound, and the last call voice recording function saves the last incoming call for 1 minute. Rapid desktop charger, BC-210, and cigarette lighter cable, CP-25H, are supplied when you purchase the ICOM M73.
The ICOM M73 is known for handling years of punishment, even in the coldest, most hostile environments. A quick freshwater cleaning after use is all it needs, and then back to it's charger.
The battery has been said to run for days on end, and with 6 watts available it has good range, especially in the marine environment. Hearing a "loud and clear" radio check from boats as far as 12 miles away has been reported.
Icom M88 (IC-M88) Submersible Handheld VHF Radio – Pocket-Size and Land Mobile Channel Programmable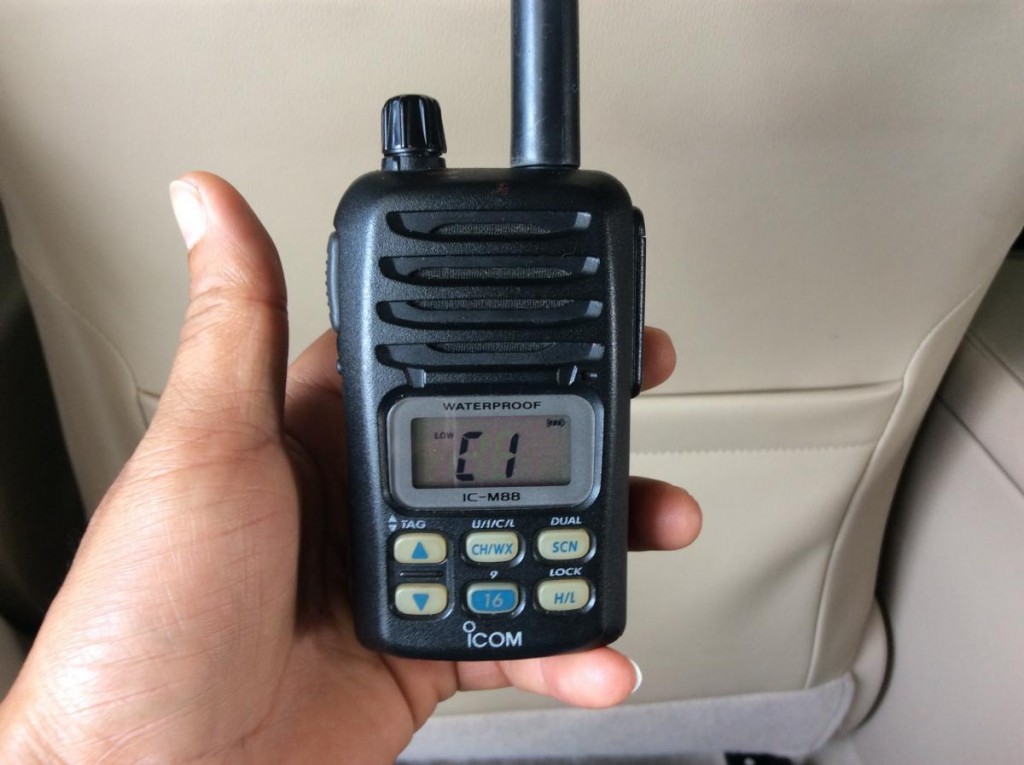 Land-mobile channel programmable, with clarity and a battery that lasts forever, the ICOM M88 handheld VHF Radio is a favorite marine radio for commercial purpose, but also popular for recreational purposes due to it's compact design.
While fitting easily into your hand or shirt pocket, the M88 features an additional 22 programmable channels specifically reserved for Land Mobile operation. This means the M88 is not only a marine radio and emergency weather radio, but also a portable handheld land mobile radio (LMR) – all in one handy, rugged device.
If you're a land-locked mariner who needs a two way radio or you've been looking at both land mobile radios and marine radios, but don't want to carry two transceivers (and at double the price), the ICOM M88 gives you the best of both worlds, and some.
ICOM M25 & M92D- Improved Tracking of Overboard Radio and Increased Safety/Location Features
One of the chief complaints users had of ICOM radios was that when overboard, it was hard to locate the radio, due to it's dark color.
The ICOM M25's Float'n Flash feature takes care of this (first debuted on ICOM's M24).
Once the radio hits the water (even if the power is off!), the red flashing LED light and LCD/key backlight make it easy to find the radio, day or night.
With it's large LCD screen, and slim, lightweight design (and friendly-price), this ICOM marine radio is a great buy. It also has the ability to be charged via Micro-B USB.
The IC-M92D brings with it all of the great audio and range of other ICOM radios, but also has several safety / locating features, including GPS, DSC, and man overboard (MOB) functions.
The built-in high sensitivity GPS shows your current location and can be used for DSC calls. The compass function shows the direction you are going and the navigation function shows the direction and distance to a waypoint.
The Man Overboard function marks your current location, and the DSC function includes distress, individual, group, all ships, urgency, safety and DSC test calls.
The ICOM M92D is a little larger than the other radios, but is the complete package when it comes to a marine radio. It has noise cancelling, and the AquaQuake function that comes with all of the above mentioned radios (except for the M88):
While you can get marine radios for half the price of ICOM's radios, you get what you pay for… and when it comes to something as important as communication on the open waters, this is not something you want to skimp on.
Any questions on ICOM radios? Contact us or chat with us below. Or check out more of our marine electronics, here!
Have a good one!
CitimarineStore.com
info@citimarine.com
1 (800) 766-5256
–
Product Brochures and Instruction Manuals For The Top 5 ICOM / Best Handheld VHF Marine Radios:
M36 (IC-M36)
M73 (IC-M73)
M88 (IC-M88)
M25 (IC-M25)
M92D (IC-M92D)
best handheld vhf marine radio,handheld VHF radios,ICOM M25,ICOM M36,ICOM M92D,ICOM marine radio handheld,icom marine radios