Caribe Inflatables – Real Owner Reviews, Advice & Models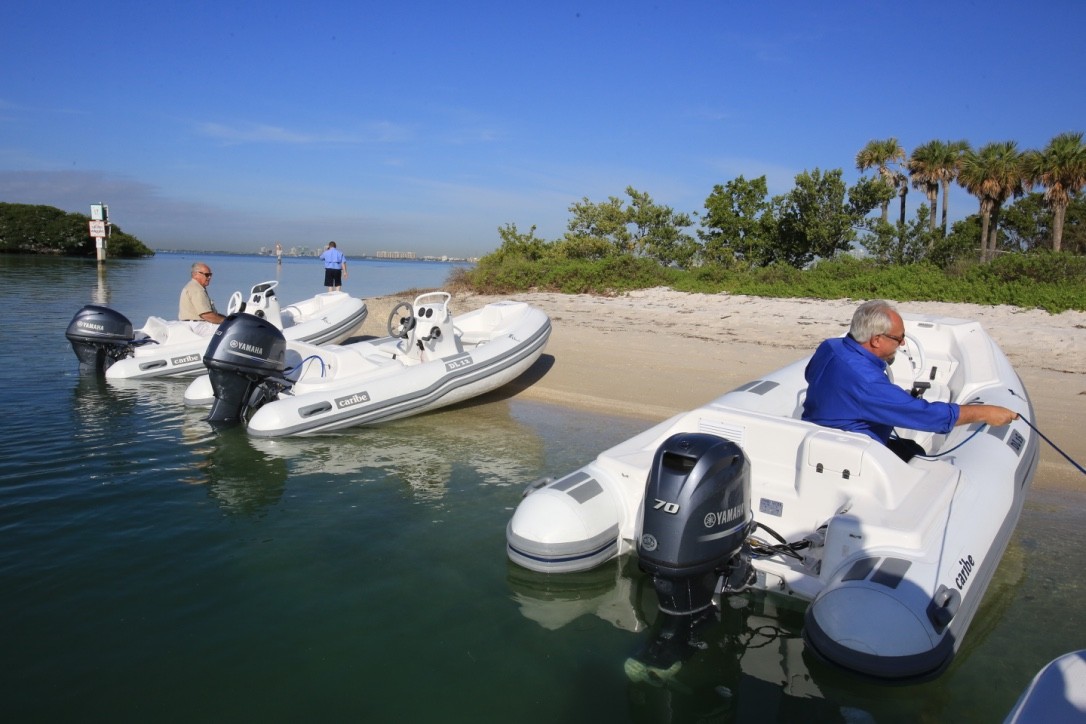 Note: if looking to purchase Caribe dinghies, see here: Caribe Dinghy / RIB / Inflatables for Sale Miami
When your main vessel has reached its limits while cruising, its your dinghy, also known as an inflatable or RIB, that comes to the rescue.
Whether trying to reach more shallow fishing areas, visit an island or enter a restrictive port, you can jump in the dinghy and get there in a sec.
And no one understands this better than Caribe, who've created a fleet of inflatable dinghies for this exact purpose. With more than 20 years experience manufacturing dinghies, Caribe Inflatables will be there for you in situations when a smaller vessel is necessary.
Caribe RIBS give you the hull strength of a conventional craft with the exceptional stability of an inflatable boat.
Other uses for dinghies include recreational sports, such as skiing, diving and spearfishing.
Caribe Dinghy Reviews from Cruisers Forum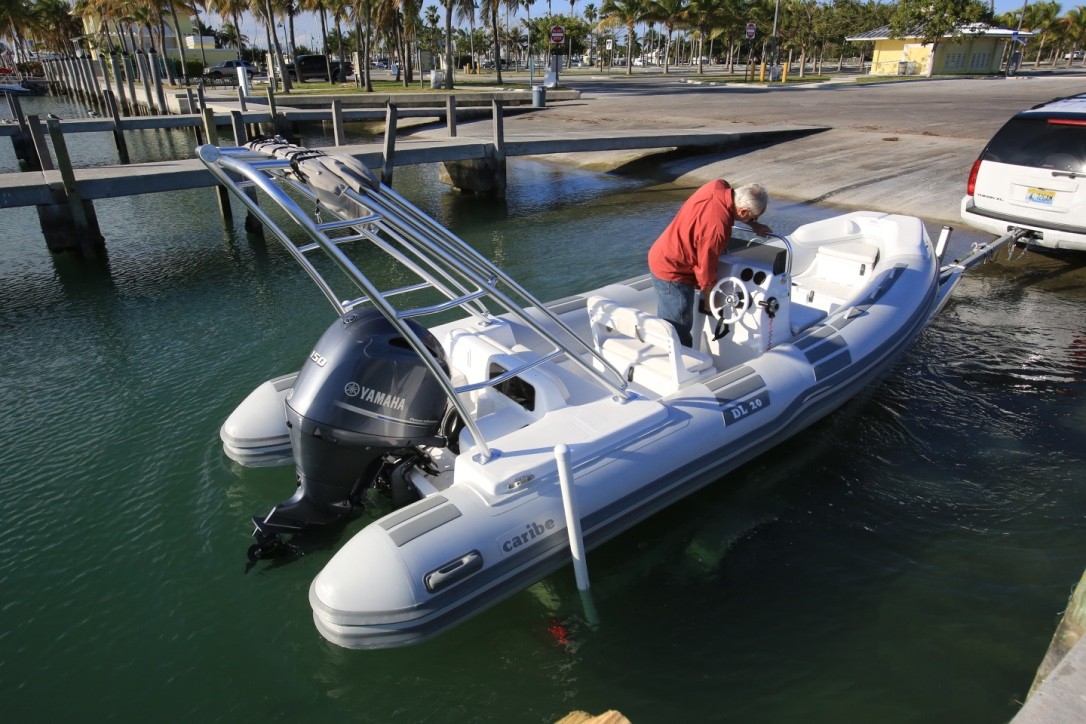 If you are a frequent boater, then you have probably seen the Caribe brand. Look no further than boating forums for feedback from real boaters. For instance, on www.cruisersforum.com, the following members have provided feedback on their Caribe dinghies:
Dreaming Yachtsman (484 posts)
"Caribe must do something right because a very high percentage of dinghies I see while cruising around the USVI are Caribe. That is probably not just coincidence."
endoftheroad (1,157 posts)
"I use it (Caribe Dinghy) everyday with 2 passengers.
It is a 1994 model, 20 years of greatness.
I'm running a 25hp Johnson on it. I love these dinks."
AnchorageGuy (4,616 posts)
"We did own a Caribe for many years and used and abused it all over the Caribbean and US coasts. It is still out there giving its new owner as great a service as it gave us."
annk (231 posts)
"Our Caribe is now 12 years old, 10 feet with a plastic bottom. It's given terrific service with 8 years in the Tropics and hard use most days…
…The tubes are meaty and give tremendous stability and load carrying capability. We have occasionally been caught out in some nasty conditions getting back to the big boat and every time we have felt great security in the integrity of the dinghy.
I would highly recommend this craft and certainly would buy the same again myself."
Sapient Sue (131 posts)
"I highly recommend the Caribe dinghy. We purchased our hypalon Caribe dinghy 8 years ago and it has served us from Aus to Alaska and back through the milk run across the Pacific. It is still in very good condition and gets lots of tough wear as we are divers and live aboards so gets lots of use. So whether in the tropics or cooler climes the dinghy has proved its worth. I love the large pontoons which give a very dry ride (a much better ride than our previous Zodiac). So a little more money up front will serve you well in the long run."
Caribe Dinghies Reviewed on The Hull Truth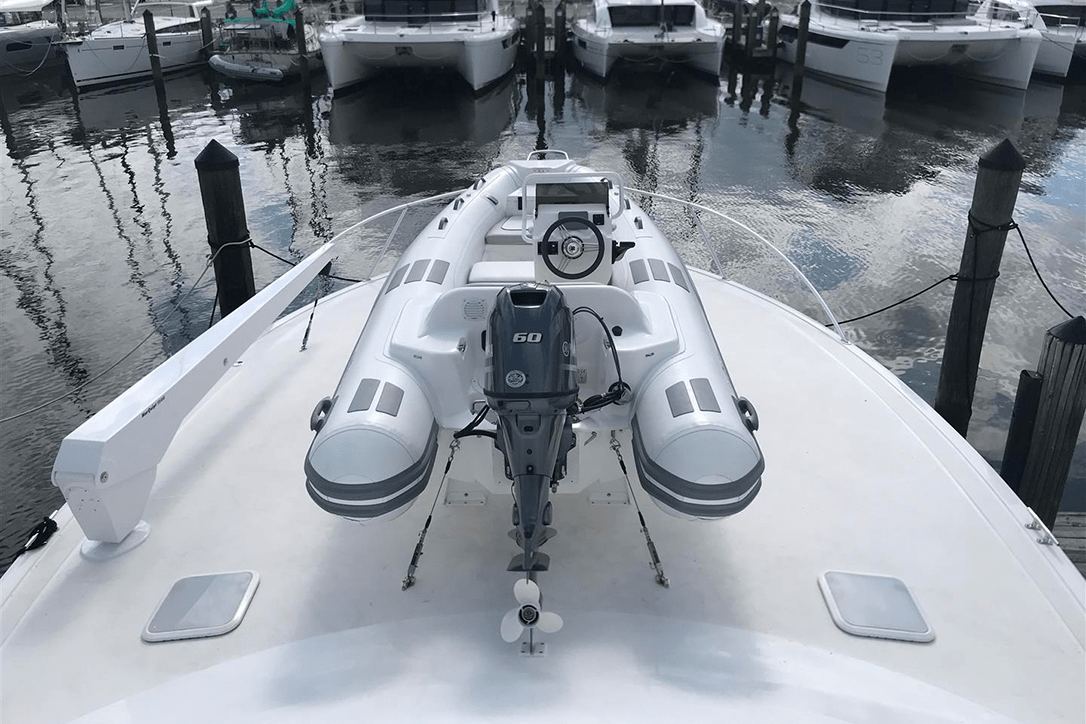 Another forum for avid boaters, the ever popular Hull Truth, had the feedback on Caribe inflatables below from the following users:
c_mccann (3,509 posts)
"Very popular, excellent quality. Heavy, but in a good- robust built kind of way."
Absolute (3,687 posts)
"X2"
("times 2", in reference to c_mccann's post above).
freedbaby (4,888 posts)
"I dont own one but I play with a neighbors all the time. They are great, ride great and are very durable. If you can, get the one with the storage hatch up in the bow and the bench in the rear. Its much more comfortable…not to mention the added weight which makes it ride better."
Colecaz (1,070 posts)
"Had one as a tender for my Krogen. Great boat and good company support. It was Caribe or Novurania and liked Caribe layout better. Get it."
PPLEPEU (694 posts)
"My brother bought a mid-2000's 19-foot Caribe and has been very happy with it. His is definitely built well. This is his 10th RIB, so he knows what he's looking for…"
Caribe Inflatables – Solid, Smooth, Unsinkable and with Better Functionality!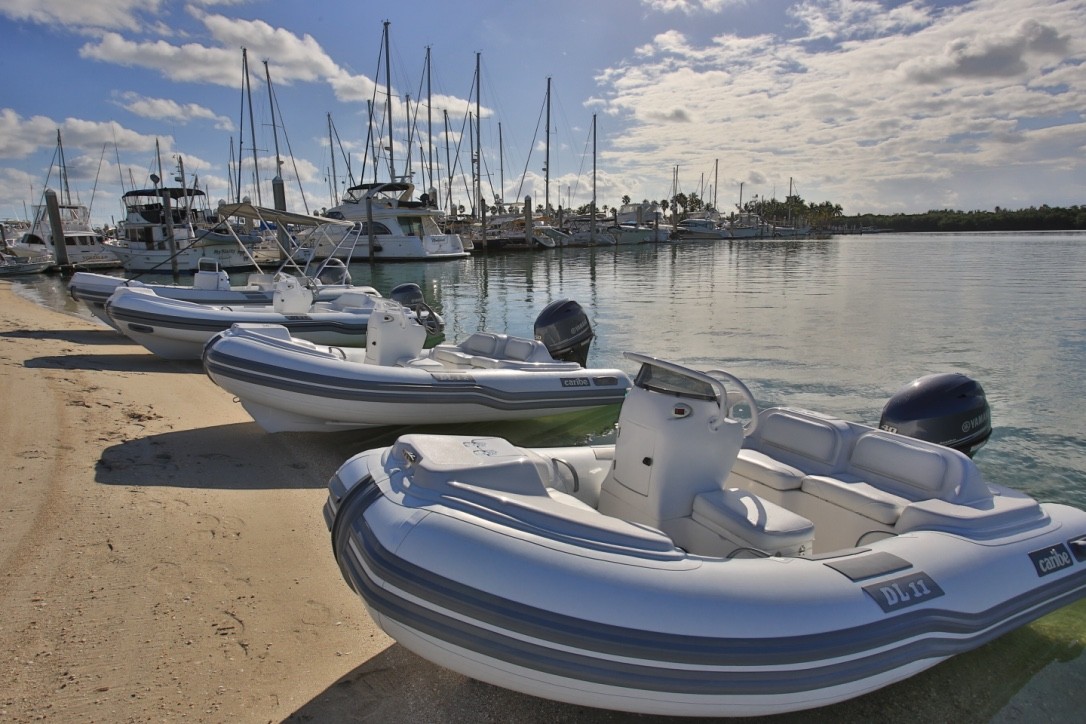 The weight of Caribe Dinghies is often mentioned, but in a positive manner.
This weight makes Caribe tenders much more stable, solid and durable, even when out in inclement weather conditions. This is also lends to their smooth ride.
Also in relation to their design, they are constructed in a way where even if the tubes are deflated, the hull will still float! In another post on Cruiser Forum, the user Inthewind told the following unfortunate account, which showcased the strength and safety of the construction on the Caribe Dinghy:
Three years ago I had a Caribe dinghy that was stolen a day after I got back from the Keys. They stole my Yamaha 15 hp and fuel tank and any other stuff I had in it. It was found not too far from my house in a mangrove area. They put long slits in it with a knife thinking it would sink, but did not, it was still floating on the surface and I towed it home. If the plug was pulled allowing water to completely fill the hull then I believe it might sink. I was so mad that they just didn't just take my motor and leave my $3500 dinghy intact.
And as is important with any dinghy, functionality above everything else. Should you have yours outfitted with an outboard, and that outboard fails you for whatever reason, see what user endoftheroad had to say about it's oars / rowing:
Sometimes I consider other RIB's to a Caribe but when I see their rowing system I can't do it. I mean, there is a 10′ Apex inflatable on ebay, I love Apex but we live aboard full time (usually), but check out those oars. An inflatable with a good rowing system is often very beneficial when rowing a craft notorious for poor rowing. Caribe has great telescopic oars.
Be Careful When Buying A Secondhand Dinghy, Caribe or Otherwise
Caribe inflatables, just like any other good dinghy, could take a beating and keep on working fine, but there are limits to everything.
A previous user may have overloaded the dinghy with excessive weight for long periods of time, or misused of the dinghy in another form or fashion, leading to leaks or cracks in the hull.
If purchasing a pre-used dinghy, make sure to thoroughly inspect it for leaks or other signs of previous misuse… you may save yourself some money, but buy yourself a much bigger headache.
Different Inflatable Caribe Dinghy Models and Their Benefits
The basic Caribe model is the C model, made of Hypalon/Neoprene 1100 Decitex (the inflatable) and with a fiberglass hull.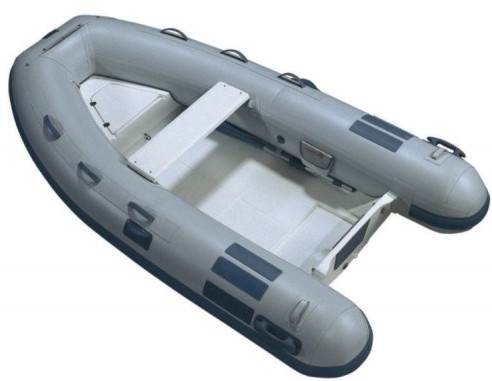 The C line ranges in length from 8 to 14 feet, and can fit from 4 to 8 passengers.
The C models come packed with the following features:
2 Paddles
Heavy Duty Rub Strake
2 Ski/Towing Rings
Towing Ring

Dock Line

Holder
Non-skid Deck
3 Loop Handles
3 Cleat Handles (rubber)
Recessed Oar Storage
Fiberglass Oar Lock Base
Telescopic Oars
Blade Rest
Document Pocket
Anti-Chafing Guards
Motor Bracket w/ Tie-down
4 Lifting Rings
Plastic Motor Pad
Inspection Valve
Drain Valve
Inflator
Repair Kit
The CX models come with a bow locker in the front. Solid dinghies… equip them with a Yamaha outboard with tiller handle, and you're in business. The C14 can handle up to a 40HP Yamaha and a max load of 2,667 lbs.
Next step up is the DL or Deluxe line – the complete tender. The DL line comes with a built in console, fuel tank, water tank, navigation lights, bow locker, shower and much more.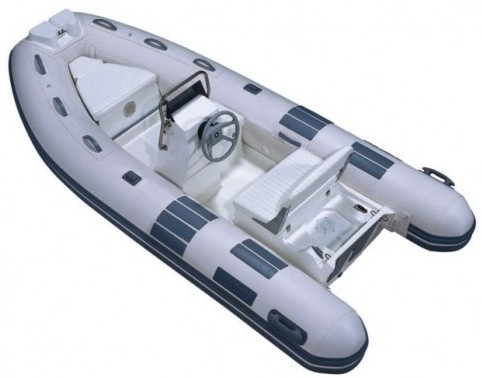 The DL Line ranges from 11 to 25 feet, and can fit anywhere from 4 to 12 passengers (a max load of 3588 lbs.). You can equip the DL25 with a 250 HP outboard.
A few other Caribe models exist with all the bells and whistles, and but these are the more popular models.
Where To Buy Caribe Inflatables – Caribe Dinghies for Sale
After doing our homework, we've decided to add Caribe dinghies to our marine store. We just recently added the entire C and DL line here: Caribe Dinghies For Sale
We included as much information on the different models as possible, including images, layout, specifications, features, as well as provide the lowest price possible. We have added applicable Yamaha outboard engines for each model as well, should you be interested (also with the lowest prices available online).
All the Caribe dinghies come with a one (1) year warranty, and all the Yamaha outboard engines come with a three (3) year warranty.
These are heavier products than most of our other items, so if interested in ordering, please contact us or chat with us below for special freight shipping rates.
For our complete inventory of dinghies, see here: Dinghies for Sale in Miami
And should you have any questions, just let us know!
Have a good one!
CitimarineStore.com
3300 NW 112th Ave,
Doral (Miami-Dade), FL 33172
(800) 766-5256
info@citimarine.com
caribe dinghies,caribe dinghy,caribe dinghy feedback,caribe dinghy reviews,caribe inflatables