SEABOB F5 SR Water Sled
13.7 MPH

Fastest Seabob Model

2 Camera System

Integrated; WiFi Streaming

Valuable Chrome Package

Comes Standard
ALL NEW Seabob F5
SR

- Top of The Line Seabob Model, Fastest Available

The Seabob F5 SR is the top of the line Seabob model reaching speeds of 13.7 mph over water, 12.6 mph underwater. A new 7th gear feature takes you into higher levels of performance never before seen in a water sled. Porsche engineering. Added tail fins on the F5 SR improve manoeuvrability. Bigger battery capacity allows operation for one hour & 10 minutes. 2 camera system comes standard, and allows you to record and share your experience via WiFi. The Valuable Chrome Package comes standard, but any custom color can be selected (up to a $820 dollar value, free!). *Free US Shipping!!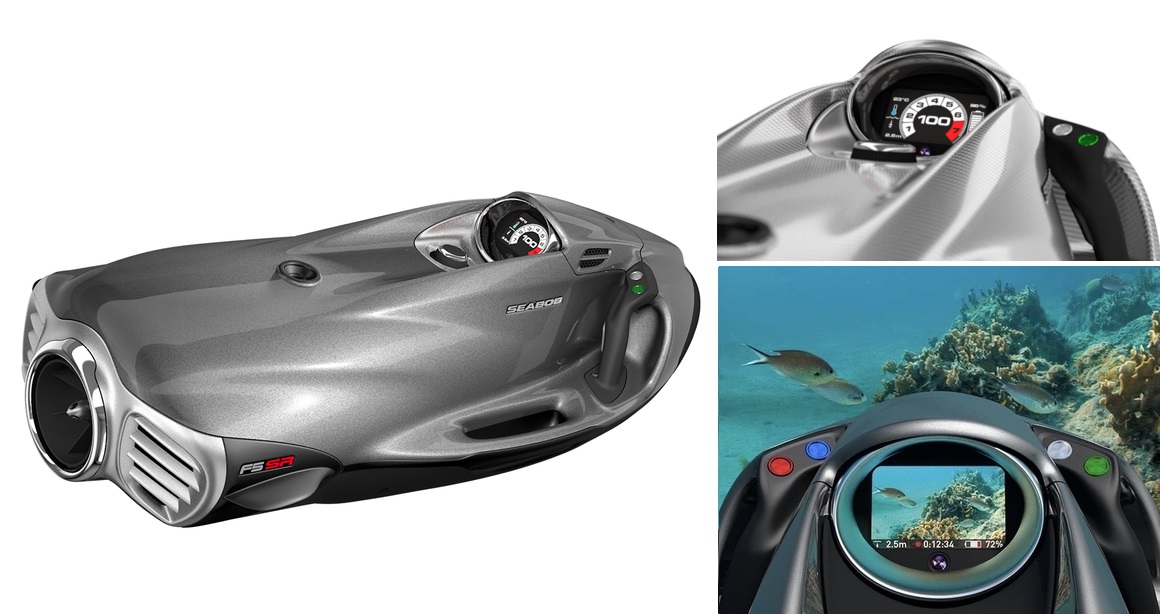 Specifications of The Seabob F5
SR

: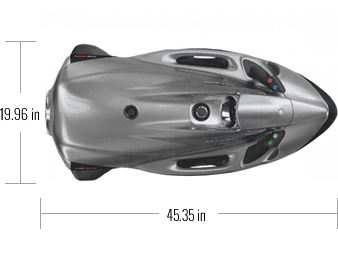 Performance

Up to 4.5 kW / 6.0 hp
Maximum

Thrust Up to 745 N
Speed Over Water

Up to 13.7 mph
Speed Under Water

Up to 12.4 mph
Speed Control

7 power levels between 0 % and 100 % via piezo buttons
Energy

High-Energy Lithium-Manganese accumulators
Total Capacity

Approximately 1.8 kWh; 48 V; 38 Ah
Operating Time Average

70 min
Charging Time (Standard Charging)

Approximately 8 hours
Charging Time (Quick Charging)

Approximately 1.5 hours
Diving Depth

131 feet
Dimensions (L x W x H)

45.35" x 21.37" x 14.65"
Weight

Approximately 77.16 lbs
Buoyancy in Water

Approximately 20 lbs
If you're looking for the ultimate aquatic exploring pleasure, just head to the water with your Seabob F5 SR. Experience vast open waters and pure freedom, without boundaries, without limits.
Speed of your Seabob is regulated Via the Controlgrip, providing an enourmous thrust and power to the Seabob.
The Seabob F5 SR's hydrodynamic shape provides for an amazing degree of agility in the water. Steering and diving are a breeze – all that is required is a shift in your bodyweight.
Cayago and the Porsche Engineering team have come together to produce the ultimate water sled.


Features of the Seabob F5
SR
Higher Power / Performance Raise

The power of jet engine has been increased to 4.5 kW which equals 6 HP. Th

rust output has been increased from 680 N to a staggering 745 N. Added 7th gear option.
Improved Maneuverability / Hydrodynamics

The two tail fins on the Seabob F5 SR make for such a strong improvement when driving underwater. These sporty additions further increase manoeuvrability.
Control at Your Fingertips

Controlgrip controls drive, speed, and can shut the motor off instantly.
Dive Deep

Hook up your scuba gear and explore depths as low 100+ feet!
Longer Battery Charge

The Seabob F5 SR has upgraded its battery capacity by 17%, allowing you to use it for 1 hour 10 minutes; visible battery charge display included
Cameras Capture Your Experience

Integrated 2 Cam system comes standard, and allows you to record and share your experience with the Seabob F5 SR.
Valuable Chrome Package Comes Standard

The Chrome Package makes a unique statement. Display and tail in a matt-chrome design; tail ring chromium plated
Quick Information

Cockpit displays vital information such as battery charge, depth and water temperature.
Environmentally Friendly & Economic

Water displacement form of propulsion; no need for fuel.
Confidence

2 Year Warranty, 24/7 Live support
More information on the Seabob F5
SR
Warranty and Liability On Your Seabob F5
SR
If the item delivered is defective or lacks the warranted characteristics, or if it becomes faulty as a result of manufacturing or material defects within the warranty period, then the Vendor shall at his option provide a replacement or carry out repairs. All other war­ranty claims are excluded.
The Seabob warranty period is 2 years beginning with the date of transfer.
The Purchaser is to inspect the delivered item carefully at the time of delivery or imme­diately thereafter. Obvious defects must be reported to the Vendor in writing immediately, at the latest 1 week after transfer. The defective item must be kept available for exami­nation by the Vendor in the state in which it was at the time the defect was detected. Violation of the obligations listed above voids any warranty claims against the Vendor.
Costs incurred in connection with warranty work for transportation of the purchased object to and from the site shall be borne by the Purchaser. The Operation Manual, ge­neral information and safety information provided are components of the sales contract. Repair work or delivery of a replacement does not extend or renew the warranty period.
If the repair work or delivery of a replacement is not successful after a reasonable period of time, then the Purchaser can claim damages instead of performance, or demand a reduction in the purchase price.
Claims for damages from impossibility of performance due to non-performance, from active violation of the contract, culpa in contrahendo, and from unauthorised action, in­sofar as they are not attributable to wilful or gross negligence, are excluded, both against the Vendor and against third parties employed by him to fulfil his contractual obligations and his vicarious agents. No liability will be accepted for consequential damage.
If the Vendor has further claims against the manufacturing plants or other suppliers other than those possessed by the Purchaser against the Vendor, then the Purchaser has the right to demand assignment of such claims by the Vendor, and is only entitled to resort to his contractual and statutory claims against the Vendor if the assertion of the assigned claims has failed conclusively.
The Vendor shall have no warranty obligation if the defect results from the following: natural wear, damage due to improper handling, also including storage, not caused by the Vendor, his legal representative or a third party employed by the Vendor to fulfil his contractual obligation, an exceptional form of use which is contrary to the normal use of the item being sold, and which has not been approved by the Vendor on a case-by-case basis, repair, maintenance and care at a facility not authorised by the Vendor to carry out support, installation of parts whose use has not been approved by the Vendor, modifications to the item being sold in a manner not authorised by the Vendor, failure to observe regulations and operation manuals concerning the operation, main­tenance and care of the item being sold.