SEABOB F5 Water Sled
9.3 MPH

Speed

3.3 HP

Max. Power

131 FT. MAX DEPTH

Dive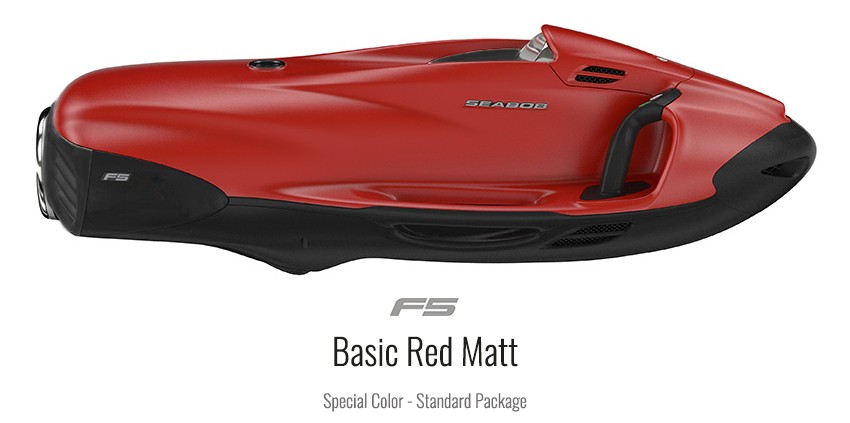 NEW Seabob For Sale - Seabob F5, The World's Fastest Water Sled
With the Seabob, you will experience pure freedom while reaching speeds of 9.3 miles per hour over water and 8.1 miles per hour underwater. Porsche engineering. Steering & diving only require a shift in body weight. Operates 60 minutes. 1.5 hr charge time w/ quick charger, 8 hrs regular charger. *2 Year Warranty + Free US Shipping!!

Seabob Specifications:
Performance

Up to 2.5 kW / 3.4 hp
Maximum

Thrust Up to 480 N
Speed Over Water

Up to 9.32 mph
Speed Under Water

Up to 8.07 mph
Speed Control

4 power levels between 0 % and 100 % via piezo buttons
Energy

High-Energy Lithium-Manganese accumulators
Total Capacity

Approximately 1.1 kWh; 48 V; 23 Ah
Operating Time Average

60 min
Charging Time (Standard Charging)

Approximately 8 hours
Charging Time (Quick Charging)

Approximately 1.5 hours
Diving Depth

131 feet
Dimensions (L x W x H)

45.35" x 19.96" x 14.64"
Weight

Approximately 63.93 lbs
Buoyancy in Water

Approximately 30.86 lbs
If you're looking for the ultimate aquatic exploring pleasure, just head to the water with your Seabob F5. Experience vast open waters and pure freedom, without boundaries, without limits.
Speed of your Seabob is regulated Via the Controlgrip, providing an enourmous thrust and power to the Seabob.
The Seabob F5's hydrodynamic shape provides for an amazing degree of agility in the water. Steering and diving are a breeze – all that is required is a shift in your bodyweight.
Cayago and the Porsche Engineering team have come together to produce the ultimate water sled.


Financing Available on this Seabob!
Estimated monthly payment with 24 month financing.
*Based on credit approval.
More info
Pay over time with monthly payments.
APR, loan limit and payment periods available will be based on credit score
APRs available range from 0% to 17.99%, payment periods from 6 to 24 months and the max loan limit is $10,000
Select from different payment periods (e.g. 6 months, 12 months, 18 months, etc.)
Running the pre-approval process in order to determine what payment terms are available will not affect your credit score (soft pull)
Run Pre-Approval Here!
Features of the Seabob F5
Speed

Reach speeds up to 9.3 mph, glide along quickly and freely like a dolphin (or great white, depending on your preference). Fastest water sled on the market.
Maneuverability

Hydrodynamic shape and intelligent design provide optimal handling above and below the water.
Control at Your Fingertips

Controlgrip controls drive, speed, and can shut the motor off instantly.
Dive Deep

Hook up your scuba gear and explore depths as low 100+ feet!
Long Battery Charge

60 minutes of operating time, 1.5 hrs recharging time with Quick Charger.
Lightweight and Easy to Handle

Weighs approximately 60 lbs, and has handles for easy transportation to the water. Very light to handle considering the significatn power of the Seabob F5 motor.
Cool Color Options

Ixon Red, Light Yellow and Star White, as well as special color options.
Quick Information

Cockpit displays vital information such as battery charge, depth and water temperature.
Environmentally Friendly & Economic

Water displacement form of propulsion; no need for fuel.
Confidence

2 Year Warranty, 24/7 Live support
More information on the Seabob F5