SEABOB F5 SR Water Sled
13.7 MPH

Fastest Seabob Model

2 Camera System

Integrated; WiFi Streaming

Valuable Chrome Package

Comes Standard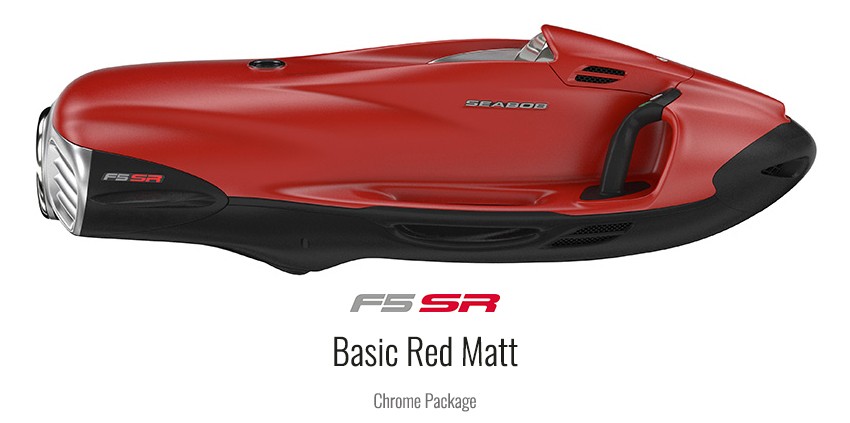 ALL NEW Seabob F5
SR

- Top of The Line Seabob Model, Fastest Available

The Seabob F5 SR is the top of the line Seabob model reaching speeds of 13.7 mph over water, 12.6 mph underwater. A new 7th gear feature takes you into higher levels of performance never before seen in a water sled. Porsche engineering. Added tail fins on the F5 SR improve manoeuvrability. Bigger battery capacity allows operation for one hour & 10 minutes. 2 camera system comes standard, and allows you to record and share your experience via WiFi. The Valuable Chrome Package comes standard, but any custom color can be selected (up to a $820 dollar value, free!). *2 Year Warranty + Free US Shipping!!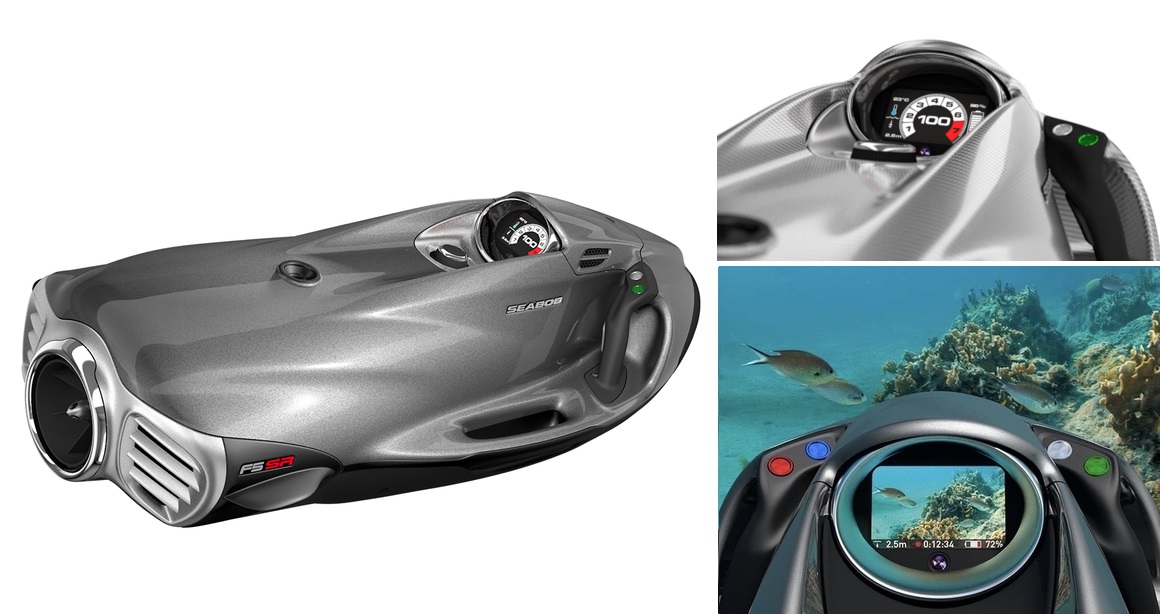 Specifications of The Seabob F5
SR

: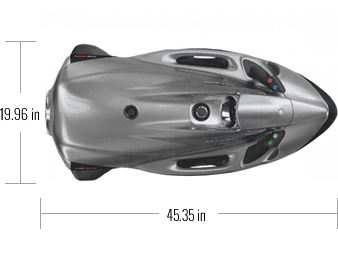 Performance

Up to 4.5 kW / 6.0 hp
Maximum

Thrust Up to 745 N
Speed Over Water

Up to 13.7 mph
Speed Under Water

Up to 12.4 mph
Speed Control

7 power levels between 0 % and 100 % via piezo buttons
Energy

High-Energy Lithium-Manganese accumulators
Total Capacity

Approximately 1.8 kWh; 48 V; 38 Ah
Operating Time Average

70 min
Charging Time (Standard Charging)

Approximately 8 hours
Charging Time (Quick Charging)

Approximately 1.5 hours
Diving Depth

131 feet
Dimensions (L x W x H)

45.35" x 21.37" x 14.65"
Weight

Approximately 77.16 lbs
Buoyancy in Water

Approximately 20 lbs
If you're looking for the ultimate aquatic exploring pleasure, just head to the water with your Seabob F5 SR. Experience vast open waters and pure freedom, without boundaries, without limits.
Speed of your Seabob is regulated Via the Controlgrip, providing an enourmous thrust and power to the Seabob.
The Seabob F5 SR's hydrodynamic shape provides for an amazing degree of agility in the water. Steering and diving are a breeze – all that is required is a shift in your bodyweight.
Cayago and the Porsche Engineering team have come together to produce the ultimate water sled for your yacht, megayacht or superyacht.


Financing Available on this Seabob!
Estimated monthly payment with 24 month financing.
*Based on credit approval.
More info
Pay over time with monthly payments.
APR, loan limit and payment periods available will be based on credit score
APRs available range from 0% to 17.99%, payment periods from 6 to 24 months and the max loan limit is $10,000
Select from different payment periods (e.g. 6 months, 12 months, 18 months, etc.)
Running the pre-approval process in order to determine what payment terms are available will not affect your credit score (soft pull)
Run Pre-Approval Here!
Features of the Seabob F5
SR
Higher Power / Performance Raise

The power of jet engine has been increased to 4.5 kW which equals 6 HP. Th

rust output has been increased from 680 N to a staggering 745 N. Added 7th gear option.
Improved Maneuverability / Hydrodynamics

The two tail fins on the Seabob F5 SR make for such a strong improvement when driving underwater. These sporty additions further increase manoeuvrability.
Control at Your Fingertips

Controlgrip controls drive, speed, and can shut the motor off instantly.
Dive Deep

Hook up your scuba gear and explore depths as low 100+ feet!
Longer Battery Charge

The Seabob F5 SR has upgraded its battery capacity by 17%, allowing you to use it for 1 hour 10 minutes; visible battery charge display included
Cameras Capture Your Experience

Integrated 2 Cam system comes standard, and allows you to record and share your experience with the Seabob F5 SR.
Valuable Chrome Package Comes Standard

The Chrome Package makes a unique statement. Display and tail in a matt-chrome design; tail ring chromium plated
Quick Information

Cockpit displays vital information such as battery charge, depth and water temperature.
Environmentally Friendly & Economic

Water displacement form of propulsion; no need for fuel.
Confidence

2 Year Warranty, 24/7 Live support
More information on the Seabob F5
SR