FREE U.S. SHIPPING ON ONLINE ORDERS!*
KoolAir Pumps There are 7 products.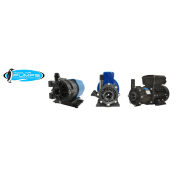 Koolair Pump's company has been in the Fluid Handling Equipment industry for over 40 years. KoolAir has seen and also contributed a lot to the evolution of pumps for a wide range of applications. KoolAir designed a marine AC coolant pump that can withstand thermal overload in the absence of a liquid flow. With a few design changes, some upgrades in materials, and testing, we created the KoolAir HVAC Cooling Pump.
e