Salty Dog Marine Deck Boxes – Best Boat Deck Box

No matter what you do on the water, there's always stuff to stow away. Salty dog boat deck boxes are the perfect storage companion for any boater.
They look great and eliminate having to lug stuff every time you go to the boat. And with the marine deck box's construction, you can ensure that everything stays dry. Frigibar Salty Dog marine deck boxes are a great choice, and are cheaper than many other inferior boxes.
Salty dogs are the perfect size for storing all of the "extras" that are generally strapped to the deck, but when you're at dock, you don't want cluttering up all your space.
Use Your Salty Dog Marine Deck Box To Store:
Inflatable dinghy
Outboard motors
Boat supplies
Kayak seats
Extra life jackets
Fill with ice, and use to store cold items such as fish, bait, food or beer!
Frigibar's marine deck boxes, including their Salty Dog models, are made of reinforced fiberglass that will stand up to all of the elements… extreme sunshine and heat, cold, hard rains.
Features of Frigibar's Marine Deck Boxes:
Thicker and made of more substantial material
Stylish
Rust-proof, attractive body and parts
Seamless lid closure
Domed top prevents sitting water
Internal holes make it self-draining
Louvered air vents
Safe – you can attach a padlock
Matches with Frigibar's marine freezers
Salty Dog marine deck boxes are an economic option. We have Frigibar's salty dog boxes starting as low as $590, here: Salty Dog Marine Deck Boxes…
Frigibar, Masters Of Marine Freezers / Refrigerators, and Deck Boxes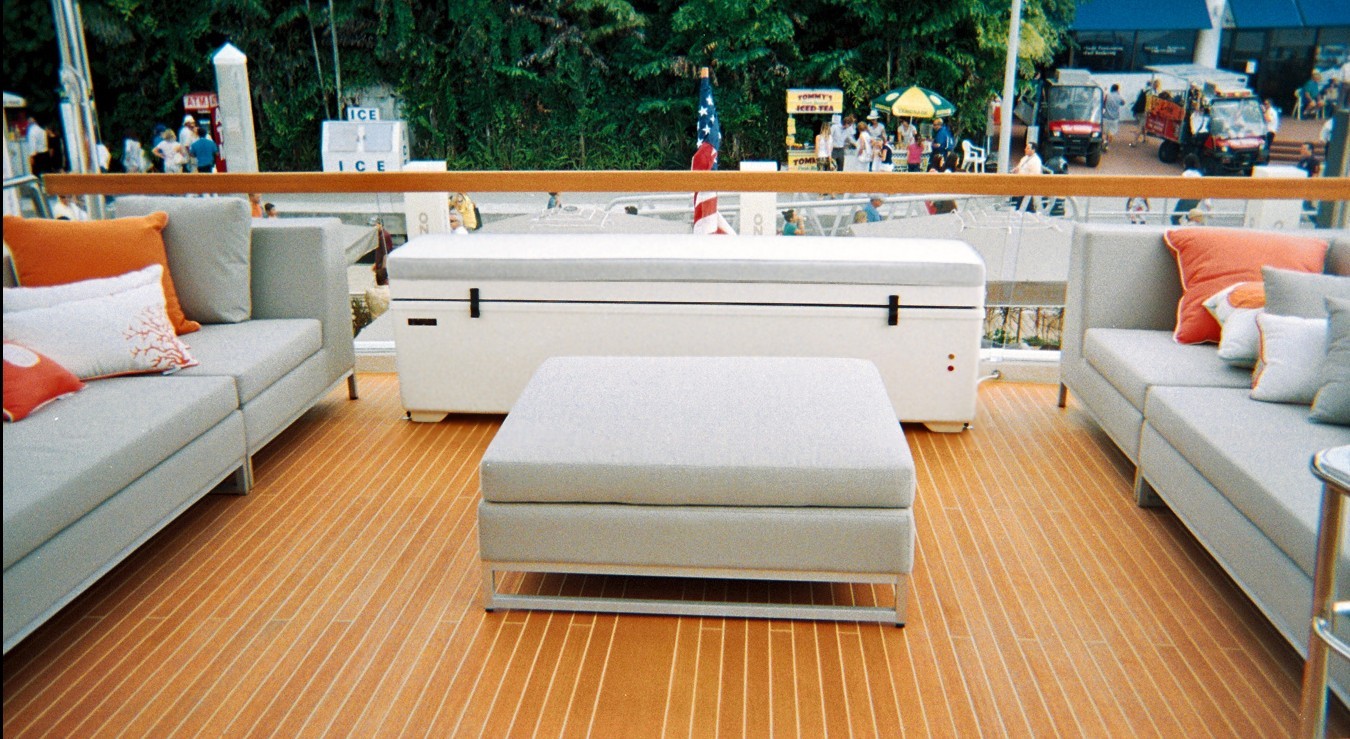 Frigibar stands alone when it comes to marine freezers and deck / dock boxes. While they've perfected their deck boxes and salty dog boxes, they're originally known for marine freezers.
Frigibar was started in 1971 by Sheldon Oletzky, a 21-year old veteran of the US Navy and an experienced aerospace engineer. Through years of experience and hard work, Frigibar has perfected the fiberglass cockpit freezer. Frigibar has become so well-known that marine refrigerators are referred to as "Frigibars", by boat builders and owners across the globe.
Frigibar's marine freezers are constructed to operate perfectly in extreme temperatures, from the hottest tropical sunlight, to freezing 0 degree temperatures.
Each Frigibar marine freezer is hand-crafted, and of the highest quality. Frigibar's refrigerators are "sea proven", and can withstand the toughest and most adverse conditions.
To see the full line of Frigibar marine freezers and deck / dock boxes, see here…
CitimarineStore.com
info@citimarine.com
1 (800) 766-5256
Recommended products:
boat deck boxes,fiberglass deck box,marine deck box,marine deck boxes,salty dog marine