Raymarine Evolution Autopilot Review & Selection Guide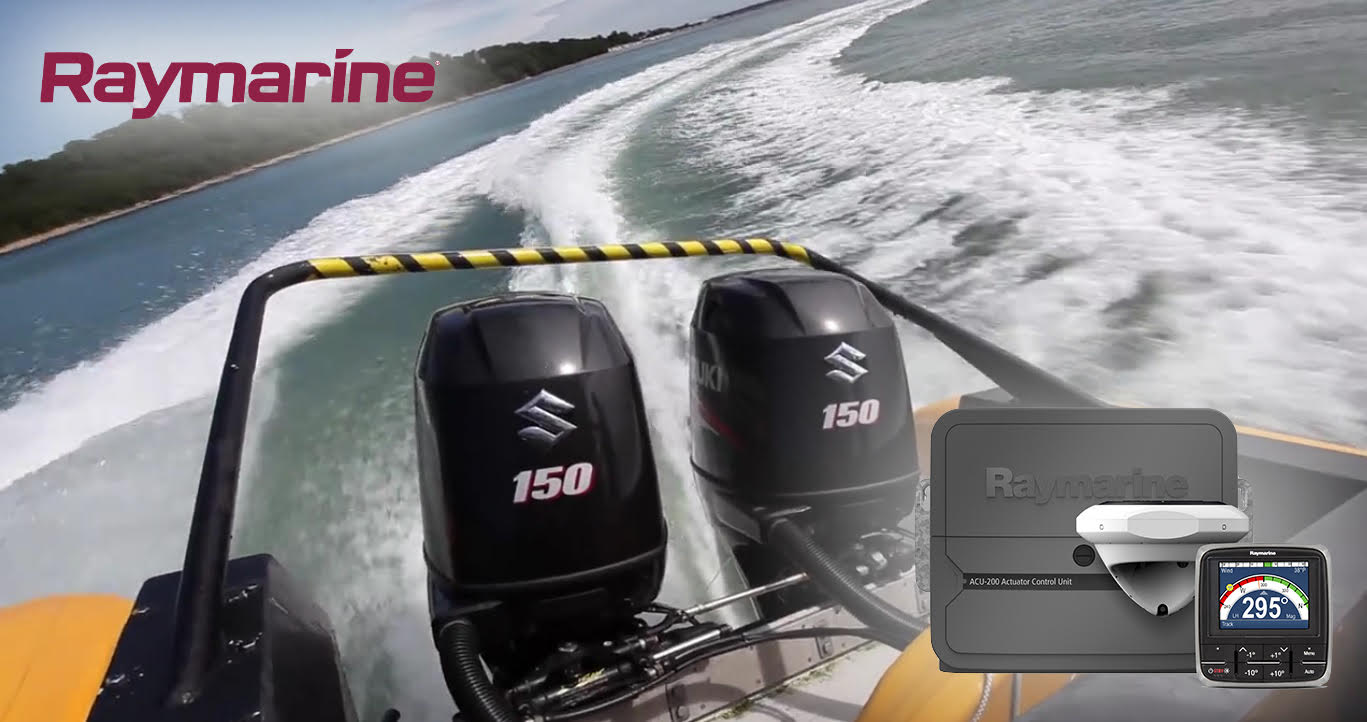 Note: If you're looking for Raymarine Evolution Autopilot Systems for Sale, both for Power and Sail Boats, we carry the complete line here: Raymarine Autopilot Systems For Sale
Having to maintain control of your boat at all times can grow tiring, especially if in rainy or foggy weather. That's when the comfort of a warm, dry cabin can quickly overcome the thrill of cruising or sailing offshore.
In steps the award-winning Raymarine Evolution Autopilot – a smart and auto-correcting marine guidance system that will take over control and allow you to take it easy.
Raymarine autopilots can serve as spare helmsman, freeing you up to handle navigation or other chores if short-handed or on your own. And during long trips, a good marine autopilot is far more efficient than human hands, as a computerized brain ensures a never-swerving attention span… especially compared to a tired captain.
The continued development and growth of Raymarine's autopilot algorithm and software provides you with an autopilot system that will:
Quickly and automatically calibrate
Monitor pitch, roll, yaw and heading with precision
Save you on fuel and power as it will stay tight on your chartplotter's course
Perform smooth, crisp turns, even at high speeds
Maintain leisure performance, if preferred
A complete autopilot system consists of 1) the blackbox / computer processor /autopilot – the brains of the operation, 2) the drive unit, which serves as the muscle that keeps your vessel's steering system on the right course and 3) the control head, that provides you with the user interface.
Raymarine has top-of-the-line components in each of these areas… I will help guide you as to which ones you'd need for your particular boat.
Raymarine Evolution Autopilots – EV-1 and EV-2 Sensor Cores with A.I., Monitor Vessel Motion in All Three Dimensions and Adjust
The most valuable asset of an autopilot manufacturer is the algorithm they have developed and perfected over the course of many years.
Easy to use, install and highly-intelligent – the Raymarine Evolution autopilot combines Raymarine's extensive autopilot expertise, FLIR Systems' R&D, and advanced aerospace guidance technology to create artificial-intelligence (AI) control algorithms that deliver an extremely accurate autopilot control.
At the center of every Evolution system is the EV-1 sensor core, a 9-axis sensor that monitors vessel motion in all three dimensions, thanks to advanced solid-state sensors. Sealed in a an IPX6 waterproof and IPX7 submersible protective housing, you can install the EV-1 sensor core above or below deck.
Thanks to the constantly-learning A.I. in the EV-1 sensor core, your autopilot will evolve instantly as sea conditions and vessel dynamics change. Solid state sensor technology delivers dynamic accuracy to within 2 degrees in all conditions, and automatically compensates for on board magnetic fields.

EV-1 Setup
The EV-2 is designed for the latest drive-by-wire steering systems and connects directly to Raymarine's SeaTalkng bus. EV-2 also has a dedicated CAN Bus port for direct connection to steer-by-wire steering systems such as ZF Pod Drives, Yamaha Helm Master, Volvo IPS* and SeaStar Solutions Optimus systems.

EV-2 Setup (no ACU)
The rugged Actuator/Autopilot Control Unit (ACU) in the Raymarine Evolution delivers reliable autopilot drive power and provides power to the SeaTalkng bus, and is available for different steering types, including wheel, tiller, hydraulic, linear, and rotary mechanical types.
Supported Drives
ACU-100 Wheel, tiller and 0.5 ltr Hydraulic
ACU-200 Type 1 Raymarine hydraulic, linear and rotary mechanical drives
ACU-300 For solenoid controlled steering systems and Raymarine constant running hydraulic pumps
ACU-400 Type 2 and 3 Raymarine hydraulic, linear, and rotary mechanical drives
Cutting Edge Autopilot Software and Technology Found in Raymarine Evolution Systems
Hydro-Balance™ – Raymarine Evolution Autopilots come with Hydro-Balance™ Technology, the all new software update that delivers superior autopilot performance on boats with hydraulic steering, and particularly on boats with rudder reference-less steering and outboard motors.
*NEW Evolution R4 Performance-Tuned Software – R4 is the most significant update to Raymarine's Evolution Autopilots. Major enhancements include:
Wind and Vessel Motion – Evolution's intelligent EV sensor core fuses wind and vessel motion data to better determine true wind conditions
Extremely Stable Steer-to-Wind Angle – Evolution will steer to a set wind angle, sail downwind, or close hauled without risk of gybing or heading up into the wind
Superior Wind-Shift Detection – Evolution detects and automatically responds to true wind shifts, and prevents unnecessary trimming of sails
Crisp and Efficient Auto Tacking – Evolution filters out the effects of vessel movement for fast and precise Auto Tacking in all sea conditions
Evolution TrackIQ™, Intelligent Waypoint Tracking – Evolution TrackIQ™ technology removes the detrimental effects of vessel motion, while intelligently monitoring cross track error, speed, heading, and course over ground. The result is ultra precise waypoint tracking with little to no deviation from the course line.
All New Raymarine MFDs and Control Heads come with the Evolution R4 already pre-loaded, or you can download the software directly from Raymarine's software downloads page.
Which Raymarine Evolution Autopilot Will Work Best For My Boat?
The Evolution EV-100 series is installed in the cockpit of tiller and wheel steered yachts and smaller power boats.
The Raymarine Evolution inboard range, (EV-200, EV-300 and EV-400) are designed to suit specific vessel types, steering systems and vessel displacements.
The following table will help you select the proper Raymarine autopilot for your vessel. Find Raymarine autopilot parts, here. (Note: If the information below looks complicated to you, please feel free to contact us or chat with us below, and we'll help you select the proper Raymarine Autopilot for your boat).
COCKPIT AUTOPILOTS

Pilot Type

Max Displacement

Vessel Type

Pack Contents

EV

ACU

Control Head

Drive

EV-100 Sail / Wheel

7,500kg (16,000lbs)

Sail

EV-1

ACU-100

p70

Wheel Drive

EV-100 Tiller

6,00kg (13,200lbs)

Sail

EV-1

ACU-100

p70

Tiller Drive

EV-100 Power

3,181kg (7,000lbs)

Power

EV-1

ACU-100

p70R

0.5L Hydraulic Drive
INBOARD AUTOPILOTS

Drive Unit

RAM Capacity

(cc / cc in)

Vessel Displacement

(kg / lbs)

Autopilot Control Unit

EV-100

EV-200

EV-300

EV-400

Type 0.5l Hydraulic Pump

50-150 / 3-9

N/A

✔

 

 

 

Type 1 Hydraulic Pump

80-230 / 4.9-14

N/A

 

✔

 

 

Type 1 Mechanical Rotary / Linear Drives

 

11,000 / 24,000

 

✔

 

 

Type 1 Universal Stern Drives

 

N/A

 

✔

 

 

Type 2 Hydraulic Pump

230-350 / 14-21

N/A

 

 

 

✔

Type 3 Hydraulic Pump

350-500 / 21-30.5

N/A

 

 

 

✔

Type 2 Hydraulic Linear Pump

 

22,000 / 48,000

 

 

 

✔

Type 3 Hydraulic Linear Pump

 

35,000 / 77,000

 

 

 

✔

Type 2 Short Mechanical Linear Pump

 

15,000 / 33,000

 

 

 

✔

Type 2 Long Mechanical Linear Pump

 

20,000 / 44,000

 

 

 

✔

Type 2 Mechanical Rotary Drive

 

20,000 / 44,000

 

 

 

✔

Solenoid Drive Units

 

N/A

 

 

✔

 

ZF Saildrive Systems

 

N/A

 

 

 

✔
Selecting the Proper Raymarine Drive Unit To Keep Your Steering System On Course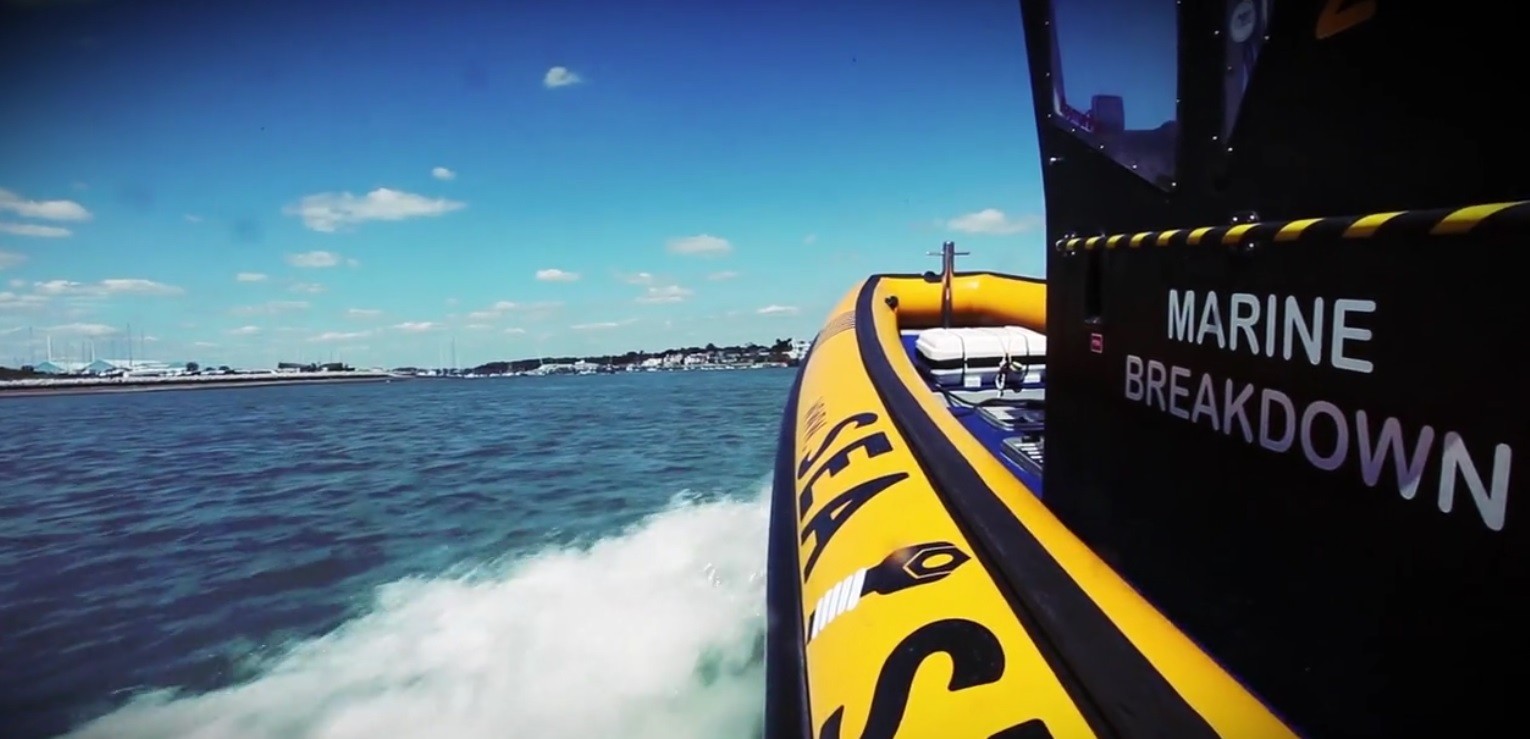 Raymarine Autopilots accommodate hydraulic, mechanical and power-assisted stern drive systems. The Raymarine drive unit is the part that interfaces with your vessel's steering system to physically keep you on course.
Raymarine has a broad range of drive units to match almost any type of steering system.
Hydraulic Steering Systems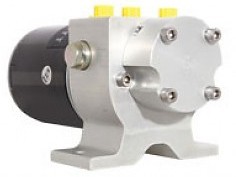 Raymarine Evolution autopilots connect to hydraulic steering systems using a rugged hydraulic pump matched to the capacity of the hydraulic steering system.
If your system is hydraulic…
You'll need to find out the size (in cc) of the hydraulic cylinder ram(s) mounted to the rudder or inboard engine boats, or to the drive unit on outboard engine boats. Your steering system documentation will have this information. If you cannot find it in the documentation, look on the cylinder ram itself for the brand and model number, and then use Raymarine's hydraulic cylinder ram cross-reference guide, here.
Drive Type

Type 0.5 (12V)

Type 1 (12V or 24V)

Type 2 (12V or 24V)

Type 3 (12V or 24V)

Constant Running Pump (12V or 24V)

Part Number

12V: E12139

12V: M81120 24V: M81119

12V: M81121 24V: M81123

12V: M81122 24V: M81124

12V: E12171 24V: E12172

Vessel Displacement

Does not apply here. The drive unit is matched to the ram capacity of the steering system

Ram Capacity

50cc – 150cc


(3in3–9in3)

80cc – 230cc


(4.9in3–14in3)

230cc – 350cc


(14in3–21in3)

350cc – 500cc


(21in3–30.5in3)

500cc – 1200cc


(30.5in3 – 73in3)
Maximum Stall Pressure at 12V

50bar (750psi)

100bar (1450psi)

80bar (1160psi)

57 bar (827psi)

Peak Flow Rate (No Load)
650 cc/min (30.52in3/min
1000cc/min (67in3/min)
2000cc/min (122in3/min)
2900cc/min (175in3/min)
4500cc/min (274.6in3 / min)
ACU Used
ACU-100
ACU-200
ACU-400
ACU-300
Notes:
* In some systems with dual steering rams in parallel, cylinder capacity is the total of both rams. Rams in series only require single capacity valve. Hydraulic steering systems with steering rams over 500cc require a larger constant running pump used in conjunction with the relevant ACU.
* Type 0.5 suitable for Volvo D4/D6 Sterndrive applications.
–
Hydraulic Linear Drives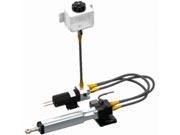 Designed for larger mechanically steered vessels over 44,000 lbs (22 tons), Raymarine's hydraulic linear drives are self-contained hydraulic steering systems consisting of a reversing pump, reservoir and hydraulic ram.
A hydraulic linear drive unit connects to the rudder stock via an independent tiller arm. Accessory fittings from the steering system manufacturer of your steering system may be required. Must be able to back drive steering system for the rudder.
| | | |
| --- | --- | --- |
| Drive Type | Type 2 | Type 3 |
| Part Number | 12V: E12207 24V: E12208 | 12V: M81202 24V: M81203 |
| Maximum boat displacement | 22,000 kg | 35,000 kg |
| Peak thrust | 585 kg | 1,200 kg |
| Maximum stroke | 254 mm | 300 mm |
| Hard-over to hard-over times | 10 seconds | 10 seconds |
| Maximum rudder torque | 1,270 Nm | 3,200 Nm |
| Corepack used | ACU-400 | ACU-400 |
–
Mechanical Linear Drives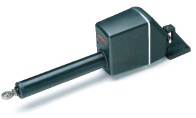 Most commonly used drive types for sailing vessels. Raymarine's mechanical linear drives provide powerful thrust, fast hard-over times and quiet operation. Mounted below decks, the linear drive moves the rudder directly by pushing the tiller arm or a rudder quadrant.
A linear drive unit connects to the rudder stock via an independent tiller arm. Accessory fittings from your steering manufacturer may be required. Must be able to back-drive steering system from the rudder.
| | | | |
| --- | --- | --- | --- |
| Drive Type | Type 1 | Type 2 Short | Type 2 Long |
| Part Number | 12V: M81130 | 12V: M81131 | 24V: M81133 | 12V: M81132 | 24V: M81134 |
| Maximum boat displacement | 11,000 kg (24,000 lb) | 15,000 kg (33,000 lb) | 20,000 kg (44,000 lb) |
| Peak thrust | 295 kg (650 lb) | 480 kg (1,050 lb) | 480 kg (1,050 lb) |
| Maximum stroke | 300 mm (12″) | 300 mm (12″) | 400 mm (16″) |
| Hard-over to hard-over times | 11 seconds | 11 seconds | 14 seconds |
| Maximum rudder torque | 735 nm (6,500 lb.in) | 1,190 nm (10,500 lb.in) | 1,660 nm (14,700 lb.in) |
| Power consumption | 18-36 W | 48-72 W | 48-72 W |
| Corepack used | ACU-200 | ACU-400 | ACU-400 |
–
Mechanical Rotary Drives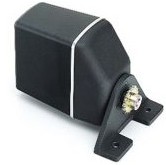 The rotary drive is designed for power and sailboat systems that can be driven from the helm position through a chain and sprocket (e.g. cable and rod steering system). The Raymarine rotary drive unit provides smooth, powerful autopilot controlled steering with quiet operation.
Optional drive sprockets and modification to the steering chain may be required.
| | | |
| --- | --- | --- |
| Drive Type | Type 1 12V: M81135 | Type 2 12V: M81136 24V: M81137 |
| Maximum boat displacement | 11,000 kg | 20,000 kg |
| Peak output torque | 20 nm | 34 nm |
| Maximum shaft speed | 33 rpm | 33 rpm |
| Recommended hard-over times (no load) | 10 seconds | 10 seconds |
| Power consumption | 24-48 W | 60-84 W |
| Corepack used | ACU-200 | ACU-400 |
–
Stern Drives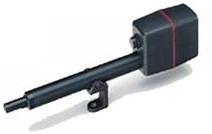 The stern drive is for use with inboard/outboard (I/O) vessels with power assisted steering.
Part Numbers
Standard Sterndrive: M81138
Universal Sterndrive: E12026
Maximum boat displacement

Does not apply

Drive method

Electromechanical

Maximum thrust

150 kg

50kg

Recommended hard-over times

8.8 seconds

Maximum stroke

214 mm

Corepack used
ACU-200
Notes:
*Always verify compatibility before installing a drive unit by consulting an authorized Raymarine dealer such Citimarine Store, or Raymarine's Customer Support team.
*Drive compatible with 1997 or later Mercruiser power assist inboard/outboard drives and Volvo Penta.
*Vessels with 12V systems only.
*Compatible with Volvo Penta and Mercruiser I/O drive engines – see dealer for bracket options with standard I/O drive.
Complete Your Raymarine Evolution Autopilot System With a p70, p70R, p70s, p70Rs Control Head or Your Existing MFD / Chartplotter… Even Garmin MFDs!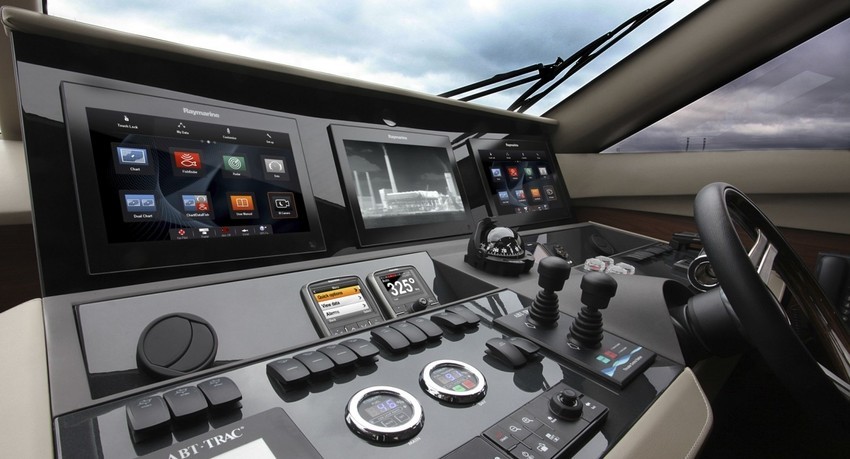 The final step to building a Raymarine Autopilot system is selecting an autopilot control head. Each fixed-mount Raymarine SmartPilot Control Head will offer the same level of autopilot performance. Adding additional control heads is a breeze thanks to Raymarine's SeaTalk networking.
The Raymarine p70 and p70s (new) push-button autopilot control heads are designed primarily for sailboats, while the p70R and p70Rs (new) push-button and rotary models are aimed at power boats. Advanced LED backlighting offers low power consumption and delivers vibrant color, contrast and visibility in all weather conditions. Wide horizontal and vertical viewing angles ensure the display can be seen clearly from acute positions.
Key Features of the p70 and p70R Autopilot Control Heads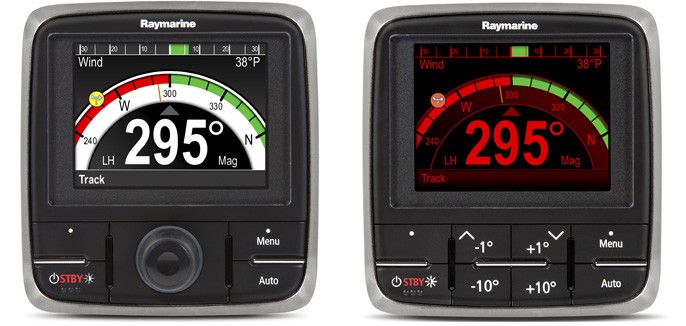 New LightHouse user interface is simple and quick to use.
160º viewing angles
Start up wizard helps you configure the pilot quickly and easily
Anti-reflective coating for improved visibility in bright sunlight
Low power – typically 132mA/1.6W – 27% less than ST70 at x4 measured brightness
Supported autopilot modes: Auto; Standby; Pattern; Track; Wind Vane; Power Steer and Jog Steer
Display the pilot information in different formats
Support for multiple data sources
SeaTalkng or SeaTalk1 connectivity (no bridging required)
Key Features of the ALL NEW p70s and p70Rs Autopilot Control Heads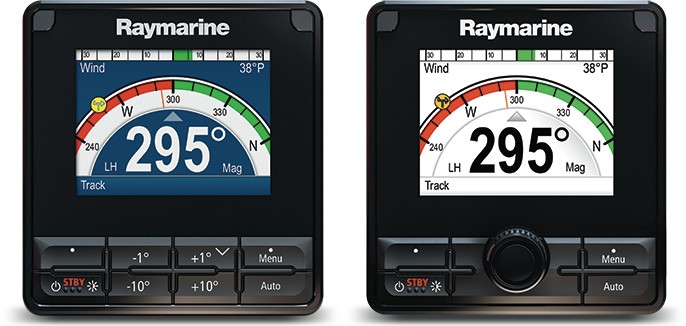 Easy to use Lighthouse user interface with sculpted rubber keypad for precise operation in all conditions
3.5" super bright oversized LCD for maximum visibility
All weather, low power, optically bonded display technology delivers brighter colours, sharper contrast, and a wide viewing angle
Supported autopilot modes: Auto; Standby; Pattern; Track; Wind Vane; Power Steer and Jog Steer
Display the pilot information in different formats with automatic 3-step setup for leisure, cruising and performance
SeaTalkng networking for seamless connectivity to Raymarine systems and NMEA2000* networks
New glass bridge industrial design compliments Raymarine eS and gS Series multifunction displays
Supplied with both black (eS Series style) & (e Series style) gunmetal bezels and protective suncover
You can also control your Evolution Autopilot directly from your Raymarine aSeries, cSeries, eSeries or gS Series multifunction display, as well as other popular MFD models from Garmin and other top marine electronic brands. *Note that some autopilot functionality may not be available if your system does not include a dedicated autopilot control head.
Raymarine Evolution Autopilot Review / Feedback From Boaters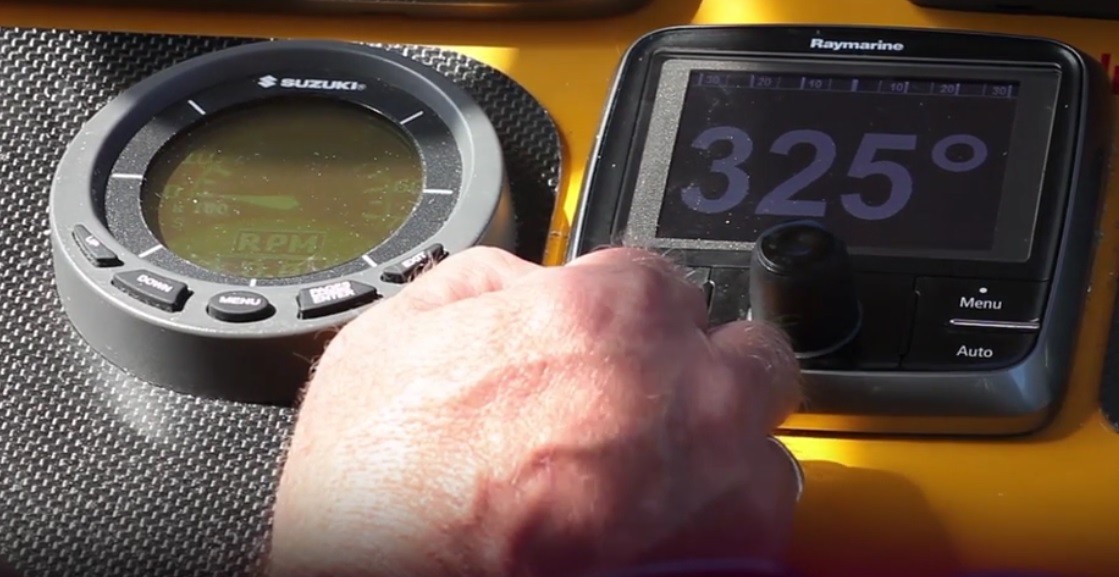 Looking through boating forums and other sources, you'll find many happy boaters using Raymarine's Evolution Autopilot System. Here are some Raymarine Evolution Autopilot reviews straight from the end users:
"I have installed the EV-200 (EV-1 course computer, ACU-200 drive controller and P70 display) last week. So far so good. NMEA 2000 backbone (not Seatalkng) with DeviceNet connectors. Garmin 740s chartplotter. 35 kt winds on San Francisco Bay. Kicked out once because of weather helm. Backed off of the mainsheet and it worked fine. Followed the Garmin track without any problems. VERY smooth turns and transitions. Have not tried a multi waypoint route, but expect no problems. No rudder reference installed (my current one has too low resistance – replacing it next week) but Raymarine says you don't need one and they're right…
In short, a fantastic unit and everything that I expected."
-From TheHullTruth.com, Member: NonsuchGuy, 69 posts
"Two power boat installs and I have the same same results…"
-From TheHullTruth.com (quoting above post by NonsuchGuy), Member: CME, 3,289 posts
"Had the EV100 installed last week, and i am very impressed ! . Very smooth turns and super accurate at any speed. I have tried every brand available on the Scandinavian market, and i am VERY sure i made the right decision."
-From TheHullTruth.com, Member: peteSnow, 79 posts
"I had it installed on my 40′ Ocean. Works great. No calibration. Make sure you get the control unit with the rotary knob."
-From TheHullTruth.com, Member: TheSaltyDog, 296 posts
"I bought a brand new autopilot control head last year that was compatible with Raymarine equipment on board that's more than 10 years old. That's impressive. And although I've called their tech support line about a dozen times over the years I've always received superb advice…"
-From YBW.com, Member: Colvic Watson, 10,450 posts
"One of the most compatible autopilots ever, and don't have to be a rocket scientist to use it"
-Walk-in customer here today at Citimarine Store
Where to Buy Raymarine Evolution Autopilot Systems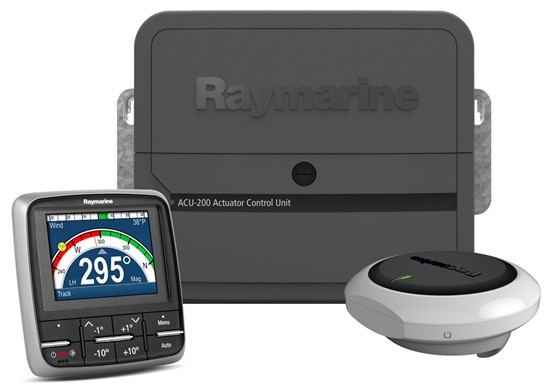 We carry the entire line of Raymarine Evolution Autopilots, here…
If the specific model you are looking for is not available on the site yet, just contact us, and we will get it for you. We offer some of the lowest prices for Raymarine products online, and provide free US shipping on orders over $99.
Also, if you have any questions at all, our sales team has decades of combined marine electronics experience, and are here to help!
How To Install Your Raymarine Autopilot System
If not very handy, or comfortable working on boats, it's best to visit a boat repair shop or Raymarine dealer in your area for installation of the system. However, many folks find that it is not all that difficult to install the Raymarine Evolution System on their own. There is a thorough and helpful guide on how to do so, here…
Hope all of this information helps you to better understand the Raymarine Evolution Autopilot System!
Have a good one!
CitimarineStore.com
3300 NW 112th Ave,
Doral, FL 33172
(800) 766-5256
info@citimarine.com
–
raymarine autopilot for my boat,raymarine autopilot reviews,Raymarine EV-100,Raymarine EV-400,raymarine evolution autopilot,raymarine evolution autopilot review