Intellian Satellite TV – Advantages, Coverage Map, Technology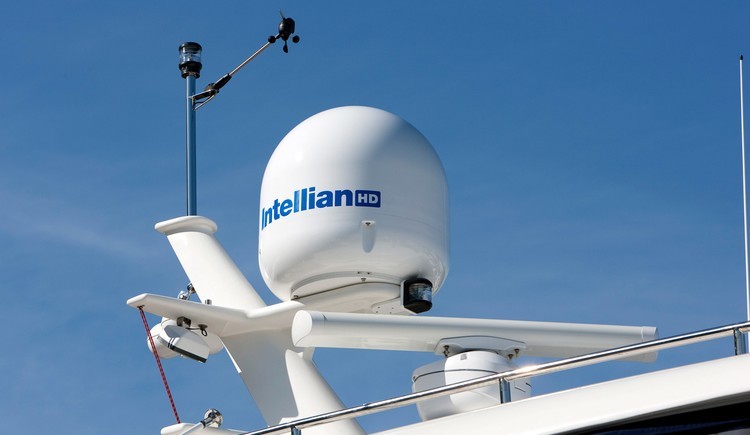 When it comes to a Satellite TV system for your yacht or boat, one name stands out among the rest – Intellian Satellite TV. (If looking to purchase an Intellian system, see here).
Intellian provides marine satellite TV systems for recreational and commercial vessels in 6 continents and 60 countries, through a support network of over 300 dealers.
While some boaters are on the fence as to purchasing a marine satellite TV system, once purchased, they see that it was one of the best decisions they've made for their boat. Nothing like relaxing offshore with the family and watching a movie on a Saturday night, or catching the big game on a Sunday afternoon.
With every TV package available, and perfect, uninterrupted reception, an Intellian Satellite TV system turns your boat into a second home, providing the comfort and entertainment that only television can provide.
Advantages of Intellian Satellite TV Systems Over Other Brands
With antennas ranging in size from 13 to 24 inches, Intellian will provide reliable TV for boats as small as 20 feet, all the way up to luxurious super yachts.
Improved ACU – The all-new Intellian antenna control unit (ACU) has built-in Wi-Fi, alloing you to connect to the Aptus App, for simple system control, monitoring and updates.
Quicker "hunting" – With Wide Range Search (WRS), an Intellian dish can lock onto a signal of a satellite 22,000 miles away, in seconds – 4 or 5x faster than other marine satellite brands.
More stable signal – Thanks to Dynamic Beam Tilting (DBT), an Intellian dish will hold onto a signal while underway or when a boat is making quick maneuvers. A sub-reflector rotates at 3000 rpm instead of rate sensors, resulting in a quicker responding and better tracking dish – even in the roughest sea conditions.
Better HDTV – Every Intellian TVRO antenna system is capable of tuning in to SD and HD programming.
Farther reception – even hundreds of miles offshore you can tune into your favorite channel, as opposed to other dishes that need to be close to the shore.
More options when traveling internationally – All Intellian satellite TV Systems come with Worldview LNB as standard, making them truly global marine satellite systems. This innovative device eliminates the need to manually swap out LNBs inside the radome, or re-wire the system when you travel from one region to another, allowing you to receive any Ku-band satellite TV service around the globe without hassle.
Better warranty – 3 year Global Warranty
Intellian's Exceptional International Coverage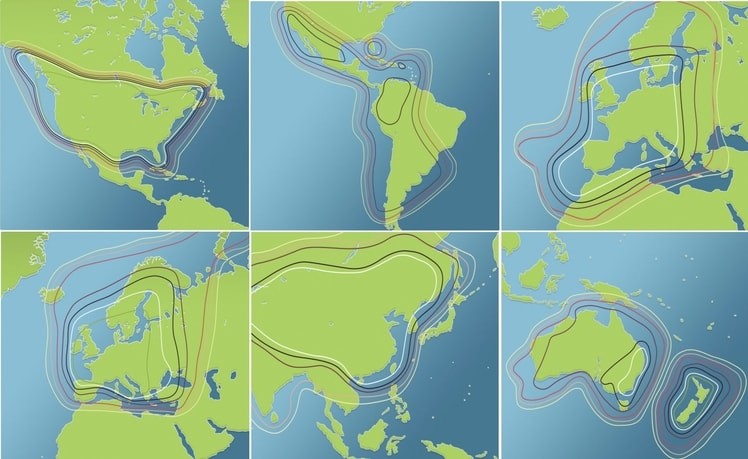 Intellian's coverage is superior to any other marine satellite TV brand out there. You will have full access to all channels and networks whether in North or South America, Europe, Asia or any other part of the world. For a complete list of Intellian's coverage areas, see here…
Most Popular Intellian Satellite TV Models – The i-Series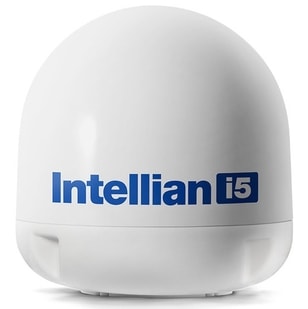 The Intellian Satellite TV i-Series Satellite Dishes / Systems still are the most popular models from the brand.
The i-Series will provide outstanding marine television reception, with models that will fit a 20 foot vessel, all the way up to larger yachts.
With quick, one-cable installation, the ability to receive (SD) and High Definition (HD) programming from any Ku Band Satellite TV service provider, and wider coverage and better signal tracking than the competitors, the Intellian i-Series is in a class of it's own when it comes to marine satellite TV systems.
Intellian's Wide Range Search system locks onto even weak edges of a satellite signal and then instantly finds the signal peak in seconds – 4 to 5x faster than competitors. The Dynamic Beam Tilting technology then holds onto that signal lock using intelligent, real time beam analysis to eliminate signal skips, pixilation and loss of service.
Multiple receivers and TVs can be connected.
Recommended i-Series Dish For Your Vessel
Vessel Length               Model
<25 ft.                             i2
25 – 35 ft.                        i3
35 – 60 ft.                        i4, i5
>60 ft.                             i6
For the complete selection of i-Series Intellian Marine Satellite TV Systems, see here…
Intellian s6HD – The Best Marine DIRECT TV Satellite TV System

Because DIRECT TV offers so many channels, their service is simultaneously broadcast from three different satellites. With the s6HD's unique triple feedhorn, you'll receive Ku and Ka-band signals from all three DIRECTV satellites simultaneously.
Because the antenna processes all three signals at the same time, you won't experience any delay when switching channels, and different TV's will be able to tune into different channels, regardless of what other sets are watching.
The standard s6HD system will support up to 16 receivers, and can be expanded to 32 receivers.
You can find the Intellian s6HD for Marine DIRECT TV, here…
Questions on Marine Satellite TV Systems?
Questions on Intellian Marine Satellite TV Systems, packages, technology, or coverage? Don't hesitate to contact us!
Have a good one!!
CitimarineStore.com
3300 NW 112th Ave,
Doral, FL 33172
(800) 766-5256
info@citimarine.com
–
Related Products:
best marine satellite tv,intellian coverage maps,intellian satellite tv,intellian satellite tv system for boats,intellian satellite tv systems,intellian vs. kvh