FREE U.S. SHIPPING ON ONLINE ORDERS!*
FREE U.S. SHIPPING ON ONLINE ORDERS!*
Unidades Estereo Hay 16 productos.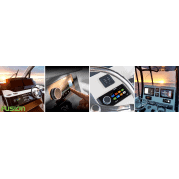 Fusion Marine Stereo FAQs
Commonly asked questions on Fusion Marine Stereos
What source options do Fusion Marine Stereos have?
WiFi / Bluetooth, UPnP, Optical Audio, advanced SiriusXM features and DAB+ radio available, AM/FM radio, AUX and USB connections (check on model description)
What Water-Resistance do Fusion Stereos have?
Built on Fusion's True-Marine design philosophy, Fusion Stereos bring IPX6 and IPX7 rated water resistance, and are tested for protection against salt fog, temperature, vibration and UV