FREE U.S. SHIPPING ON ONLINE ORDERS!*
FREE U.S. SHIPPING ON ONLINE ORDERS!*
CTM Split Marine Air Conditioning Systems There are 18 products.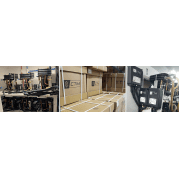 CTM Split Marine Air Conditioning Systems - Condensers (CX) and Evaporators (EV). Replacements for Dometic, Cruisair, and Marine Air split gas systems that use R410A refrigerant. Universal control board compatible with most thermostats in the market!

2-Year Warranty, Free US Shipping!
Split Marine Air Conditioning System FAQs
Frequently asked questions about split gas marine AC systems
What is a split marine AC system?
Split marine AC systems have the condensing unit (condenser) in the engine room or other mechanical space, and the air handler (evaporator) in the living area. Two air handlers can connect to one condensing unit, cooling multiple spaces.
When are split gas air conditioners used?
Split marine air conditioners are generally found on boats up to 80 feet (24 meters), limited only by the number of condensing units that will fit and by the 50 foot (15 meter) maximum length of copper tubing between the condensing unit and air handler.
What are the advantages of using a split gas AC system on your boat?
1) Less space needed in the living area for the air handlers, 2) Quieter because the compressor is in the engine room, 3) More capacity (BTUs) possible, and more rooms cooled with one condenser.